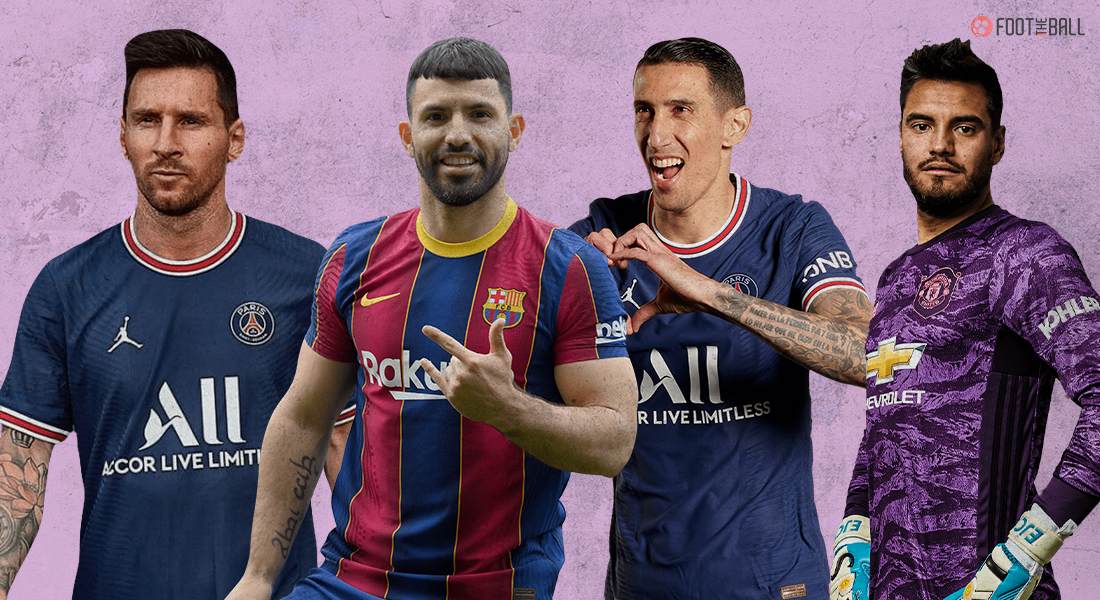 WHERE ARE THE 2008 BEIJING OLYMPICS GOLD MEDAL WINNERS OF ARGENTINA RIGHT NOW, FROM LIONEL MESSI TO JAVIER MASCHERANO
On this day 13 years ago, one of the best squads in Argentina's history won the gold medal in the 2008 summer Olympics held in Beijing. This was the first trophy Lionel Messi ever won on the senior level for his country and he did it in style.
The young squad was filled with players who became the biggest superstars over the years and it all started with their dominance in 2008. Here are all the players who played in the historic final against Nigeria and where they are now.
SERGIO ROMERO
Oscar Ustari was supposed to be their first team goalkeeper but his injury gave Sergio Romero the chance to shine. The player went onto become Argentina's main man between the sticks for the next 2 world cups and even played in the 2014 final against Germany.
The player joined Manchester United in 2015 and was a great back-up guy for De Gea. Romero's contract ended this year and now the 34-year-old is about to take on his next challenge. There are a few clubs in Europe interested in getting the free agent and Granada are the front runners at the moment. With the late prominence of Emiliano Martinez, the player won't be picked up for Argentina but will remain a club legend forever.
EZEQUIEL GARAY
The centre back was in Real Madrid at the time but unfortunately for him, injuries never let him hit his full potential throughout his career. In 2011, he was sold to Benfica and later to Zenit. In 2016 he came back to Spain as he joined Valencia but got a long-term injury in 2019.
Since he was feeling guilty of getting wages without playing, the player decided to leave the club last year and having no club to play for, he announced his retirement in July 2021.
FABIAN MONZON
An impressive outing in Beijing earned him an opportunity to play in Europe as he was loaned to Real Betos from Boca Juniors. He dabbled around in Europe with OGC Nice and Lyon before heading back to South America in 2015 back to his boyhood club. In 2019 he joined Atletico Tucuman in the Primera Division of Argentina and left the club this summer. As of now, he is without a club but still hasn't retired from professional football yet.
PABLO ZABALETA
Amazing experience kicking off the new La Liga season with @espn at the Camp Nou! Looking forward to coming back and stay tuned to the channel for all the action this season. pic.twitter.com/bETAdmtCMH

— Pablo Zabaleta (@pablo_zabaleta) August 15, 2021
6 days after winning the gold medal, Pablo Zabaleta signed for Manchester City The left-back played 9 years at the Etihad stadium and is a club legend for the Cityzens. Zabaleta has had a decorated career having won 2 Premier League titles, 1 FA Cup and 2 League cups before leaving the club in 2017.
He spent 3 years at West Ham before announcing his retirement in October 2020. Right now Zabaleta is working with ESPN as a pundit covering the 2021/22 La Liga season.
FERNANDO GAGO
Gago was in Real Madrid in 2008 and was one of the best defensive midfielders in the league. His career too was riddled with injuries as he struggled to unlock his full potential. After playing for Roma and Valencia, he came back to Boca Juniors but struggled to make an impact there as well.
Between 2016 to 2019, he only managed to make around 40 appearances for the club. He joined Velez Sarsfield in 2019 and after 1 year with them, he decided to hang up his boots. He is currently the manager of the first-tier club in Argentina, Atlético Aldosivi's manager.
JUAN ROMAN RIQUELME
He was the oldest player of the squad and also captained his team to Olympic glory. He retired from International football that year but continued to play at club level. He joined Boca Juniors in 2012 and played for them till 2014.
He finished his career in Argentinos Juniors in 2015 and retired from football completely until 2019. He was elected as the second vice president for Boca Juniors and is in charge of the youth and women football of Boca.
ANGEL DI MARIA
Di Maria grew up to be a fine baller but he rose to fame with his performance with Argentina in 2008. Di Maria also scored the winning goal for Argentina in the Copa America 2021 final against Brazil bringing the trophy they have been chasing for more than 2 decades.
After being a huge success at Real Madrid along with Cristiano Ronaldo and co, the player moved to Manchester United and after underperforming for a year, he was moved off to PSG and is still playing for the Ligue 1 giants. The player has been an integral part of the club with Neymar and Mbappe and is going to gel even better with Lionel Messi by his side.
NICOLAS PAREJA
Pareja wasn't picked up in the Argentina squad a lot but has had a decorated club career to his name. The player spent one season with Sevilla on loan in 2013 and his move was made permanent since then. He was a regular first-team player for them and won 2 consecutive Europa League titles with them. After being without a club since 2019, he announced his retirement in 2020.
Mascherano already had an established club career in the Premier League before he joined Barcelona in 2012. Mascherano is one of the important players in Barca's history and won 19 trophies during his 8 years in Spain. He joined Hebei FC in China in 2018 and in January 2020 joined Estudiantes in Argentina, before retiring last November.
He is to date, the second most capped player for Argentina after Lionel Messi. Mascherano currently runs a youth academy called Academia Javier Mascheranoin Argentina to find the next superstar for his country.
Lionel Messi, Sergio Agüero, 2008 Olympics. pic.twitter.com/i5alipYVci

— Scouted Football (@ScoutedFtbl) August 6, 2020
Aguero rose to fame in Atletico Madrid in the next 3 years and joined Manchester City in 2011. Aguero owned the Premier League during his time and is the 4th highest goal scorer of all time. He was arguably the most important player in Manchester City's road to prominence.
Sadly for the fans, the player has moved to Barcelona this summer. He is yet to make a debut for his new club due to an injury.
LIONEL MESSI
Who doesn't know what Lionel Messi is up to lately? The Barcelona legend's move to PSG broke the internet over the last few weeks as the greatest one-club player had to be forced out of the club he loves.
Barcelona's financial struggle with their wage bill compelled Messi to move to PSG as a free agent. The player is yet to make his debut in the star-studded PSG squad as they hope this move helps them win their first-ever Champions League.