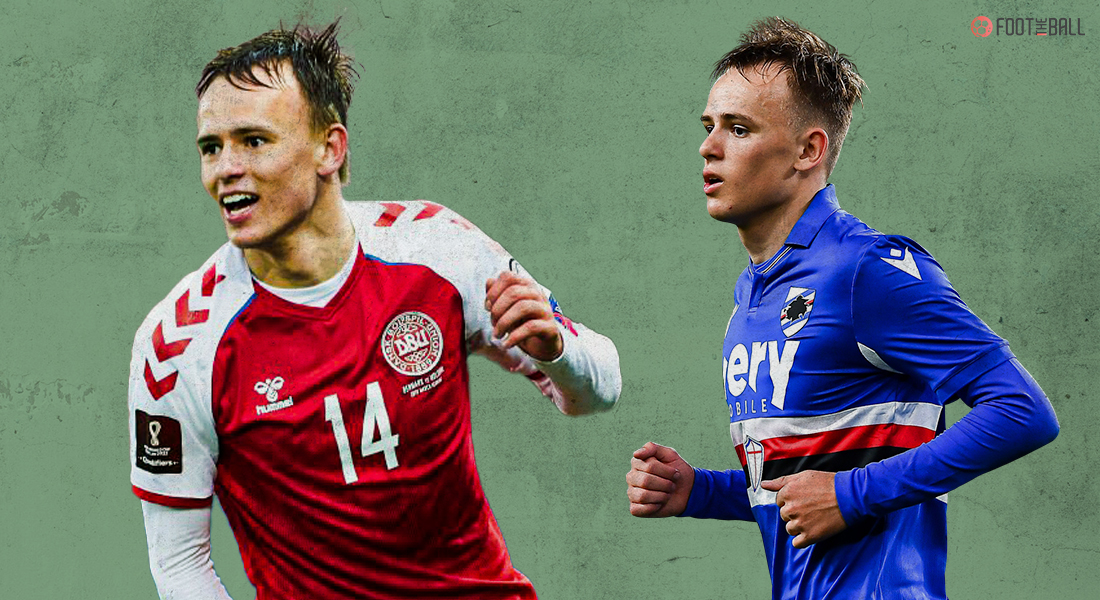 TOP TEN THINGS YOU MUST KNOW ABOUT MIKKEL DAMSGAARD, DENMARK'S NEW GOLDEN BOY
Mikkel Damsgaard is a Danish midfielder who has taken the Euros by storm. The youngster has helped Denmark recover from the shocking cardiac arrest incident of Christian Eriksen. The Sampdoria attacking midfielder/winger has stepped up to fill Eriksen's massive boots and led his country to the knockouts.
A versatile player, Damsgaard can play anywhere across the frontline. The 20-year-old has good technique, skill, and everything required to be the next Danish superstar. As he prepares himself for the crucial round of 16 clash against Wales we present you with the 10 must-know things about Damsgaard.
1) JYLLINGE'S DARLING CHILD
Damsgaard hails from the Danish town of Jyllinge. Jyllinge is a beautiful fishing city located on the eastern shores of Roskilde Fjord. It has a modest population of around 10,000.
Damsgaard was born and brought up in Jyllinge. He has received his primary education at the local Jyllinge School. It was during his schooling days that he developed an interest towards football. He recaps how he used to play football with his friends at the school ground.
2) FOOTBALL FANATIC FAMILY
Mikkel's entire family is a football fanatic one. His father Henrik coaches the local Jyllinge team. It was Henrik who coached Mikkel initially. He honed his son's basics as strongly as possible. Mikkel was so impressive that a scout who came for a different player ended up signing him for FC Nordsjaelland.
Damsgaard also has a mother and sister whose details are undisclosed currently. But it is learnt that they are also huge fans of the game.
3) A UNITED FAN GROWING UP
Damsgaard was an ardent Manchester United fan in his childhood. The millennial kid might have missed his country legend Peter Schmeichel's entire tenure at United. But somehow he found his love in Manchester.
Who knows if he can turn up and play for them one day. With Damsgaard's infinite potential, the sky is the limit.
4) IL RAGAZZINO
Damsgaard was the youngest member of his FC Nordsjaelland. Out of love for their youngest first-teamer, they have nicknamed him " Il Ragazzino". The word roughly translates to "The Little Boy".
His Sampadoria fans have grown fond of his nickname. They continued the nickname and addressed him as the Ragazzino in their later games.
5) A SPECIAL 21 AT THE EUROS
Damsgaard born on July 3rd in 2001 is days away from turning 21. This past year has seen his stock rise exponentially. He earned a callup to the Euros and got an unexpected chance owing to Eriksen's shock cardiac arrest on the pitch.
🇩🇰 Remember the name! Mikkel Damsgaard = youngest ever EURO finals scorer for Denmark (20 years, 353 days) 👏#EURO2020 pic.twitter.com/c4rvuJ6ceO

— UEFA EURO 2020 (@EURO2020) June 21, 2021
He scored the opener in the final game. Damsgaard would be hoping to help his side win the round of sixteen. A win would see Damsgaard's Denmark play the quarterfinals on his birthday July 3rd. What a special birthday that would turn out to be.
6) DOCUMENTARY STAR
Despite being only 20 Damsgaard has a documentary dedicated entirely to him. He joined Nordsjaelland as a teenager in 2013 and graduated through their academy. He made his first-team debut in 2017. As a move to Sampdoria was agreed, it ended a seven-year stay with the club.
Damsgaard was so special to the club they decided to make a documentary of his career there starring himself. In the mini-documentary Damsgard, his parents, and coaches can be seen. They recount various experiences and memories with Damsgaard. The documentary is titled " Il Ragazzino" on the club's youtube handle.
7) WAG
Damsgaard is single and not dating anyone currently as he turns 21 shortly. The youngster might have wanted to focus on football and wanted to prosper in his career.
It is also possible that he is keeping his relationship a secret. He never revealed anything officially on his social media. But there can be a secret girlfriend for the next superstar.
8) NOT A SOCIAL BEE
Unlike many millennials, Mikkel Damsgaard is not a social media bee. It is evident from his Instagram handle. The account was created as recently as 2020 when he was a 19 year old. His first post was confirming his move to Sampdoria. Few posts with the national team also pop up on his timeline regularly.
When it comes to Twitter, he doesn't even have an account. He is mentioned and retweeted more in the past few days. He might think about creating a new account and cash in on this hype.
9) GENERATING INTEREST
His game at the Euros is garnering great interest from football's elite. Tournaments like these act as perfect platforms for players to shine and the scouts to do their thing. Damsgaard's skill set and versatility make him a perfect fit for many top clubs.
Sampdoria midfielder Mikkel Damsgaard is making a big splash at Euro 2020 with Denmark, earning interest from Barcelona, Milan, Tottenham and West Ham https://t.co/qmzWpGR7rF #Sampdoria #FCBarcelona #ACMilan #WHUFC #THFC #DEN #Euro2020 pic.twitter.com/zt4iNScawh

— footballitalia (@footballitalia) June 24, 2021
Giants like Barcelona and Tottenham Hotspurs are said to be queuing for his signature already.
10) FIFA AND PES
Daamsgaard made his debut into the world of FIFA and PES after his move to Sampdoria. Since the Danish league isn't covered by the game, they become interested once he's in the recognized Serie-A.
The scouts might not have done their study perfectly as Daamsgaard looks underrepresented in the game. he's given an overall rating of 73 in Fifa as a silver card. His rating is further hit by a -2 in PES. Another season or two like this these lower-rated cards might give us a good laugh.