Ok! Let's be honest, Sam Allardyce didn't see his undercover sting coming when he mailed a motivational postcard to England World Cup squad players right on the day of getting the sack from the FA for trying to bend rules on player transfer to a fictitious Far East firm.
The postcard begins with the title 'The Journey Has Begun'.
The postcards are white with England's Three Lions emblem in red, and text under the headline which read: "Well done! Our journey has begun with our first win together. Looking forward to seeing you soon. Sam Allardyce."
ALSO READ: Entrapment Has Won, Made An Error Of Judgement: Sacked England Coach Sam Allardyce
It was all printed, apart from Big Sam's handwritten signature.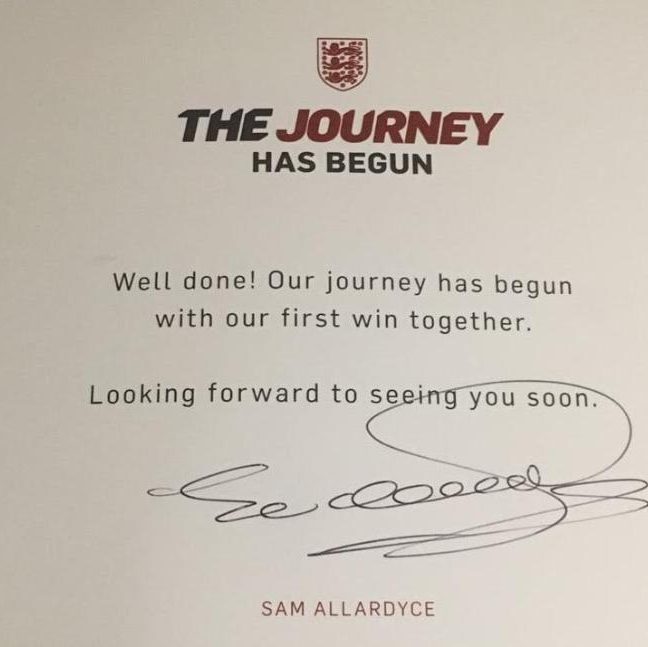 England players received the postcard on Thursday which has caused much amusement in the squad.
It has also emerged the FA have had to throw out 4,000 T-shirts they were planning to give away to fans at Saturday's World Cup qualifier against Malta because they had a similar Allardyce quote – "The journey starts with us all pulling together" – on the front.
ALSO READ: SACKED! Sam Allardyce Loses The Plot As Undercover Sting Seals His Fate
Allardyce, who got a £1m pay-off from the Football Association, was filmed by undercover reporters offering advice on how to get round rules on third-party ownership of players.