Sassuolo's 21-year old striker has recently made the headlines as he made the final cut for Italy's Euro 2020 squad while the more experienced Matteo Politano missed out. The inclusion of Giacomo Raspadori came as a surprise considering his lack of experience at the top level both in domestic and international football. The diminutive forward made only 39 Serie A appearances and was yet to make his international debut till the decision was made.
#Azzurri 🇮🇹

📣 The 26 players called-up for #EURO2020 by Coach Roberto #Mancini 🇪🇺#Euros #Italy #VivoAzzurro pic.twitter.com/T2h6CiIrND

— Italy ⭐️⭐️⭐️⭐️ (@Azzurri_En) June 1, 2021
He participated in the U21 European Championship for Italy and scored one goal in the group stage match against Slovenia before getting knocked out in the quarter-final against Portugal in extra time.
Italy manager Roberto Mancini announced the final 26-man squad a day after Italy U21's exit from the tournament and made the shock decision to include the uncapped Sassuolo forward.
"He has extraordinary qualities, that was the only motivation behind calling him up. I hope he can come in and be like Paolo Rossi, but I did not bring him along just for this," said the former Manchester City boss Roberto Mancini.
Mancini has famously given a debut to over 25 players during his three years with the National team.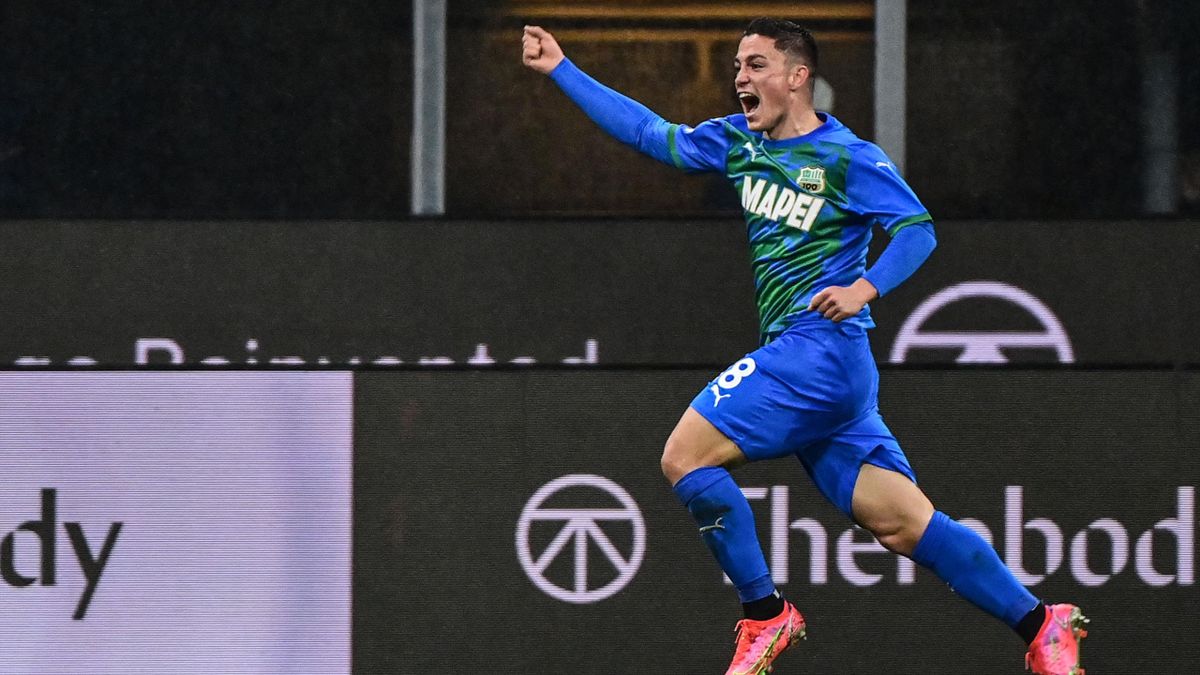 "He was called up for what he did in the league and for his enormous technical quality, which can only improve," he added.
The 21-year old Italian national caught everyone's attention when he scored a late brace against Milan after coming on as a substitute to help his team come back from 1-0 down at half-time to a 1-2 win in April this year. He also scored against Juventus in the coming month.
EARLY YOUTH DAYS
Raspadori joined a local club Progresso from his birthplace, Bologna, at the young age of six. He spent three years developing there before he caught the attention of one of Italy's best scouting networks, US Sassuolo. Raspadori joined Sassuolo's youth academy in 2009 and impressed the youth coaches with his speed and positioning.
SASSUOLO ACADEMY TO THE FIRST TEAM
After developing with the I Neroverdi for nine years, the club gave him his first professional contract in August 2018 that keeps him at the Mapei Stadium until 2022.
He made his debut against Atalanta after coming on as a sub in May 2019.
His first start as a Sassuolo player came next season against Lazio in a 2-1 win and he scored the equaliser for his team in the second half to grab his first senior goal.
1 – Giacomo #Raspadori is the 1st #Sassuolo's player to score in his first ever start in #SerieA. Wonderkid.#LazioSassuolo pic.twitter.com/FNfLkAXY2D

— OptaPaolo 🏆 (@OptaPaolo) July 11, 2020
Sassuolo's outgoing manager Roberto De Zerbi was all praises for the 21-year old and told how he instantly impressed the Italian manager when he initially came into the first team.
"It took him very little time to win me over, In my first year at Sassuolo, I took him to our retreat and we immediately understood how good he was."
PLAYING STYLE AND RESEMBLANCE
Giacomo Raspadori likes to play as a forward and can play multiple positions in the final third including the left-wing. He is best suited to play as a second striker who can make quick runs into the box and hurt the opponent with his superb sense of positioning and low centre of gravity.
The 21-year old has a comparatively smaller physique for his position, standing at just five feet six inches. Despite the lack of height, his aerial ability knows no compromise. It rather helps him leap higher above the defenders and meet crosses with his head.
Giacomo #Raspadori si racconta nella nuova puntata di #NeroeVerde 💬️

L'intervista completa è disponibile su https://t.co/3zUsQ9tShT 📺#ForzaSasol 🖤💚 pic.twitter.com/WSKlabXXIu

— U.S. Sassuolo (@SassuoloUS) February 17, 2021
His ability to move and strike the ball with both his feet makes him even more lethal in the box. Sassuolo helped him develop more on the technical side of the game knowing his physicality which comes in handy as he can drop deep and build attacks from the midfield with his vision, skills and passing. This trait of his impressed Roberto Mancini and helped him make it to the already talented Italy forward line with players like Chiesa, Insigne and Belotti.
His physique and playing style drew resemblance to Sergio Aguero, whom Raspadori credits as one of his major inspirations along with Carlos Tevez and Di Natale.
JOURNEY WITH THE AZZURI
Raspadori came out the pitch upset and unnerved after failing to help his team get past the quarter-finals of the U21 Euros, but to his and everyone else's surprise, Roberto Mancini called him up to the senior squad the very next day.
He has been a regular in the national team since 2016, first joining the U17 team. A year later, he joined the U19 team and played the UEFA U19 European Championship. He kept climbing the ladder step-by-step and soon moved into the U20 and then the U21 national squad.
The 21-year old earned his first senior team cap three days after joining the squad when he made a substitute appearance against the Czech Republic in a warm-up friendly that ended 4-0 in the Azzuri's favour.
The moment Giacomo #Raspadori made his Italy debut! 🙌#ITACZE #Azzurri #VivoAzzurro pic.twitter.com/hS0UGVUptL

— Italy ⭐️⭐️⭐️⭐️ (@Azzurri_En) June 4, 2021
As the national coach Mancini said, he might become the next Paolo Rossi for the Azzuri, who also came as a 21-year old in the 1978 World Cup and scored three goals in his debut tournament. He won the golden boot four years later and led Italy to the World Cup glory in 1982.