As Zlatan Ibrahimovic completes his sensational free transfer move to Manchester United, we look back at the top 10 free transfers in Club history. Only time will tell whether the towering Swede will qualify for a similar list in the future, or not.
1.) Roberto Baggio to Bologna (1997)
At 30 years of age, Baggio was released from Milan by manager Fabio Capello who felt the footballer was well past his best. Instead, mid-table finishers Bologna snapped him up and what followed next was truly astonishing. Baggio netted 22 goals in the serie- A that season and his stellar performance was rewarded with a Ballon D'or nomination and a call up for the national team's 1998 world cup squad.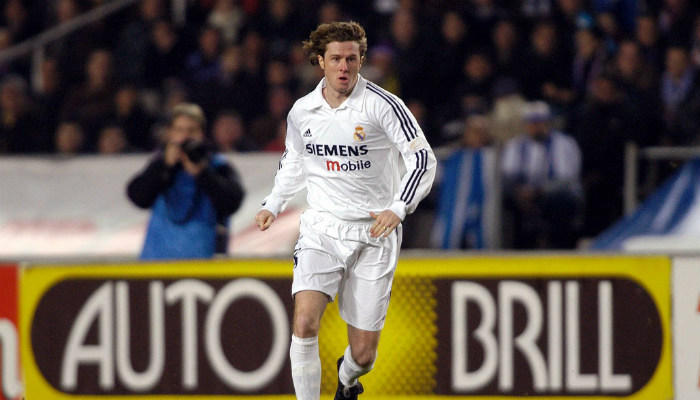 2.) Steve Mcmanaman to Real Madrid (1999)
After a contractual disagreement with Barcelona in 1997, Mcmanaman played out his contract with Liverpool before moving to the capital city of Spain. As the campaign progressed, Mcmanaman continued to cement his place in the squad and topped of an excellent season with a sensational volley in the Champions League final against Valencia. Los blancos went on to win 3-0 and Steve came to be regarded as one of the most successful modern exports from English Football.
3.) Gary McAllister to Liverpool (2000)
Gerrard Houllier spotted something in 35 year veteran McAllister which no one else did. Having acquired his services, both manager and player proved their doubters wrong as the Scotsman's calming midfield influence made him crucial in a season where he appeared 49 times as the club went on to win a treble of cup competitions. To top it off he was also declared man of the match in a pulsating UEFA cup final win over Alaves, which ended in a 5-4 triumph for Liverpool.
4.) Sol Campbell to Arsenal (2001)
The controversial move from the white to the red side of north London put Campbell on the receiving end of vitriol from the lane and its supporters. But the move gave Campbell everything he wanted from Champions League football to the League title. When he finally hung his boots in 2011, his career spanned over half a dozen clubs, but didn't cost a single penny in transfer money along the way and earned the tag of "Cult of free transfers"
5.) Jay Jay Okocha to Bolton Wanderers (2002)
Having had a 10 million pounds offer rejected 4 years ago from PSG, Sam Allardyce came to take back his long lost love 4 years later when Okocha's contract expired. Four years, 145 games and his dazzling use of trickery were a clear justification of why Big Sam waited 4 years and yet pounced at the very moment. Okocha departed Bolton as a club legend.
6.) Esteban Cambiasso to Inter Milan (2004) and Leicester City (2014)
After being roped in by Real Madrid, Cambiasso was an important part of the legendary Inter Milan side of 2004 which went on to win the treble under Jose Mourinho. A similar fate lay in store when he joined Niger Pearson's newly promoted Leicester and went on to become the foxe's player of the season, guiding the team to safety from relegation.
7.) Andrea Pirlo to Juventus (2011)
Although Serie A's transfer market history was characterized by chaos, Milan biggest blunder was to let the Italian playmaker leave to Turin free of cost. If winning the Scudetto 4 times since his arrival doesn't paint a full picture, then Pirlo was solid performances at the highest level at both club and country up until 2015 certainly will. Using the term "Freebie of the century" wouldn't be hyperbole here.
8.) Miroslav Klose to Lazio (2011)
Leaving Bayern Munich for Italian outfit Lazio was a transfer that raised a few eyebrows. Yet Miroslav went on to prove that age is just a mere number, he scored a staggering 48 goals in 115 Serie A games, including five in the space of an hour against Bologna in 2013. If that's not all, the German will once again don the number 11 shirt for Lazio this season.
9.) Paul Pogba to Juventus (2012)
After releasing him for free in 2012, Manchester United are  now willing to pay Juventus a sum in excess of 60 million pounds to try get Pogba back to Old Trafford. Such is the impact that the frenchman has had in his 3 years time in Turin, being touted as one of the best midfielders in the game. In hindsight, he was undoubtedly one of Sir Alex's very rare mistakes.
10.) Robert Lewandowski to Bayern Munich (2014)
After having led a Klopp-inspired Dortmund attack in 2013, Lewandowski had gone on to establish himself as one of the most prolific strikers in the world. When Dortmund doled him out to arch rivals Bayern Munich for free, it left the football fraternity perplexed. In him, Bayern found a goal-scoring machine, 47 goal in 63 clubs appearances holds testimony to that.