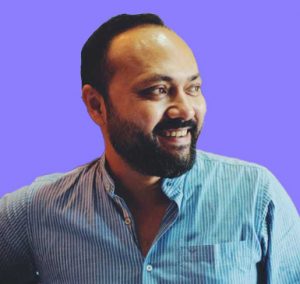 Football fanatic-in-chief but is often found in the kitchen; cooks up a mean meal at the drop of a hat.
Co-Founder & Head Of Product
Professional pensive who seeks out the efficiencies in the universe & his Uber drivers but wears a funky mask.
Co-Founder & Head Of Design
Loud music, not so loud demeanour & a repository of everything automobile – mostly found in parking lots.
If the grass was green, you would want to hook-up with this g.o.a.t. debater – but don't take away his fish & rice.
If Thanos came on planet earth, he would want to look up this homo sapien and ask for some advice about losing marbles and stones
Madcap who dabs at the every opportunity offered, with a smile that resonates with sunshine.
Often found meditating in the middle of a workday, this uber-creative lanky lad is a new comic book every day.
Sailor Tinker Tailor Shy, he is only in his elements on the football pitch where he plays on the left wing & has a trophy cabinet
The cool dolphin in the land of snows, rapper, mostly pensive, and a Real Madrid fanboi who is often found in green grasslands
He loves also things artsy. A pop-culture geek who always roots for the underdog. He is also a massive Joe Allen fan?! That is why he started playing in central midfield.
A hardcore Chelsea fan, who is found playing football on the weekends. He has a voice of an angel and his rendition of old Hindi classic songs will make your heart melt. He is the man with the funky hair.
The kid idolizes Guardiola. Never blue unlike the team he supports, you will always find him smiling, a true Citizen. He spends his free time playing Fifa and watching anime on most days.