Bert van Marwijk has been announced as the new head coach of Australia's national football team, the Socceroos, ahead of the FIFA World Cup.
The Football Federation of Australia (FFA) announced the Dutchman as the replacement for outgoing coach Ange Postecoglou, who resigned in November after successfully qualifying for the World Cup.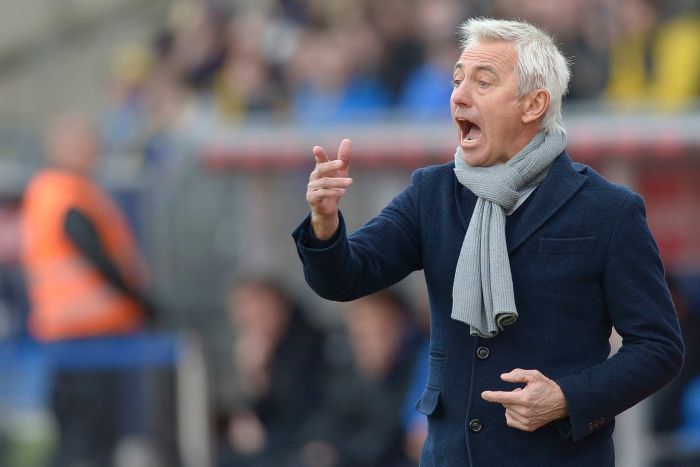 Van Marwijk comes to the Socceroos with considerable World Cup experience, having coached the Netherlands to the final in 2010.
He most recently coached Saudi Arabia who he led to automatic qualification for the 2018 World Cup in Russia.
"This is a great result for Australian football," FFA chairman Steven Lowy said in a media release on Thursday.
"Bert Van Marwijk is world class. He took the Netherlands to the World Cup final in 2010, he led the Saudi Arabian team to qualify directly for this year's finals and most importantly, he knows a lot about our team and how they play because he studied them closely as an opposition manager in the same group."
Lowy also said Australia head to Russia with a group of "battle-hardened players" who made it to the World Cup using the toughest road possible".
"In Bert Van Marwijk we have a manager who can achieve great things with this team. And we will ensure they have the resources necessary to give them the highest level of preparation," Lowy said.
Van Marwijk, who also coached Borrusia Dortmund and Hamburger SV in Germany, beat out a decorated field of contenders for the job, including Roberto Mancini, Louis van Gaal and Marcelo Bielsa.
It is believed that he will only hold the position until the conclusion of Australia's World Cup campaign, at which point a local, reportedly Sydney FC manager Graham Arnold, will take over the team on a more permanent basis.