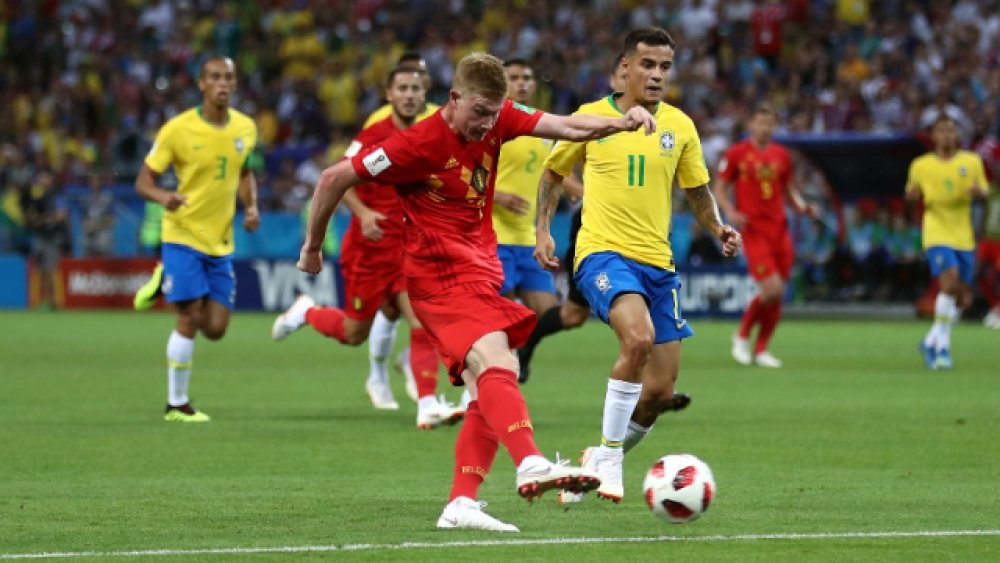 Brazil's Own Goal Helps Belgium To Semifinal In Epic World Cup 2018 Clash
Following an error from Brazil, Belgium beat the five-time World Cup champions on Friday evening at the Kazan Arena 2-1 to march into the semifinal.
It will be their second semifinal, following their defeat by Argentina in 1986.
The Red Devils will now face the 1998 World Cup champions France, who had earlier seen off Uruguay 2-0. Whereas Brazil, who had almost equalized at the end of the match, failed to repeat the victory over France 16 years ago.
The match was breathtakingly fast-paced from the very beginning, with both sides attempting to score immediately after the opening whistle.
The deadlock was broken by a surprising 13th-minute own goal from Brazil's midfielder Fernandinho, who rose high following a corner from Belgium trying to clear the threat. But the ball bounced off his arm into the net.
The Red Devils doubled the lead on the half hour mark.
Romelu Lukaku, Belgium's all-time leading scorer who had four goals in the Russia World Cup, blitzed down the middle from his own half and crossed to Kevin De Bruyne, before the Manchester City forward tucked home the ball to the bottom left.
Brazil had several chances to score, and their attack fruited in the 76th minute. Philippe Coutinho, down in the left, sent a delicate delivery to substitute Renato Augusto, and the Beijing Guoan midfielder glanced in.
But the goal was not enough to save Neymar's team.
Brazil and Belgium were ranked as No. 2 and No. 3, with the South American side having reached the quarterfinals for the seventh consecutive World Cup and unbeaten in their last 15 games since June 2017. Their opponent were the top scorer at the Russia World Cup.
This was their fifth encounter. Last time when Brazil and Belgium faced each other at the 2002 World Cup, the Red Devils were beaten 0-2.
So many have expected the match to be an intensive one. And so it was.
Belgium made two changes from their last match against Japan, starting with Marouane Fellaini and Nacer Chadli who saved the team after being summoned from the bench on Monday evening. Brazil replaced Filipe Luis with the recovered Real Madrid defender Marcelo.
Belgium, who forced Brazilian goalkeeper Alisson to several excellent saves, nearly had a third goal ten minutes before end of the match with a shot from Augusto, but it went slightly wide of the left.
Brazil missed an immediate leveller two minutes after their own goal. Receiving from Neymar, Gabriel Jesus, also from Manchester City, shot from close range but his effort was blocked.
While Neymar might be mourning at his close miss for the chance to save his team in their last attempt. He curled the ball at the death, but Chelsea goalkeeper Thibaut Courtois managed to tip it over.
There were also controversies over whether a penalty should be given for Gabriel Jesus's fall. But the appeal was not taken.
Thomas Meunier was booked for offending Neymar, and will miss the next match. But for the time being, it did not bother the joyful Roberto Martinez.
"Brazil have so much finesse and you know that they can cut you open. But I didn't think for one second that the players would give up," said the coach of Belgium.
"We had to defend well for 90 minutes. But I felt our performance merited the opportunity to go through."
"When you play Brazil…there's a psychological barrier: the yellow tops, the five world titles and everything that goes with that. So we had to be brave tactically," he said.
"It was a big gamble to change things and we needed the players to believe…There were a lot of threats to stop and Hazard and Lukaku gave us that with their positioning on the pitch. Today was about their mentality and I'm the proudest man on earth because I gave the players a very tough tactical assignment and the way they believed until the last second was incredible."
"They've done something special tonight and I hope everyone in Belgium is very, very proud. It has created a nice memory and we should treasure it. But now we need more energy for our next game to try to make sure we're just as good in the semifinals."
Tite, the Brazil coach, said it was a great match, in which they had plenty of possession and a lot of opportunities.
In fact, Brazil excelled in all aspects. They had 59 percent of possession, 27 shots with nine on target, and eight corners, as opposed to 41 percent of possession by Belgium, nine shots including three on target, and four corners.
"But Belgium were more effective in converting their opportunities. They have a lot of top players and finished well," said the Brazilian tactician at the post-match press conference.
"Courtois also made a real difference. It was a very impressive game between two games with fantastic technical qualities. For all the pain I feel right now, if you like football, you have to watch this game. It's going to give you pleasure. If you're a neutral, you can sit back and say 'What a match!' Anyone who appreciates football can see that this was a beautiful game."