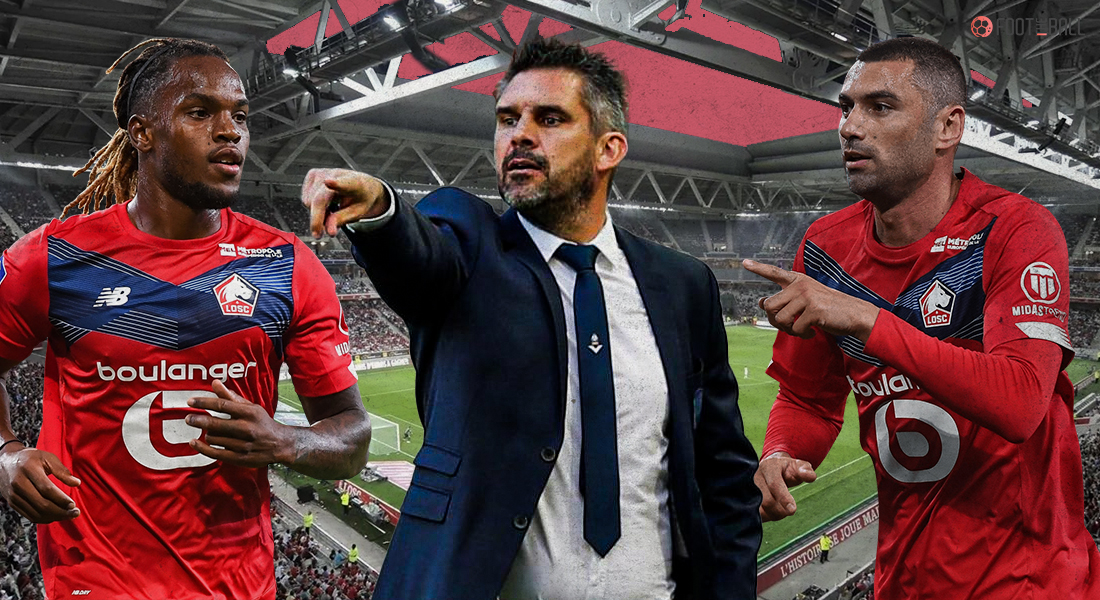 LILLE SEASON PREVIEW: CAN THE DEFENDING LIGUE 1 CHAMPIONS AUTHOR ANOTHER FAIRYTALE?
Last season, in an intriguing and surprising French title battle, PSG's opulence ran out of steam in the light of Lille's winning drive. Les Dogues were able to smash The Parisiens' stranglehold in France last season, losing only three matches and winning the Ligue 1 title for the first time in a decade. 
Nobody could have predicted that Lille would ever win another title when Christophe Galtier took over as head coach at the midway point of the 2017-18 campaign, with the club mired in crisis. However, their ascent has been dramatic, and last campaign they defeated PSG on April 3rd to begin a stretch of six wins in eight matches that drove them to glory.  
But now, things are more complex than ever for the French champions as they prepare for another top-flight season. FootTheBall examines Lille's backstage predicament and whether a back-to-back title is en route for them. 
FAIRYTALE LAST SEASON 
Financial problems did not detract from Lille's successes last season but rather added to them. Despite their financial difficulties and a team that cost a fraction of the cost of PSG's, they surprised the country by becoming champions and bringing an end to the capital club's domination. The fact that they utilized a slew of PSG misfits to win it all added to the yumminess of their success.
As Parisiens spent big bucks on transfers, four jewels slipped out from their clutches and landed at Lille. Goalkeeper Mike Maignan, midfielder Boubakary Soumare, and strikers Jonathan Ikone and Timothy Weah all played key roles in dethroning one of the globe's wealthiest sides. 
This group has had some excellent young players who have been mentored by quality veteran players. Jose Fonte, 37,  was a commanding skipper, while Turkish striker Burak Yilmaz, 35, had a massive impact with 18 goals last season. 
Apart from a single season in China, Burak Yılmaz had spent the entirety of his career in Turkey prior to last summer.

At 35, he's spearheaded Lille to their first title in a decade with 16 goals and 5 assists in Ligue 1. pic.twitter.com/uUnDYjZj6F

— bet365 (@bet365) May 23, 2021
This wonderful combination of youth and seasoned players unleashed the perfect storm at the appropriate time. Lille stormed under Christophe Galtier after PSG dismissed Thomas Tuchel unexpectedly. Despite financial difficulties, the guy who stepped in to save them in 2017  gradually revived the club and guided them to their fourth Ligue 1 title.
GALTIER OUT, GOURVENNEC IN
Christophe Galtier won more than half of Lille's Ligue 1 games in his tenure as manager. Since assuming managerial duties from Marcelo Bielsa and pulling off a miraculous comeback to keep the club in the top division in 2017/18, his record in the Ligue 1 was second, fourth, and champions.
Hello Monsieur #Ligue1 Coach of the Season 🏆 👏. Show some ❤️ for Christophe Galtier ! pic.twitter.com/37blUvcpAr

— LOSC Lille EN (@LOSC_EN) May 23, 2021
The 54-year-old manager didn't let the off-field issues of the club enter Lille's locker room. While everyone else was doubting and underestimating them, the manager succeeded to keep his players' feet on the ground and their sights dead anchored on the ultimate goal. Given the club's mid-season ownership change, which might have wrecked the squad's campaign, Galtier's accomplishment becomes even more impressive.
And after leading Lille to their fourth French top-flight title and first in a decade, he exits the Lille gates at the highest point of his career, to join Nice and makes way for Jocelyn Gourvannec. Gourvennec returns to management for the first time since May 2019, when he presided over EA Guingamp's relegation from Ligue 1 after initially being instrumental for their spectacular rise and Europa League qualification.
FINANCIAL WOES
The Ligue 1 champions, along with a number of other French clubs, are entrenched in an economic meltdown. Even though the squad was playing exceptionally well last season, their apparently unending financial troubles struck a breaking point halfway through the season. Gerard Lopez, the club's majority shareholder, was forced to sell the club after failing to return the £200 million he borrowed from giant American lenders.
Lille has routinely lost millions in recent years, Covid-19 has wrecked football coffers throughout the world, and a £2.75 billion television deal also crumbled. This has plunged the majority of French clubs into upheaval, with Lille gazing right into the budgetary grave and currently facing significant financial problems. 
Considering their off-field troubles, they've had to sell important players in recent seasons, and regardless of their Ligue 1 glory, they may well have to do the same again this summer. Despite making a fortune from the transfers of important players in recent seasons, the club has barely kept its head above water. 
The first order of business for the new owners is to balance the debt books. Portugal's Renato Sanches has flourished at Lille and is still only 23, so the club might demand a massive amount if he is sold. Young jewels like Timothy Weah, Sven Botman, and Canada's Jonathan David can also potentially bring in the big bucks for the club. The club has already said their final goodbyes to Soumare and goalkeeper Maignan after they joined Leicester City and AC Milan, respectively.
🔴 LOSC and @LCFC have reached an agreement for the transfer of Boubakary Soumaré, with the midfielder today officially teaming up with the Foxes in the Premier League. pic.twitter.com/saU7d8I3Ih

— LOSC Lille EN (@LOSC_EN) July 2, 2021
As Lille seems desperate to show some of their payers the exit doors, other teams have been making moves. Calvin Stengs, Kamaldeen Sulemana, Jens Cajuste, possibly Myron Boadu, the PSG acquisitions, many more who had previously played in France such as William Saiba, Loc Badé, Matté Guendouzi, have all been added to the Ligue 1's talent pool. 
WHAT'S NEXT FOR LILLE?
Lille's success has been founded on excellent recruiting, with the club consistently unearthing stars before selling them for exorbitant amounts of money. The management will have to continue doing so, but now without the recruitment process in order to bring back the financial stability. 
Thiago Mendes for €7m → sold for €29m

Rafael Leão for €5m → sold for €24m

Gabriel for €3m → sold for €26m

Nicolas Pépé for €3m → sold for €72m

Victor Osimhen for €12m → sold for €70m

Luis Campos' transfer sales laid the foundations for Lille's Ligue 1 title. https://t.co/CCJkSmMyOd pic.twitter.com/2JJlzpy7Zb

— bet365 (@bet365) May 24, 2021
Given Lille's financial difficulties and PSG looking stronger than ever before, a back-to-back title for the defending champions is highly unlikely. However, Lille has the heart, toughness, and mentality of a true champion and is capable enough to hand the capital side another upset.