Hoffenheim vs Wolfsburg
Struggling Hoffenheim host high flying Wolfsburg in the Bundesliga on the 6th of March. 
Hoffenheim who currently sit 11th take on a powerful Wolfsburg side who are looking to cement their place in the Champions League spots.
Here's where things stand after this weekend 📊#BLMatchday pic.twitter.com/8J7373W9nr

— Bundesliga English (@Bundesliga_EN) February 28, 2021
Hoffenheim have been terrible this season specially their defence that has been the 6th worst in the league this season and sit 11th now. They have conceded an astounding 40 goals in the Bundesliga this season , which is not a massive surprise as they have had a lot of injury problems mainly in defence; they only have half of the senior center backs available in the squad as 5 of them are out with significant knocks. Sebastian Hoeness's men have won only one match in their last five, and he'd be hoping his Hoffenheim squad can stop Wolfsburg who have surprised more than a few this season with their performances. 
European places
.
.
.
.
.
.
.
.
.
Hoffenheim
.
.
.
.
.
.
.
.
.
Automatic relegation

Ten points clear of the drop zone, ten behind the top six. Will it be a mid-table finish for @tsghoffenheimEN, or could things still get interesting either way? 🤔 pic.twitter.com/QysoTKR21e

— Bundesliga English (@Bundesliga_EN) March 3, 2021
Wout Weghorst led Wolfsburg have been surprisingly brilliant this season and Oliver Glasner's side boasts the best defensive record in the league this season, they have conceded a meager 19 goals in 32 matches. Their defence is not the only reason they sit in 3rd spot in the league. Their giant Dutch forward Wout Werghorst has been in amazing form this season and has a total of 18 goal Contributions in the Bundesliga. On the other hand Oliver Glasner's side has also been lucky with injuries because they have not had many and currently have a fully fit squad just rearing to go. Wolfsburg would be looking to thrash a mediocre Hoffenheim side in this game, and could possibly run away with the game.
– Unbeaten in nine
– Haven't conceded in 7 games
– Sitting in third place

Can Wolfsburg do it? 💭 pic.twitter.com/Cx4lv6d2TU

— Bundesliga English (@Bundesliga_EN) March 2, 2021
TEAM NEWS
Hoffenheim have had a woeful time in league due to injuries this season, with 9 first team players out injured and they do not exactly possess consistent quality in depth. Center backs Stefan Posch, Kevin Akpoguma,Benjamin Hubner,Ermin Bicackcic,Havard Nordveit and  Konstantinos Stafylidis; midfielders Dennis Geiger and Mijat Gacinovic and striker Ishak Belfodil. Sebastian Hoeness's Hoffenheim would look to deploy a 3-5-2 against Wolfsburg's potent attack. The most probable Hoffenheim Line-up would consist of- Baumann,Richards, Grilltisch, Vogt,John,Samassekou,Rudy,Kaderabek,Baumgartner,Bebou and Kramaric.
Aufrichten und den Blick in Richtung #FCUTSG lenken 👊

— TSG Hoffenheim (@tsghoffenheim) February 26, 2021
Wolfsburg boast a fully fit squad that is equipped with consistent performers throughout the pitch. Oliver Glasner has deployed a traditional 4-2-3-1 during the season with hard working wingers in Steffen and Baku which provide a bundle of energy in the wide areas. The most likely lineup for Wolfsburg in this match against Hoffenheim would consist of-Casteels,Otavio,Brooks, Lacroix,Mbabu,Schalger,Arnold,Gerhardt,Baku,Steffen and Weghorst.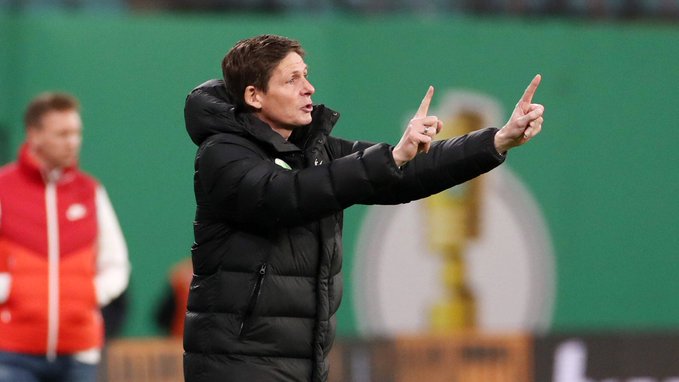 (Courtesy: VfL Wolfsburg/Twitter)
GAME CHANGERS
Hoffenheim would be looking to talisman Andrej Kramaric in this game he has been his consistent best this season and has 13 goals and 4 assists in the Bundesliga till now.Ihlas Bebou has also played well this season and the duo of Kramaric and Bebou would be the most effective weapons against this Wolfsburg side and their performance could play a major role in this game.
🔹 150 @Bundesliga_DE-Spiele 🔹

Herzlichen Glückwunsch, Andrej #Kramaric 🙌#TSG | #FCUTSG pic.twitter.com/8jAY6PWiyG

— TSG Hoffenheim (@tsghoffenheim) March 1, 2021
 Wout Weghorst has been exceptional this season and due to his aerial prowess, wingers Renato Steffen and Ridle Baku have contributed 16 goals from the wings this season and their defensive contributions have also been noteworthy. 
38' Wout bringt unsere Wölfe mit einem feinen Heber in Führung! YES! 🔥#FCAWOB 0:1 pic.twitter.com/XUFdvfr0JA

— VfL Wolfsburg (@VfL_Wolfsburg) February 6, 2021
PREDICTIONS 
We see this game going only one way, as we think Wolfsburg will dominate Hoffenheim at their home and would run out comfortable victors with the scoreline seemingly being 3-0 in favour of the visitors. We also hope that Wolfsburg do not hold back in the game as it would be fun to see them firing on all cylinders against this defensively suspect Hoffenheim side.