As we approach the oldest football competitions of teams in the world the Copa America this summer, let us take a look at the golden boot winners.
The tournament formerly known as the South American Football Championship was given a major revamp in 1975 in both its naming and format and arrived at the current form we know.
Let us take a look at all the golden boot winners in the prestigious tournament since 1975.
1) Copa America 1975
Leopoldo Luque (Aregntina) and Ernesto Diaz (Colombia) – 4 goals
The Argentine and Colombian strikers were tied for the golden boot in the '75 edition. Interestingly all 4 of Luque's goals came in the group stage against Venezuela when they faced each other twice. A hattrick in their first meeting followed by a single goal in the 11-0 drubbing second time around. Despite these heroics, they failed to clear the group stages.
Ernesto Diaz meanwhile had a better Copa America. He helped his side to the finals after scoring a goal in the semis. He also had 3 strikes in the group stages. Diaz had quiet finals and couldn't help as his side was beaten by Peru in a best of 3 series.
2) Copa America 1979
Eugenio Morel(Paraguay) and Jorge Peredo(Chile)- 4 goals
Peredo, the Chilean winger scored all 4 of his goals in the group stages and lead his side to the finals where they went down to Morel's Paraguay. Morel scored a crucial goal in the semifinal that sent them through to the finals. However, Morel got sent off in the second game of the finals but was lucky to lift the title as they triumphed over Chile.
3) Copa America 1983
Carlos Aguilera(Urugauay) , Roberto Dinamite(Brazil) , Jorge Burruchaga(Argentina) -3 goals
Just 3 goals were enough to clinch the golden boot at the '83 edition.Aguilera the Uruguayan forward had a dream tournament as he scored goals in the semis and finals as his side were crowned the champions. Dinamite could only watch as his side lost the finals to Uruguay. He scored all 3 of his goals in the league stage. Burruchaga was heartbroken as his 3 efforts weren't enough for Argentina to clear the group stages.
4) Copa America 1987
Arnoldo Iguaran (Colombia) – 4 goals
Arnoldo Iguarán.
Colombia 🇨🇴 pic.twitter.com/j4cFjcxmLI

— Olympia (@olympia_vintage) June 26, 2019
El Guajiro was named the sole golden boot winner for the first time in modern Copa America's history. The dynamic forward was also the nation's highest scorer until Radamel Falco tied with him. Iguaran scored 4 goals in group stages as his team finished 3rd in the tournament.
5) Copa America 1989
Bebeto (Brazil)- 6 goals
Bebeto (Brazil), in the semifinal of World up USA94,
Brazil 1-0 Sweden at Rose Bowl in Pasadena, Los Angels, att:84,569 13/7/1994 Photo by Masahide Tomikoshi / TOMIKOSHI PHOTOGRAPHY pic.twitter.com/dHwy72aW1f

— tphoto (@tphoto2005) September 3, 2018
Jose Roberto Gama de Oliveira fondly known as Bebeto was extraordinary at the '89 edition.His 6 goals across the group and final stages ended Brazil's run without an international trophy for a long time.
6) Copa America 1991
Gabriel Batistuta (Argentina)- 6 goals
😇 Gabriel Batistuta became arguably the greatest player in Fiorentina's history, fired Roma to the Scudetto, won four trophies with @Argentina and remains the only player to score a hat-trick in multiple #WorldCup tournaments

🎉 Happy 52nd birthday, Batigol! pic.twitter.com/nZ1lM25UqV

— FIFA (@FIFAcom) February 1, 2021
Considered as one of the greatest striker of all time El Angel Gabriel lead Argentina to their 13th Copa crown. Evenly spread across the group and final stages those goals were crucial. The quality of finishing was also unparalleled throughout the tournament.
7) Copa America 1993
Jose Luis Dolgetta (Venezuela)- 4 goals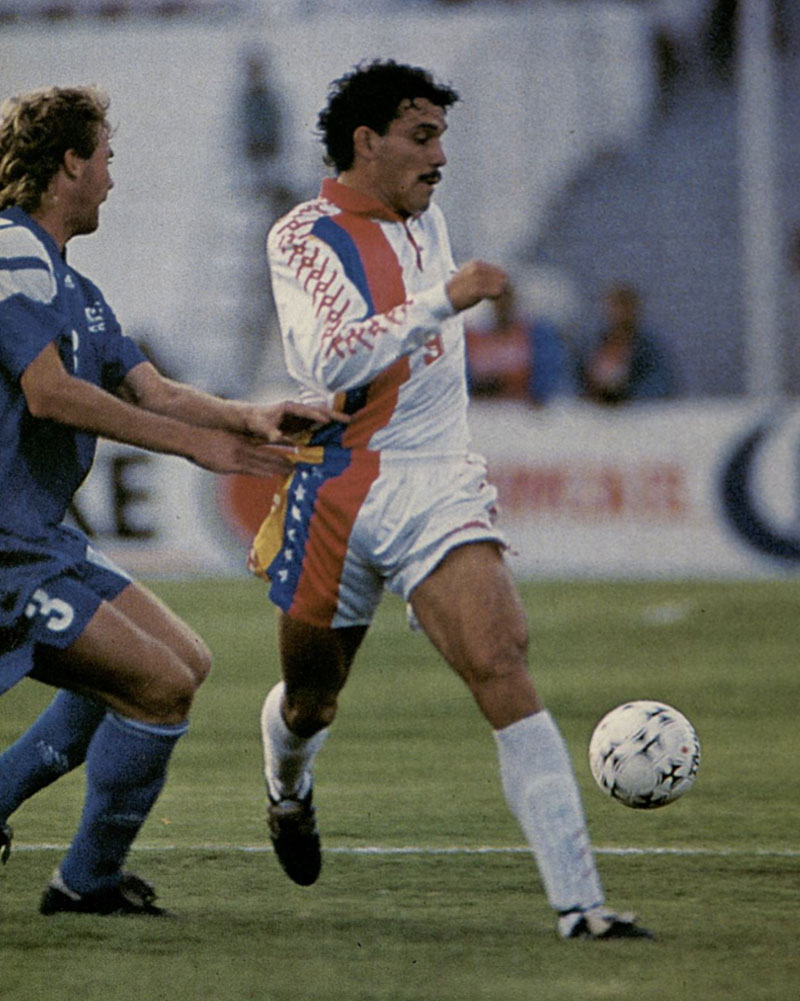 (Courtesy: CONEMBOL Official/Website)
Coming with zero expectations into the tournament Dolgetta made his presence felt by winning the golden boot. Despite giving his best his side were unfortunate and missed out on the knock-out stages by a point.
8) Copa America 1995
Gabriel Batistuta (Argentina) and Luis Garcia (Mexico) – 4 goals
Batistuta the usual suspect was back again. Terrorizing the opposition defences he scored 4 times. It was only good enough to share it with Luis Garcia.
Sadly, both their sides were knocked out in the quarters on penalties and stopped them from further adding to their tallies.
9)Copa America 1997
Luis Hernandez(Mexico)-6 goals
Me encontré esta gran ilustración de mis días con @miseleccionmx y estoy sorprendido hasta me hace ver más guapo. 🤣🤣🤣

Gracias a Luis Alberto Bonilla por la imagen. 👏🏽👏🏽👏🏽🇲🇽 pic.twitter.com/3bI1FrDWRK

— Luis Hernández "El Matador" (@elmatadorpr) April 8, 2021
In a tournament dominated by the Brazilians, "El Matador" really stood out scoring 6 times. His goals gave Mexico a real shot at the tournament but it was ended by Bolivia at the semis stage.
However, Hernandez scored again to secure 3rd place for his side.
10)Copa America 1999
Ronaldo , Rivaldo (Brazil)- 5 goals
Good night… #football #Brazil #Ronaldo #Rivaldo pic.twitter.com/LVMEpYgWji

— Photos of Football (@photosofootball) February 18, 2016
Few nations have their strike duos as deadly as Brazil. Considered as the greatest striker of all time Ronaldo Nazario along with Rivaldo destroyed defences as they scored for fun in tandem.
Both of them scored in semis as well finals to gift their country its 6th Copa America crown.
11)Copa America 2001
Victor Arisitzabal(Colmbia)- 6 goals
Captain Ivan #Cordoba would score the only goal in the final in Bogota as Colombia won every match without a conceding! Victor #Aristizabal would end as top scorer with 6 goals as #🇨🇴 won the title for the first time in their history! pic.twitter.com/7n4Ld3dCzo

— FFSFootballShirts (@FFootballShirts) July 30, 2020
Colombia hosted the tournament and won it for the first time in its history. It had to thank Victor for his immense contributions. Scoring in the quarters and semis he played a key role in setting up the winner for Ivan Cordoba's winner in the final. He rightfully claimed the trophy and golden boot.
12)Copa America 2004
Adriano(Brazil)- 7 goals
🇧🇷 The birth of THE Argentinian nemesis! 🦹‍♂️

⏱️ #OnThisDay in 2004, with seconds remaining, @A10imperador produced a breathtaking goal to send the @CopaAmerica final to a shootout, which 🇧🇷 @CBF_Futebol won 🏆

👑 'The Emperor' was a force of nature 🌀pic.twitter.com/iMIRPnWFc6

— FIFA (@FIFAcom) July 25, 2020
In the absence of Ronaldo, Adriano termed as his long-term successor stepped up. His goal in the injury time leveled the score at 2-2 and penalties where Brazil triumphed over Argentina in the final crowning brazil as champions again. He had similar clutch moments throughout the tournament and won the golden boot.
13)Copa America 2007
Robinho (Brazil)- 6 goals
Jogar pela seleção no dia do meu aniversário é um grande presente e uma grande honra! Tmj👊 @diegoribas10 @marcosrocha2oficial #fabiosantos pic.twitter.com/AwI2uKKYYx

— Robinho (@Robinho) January 19, 2017
The then Real Madrid forwards lit up the group stages with 6 goals. In a star-studded team, his contributions were enough to hand them another title making it back-to-back wins for Brazil.
Picked as his heir by Pele himself Robinho did well to keep up the name and deserved the golden boot.
14)Copa America 2011
Paolo Guerrero (Peru) – 5 goals
It's not official, but Paolo Guerrero and Everton are likely co-winners of the #CopaAmerica Golden Boot.

Felicitaciones, capitán! pic.twitter.com/al3nr1kuFR

— The Peruvian Waltz (@PeruWaltz) July 7, 2019
The Peruvian striker was a surprise package as his hattrick in the third-place playoff won him the golden boot at Copa America 2011. Peru made it to the latter stages of the tournament through sheer will. Beaten by Uruguay the eventual champions, they headed to the third-place play-off. A goal in the injury time completed his hattrick and took him further clear of Luis Suarez handing him the golden boot.
15)Copa America 2015
Eduardo Vargas(Chile) and Paolo Guerrero (Peru)- 4 goals
Paolo Guerrero successfully defended his golden boot. This time only 4 goals were enough and also he shared it with Vargas. While Vargas's goals took his side to their first American crown, Guerrero's customary goal secured his side the customary 3rd place.
16) Copa America 2016
Eduardo Vargas (Chile)- 6 goals
Eduardo Vargas scores four as #CopaAmerica defending champions Chile rout Mexico 7-0! pic.twitter.com/rkggfqB8Bk

— ESPN FC (@ESPNFC) June 19, 2016
Once he got the taste for it Vargas successfully defended his golden boot at the Copa America in 2016. What's sweeter is his country also defended the title and he won the golden boot solely. His 4 goals destroyed Mexico in the quarters. If he could only translate this form into his club career we would've witnessed one more legendary attacker.
17) Copa America 2019
Everton Soares(Brazil)- 3 goals
Everton are preparing a €30m bid to sign their Brazilian namesake Everton Soares from Gremio. (Source: ESPN) pic.twitter.com/gJUGp4BlwF

— Transfer News Live (@DeadlineDayLive) January 10, 2020
A meager of 3 goals were enough to win the golden boot that time. Everton the young Brazilian winger won it for his first time. Everton's crucial strike in the final also won his side another Copa America making it 9 titles successfully.