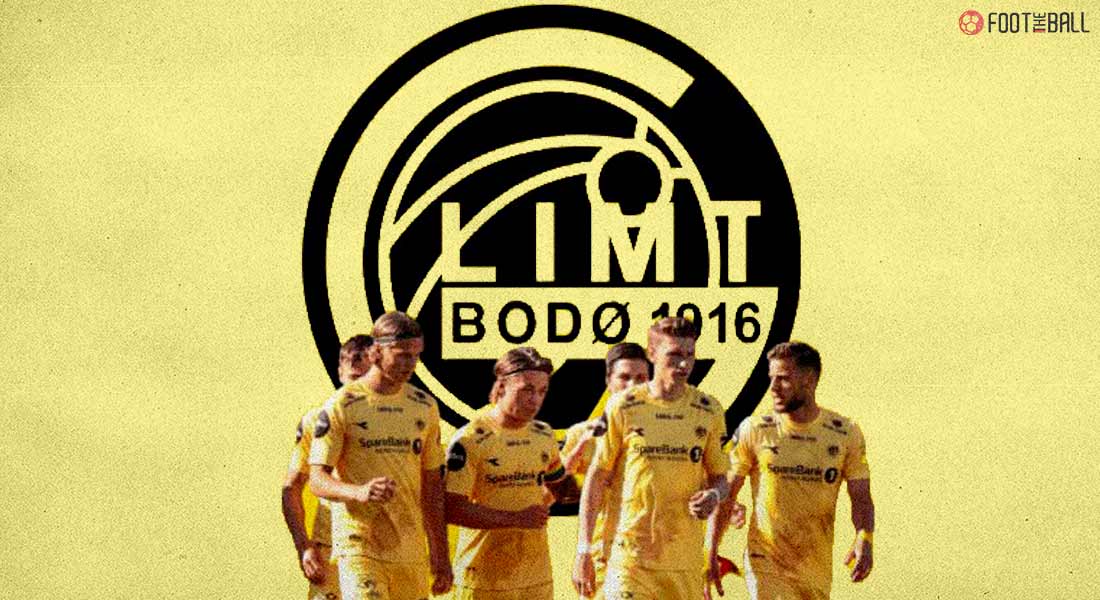 THE RISE AND RISE OF FK BODO/GLIMT TOOK ANOTHER MONUMENTAL STEP FORWARD LAST NIGHT
What is common between Haugesund, Aalesunds, Odd- teams from the Norwegian top-flight and AS Roma in Serie A? All four teams have been spanked/thumped/smashed/ 6-1 by FK Bodo/Glimt over the past year-and-a-half. The side whose fans carry giant yellow toothbrushes to game since the 1970s.
Kampen er over! Glimt vinner 6-1 over Roma på Aspmyra 💛 6-1. Mot Roma.

Gratulerer til alle. Til hele Bodø, Nordland og alle med helgult hjerte! Vær stolt av kor du e fra! pic.twitter.com/dTZwTfQNBb

— FK Bodø/Glimt (@Glimt) October 21, 2021
The last one seems a bit of an anomaly, doesn't it? That is because it happened last night and in the UEFA Europa Conference League, with Jose Mourinho as manager of the Italians. The municipality of Bodo where the team is based has a population of just over 52,000. Stadio Olimpico, the home ground of Roma, can hold more than 70,000.
🔥 #uecl pic.twitter.com/hS4ZFMwyfl

— FK Bodø/Glimt (@Glimt) October 21, 2021
Discrepancies like these and more make yesterday's feat even more improbable and a true tale of an underdog triumph in Europe.
A PERENNIAL ALSO-RAN TEAM
The most striking thing about Bodo/Glimt in terms of the Norwegian footballing landscape is how ordinary they had been before 2019. Founded in 1916, they won their first piece of silverware three years later, being crowned the County Champions of Nordland (the county where Bodo is based).
The next few decades were harsher for the side, and a lot of it had to do with the fact that Bodo/Glimt were one of the most northern teams in the country and thereby close to the Arctic Circle. They won nine North-Norwegian Championships, the last of them coming in 1969 and it was from the '70s where they really started making their mark.
Bodo/Glimt won their first major trophy in 1975- the Norwegian Cup and gained promotion to the top-flight in 1976. They immediately proved that they were no outsiders to the game, finishing runners-up in both the league and cup the next year. However, the good times came to an end in 1980 with relegation back to the second division, where they would stay for more than a decade.
It took a novice manager in his first coaching role to get Bodo/Glimt out of the doldrums. Trond Sollied was appointed player/manager of the side, leading them to promotion after winning the second-division. Once again, on their Tippeligaen debut, Bodo/Glimt finished second but won the Norwegian Cup for the second time in their history.
Their seesaw journey continued with extreme results over the next decade, as they would perform supremely well in one season and dismally the next. Bodo/Glimt finished second in league and cup again in 2003, before getting relegated in 2005. Their fate of yo-yoing between the two divisions continued sporadically, with their final promotion win coming in 2017 and since then the results have only gone up with no signs of slowing down as has been their history.
HARDENED THROUGH DISCRIMINATION
Before moving on to their spectacular performances over the past two years, it is important to understand how Bodo/Glimt were perceived in Norway for a long time. Teams from the north were not allowed to play in the Norwegian Cup till 1963, and in their maiden campaign, Bodo/Glimt defeated the mighty Rosenborg in the third round.
It took nine more years for northern teams to be able to gain promotion to the top-flight due to the inane belief that they would not be able to play at the same level with southern teams. However, the rules for the promotion caused even more angst. There were three second-divisions, out of which one was for the northern teams.
Love this pic from the @Glimt website… goalkeeper Ricardo with the famous toothbrush. #OBOSLigaen —> #Eliteserien pic.twitter.com/ozFaKNcc1R

— Ben Wells (@FotballBen) October 3, 2017
While the winners of the southern divisions gained direct promotion, it was different for the north. The winner from there would not directly qualify for the first division, they would have to compete with the runners-up in the other two divisions before one team goes through. This delayed Bodo/Glimt's promotion by three years in the mid-'70s, despite winning the cup competition in 1975. From all of this, one can understand how aggrieved they must have felt and why the team is hellbent on making up for the lost years now when they genuinely could have won more.
WINNING IT FINALLY

After finishing 11th in 2018, Bodo/Glimt would suffer a heartbreak the team has grown all too familiar with. They ended up second best to powerhouse Molde in 2019, but the core of the team was already set which reaped rewards last year.
Kjetil Knutsen e en bodømann! pic.twitter.com/hKI8tZPFNp

— FK Bodø/Glimt (@Glimt) July 14, 2021
Bodo/Glimt promoted Kjetil Knutsen to head coach three years ago, who is a spectacular man-manager, revered by everyone in the squad for his attention to the players and prioritizing the overall growth of the team. His expansive style of play is coupled with a high pressing, high possession and consistent game where every player knew his job very well.
Most of their players are homegrown and young- the average age of the league-winning team was 24. Names like Jens Petter Hauge, Kasper Junker, Philip Zinckernagel were the backbone of the side, all three having since left. The 2020 season was historic by all sorts of metrics. Bodo/Glimt scored 103 goals, conceded 32 (giving a positive goal difference of +71) and lost only once in 30 games.
📈🤯 Here's a list of all the league records that Bodø/Glimt broke as they became the first side from North Norway ever to win Eliteserien gold: pic.twitter.com/UIPfL6Cbax

— FotMob (@FotMob) December 24, 2020
They had four players in the top-scorers charts, with Junker netting a league high 27. The fact that they had done it on a shoestring budget and with the usage of sound tactics on the field made it even more impressive. Moreover, there was the appointment of Bjorn Mannsverk in 2017. The former fighter pilot became the first 'mental coach' of a football club in Norway, whose influence has steadily grown with the team.
The sessions he conducts are intense and personal, with each player while the squad as a whole meditates before training and discusses their emotions in a very open manner. It can be seen when Bodo/Glimt concedes a goal- the players may sometimes come together to discuss what went wrong before going back to start anew.
Legenda lev lenger! 💛 pic.twitter.com/07YdwmWQcr

— FK Bodø/Glimt (@Glimt) November 22, 2020
These are the kind of differentiators that has helped the minnows become an overnight sensation in Europe, though the blueprints had been in place for a long time.
NO LOOKING BACK

In the ongoing league season, Bodo/Glimt are currently in 1st place after 22 matches, holding a three point advantage over Molde. They have scored 46 goals, a far cry from last season, as evidenced by having just one player in the scoring charts.
Pump han opp! 💪 #glimt pic.twitter.com/Iqmq8Tm0YT

— FK Bodø/Glimt (@Glimt) October 21, 2021
Eric Bothiem has 13 league goals and it was the 21-year-old centre forward who took Roma apart. Two goals, three assists, six chances created by Bothiem, who featured in a rap video alongside Erling Haaland in 2016 when the latter was playing in Norway.
🇳🇴 Erik Bothiem was involved in 5️⃣ goals in Bodo/Glimt 6-1 humiliation of Roma in the Europa Conference League.

2️⃣ Goals ⚽
3️⃣ Assists 🅰️

He is only 21 years old! 🤩#EuropaConferenceLeague pic.twitter.com/TfH7Ejdj0u

— SportyBet (@SportyBet) October 21, 2021
The remarkable consistency in team selection helps Bodo/Glimt play their natural game no matter the opponents in front of them, and they currently sit top of their group with seven points. The team that had to traverse three rounds of qualifying to get here is showing no signs of letting go without a proper fight, and though they are resigned to the fact that their top players will eventually leave once again- the spirit of this new age team will not.