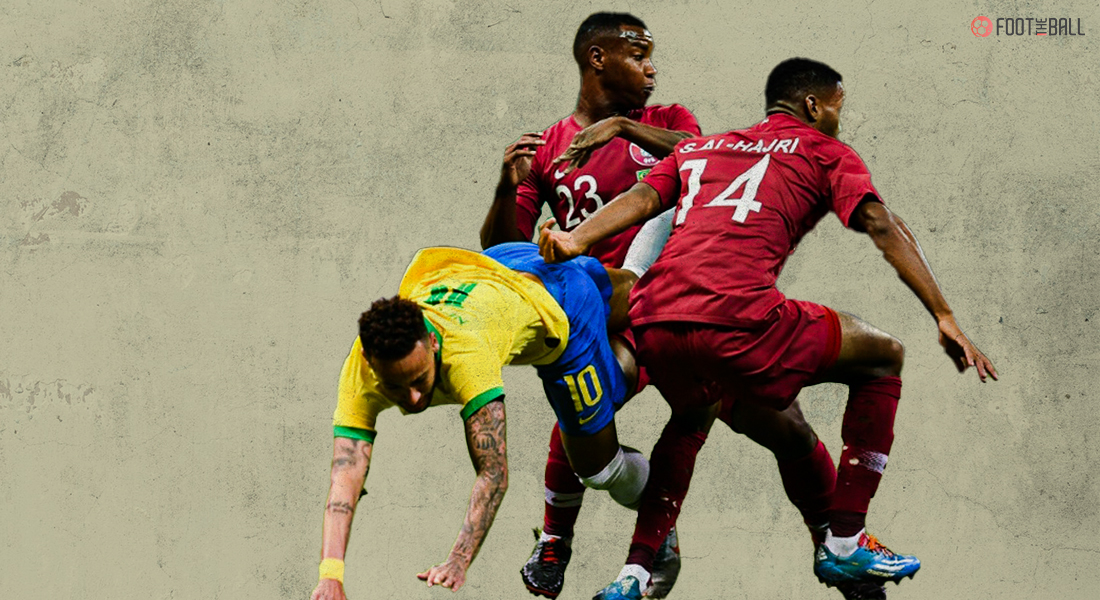 WHY THE COPA AMERICA HAS DEVOLVED INTO A MESH OF FOULS, TACKLES AND CARDS AS COMPARED TO ITS EUROPEAN COUNTERPART
The coronavirus pandemic has upended a lot of things in life, but for football fans, it has been a boon of sorts. The reason being that the Euros from last year and the Copa America are being held together right now. That has provided an overdose of matches for all the neutrals and of course, the supporters of the various nations taking part in the respective tournaments.
🎞️ Uma estreia memorável! Reviva de outra perspectiva 🇧🇷🇻🇪

CONMEBOL #CopaAmérica 2021#VibraOContinente

🎞️ A memorable debut! Relive it from a new perspective 🇧🇷🇻🇪

CONMEBOL #CopaAmérica 2021#RockingTheContinent pic.twitter.com/arhKQaMmTi

— Copa América (@CopaAmerica) June 15, 2021
There have already been a lot of goals and winning and losing across the two, but it's not been all rosy. A stark difference has emerged in between the two competitions and that is, the number of fouls that are happening. The Euros have seen a comparatively less number over its 11 matches so far than the Copa America has seen in just four matches. There might be some deeper reasons than one might assume.
Así vivieron el encuentro los entrenadores Eduardo Berizzo 🇦🇷 y César Farías 🇻🇪

🇵🇾 Paraguay 🆚 Bolivia 🇧🇴#VibraElContinente #VibraOContinente pic.twitter.com/rHgaphrVdd

— Copa América (@CopaAmerica) June 15, 2021
The notion of players from Latin America being more passionate and putting their soul into the game has been well documented over the years. How they put in the extra spirit in every match and wear their heart on their sleeves. They go hard in their tackles and their challenges, which can often lead to a bit more fouls than what is required in a match. But is it all there is this year? FootTheBall takes a deeper look as to what exactly is fueling this huge disparity in the number of fouls that have occurred so far at both Copa America and the Euros this summer.
ROUGH START
When taking the numbers at face value, the Copa America truly comes out as extra violent. Over the four matches that have been held, the number of total fouls stands at a staggering 115. That's an average of almost 29 fouls a game. In contrast, the Euros over 11 matches has had 223 fouls with an average of 20 fouls. The Copa has also seen 18 yellow cards and a red card being issued over the course of 360+ minutes.
Paraguay take advantage of a Bolivian red card and score three in the second half to win their opening Copa America match 👏 pic.twitter.com/OWwb8LYph0

— International Champions Cup (@IntChampionsCup) June 15, 2021
A few of those have also been critical in the sense that they have led to goals being directly from the resultant free kicks or penalties. When taken together, there does seem to be an extra eagerness in committing to challenges in the South American tournament. This may be happening due to a few poignant reasons. Firstly, the fact remains that most of the players who are involved in the Copa America play their club football in Latin America as well.
The ruggedness in those leagues when compared to the European ones are a notch higher. Hard tackles and strong challenges are a regular part of playing which has been accepted in the normal realms of the game. However, on the international stage, CONMEBOL cannot be seen giving too much leeway for players who wish to continue their club antics for the national team. Therefore, referees are instructed to be sterner in having control of the game  at Copa America and making sure that no kind of dangerous play is tolerated for too long. In this day and age of medical care and extra precaution on the football field, safety norms at these kinds of tournaments are of the highest stature in Copa America and the Euros both.
GOING BEYOND THE CONTINENT
Secondly, the gulf in class that remains amongst the players of different nations participating in the Copa America. When one talks of the Euros, the favourites to win the competition are many. As many as 5-6 names are mentioned, all of whom have legitimate claims to win it all. However, the case with its Latin American counterpart remains quite the opposite. Brazil are the favourites to win the trophy once again, followed by Argentina and to some extent Uruguay or Chile since all of these sides are mostly packed with players from the world's top leagues. 
A vitória da #SeleçãoBrasileira na estreia da CONMEBOL @CopaAmerica em fotos! Grande resultado para começar a competição com o pé direito.
⠀
Fotos: @lucasfigfoto / CBF pic.twitter.com/5jDbrmVRlu

— CBF Futebol (@CBF_Futebol) June 13, 2021
Given the fact that there are only 10 nations in the tournament, when one of the powerhouses take on a much less fancied nation, the players have to deal in a different manner. Obviously, one team dominates and the other has to fight for every possession in order to do something constructive. The kind of frustration of not having the ball for long periods of time can build up results in some crunching challenges during the course of the match. Consider the case of the first match of the tournament, Brazil vs. Venezuela.
OS NÚMEROS DA VITÓRIA! 📈🇧🇷
⠀
Confira as estatísticas da #SeleçãoBrasileira no confronto diante da Venezuela.
⠀
Fonte: @KinAnalytics
⠀#VibraOContinente pic.twitter.com/GNLe7jqhLT

— CBF Futebol (@CBF_Futebol) June 13, 2021
The away side had more than a dozen players infected with COVID-19 which forced them to call on an additional 14 players on the eve of their opener. Brazil won 3-0 and had 62% possession with seven shots on target compared to one for Venezuela. However, it was the second goal that best encapsulated the point of gulf in class between players. The Selecao played a quick one-two near the edge of the penalty box before Danilo knocked the ball past one defender and went down the other side to get it inside the box. He was clattered into by a second covering defender and earned a penalty.
The right-back did not have many options other than cutting the ball back into the middle which had a good chance of being cleared, but the inexperience in dealing with such trickery made the onrushing defender commit to a hard foul. Finally, the use of VAR in the tournament for just the second time has also added to the drama of more fouls being given on the pitch.
🇵🇾 Paraguay 3-1 Bolivia 🇧🇴

34 shots for Paraguay! 23 shots and 2.9 xG after the red card. pic.twitter.com/qiELIPgAZj

— Paul Carr (@PaulCarr) June 15, 2021
VAR is not used in the South American domestic leagues as opposed to its pervasive usage in Europe, leading to a lot of fouls being not called. Rash and dangerous challengers are caught by VAR far more often than by the referee alone. This was evident in last night's match between Argentina and Chile. Argentine left-back Nicolas Tagliafico caught Arturo Vidal all ends up inside the penalty box after Vidal had got to the ball first. The referee initially did not give a penalty, but after listening to VAR and consulting with the pitch side monitor, he overturned his original decision.
Argentina Vs. Chile in Copa America has officially gone WILD 😲

– VAR confirms Chile penalty
– Emi Martinez saves Arturo Vidal's penalty
– Chile's Eduardo Vargas heads home the rebound
– Another VAR check
– Goal given

1-1 with 30' left pic.twitter.com/QQ2Z21wRzO

— International Champions Cup (@IntChampionsCup) June 14, 2021
That led to Chile's equalising goal in the match and is yet another example of how players at the international level have had to be much more careful in committing to full blooded tackles. Thus, the fact that the Copa America is seeing a lot more fouls is due to the intrinsic nature of how football is perceived in the continent.
CONCLUSION
The passion and grit to go body-to-body is a tale as old as time. However, with new laws being brought in to safeguard players' wellbeing and minimising risky play, it will take some time for that aspect of the game to be phased out. The days of studs up challenges and diving in without worry are long gone, as the European game has found it over the past few years. Their players have even been told that referees are keeping a very tight watch on pushing and shoving during set pieces. That kind of watchfulness is coming slowly but surely to the Copa America too. One thing is for certain, however, the undying spirit of the game that fuels these stars will not be diminishing anytime soon.Latin American passion is clearly to see at the Copa as players at the Euros keep it clean.