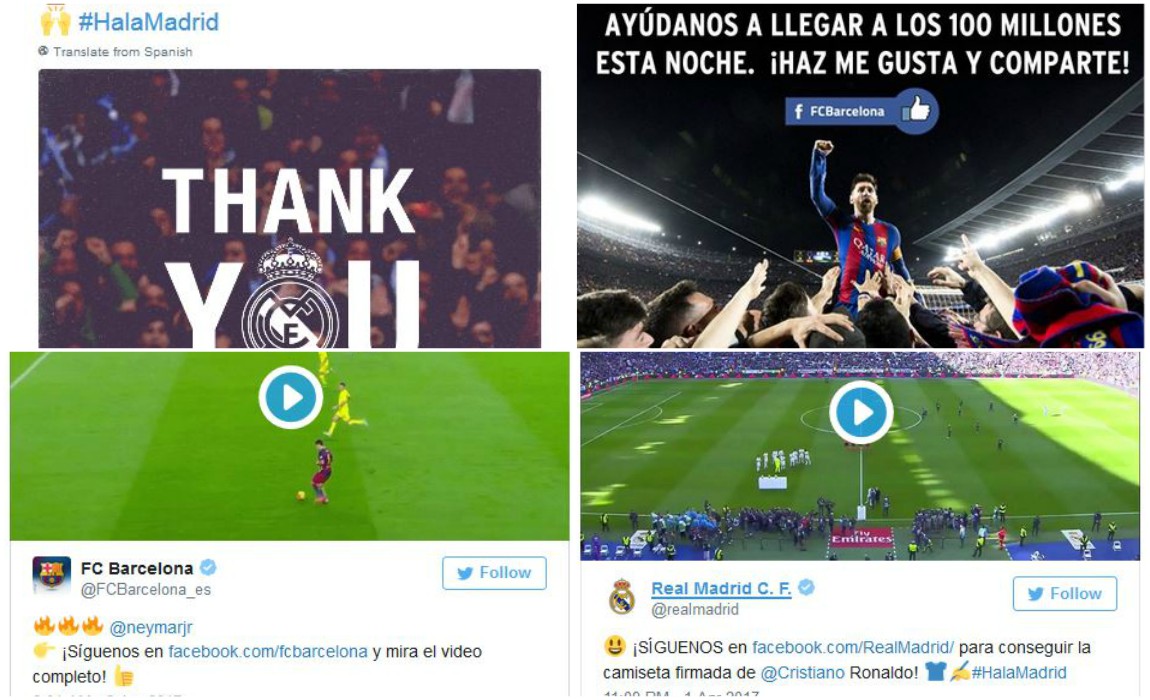 Real Madrid And Barcelona Locked In Hilarious War To 100M Facebook Likes
Real Madrid and Barcelona take their club war on Facebook in a hilarious way, to become the first sports team to reach 100 million likes on Facebook.
? #ILikeBarça ?
100 million on Facebook! Thank you!! pic.twitter.com/TtkfFf217x

— FC Barcelona (@FCBarcelona) April 2, 2017
Both the teams have now reached the tally, but Real Madrid won this battle.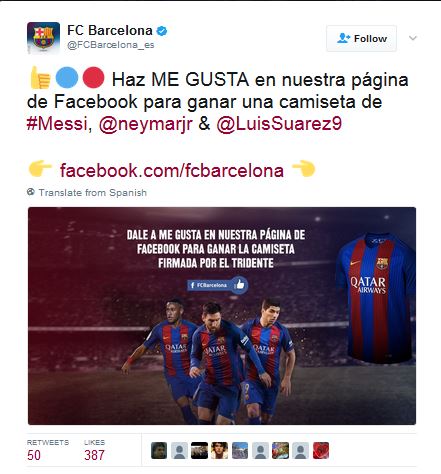 Barca showed their urgency as they tried to beat their opponent by using a variety of desperate techniques.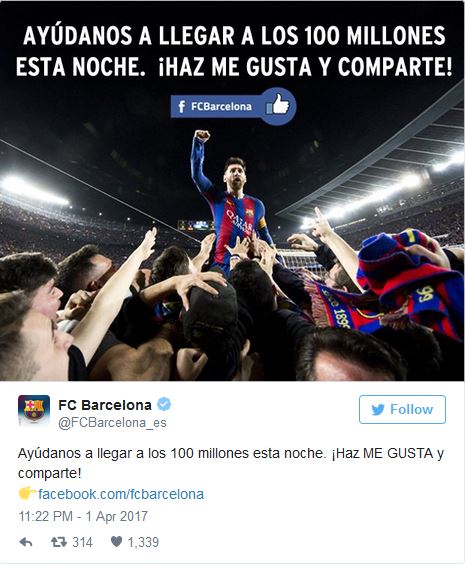 The official twitter account posted teasers to attract their fans to like their page on Facebook with landmark on the perspective. This encouraged Real Madrid into action and did something similar.
Late on March 31, Barcelona tweeted a link to their Facebook page and swayed a message: "Like our page to win Lionel Messi, Neymar and Luis Suarez shirt."
? ¡SÍGUENOS en https://t.co/NAkJtRtQ3l para conseguir la camiseta firmada de @Cristiano Ronaldo! ?✍️#HalaMadrid pic.twitter.com/O7isn3rOyT

— Real Madrid C. F. (@realmadrid) April 1, 2017
Later that day, Real Madrid decided to use their own superstar to get fans on board.
??? @neymarjr
? ¡Síguenos en https://t.co/3qIZ5dY97P y mira el video completo! ? pic.twitter.com/fyt5cKXcOz

— FC Barcelona (@FCBarcelona_es) April 1, 2017
Barcelona tried everything to be the first team to get 100 million likes on Facebook.
⭐100 MILLONES DE FANS EN FACEBOOK⭐
⚽ 1er Club Deportivo
? 1ª Marca
? #HalaMadrid pic.twitter.com/MVURzYolRQ

— Real Madrid C. F. (@realmadrid) April 1, 2017
Real Madrid's official Twitter account posted the link to their Facebook page, along with the message: "Follow us on Facebook to have the chance of winning a signed Cristiano Ronaldo shirt #HalaMadrid."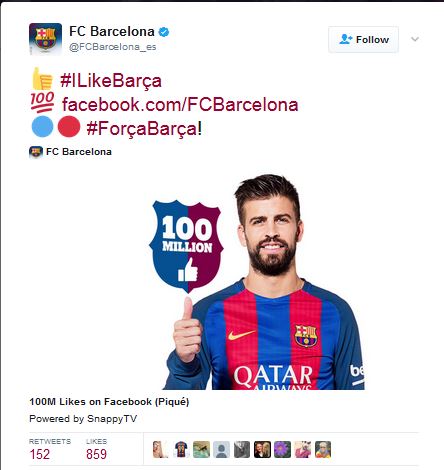 Later Barcelona decided to come straight to the point, and posted a picture of the players celebrating their heroic win over Paris Saint-Germain with caption: "Help us reach 100million tonight. Like and share."
Barca tweeted a video involving Suarez and Neymar and pleading "Follow us on Facebook to watch the entire video."
And they followed that up with more appealing videos.
The whole war took a change when a Spanish journalist tweeted a screen shot of the message she received from Barcelona's official Facebook Page.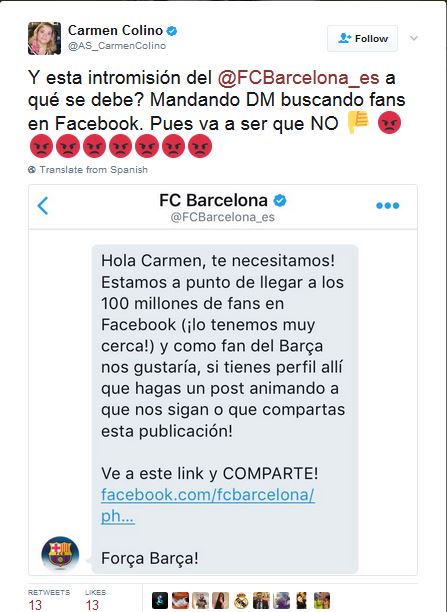 The message read: "Hi Carmen. We need you! We are close to reaching 100million fans on Facebook and, as a fan of Barca, we'd like you to encourage people with a post or by sharing this link."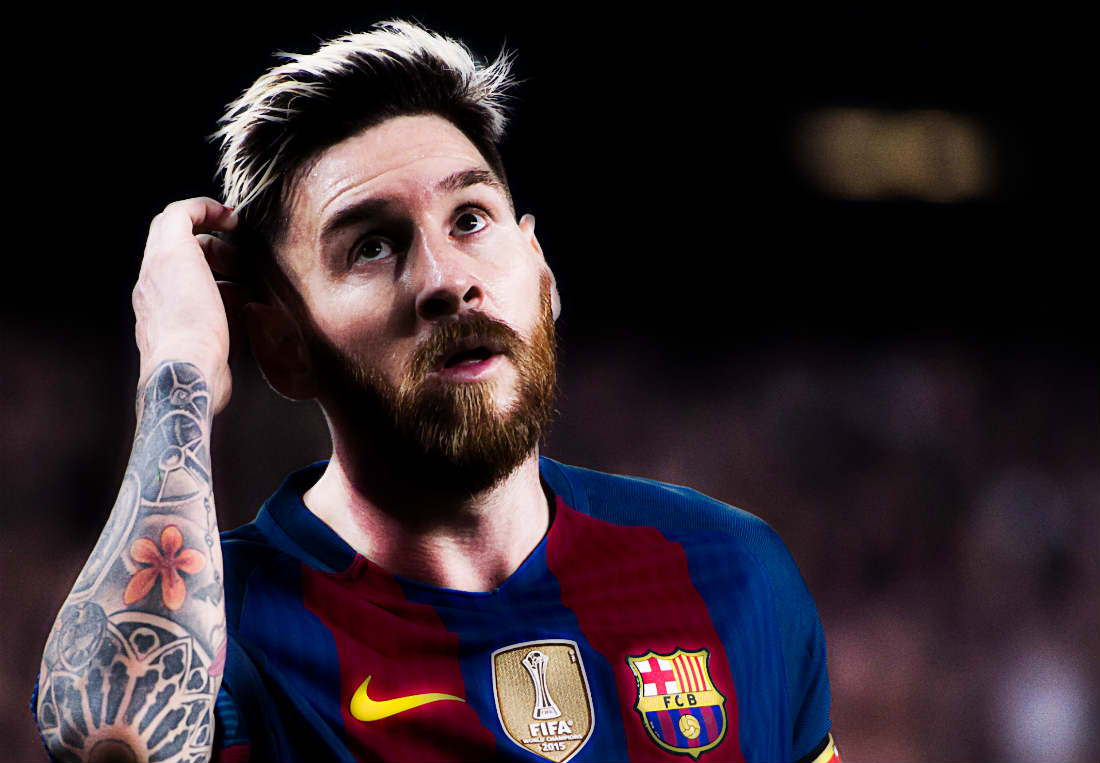 She posted the message along with the screen shot:  "And what is this invasion of privacy by Barcelona? Sending DMs in search of fans on Facebook. I think not."
The entire attempt by Barca failed as 40 minutes later Real Madrid received 100 million fans on Facebook.
They tweeted: "100MILLION FANS ON FACEBOOK. First sports club. First place. #HalaMadrid."

Carmen re-posted Real Madrid's victory with the words: "Enough said and without spam." Followed by six hand-clapping emojis.