Denis Law, one of the greatest players to play for Manchester United and Scotland, has been diagnosed with "mixed dementia," the 81-year-old said in a statement. The former ace striker's revelation has been met with support and kindness from all corners of the footballing community. It comes only a year after close friend and fellow member of the "United Trinity" Sir Bobby Charlton was affected with dementia as well.
We are saddened to learn that our men's all-time joint top goal scorer Denis Law has been diagnosed with dementia.

The thoughts of everyone at the Scottish FA are with Denis and his family at this time. pic.twitter.com/lsh7OjAVR5

— Scotland National Team (@ScotlandNT) August 19, 2021
Nicknamed "The King," Law netted 237 times over 404 appearances for the Red Devils and is also his nation's joint-top scorer with 30 goals from 55 caps. FootTheBall looks back at the legend's iconic moments over his 18 year career.
SPOTTED EARLY
Law took to football like a fish to water, making his first-team debut for maiden club Huddersfield Town at the age of 16 in 1956. His remarkable ability to score with 19 goals in just three seasons saw him attract the attention of Matt Busby whose offer for Law was rebuffed.
🍰 Happy 8⃣0⃣th Birthday to former #htafc striker Denis Law!

😁 16-year-old Denis made his debut for the Club in 1956.

⚽ He went on to make 91 appearances and scored 19 goals for Town. pic.twitter.com/LsusLVwMU0

— Huddersfield Town (@htafc) February 24, 2020
At the time, Bill Shankly was manager of Huddersfield and after he left for Liverpool, he wanted to take him to the Reds but they were unable to afford him. This kind of scouting by two of the greatest managers in the game was a sure fire sign of just how successful Law was going to be which was proved right eventually.
BLUE SIDE OF MANCHESTER
City signed Law in 1960, with the striker scoring on his debut against Leeds United. The Cityzens were battling with relegation all season long and it took their new signing's brace against Aston Villa next year to confirm their survival. However, his finest game during this spell came in the FA Cup, a competition that Law would take a particular liking for.
On this day in 1960,Denis Law signs for #mcfc from Huddersfield Town. Over two spells at the club, he netted 37 times pic.twitter.com/WJuot5yEZg

— Manchester City (@ManCity) March 15, 2015
He scored six times against Luton Town in a match that was ultimately cancelled but it was enough to make European clubs take notice of him. Though it was still rare for English players to ply their trade on foreign soil, Law's form and future potential compelled Torino to go for him.
TUMULTUOUS TIMES
Law's only season in Italy did not according to plan as he found the style of play too defensive and boring for his liking. The fact that he still managed to score 10 goals was even more noteworthy given how he had also gotten injured in a car crash. Off-field issues continued to bog him and the allure of returning to England once again proved too great to ignore. Torino tried to sell him to Juventus but Law was having none of it. Despite all of this, he has been voted the number one foreign player in the country for that season, beating the likes of Luis Suarez and Joe Baker.
FINALLY UNITED TO WIN
Matt Busby was finally able to sign his longtime target in 1962, once again scoring on his debut against West Brom. The best moment during the season was undoubtedly the FA Cup final against Leicester City. The Foxes had finished fourth in the league and were considered as favourites, but Law's opening goal enroute to a 3-1 win was enough to secure the trophy for the first time since 1948.
Wishing all the very best to Denis Law in his fight with dementia.

Law was an #FACup winner with Man Utd in 1963 where he scored the first goal🎥👇#MUFC pic.twitter.com/QT0wHWGHbh

— The Road to Wembley (FA Cup Finals 1923 – 2000) (@FACupWembley) August 19, 2021
The 1963-64 season would see Law make even more history as he scored 46 goals in all competitions for United, which remains a club record. Though they went trophyless, Law became the first and only Scottish player till date to lift the Ballon D'Or for his exploits and cement his position as one of the game's greatest finishers.
LEAGUE LEADER AND CONTINUED SUCCESS
The "Holy Trinity" led United to two league titles in 1965 and 1967 with Law being the Golden Boot winner in the former for his 28 goals. However, the latter one would become even more precious in hindsight as it became the Red Devils' final league crown till 1993. His expertise in goal poaching and ability to find spaces in tightly marked areas helped him enjoy sustained periods of success.
Denis Law receives his Ballon d'Or back in '64#mufc #ManUtd #Ballondor pic.twitter.com/05UeGqaAJp

— Football Memories (@footballmemorys) March 2, 2017
However, one of his biggest regrets came during the 1968 European Cup winning season with Law missing both the semi-finals and the final against Benfica through injury. Though his prowess in front of goal were on the decline, his 41 goals across his FA Cup career stood as a record till 1996 when it was surpassed by Ian Rush.
THE INFAMOUS BACKHEEL
With game time hard to come by under change of management, Law rejoined City in 1973. He scored a brace on his second debut, and third consecutive time he achieved this feat. One of Law's most career-defining moments would come in the final game of the regular campaign. Facing his old club United, the Scottish legend's back-heel goal in the 81st minute was thought to have condemned the Red Devils to relegation.
Denis Law's infamous backheel goal (for Man City 👀) is seen by many as the goal that relegated Man Utd in 1974…

But DON'T tell that to the man himself 👊#TooGoodToGoDown pic.twitter.com/jfuUaXZW2E

— Football on BT Sport (@btsportfootball) November 27, 2018
Law was distraught and refused to celebrate as he was substituted soon after. Though United were already going down due to results elsewhere, in the moment it did little to quell fan anger who stormed the pitch. It was to be his last game in English football as he retired after a pre-season tournament in the summer.
SCOTTISH HERO
Law made his debut for the Tartan Army at just 18 years of age, scoring as is the norm on his debut against Wales. That came under the tutelage of Busby who was in temporary charge, but his talent was clear to everyone around him. Even during his one year in Italy, Law was getting regular call-ups for Scotland and continued to impress.
🎂 | Happy Birthday to the one-and-only Denis Law.

Denis is the joint record goalscorer for Scotland, scoring 30 goals in 55 games 🏴󠁧󠁢󠁳󠁣󠁴󠁿 pic.twitter.com/39WzY5tkPv

— Scotland National Team (@ScotlandNT) February 24, 2019
His highest scoring year was 1963, when he scored 11 goals as he quickly shone to be one of the most important stars of the team that was trying to build on the success of the 1958 World Cup.
TEAM ROW 
One of his earliest honours on the international stage came in 1963, the most fruitful year of his career for Scotland. Law was chosen as a member of the 'Rest of the World' team that was to face England on the occasion of the FA Cup Centenary match. Though they lost, the 23-year-old was scored the lone goal for ROW as they went down 2-1.
🔴 L E G E N D S 🔴#OnThisDay in 1964, George Best, Denis Law and @SirBobby played for #MUFC together for the first time. pic.twitter.com/uEJQoKT3g5

— Manchester United (@ManUtd) January 18, 2019
He later described it as one of the greatest honours of his life and the fact that it came so early on during his career at Manchester United was just the best of how successful he would soon go on to be.
WORLD CHAMPIONS TO THE SWORD
There were a few standout moments during Law's goal-filled Scottish career but nothing came close to the highs of 1967. With England and Scotland sharing a fierce rivalry and the Three Lions winning the 1966 World Cup, the momentum was firmly with the home side as they met at the British Home Championship. Boasting many of the faces that lifted the trophy one year ago, nobody gave the Tartan Army much of a chance.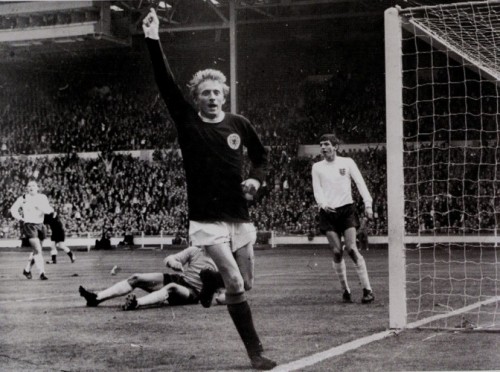 However, the form book went out the window as Law opened the scoring and sent the fans wild. A late goal for the visitors meant the win was firmly theirs and it was an upset. Though this was the year Law and United won another league title, he proclaimed that this victory was even more satisfying.
FINAL GOODBYE
Law's final record-making goal for Scotland came in 1972 against Northern Ireland while his last appearance would come two years later at the 1974 World Cup. That was Scotland's first since 1958 but it did not live up to his expectations. Law only played the first game against Zaire and was kept benched for the next two group games.
Denis Law in action for Scotland against Zaire at the 1974 World Cup in West Germany. pic.twitter.com/DacDhghCPH

— PictureThis Scotland (@74frankfurt) March 10, 2019
Though Scotland missed out on qualifying for the next round, the regret at not being able to play the group games clearly rankled with him as he announced his retirement. Law remains the joint record-holder for hat-tricks as well as being the only player to score four or more on multiple occasions.