Footballers nowadays are not only just focused on what happens on the pitch. Apart from keen observers of the political climate around them as the recent Ukraine-Russia crisis has shown, many of them are extremely savvy businessmen. While most readers are familiar with the myriad of ventures Cristiano Ronaldo is pursuing, the number of footballers venturing into this field has increased exponentially since the turn of the millennium. FootTheBall presents to you the 10 most 'business-headed' players out there currently. 
Gerard Pique and FC Andorra
What connects a four-time UEFA Champions League winner and World Cup champion with a club playing in the fifth-division of Spanish football? Gerard Pique. The veteran defender brought FC Andorra through his Kosmos Holding Group in December 2018. While the club is originally from its namesake country, they have made some rapid progress in the short time that Pique has been owner.
Piqué helps FC Andorra celebrate their 78th birthday! pic.twitter.com/eRY7XpOWRc

— total Barça (@totalBarca) October 15, 2020
FC Andorra qualified for the Spanish fourth-division in 2019 after completing a remarkable run of 22 matches unbeaten before even more good news followed. CF Reus Deportiu, a team slated to take part in the old Segunda Division B (third-tier) were expelled after non-payment of salaries and Pique's team stepped in, paying the required amount of registration fee to move up a division themselves. It is clear that it would not have been possible if Kosmos were not the owners, and FC Andorra bounced back from a poor debut season in 2019-20 to make the promotion playoffs last year.
📰 — Gerard Piqué proposed a 45% pay cut to the FC Andorra players, the club he bought in 2018.

Ferran Vilaseca (FC Andorra president) "Piqué is on top of the club. He understands the footballers and thanks them for the effort they are going to make." [el mundo] pic.twitter.com/KMp1jCmMzZ

— Barça Universal (@BarcaUniversal) April 1, 2020
However, they were defeated by Real Sociedad B and are spending another year in the third-division, currently in third-place with 15 matches to go and trailing the automatic promotion spot by five points. Indeed, the influx of money and fame by Pique has helped matters considerably and they are poised to make the second-division sooner than later. 
Ronaldo the President
No, not that one. O Fenomeno terrorized defences throughout his career and remains one of the greatest ever players in the modern game with his business acumen similarly unpredictable. He is currently the owner and president of Segunda División club Real Valladolid, having purchased a controlling stake of 51% in September 2018. The team finished in 16th-place in the 2018-19 season, following it up with an improved 13th-place in 2019-20.
🤗💜 @Ronaldo presenció el entrenamiento del primer equipo y comprobó de primera mano el estado de las obras del Estadio José Zorrilla#pucela #RealValladolid pic.twitter.com/ra8eH9qJ4Q

— Real Valladolid C.F. (@realvalladolid) September 14, 2019
However, Valladolid were relegated last season on the final matchday after defeat to eventual champions Atletico Madrid. Ronaldo now owns 82% shares of the club but this is not his only footballing investment. The 2002 World Cup winner bought a controlling stake of his first club back in Brazil, Cruzeiro, in December 2021 for $70 million through his company Tara Sports. Cruzeiro have been languishing in the Serie B for the past three years and Ronaldo's aim is to obviously reach the heights of old with the club.
Multi-billionaire Flamini 
The three-time FA Cup winner has one of the most unusual business companies a footballer can have. Flamini co-founded GF Biochemicals with Pasquale Granata in 2008, back when he was playing for AC Milan. It became the first bioscience company to mass produce levulinic acid- an oil-bases substitute which includes grass and woodchip to be used in plastics, solvents, fuels and the pharmaceutical industry.
Extremely honoured to have been selected to join the #YGL18 . Thank you to @wef and @YGLvoices . I look forward to being part of this impressive community from around the world, with the main objective of trying to have a positive impact and making this world a better place. 🌎 pic.twitter.com/iWzSAZYFNB

— Mathieu flamini (@mathieuflamini) May 10, 2018
It has been of great importance by the U.S. energy department with the aim of making a "greener world." The company has offices in the Netherlands, Milan, Brazil and China while also buying Segetis, the top producer of levulinic acid derivatives, in 2016. Along with his business career, Flamini has also been part of designing courses to promote education and research in this field, founded The BioJournal which is the world's first e-magazine which focuses only on the bio world and green sustainability.
Proud of GFBiochemicals contribution to fight the climate change🌍#arsenal #environment #sustainable #GFBiochemicals pic.twitter.com/womfvqwVow

— Mathieu flamini (@mathieuflamini) November 17, 2015
He was also part of the Environment Excellence Committee of Paris which had a big hand in winning the right to host the 2024 Summer Olympics.
Salford City with the Class of '92
What happens when a seventh-division club is taken over by an ensemble of famous footballers? You get Salford City FC. In 2014, it was taken over by Project 92 Limited, a consortium which had footballers Nicky Butt, Ryan Giggs, Paul Scholes, Gary and Phil Neville. The famous Class of '92 had every trophy possible during their playing career and were aiming to take the club to the Football League for the first time in its history.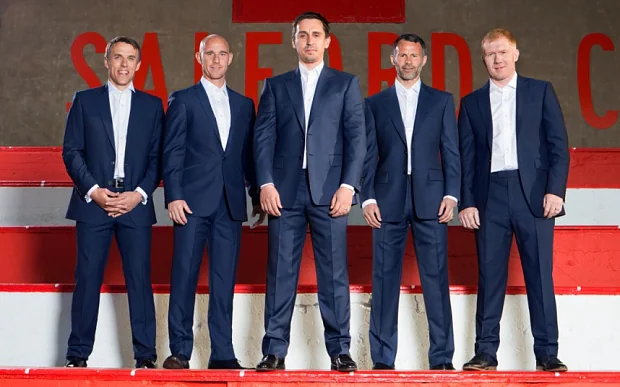 In September 2013, the group sold 50% stake to Valencia owner Peter Lim, from which 10% was bought by David Beckham in January 2019. By then, the club was already in its debut season in the National League, with three promotions in the preceding four years. The 2018-19 campaign saw Salford finish in third, and earn promotion once again through the playoffs to compete in the League Two in the following campaign, when they won the EFL Trophy. They currently remain in the same division placed just below the top-ten, having finished in 11th and eighth-place the past two seasons.
🏆 @SalfordCityFC win the 2019-20 #EFLTrophy – their first trophy as a Football League club 👏

🏟️🏟️ Salford have won on both visits to Wembley

🏆🏆🏆 Manager Richie Wellens lifts the trophy for the 3rd time having done so twice as a player with Blackpool@PapaJohnsTrophy pic.twitter.com/1K5bTjgnHz

— Sky Sports Statto (@SkySportsStatto) March 13, 2021
The owners' financial might and fame has helped in attracting personnel that normally would not have considered playing at Salford and another promotion is on the horizon in the coming years.
Didier Drogba Rising
The Chelsea legend, whose equalising goal in normal time against Bayern Munich in the final of the Champions League back in 2012 helped the Blues push the game to penalties where he eventually scored the winning one, made a career switch that most footballers nowadays are opting for. Drogba joined Phoenix Rising FC of the United Soccer League (USL) Championship, the second-tier below the Major League Soccer (MLS) before the 2017 season.
"Drogba-mania". We like the sound of that @RobbyBaker12. https://t.co/tUUys1IRLi #RisingAsOne pic.twitter.com/UPFzwS1y09

— Phoenix Rising FC (@PHXRisingFC) April 26, 2017
It was a big year for the club, having already signed Omar Bravo and Shaun Wright-Phillips. However, Drogba's signing was no ordinary one as apart from being the most well-known and decorated player to ever play for the club, the Ivorian had also become a minority owner, becoming the first ever player-owner in football. He would stay two seasons with the club, scoring 17 goals across all competitions and drawing record crowds to matches.
40-year-old Didier Drogba could play the final game of his career tonight as his Phoenix Rising are going for the #USLCup.

Yeah. He's still got it. 🔥🔥 pic.twitter.com/dwbFBXcmrb

— FOX Soccer (@FOXSoccer) November 8, 2018
Rising would win the USL Championship crown in 2019 under his watch and continue to perform admirably on the domestic scene. 
Becks: The Inter Miami story
The most glamorous club in the MLS right now, with the most famous owner in league history. Beckham, apart from owning a small stake in Salford City FC, had been given the option of buying the rights to an MLS expansion club for $25 million in 2007 after his playing days with LA Galaxy after retirement and the hype was immense ever since his retirement.
David Beckham and @Jorge__Mas
witness a historic day for #InterMiamiCF as the Academy players train together por primera vez 🙌🏻 pic.twitter.com/805erDTMQW

— Inter Miami CF (@InterMiamiCF) June 2, 2019
After a lot of haggling over where the new stadium would be, what the team name would be and with the owners changing apart from Beckham, it was finally announced in 2018 that the 25th franchise would be given to them. The final name of the club was Club Internacional de Fútbol Miami or Inter Miami CF and they began their footballing journey in 2020. They finished in 10th-place in their conference and 19th across the league with seven wins from 23 matches.
Gear up for 2020.
Owner Approved ✔️

🛒 #InterMiamiCF – https://t.co/yvQNmBRYXM pic.twitter.com/ir0SN4zOrl

— Inter Miami CF (@InterMiamiCF) June 20, 2019
However, the club found itself in controversy in 2021 as the league found that Inter Miami had signed Blaise Matuidi and Andres Reyes thereby targeted allocation money (TAM). MLS fined the club $2 million and reduced its allocation money for the next two campaigns which has made the team generally perform mediocrely. 
Hammarby is Zlatan
The outspoken and freakishly talented Swedish striker has become something of a legend in football as much due to his quotes as his goal scoring prowess. So it is no surprise that when he decided to invest in a club, it would generate some heavy buzz and a lot of angry reactions. Hammarby are one of the most popular teams in Sweden, playing in the top-division and regularly drawing the largest attendances of any team.
Zlatan Ibrahimović investerar i AEG Sweden och blir delägare i Hammarby Fotboll AB. Läs mer här: https://t.co/JmFKS5dYuW@Ibra_official #Bajen pic.twitter.com/e1nyew3oaS

— Hammarby Fotboll (@Hammarbyfotboll) November 27, 2019
However, they are also a direct rival to Malmo FF, which is the boyhood club of Ibrahimovic. Therefore, when he announced his decision to become an owner of the former, Malmo fans were incensed. Ibrahimovic bought 23.5% shares from another owner, Anschutz Entertainment Group, who also own LA Galaxy but given Swedish sports' rule of keeping 51% of the voting rights for the non-profit organization that controls the club, he is a minority owner.
Zlatan Ibrahimovic's statue outside Malmo's stadium was set on fire in an apparent reaction to him becoming a part-owner of rivals Hammarby. https://t.co/fkwL7haoCK pic.twitter.com/vouEOqv14a

— ESPN FC (@ESPNFC) November 28, 2019
Nevertheless, that did not stop Malmo supporters from defacing his statue time and again but Hammarby were the happier bunch, having won the Swedish Cup last year, their first ever. 
Demba Ba and Eden Hazard go to San Diego
San Diego 1904 FC was quirky from the start in 2017. 1904 came from the positioning of the letters 'S' and 'D' in the English alphabet. They team's majority owner was Demba Ba while Eden Hazard and Yohan Cabaye also featured as an investment partners. San Diego were supposed to play in the 2018 North American Soccer League, the third-tier of US football before the league itself got canceled.
Big up from the man himself @hazardeden10 to the whole @1904_FC fam and the city of San Diego 🙏🏻⚽️🖤🙏🏿 pic.twitter.com/Qbg0D7fJhj

— Demba Ba (@dembabafoot) November 24, 2017
The team attempted to negotiate with the USL Championship in order to join it but the negotiating window passed without any agreement. Finally, they were able to join the National Independent Soccer Association (NISA), a proposed new third-division. They would play for two seasons but failed to attract too much attention and worse was to follow. Ba and his group backed out last year which meant that the financing required to function at a proper level was falling way short. In the end, with no other means, the club was taken over and merged with Albion San Diego of the same league where they remain to this day. 
Cristiano Ronaldo: The man of everything
The most followed person on Instagram has built a huge business empire which is varied and ever-expanding. Having already been profiting massively from selling his image rights to Peter Lim in order to open up another substantial source of income, Ronaldo has launched hotels with the Pestana Group, perfumes, a line of underwear in collaboration with JBS Textile Group and fashion designer Richard Chai, his own CR7 fashion brand and being the headliner in countless advertisements and of course, video games including the new UFL offering.
Cristiano Ronaldo makes more money on Instagram than playing for Juventus 😱 💰 pic.twitter.com/nAq8pftJVr

— ESPN FC (@ESPNFC) October 18, 2019
Ronaldo realised early on that his global appeal will be a huge success and even without his own businesses, he would be an extremely skilful business mind. Indeed, there are virtually no footballers who have such different interests all skilfully meshed together. 
Paolo Maldini and the other Miami FC
Before there was Beckham, it was his former teammate running things at a Miami football club. The legendary AC Milan defender joined a consortium of investors headed by Riccardo Silva to become co-owners of Miami FC which launched in 2015. The team played in the NASL till its cancellation before moving onto the NISA. Miami FC joined the USL Championship in 2020 and finished in fourth-place last season.
We are The Miami F.C.#Maldini #oneclubonevoice #youtalkwelllisten #miamisprofessionalsoccerteam pic.twitter.com/cFAdCv290m

— Miami FC (@TheMiamiFC) August 11, 2015
Maldini had helped hire former defensive partner Alessandro Nesta as the club's first manager back in 2015 who stayed till 2017. Furthermore, Maldini also serves as the sporting strategy and development director of the Rossoneri currently, with his son also firmly in and around the team picture.