Fans were delighted with Lionel Messi's kind gesture in Barcelona's 5-2 win over Getafe in the Spanish league. As the season approaches its climax, Barcelona are in a thrilling three-way title race with Atletico and Real Madrid, who currently sit first and second in the league.
The Blaugrana hosted 15th placed Getafe at the Camp Nou in a seven goal blockbuster. Lionel Messi scored twice to secure a comfortable 3-1 lead at half time. Both team scored one goal each in the second half to take the scoreline to 4-2 before Barca won a penalty in injury time.
Everyone vouched for Messi to take the spot kick to complete his hattrick but the little magician gave it up to his teammate Antoinne Griezmann who had won the foul. Griezmann wasn't having the best of his days on the field and Leo decided to boost his morale. Griezmann smashed the ball in the net as the match finished 5-2.
Let's take a look at five times Messi gave up a crucial penalty to his teammates-
PHILLIPE COUTINHO VS SEVILLA (2019/20)
Barca were trailing 2-0 on aggregate in the Copa Del Rey quarter final when they won the penalty kick. This goal would have been crucial to start off a comeback if Barca were to reach the semi finals. All eyes were on Messi to slot it home but he let out-of-form Coutinho have his moment. Coutinho took the opportunity and gave Barca a perfect start to the second leg. Barcelona won the match 6-1 and marched on to the semis.
13' GOOOOOOAL BARÇA!!!! @Phil_Coutinho converts from the penalty spot after #Messi was tripped up in the area!

LIVE: Barça 1-0 Sevilla (1-2 agg.) #CopaBarça pic.twitter.com/yrhnBisLHg

— FC Barcelona (@FCBarcelona) January 30, 2019
ZLATAN IBRAHIMOVIC VS REAL ZARAGOZA (2009/10)
Once again, a struggling teammate was offered a helping hand by Messi, this time it was Zlatan. On their trip to Real Zaragoza, Messi handed over the penalty to Zlatan in the additional time to score the goal which would have been Messi's fourth of the game.
On this day in 2010, Lionel Messi scored three times for Barcelona and won a penalty which he gave to Zlatan Ibrahimovic in the 90th minute in Barcelona's 4-2 win vs. Real Zaragoza. pic.twitter.com/YVKs1D1XZn

— Roy Nemer (@RoyNemer) March 21, 2021
LUIS SUAREZ VS CELTA VIGO (2015/16)
Messi gifted the penalty to Suarez in the most unusual manner that would be acknowledged for years to come. Barca were comfortably winning the match 3-1 against Celta Vigo with two goals from Suarez and one from Messi himself when the Argentinian got the opportunity to score another one and complete his brace.
Messi placed the ball on the penalty spot and took his position. As the crowd stood up to see him smash the ball into the net Messi laid off the ball to his right, which was slotted in the bottom corner by Suarez to complete his hattrick.
GOAALLLL from Suárez after a pass from the penalty by Messi!!!!!!!!! #FCBlive #FCBCelta pic.twitter.com/9BN7VVEuBR

— FC Barcelona (@FCBarcelona) February 14, 2016
LUIS SUAREZ VS HUESCA (2018/19)
Huesca, who were newly promoted to the first division that season were welcomed by the Catalonian club with EIGHT goals. Barcelona defeated the minnows 8-2 in a goalfest at the Camp Nou. Messi scored two that night and got the chance for his third as Barca won a penalty in the dying moments, what would have been his 31st career hattrick. But Messi gave up on it and let Suarez, who had won the spot kick, take it and complete his brace.
👏 Lionel Messi could have bagged his 31st La Liga hat-trick after being awarded a penalty in the last minute against Huesca

He handed the ball to Suarez…

Team-Player!#FCB pic.twitter.com/0WxD1juZsT

— The Sportsman (@TheSportsman) September 2, 2018
NEYMAR VS CORDOBA (2014/15)
In the 2014/15 season, Messi was in a close battle with long-time rival Cristiano Ronaldo for the Pichichi trophy. Despite being an individual trophy, it was always a token of pride for the fans of Barca and Madrid to have their player win it.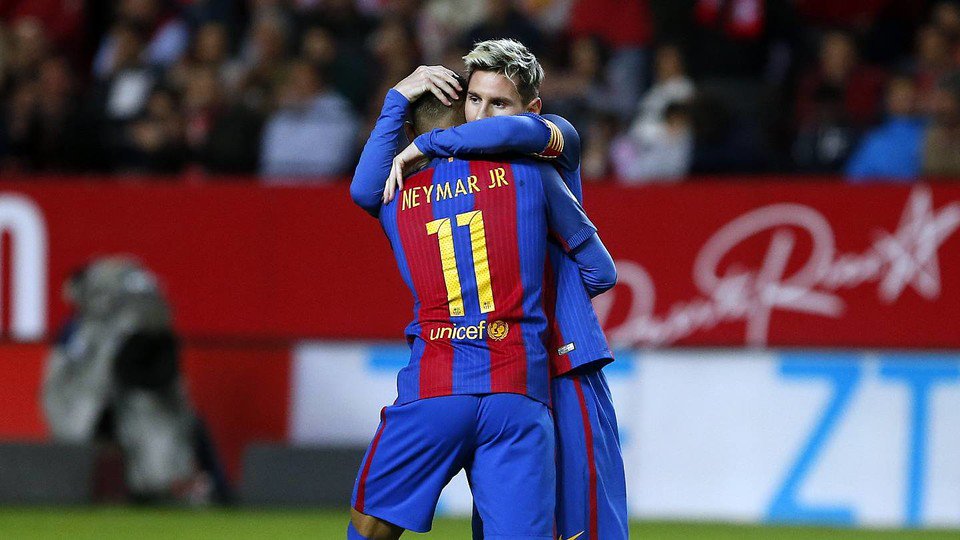 Messi could have pulled ahead in the race and scored a hattrick as well in their thumping 8-0 win over Cordoba when Barca were awarded a penalty. Messi showed his class by letting out of form youngster Neymar get his share of the pie.