The Manchester Derby is one of the fiercest rivalries in football where the two supergiants are in a constant battle in the small city of Manchester. The ex- Although United have been more dominant through the years, City has prominently grown in recent history. Although players usually tend to avoid playing for a rival team, there have been a few players who dared to cross the fence.
Jadon Sancho, an ex-City player, recently completed a move to Manchester United. With Cristiano Ronaldo, the player who rose to fame with Red Devils, inching closer to a move to Manchester City,  FootTheBall takes a look at the top 10 players who have played for both Manchester United and City.
1) CARLOS TEVEZ
Carlos Tevez is one of the most decorated strikers the Premier League has ever seen having won 20 trophies throughout his career. Manchester United brought the Argentine on a 2-year loan move from West Ham in 2007.
A Carlos Tevez hat-trick #OnThisDay back in 2010! 🔥

🔷 #ManCity | https://t.co/axa0klD5re pic.twitter.com/COke2O7X89

— Manchester City (@ManCity) January 11, 2021
Carlos Tevez won 2 successive Premier League titles and a Champions League trophy with Manchester United. Tevez, Rooney and Ronaldo together made up the holy trinity for the Red Devils and the fans were bound to get angry when United let their star player slip through their fingers. United couldn't make the deal permanent in time and City used the opportunity to swoop in and buy the player off West Ham. Tevez helped Manchester City win their first league title in 44 years.
2) PETER SCHMEICHEL
Peter Schmeichel played the majority of his career in Manchester United in its glory days. He was the captain of the club when United won the treble in 1999. Despite being a keeper, he scored 11 goals for Manchester United.
Happy birthday boss ❤️🎉 pic.twitter.com/3h4hvt6lLy

— Peter Schmeichel (@Pschmeichel1) December 31, 2020
Kasper Schmeichel left United as an absolute legend in the eyes of fans but the feelings towards him soon changed when he joined Manchester City in 2002, 3 years after he left United. Schmeichel had a fair share of appearances for City in that season and helped them finish 9th in the table before announcing his retirement in 2003.
3) ANDY COLE
Andy Cole was also part of United's famous treble-winning side. Cole joined United for a then record fee of £7 million from Newcastle United. After 6 successful seasons with the Red Devils, Cole too left the club as a legend in 2002.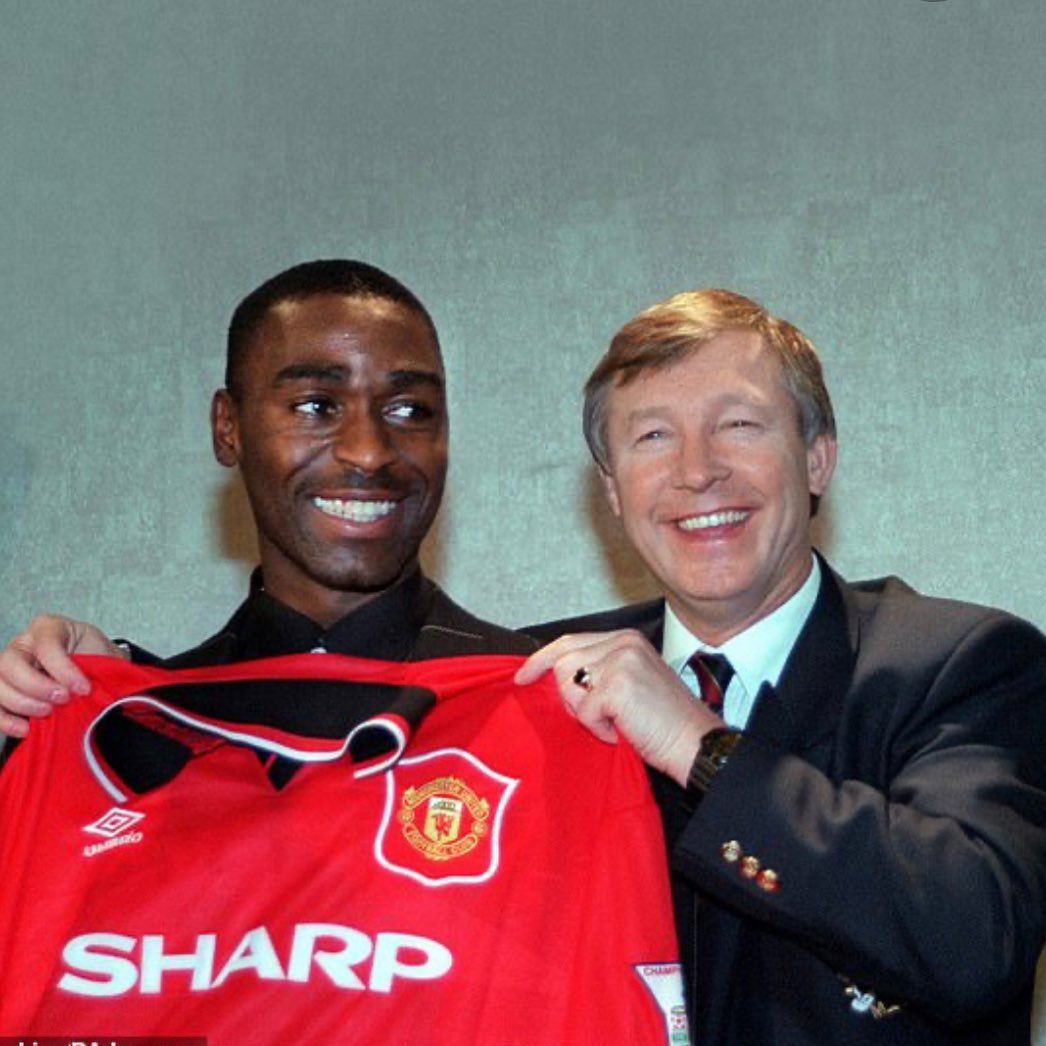 Manchester City bought the center-forward as a free transfer in 2006 but the player was too old to make a lot of difference to City at the time. United fans were also not too mad about the move since they knew Cole was well out of his prime. Andy Cole left the club after one year and retired from football after 2 seasons.
4) DENIS LAW
Denis Law has his own statue outside Old Trafford but what many people don't know is that he was originally a Manchester City player for a short spell. City sold Law to Torino in 1961 and after showing promise in Italy, United swept in and bought the 21-year old before City could do anything.
Turn ➡️ shoot#OnThisDay in 1963, Denis Law scored the opener to help us triumph in the #FACup final! 👑#MUFC #GoalOfTheDay pic.twitter.com/0YFroD1kpW

— Manchester United (@ManUtd) May 25, 2020
Denis Law spent 11 years of his career at Old Trafford and scored 237 goals in 404 appearances, making him the 3rd highest scorer for Manchester United in its history. Ironically, Denis Law joined City again in 1973 and during the last game of his career, Law scored a backheel against Manchester United, a goal which relegated Manchester United!
5) BRIAN KIDD
Kidd has switched his allegiance one too many times as he has bounced between the Manchester clubs throughout his life. He started off as an academy graduate at United and after scoring 52 goals in 203 appearances for the senior team, Kidd joined Arsenal when they got relegated in 1974. Brian Kidd joined Manchester City after 2 years and scored 44 goals in his 3 seasons at Maine road.
Wishing Brian Kidd a very Happy Birthday! 💙

🔷 #ManCity | https://t.co/axa0klUGiM pic.twitter.com/Rx4rzREr4q

— Manchester City (@ManCity) May 29, 2021
Well after his retirement, Brain Kidd became the youth coach at United and became Alex Ferguson's assistant in 1991. Kidd joined Manchester City's coaching staff in 2009 and was also an interim manager for City after Mancini left in 2013. He was the assistant manager of Pep Guardiola all these years but has retired from coaching earlier this month.
6) SHAUN GOATER
Manchester City had found a whole new low as they got relegated to third-tier in 1988. Shaun Goater was the man who led City from the front as they rose through the leagues and reached Premier League again in 2001.
💙 "What a support this club's got, what a support! When they were down there, they still had 28,000; imagine next year! They'll take thousands to every away match!"

📈 Promoted to the #PL. // #OnThisDay in 2000.pic.twitter.com/EpM5cfnCeT

— City Xtra (@City_Xtra) May 6, 2021
Shaun Goater was originally a Manchester United youth academy player and when the club didn't promote him to the senior team he played for a few second division clubs before the player joined City in 1998. Goater scored 103 goals for City in 212 appearances. Ironically, he scored the 100th goal of his career against Manchester United.
7) OWEN HARGREAVES
The defensive midfielder was brought in from Bayern Munich with high hopes but his 4 years with Manchester United were riddled with injuries and he couldn't have a lot of impact on the team.
It was Owen Hargreaves. Well done to everyone – including @ManUtd! – for getting it right #ARSMUN pic.twitter.com/OtT2Xlwn0B

— Premier League (@premierleague) November 21, 2014
Although he was an important part of Ferguson's 2008 Champions League team, Owen wasn't given a contract extension and City signed him on a free transfer. Hargreaves continued to struggle with injuries and was only given 4 appearances in his one and only season at City. Hargreaves' body gave in eventually and he retired from football in 2012.
8) TERRY COOKE
A product of the Manchester United youth academy, everyone had high hopes for him. Unfortunately, his career was riddled with injuries and he was mostly found in the shadow of David Beckham who played in the same position as him.
Jovan Kirovski, Neil Mustoe and Terry Cooke.
Manchester United 'B' 2 v 3 Everton 'B' at Littleton Road on 26 February 1994. #MUFC #ManUtd #ManchesterUnited pic.twitter.com/V2VWsNbzXX

— Man Utd Vault (@ManUtdvault) July 9, 2020
He was sold to Manchester City in 1999 for a fee of £1 million. He didn't make any appearances for City in the league and after a few loan spells here and there, City sold him to Grimsby Town in 2002. One of the most talented youngsters United has ever seen couldn't live up to the expectations because of his injuries.
9) TONY COTON
Coton won the player of the year of Manchester City in the 1994/95 season which grabbed United's attention and they got Coton's services midseason in 1996. Although Coton didn't get a lot of playing time due to the presence of Peter Schmeichel, he has contributed a lot to United's cause after his retirement.
#onthisday in 1990, Tony Coton joins #mcfc from @WatfordFC for a fee approaching £1m. pic.twitter.com/0Pz2hWX2mg

— Manchester City (@ManCity) July 12, 2015
Tony Coton became United's goalkeeping coach in 1997 and held the position for 10 years. Coton has again joined the red devils as their new Goalkeeping scout in 2020.
10) MARK ROBINS
Robin was part of Sir Alex Ferguson's squad when he won his first trophy as their manager in 1990. Robins scored a goal in a 2-1 win in the semi-finals which helped Fergie win the FA cup. After that Robins couldn't really hit that mark again and was sold to Norwich City.
In 1999, Robins was sent to Manchester City on a loan move from a Greek club but unfortunately for him, he was constantly injured and couldn't make an appearance for them. Mark Robins is currently the head coach of Coventry City.