After 16 glorious years as a Madridista, Sergio Ramos is about to leave Real Madrid as a free agent hoping to sign for a top European club in this transfer window. The Madrid camp has arranged a farewell ceremony to bid their captain adieu in the presence of Florentino Perez, the club president.
In his 671 appearances for Madrid, he has scored 101 goals, won 4 Champions Leagues, 4 La Ligas 2 Copa del Reys and 5 Club World Cups. His time in Madrid is filled with success and glory to the brim. We bring to you the top 7 most iconic moments of Sergio Ramos in Real Madrid.
1) CHAMPIONS LEAGUE FINAL (2014)
Sergio Ramos might be a great defender but on top of that, he is a true match-winner. He has scored many goals for Madrid in the stoppage time but this one has got to be the best one.
— Madrid Sports (@MadridSports_) June 16, 2021
In the 2014 Champions League final, Real Madrid were facing their local rivals, Atletico Madrid. Real Madrid were 1-0 down and it was stoppage time. The fans had lost all hope from the game as only a miracle could save them, and that miracle was Sergio Ramos.
In the 93rd minute, Sergio Ramos scored a header making the scores level and stretching the game to extra time. Real Madrid scored 3 more goals after that, winning the prestigious trophy. If it wasn't for Sergio Ramos, Real Madrid would have gone home empty-handed.
Modric was the one who put the ball in for Ramos to score and in an interview he confessed that they didn't practice it at all and it all just came naturally. Modric had faith in Ramos as everyone on the team knows how dependable he is in these kinds of situations.
2) LA LIGA TITLE RACE (2008)
Not a lot of people know this but Real Madrid wouldn't have lifted the La Liga trophy in 2008 if it wasn't for this young right back. The situation was simple, it was the last matchday and Real Madrid needed 3 points to win the title. By the 80th minute, the score was 1-1 but a draw wouldn't be enough for Los Blancos to reach glory.
🤩 📽️ How we won our 31st @LaLigaEN title!
📆 🏆 4 May 2008#RealFootball | #RMHistory pic.twitter.com/bFr26DUDcS

— Real Madrid C.F. 🇬🇧🇺🇸 (@realmadriden) May 4, 2021
In the 87th minute, a young Sergio Ramos picked up the ball near the halfway line and placed the ball for Gonzalo Higuain who was standing in front of the goal looking lethal as always. Higuain was the one who got all the love that day but one can't forget the magical dribble by Sergio Ramos who got past 3 players before passing the ball onto Higuain.
3) 3RD CHAMPIONS LEAGUE AS A CAPTAIN (2018)
Although Sergio Ramos has won 4 Champions League trophies in his career, he wasn't the captain of the squad in 2014. But in 2018, when Real Madrid won the Champions League against a blunt Liverpool, Ramos made history by becoming the first-ever captain in European history to win 3 Champions League trophies in successive seasons.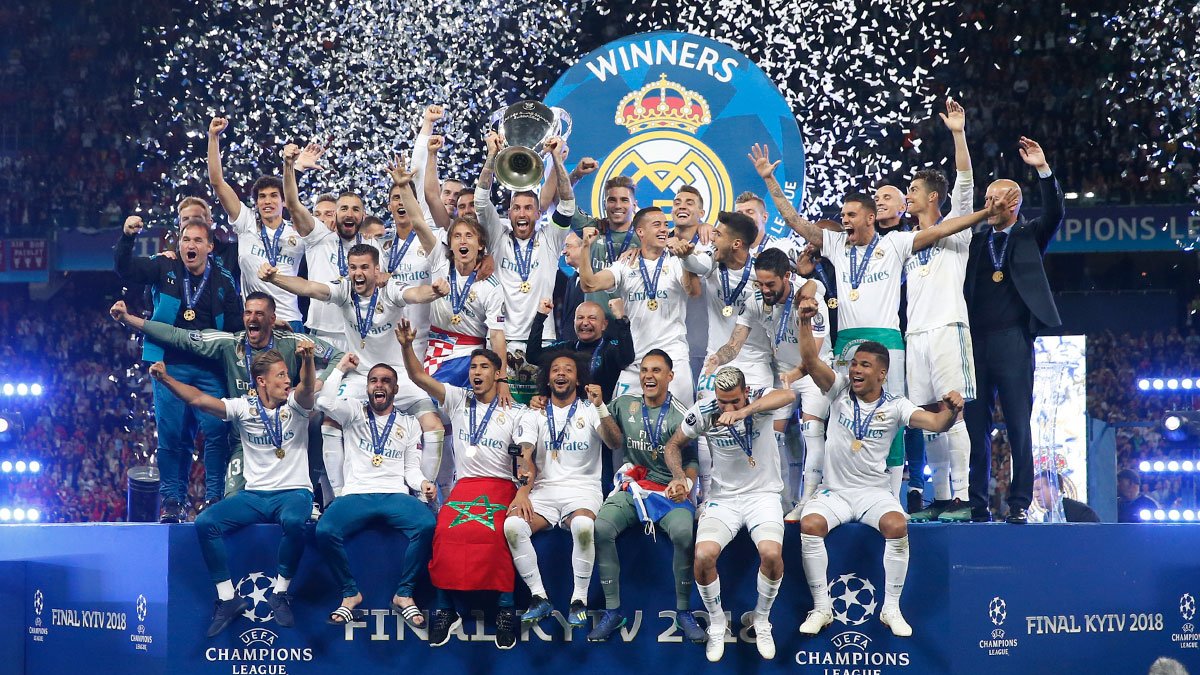 He is also only the second captain to win the Champions League in 3 seasons for a club. Ever since he joined the club as a teenager, the world knew the potential he had to become a leader. He has always loved to take charge of his team both club and country as he is a natural leader.
4) UEFA SUPER CUP AGAINST SEVILLA (2016)
In 2016, Real Madrid were facing Sergio Ramos's boyhood club, Sevilla in the Uefa Super Cup in Norway. Just like it was in the 2014 Champions League final, Madrid were trailing by one goal and it was stoppage time.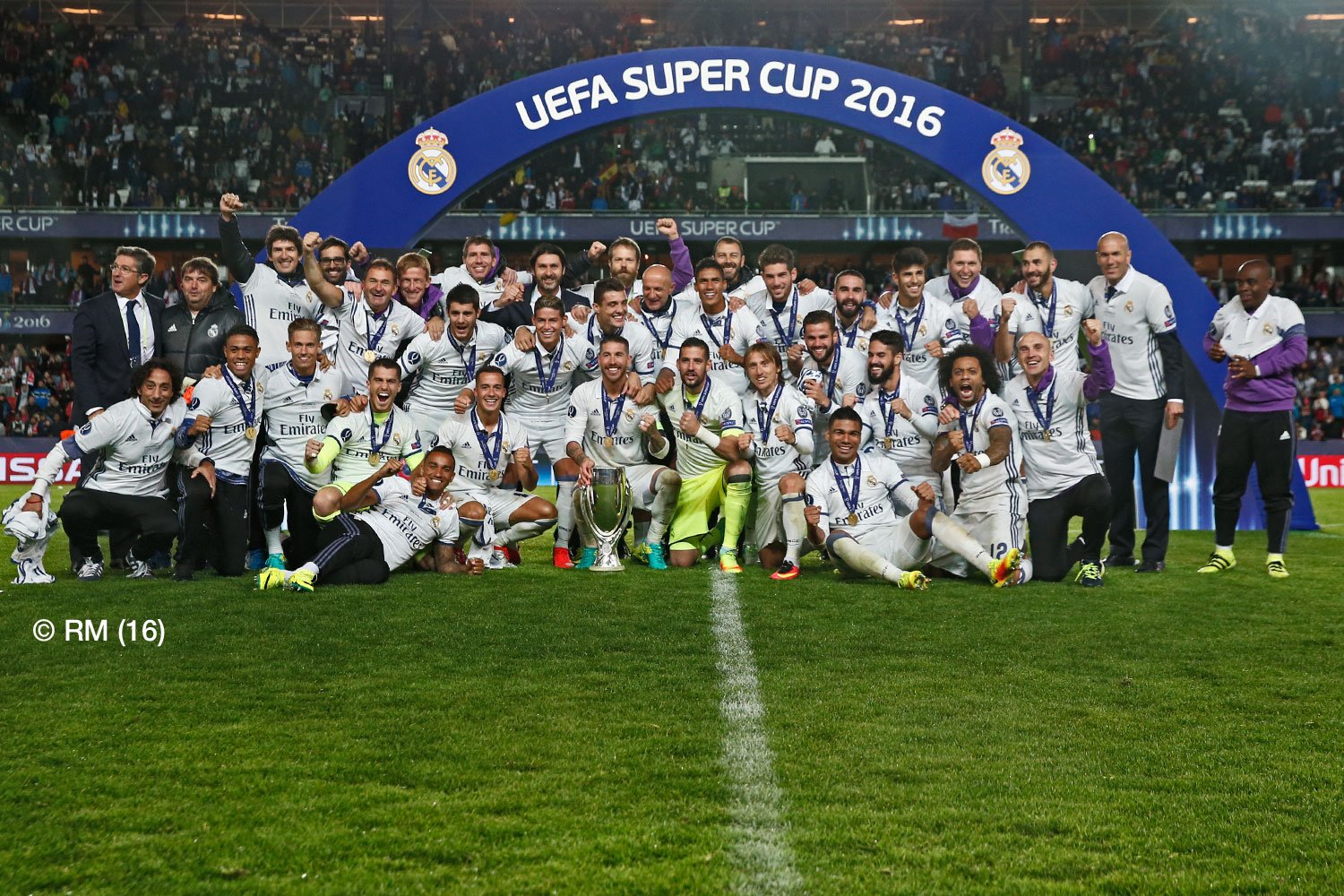 They started to put the ball in the box and when the clock struck 93:24, Sergio Ramos headed the ball in the net carrying his team to extra time yet again. Dani Carvajal scored in the 119th minute in extra time ensuring a win for the men in white.
5) MOHAMED SALAH INJURY (2018)
Sergio Ramos has always been the guy you don't want to mess around with. He is always ready to pick fights with his opponents on the pitch as you might have seen him in nearly every El Clasico. In the 2018 Champions League final, in the first few minutes, Sergio Ramos made a nasty tackle on Mo Salah who was at the top of his game that season.
Salah got injured due to the tackle but Ramos didn't even get a foul, maybe because he had a little contact with the ball. Intentional or not, after Salah was subbed off and Liverpool looked down ever since.
Sergio Ramos #UCLFinal Headlines:

2014: 93min equaliser
2016: Scores opener & in shootout
2017: Gets Cuadrado sent off
2018: Involved in Salah injury

• 4x #UCL champion 🏆🏆🏆🏆 pic.twitter.com/RCmSwkSqXm

— Adriano Del Monte (@adriandelmonte) May 27, 2018
If Salah would have played the whole 90, he would surely have made a lot of impact on the game. Madrid fans see it in a good light and the rest of the world don't, however, I think we all can agree it is one of the most iconic moments in Sergio Ramos's career.
6) CHAMPIONS LEAGUE SEMIFINAL (2014)
Real Madrid won the 2014 Champions League final courtesy of Sergio Ramos, but do you know that they would never even make it to the final if it wasn't for his performance in the semi-final.
⚽️⚽️ Sergio Ramos 🆚 Bayern in 2014 semi-finals 🚫@SergioRamos | @realmadriden | #UCL pic.twitter.com/VzuCSH2GfH

— UEFA Champions League (@ChampionsLeague) March 30, 2021
Real Madrid were facing Bayern Munich who were also the defending champions at that time. After a 1-0 lead in the first leg, Real Madrid battered the german club 4-0 in their home ground in the second leg. Sergio Ramos scored 2 goals and was a beast defensively as well. Some say that this fixture was his best performance and if you want to watch Sergio Ramos at his peak, this match surely makes it to the top of your watchlist.
7) SPANISH SUPER CUP FINAL AGAINST VALENCIA (2008)
One of the most entertaining games for Real Madrid fans out there would be the Spanish Super Cup final win against a strong Valencia side. By the end of the second leg, Valencia were 4-2 ahead on aggregate and were looking solid as well.
The 2008 Supercopa was crazy
First leg: Valencia 3-2 Real Madrid

Second leg:
32′ – 0-1 David Silva
40′ – Red card van der Vaart
51′ – 1-1 van Nistelrooy
73′ – Red card van Nistelrooy
77′ – 2-1 Sergio Ramos
87′ – 3-1 Rubén de la Red
89′ – 4-1 Gonzalo Higuain
90′ – 4-2 Morientes pic.twitter.com/CNVPP2O7M3

— Infinite Madrid (@InfiniteMadrid) January 8, 2020
Ramos scored the equalising goal from a corner in the 77th minute which gave Real Madrid the momentum as they went on and scored 2 more goals finishing the game 4-2 and 6-5 on aggregate.