It is perhaps poetic that on the day Tottenham Hotspur hosted Chelsea in the Premier League, a beloved personality for both teams is no more. Jimmy Greaves, one of the finest ever goal scorers in league and England history, passed away at the age of 81.
We are deeply saddened to learn of the passing of Jimmy Greaves at the age of 81.

Jimmy was part of our @FIFAWorldCup-winning squad and scored a remarkable 44 goals in 57 games for the #ThreeLions.

All of our thoughts are with his family, friends and former clubs. pic.twitter.com/CetXiwD25l

— England (@England) September 19, 2021
He was given a rousing farewell by fans of both sides before kickoff to truly remember the impact he left on the game. "Greavsie" as he was fondly known, has a whole host of records to his name, including Spurs' top-scorer (266 goals) and the all-time leader in goals in the English league.
Remembering our greatest ever player.

Rest in peace, Jimmy. 💙 pic.twitter.com/aFsnvvfBz1

— Tottenham Hotspur (@SpursOfficial) September 19, 2021
FootTheBall looks at 10 iconic moments from the legendary Hall of Famer's career through the 1960s and '70s.
PROFESSIONAL DEBUT MARKED WITH GOAL
Greaves was a goal-scoring beast at youth level with Chelsea, netting a ridiculous 173 goals over 1955-57. He even scored in the 1958 FA Youth Cup final but the Blues lost to Wolves. Naturally, he linked up with the senior-team in 1957, making his first appearance ironically against future club Spurs.
132 goals in 169 games for the Blues! 😲

Jimmy Greaves is the next player to be named as a candidate to feature among our legends on the Stamford Bridge Shed End Wall!

Details 👇

— Chelsea FC (@ChelseaFC) March 7, 2019
The 17-year-old got the goal for Chelsea in a 1-1 draw but the talent was there for all to see. His poise and control over the ball belied his years while his attacking instincts made him a perfect match for Ted Drake.
SCORING FIVE AGAINST WOLVES
Having ended his debut season with 22 goals in 37 league appearances, Greaves kept up his hot form for the next year as well. In just the third match of the league, he knocked five past defending champions Wolves in a 6-2 win.
Jimmy Greaves, Chelsea#Chelsea #CFC pic.twitter.com/9KS01Duc4h

— Football Memories (@footballmemorys) February 26, 2018
The Wolves side had England captain Billy Wright amongst their ranks but were helpless to stop the blazing Greaves. Left foot, right foot, heading- he had it all and continued his showings over the whole season. He finished as top scorer with 32 goals from 44 games to win the Golden Boot, his first of six.
YOUNGEST TO 100 GOALS
Given his prolific nature in front of goal season after season, the bar would be raised further in 1960-61. Greaves hit three hat-tricks, two pokers and five goals against West Brom on his way to a record-setting 41 league goals. It still stands as a club and league record, more than 50 years on.
The three goals against Manchester City in November took him past a century of goals in the First Division, aged 20 years and 290 days. That made him the youngest to do so, a feat looking harder and harder to match as the years go by.
SHORT SERIE A STAY WITH DEBUT GOAL
Greaves was never happy moving to Italy, even trying to get the move to AC Milan in 1961 cancelled. But it was not to be as Greaves officially had to go. He scored on his debut against Botafogo at home, something which he has made a habit of.
Jimmy Greaves, AC Milan#ACMilan #IRossoneri pic.twitter.com/UCssKrzhnb

— Football Memories (@footballmemorys) July 21, 2021
However, he still did not fit in with the different methods of training and diet propagated there as he left in December of the same year. His record at Milan stood at nine goals from 12 games when he was subjected to bids by both Spurs and Chelsea. Greaves finally signed with the former and history was set in motion.
HATTRICK ON DEBUT AND FA CUP WIN
True to form, Greaves netted on debut and even added a couple more to complete a hattrick against Blackpool at White Hart Lane. He was unstoppable in the FA Cup as well, scoring nine times in seven appearances, helping Spurs reach the final.
Jimmy Greaves made his debut on this day in 1961, he scored a hat-trick in a 5-2 victory over Blackpool! pic.twitter.com/K5c4Neiq4q

— Tottenham Hotspur (@SpursOfficial) December 16, 2016
Facing Burnley, he scored the first goal within three minutes with the club going to win 3-1. That gave Greaves his first trophy on English soil, having gone without at Chelsea previously.
LEAGUE RECORD AND EUROPEAN GLORY
The 1962-63 season was one of Greave's best during his playing career. The unstoppable force scored three hat-tricks and four goals as he finished with 37 goals from 41 games. It remains the most times a Spurs player has netted in a league season, but his contribution was also enormous in the European Cup Winners' Cup. Greaves scored six goals as they made it to the final against Atletico Madrid.
𝗝𝗶𝗺𝗺𝘆 𝗚𝗿𝗲𝗮𝘃𝗲𝘀 𝗠𝗕𝗘 🎖️

Our greatest-ever goalscorer, @jimmy_greaves has received an MBE in the New Year Honours list! #THFC ⚪️ #COYS pic.twitter.com/HqQFtOWIRd

— Tottenham Hotspur (@SpursOfficial) December 30, 2020
He hit the opener in the final along with the fourth as well with Spurs running out 5-1 winners. In the process, they became the first British team to win a European trophy.
SECOND FA CUP; RECORD GOALSCORER
Spurs kept falling short of the league title, despite Greaves keeping his marauding form strong. Their best position was second in the 1962-63 season but four years later came another FA Cup trophy. Six goals in eight games saw him become the top scorer of the competition as his team beat Chelsea.
However, the following years were not too kind for Greaves as he scored "only" 29 times with Spurs finishing seventh and getting knocked out early in cup tournaments.
266 goals. 379 appearances.

Not just Tottenham Hotspur's record goalscorer but the finest marksman this country has ever seen. 💙 pic.twitter.com/rQxyjBFofH

— Tottenham Hotspur (@SpursOfficial) September 19, 2021
A new strike partnership with Martin Chivers was not working out but he still managed to pick up his final Golden Boot during the 1968-69 season. Furthermore, he also broke Spurs' all-time scoring record as well as the First Division's- both of which he still holds.
LUCKY 13 WITH WEST HAM
Greaves' ill-fated move to the Hammers in 1970 did not pan out for either party as they would have liked. Nevertheless, his two seasons at the club saw him rack up 13 goals to extend his English league scoring feat to 357 goals. Along with the goals he scored in Italy, his total tally of 366 in Europe's top five leagues was a record that stood till the last decade when it was overtaken by Lionel Messi and Cristiano Ronaldo.
THREE FOR FUN
The battle of the neighbours in 1961 saw the Three Lions winning by a massive 9-3 margin, one of the biggest losses suffered by Scotland ever. Greaves was on fire, netting three times and having a fourth disallowed. It was his third hattrick, coming in just his 12th cap further highlighting the prolific nature of the hitman.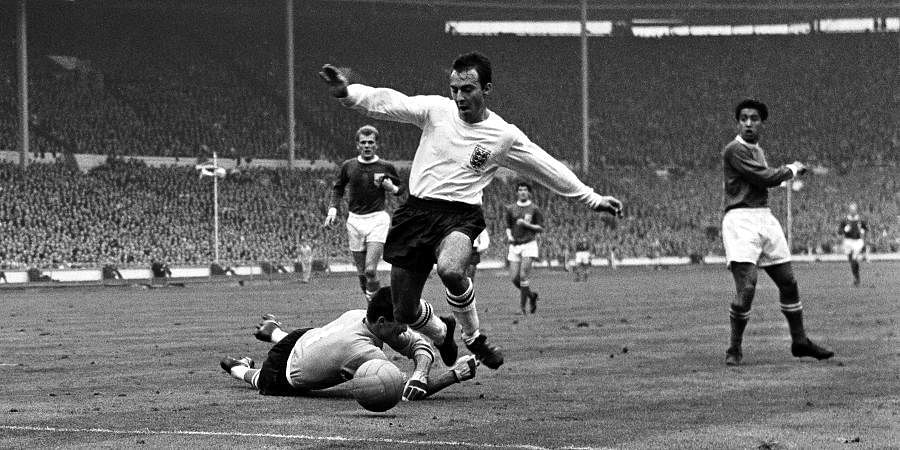 He would go on to score six of them- an English record that still stands. Greaves also became the highest scorer for England during his time as an international and currently remains fourth on the list (44 goals).
BITTERSWEET WORLD CUP
The 1966 World Cup has always been a bone of contention for Greaves. Entering the tournament in fine form as a starter, he featured in all three group games. However, in the final of those against France, he got badly injured on his shin and needed 14 stitches. He was replaced by a certain Geoff Hurst who kept his place till the final.
Jimmy Greaves for England:

🏟 57 Games
⚽️ 44 Goals

An incredible goalscorer. RIP🙏 pic.twitter.com/pTSZRn5eRq

— EPL Statman (@EPLStatman) September 19, 2021
Though Greaves was fit to play in the pinnacle match, manager Alf Ramsey left him out as England won. To compound the misery, Greaves did not get a winner's medal either until 2009 after a long campaign by the FA.