Football is well-known for the bromance between players on and off the pitch. Teammates have been known to spend quality time together no matter where they come from or the barriers in between them. It is one of the things that makes the beautiful game truly more enjoyable and wholesome. On the occasion of International Friendship Day, FootTheBall looks at the top 10 bromances everyone has come to love and appreciate.
DECLAN RICE & MASON MOUNT
The oldest bromance on this list and one of the most well-loved. Rice and Mount have known each other since they were together in Chelsea's academy as kids. Both families were regularly holidaying together and travelled across countries with the boys being labelled "dumb and dumber."
Mason Mount and Declan Rice are living the dream.

From the Chelsea academy to the final at #EURO2020.

Best friends since 8-years-old in England's biggest game since the 1966 World Cup Final.

What a moment.

More on #OptusSport | https://t.co/N1W3lHpRoA pic.twitter.com/9ASUdgEBoq

— Optus Sport (@OptusSport) July 11, 2021
So deep was their affection that Mount's mom cried when Rice was let go by the Blues. That did not deter their friendship and despite playing against each other, they are now regular mates for England.
Why did you get so scared bro? 😂😂😂 @_DeclanRice pic.twitter.com/ZjR8m5J1JI

— Mason Mount (@masonmount_10) July 3, 2019
Furthermore, there are hilarious video clips and sound bites of the two talking of their love for each other like when Mount had to isolate during national duty at the Euros and more.
LIONEL MESSI & LUIS SUAREZ
One of the most endearing pairs and their affection was well-known across Barcelona. Messi and Suarez were the best of friends after the Uruguayan's move to Camp Nou in 2015. Their families lived close by, spent most of their time together and even their children went to the same school.
5 – Lionel Messi has assisted five of the last six Luis Suárez goals for FC Barcelona in all competitions. Friends. pic.twitter.com/wJmUvyJvhL

— OptaJose (@OptaJose) December 14, 2019
They shared the closest of bonds which was evident on the pitch during their celebrations for each other as they led the club to silverware success. It was even more on show after Suarez's acrimonious departure from the club last year. Messi posted a photo of them together and his caption really moved fans to tears on how much he would miss him.
Messi & Neymar spoke out after Barcelona forced Luis Suarez out of the club.

Now you see why 💁‍♂️ pic.twitter.com/E7npqu7zkc

— ESPN FC (@ESPNFC) May 22, 2021
Even now, after the end of Copa America, both players are vacationing together which further proves that a difference of clubs cannot divide them.
ROBERT LEWANDOWSKI & MARCO REUS
These two gave the world one of the most iconic moments on the pitch when they were caught smiling and gesturing at each other before the kickoff of a match between Borussia Dortmund and Bayern Munich. Indeed, the pair only spent two seasons together at Signal Iduna Park but it sowed the seeds of a warm bromance.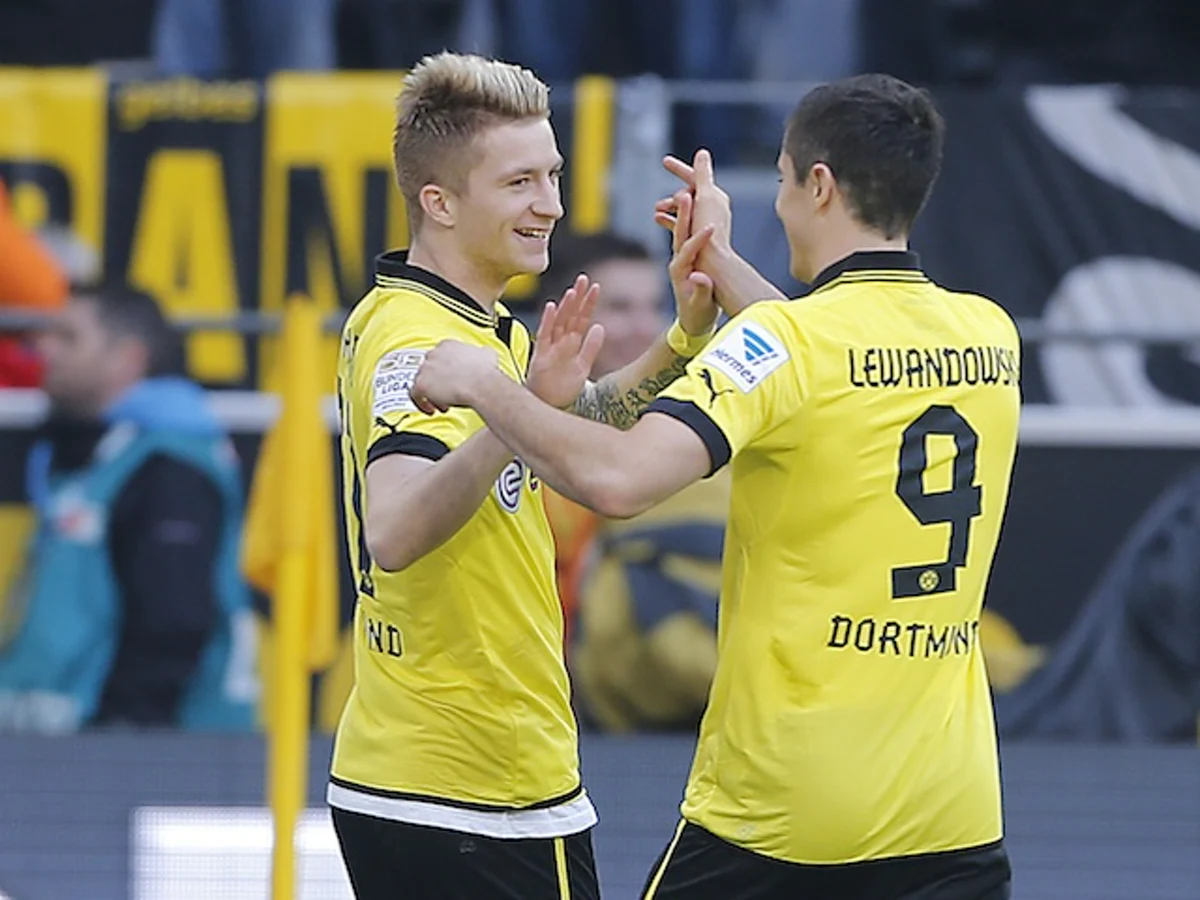 Reus and Lewandowski have the fondest memories of playing together and were regularly seen exchanging handshakes and hugs post-match. Though one of the shortest in terms of years as teammates on the list, bromance knows no time and this pair is certainly the proof of that concept.
GIORGIO CHIELLINI & LEONARDO BONUCCI
The bromance between these two was no secret even before their historic Euro 2020 triumph. Teammates for more than 10 years at Juventus and for Italy, there are literally no stones unturned in their relationship. Indeed, Chiellini went as far as to suggest that he knows Bonucci "better than my wife."
The European champs even vacation together

Bonucci + Chiellini 🍝😍 pic.twitter.com/XaKmqL6hBb

— Italian Football TV (@IFTVofficial) July 17, 2021
They claim to do everything together whether for club or country and even post the tournament, were clicked eating spaghetti together on vacation. Playing as partners in defence has helped this bromance flourish and surely they will go down as two of the greatest defenders in the history of the game.
https://www.instagram.com/p/CRbYw6jF2Dw/?utm_source=ig_web_copy_link
Bonucci had even stated that he will bring back Chiellini, now 36-years-old, for the 2022 World Cup in Qatar which seems pretty much a foregone conclusion since Italy's triumph at the Euro 2020.
JESSE LINGARD & MARCUS RASHFORD
It is easy to forget that Rashford is only 23-years-old and it is easier to forget that Lingard is…28. Nevertheless, that has not stopped the pair from becoming the best of buddies at Manchester United. Lingard sees Rashford as his little brother, with the two having developed their own special handshakes after scoring and are regularly seen on holidays together.
No one:
Jesse Lingard and Marcus Rashford: pic.twitter.com/OwOPFxjNsW

— ESPN UK (@ESPNUK) June 16, 2019
Rashford has been nicknamed "beansprouts" by the elder statesman and it is certain that having both come from United's youth set-up has helped in breaking down awkward barriers. This has really enabled the world to watch these two in action together and of course, bust out the moves on getting goals.
NEYMAR & DANI ALVES
The two Brazilians became teammates in 2013 after Neymar's move from Santos. Alves by then was already an established face at Camp Nou and took the young hotshot under his wing. There have been many close bonding opportunities between the pair, having shared meals, vacations and trips over the years.
Neymar and Dani Alves dancing after Neymar's goal #fcblive [efe] pic.twitter.com/SF4rOFEMTV

— FCBarcelonaFl  (@FCBarcelonaFl) November 22, 2014
Additionally, playing for the national team together has further helped solidify this friendship into true bromance material. Destiny has been right beside them when in 2017, both were signed by PSG to help continue their journey of becoming closest confidants. Even though the right-back is no longer in France, the friendship still continues rock solid to this day.
ALEXANDRE LACAZETTE & PIERRE-EMERICK AUBAMEYANG
Love at first sight for the next bromance on the list. Aubameyang joined the Gunners in January 2018 and told how good it was seeing the Frenchman. Since then, the pair have become the primary source of goals for Arsenal and have perfected one of the best celebrations after scoring.
This gives us so much life ❤️😁 pic.twitter.com/nQwvPOk8ir

— Arsenal (@Arsenal) October 7, 2018
Even in training ground pictures and warm-up sessions, the two have been caught having a jolly good time together with all smiles and laughter. Lacazette has gone onto state that they are "brothers" now (who could have guessed) and are loving their partnership playing up top.
ERIC DIER & DELE ALLI
These Tottenham teammates are the definition of giving your buddy a hard time before embracing all ends up. Alli has referred to Dier as one the "nicest guys" anybody can meet and they are often seen shopping together or sharing meals. Furthermore, they are also roommates when Spurs have an away match while continuing their show of affection whenever the team scores a goal.
Eric Dier protecting Dele Alli from Liverpool midfielder Emre Can. #COYS pic.twitter.com/4LzBiZApjC

— Hotspur Related (@HotspurRelated) April 2, 2016
Dier and Alli have also shared many close moments while on duty for England involving their teammate Danny Rose as well. Though that camp has seen a decrease due to their reduced chances of representing the Three Lions, there is no doubt that at club level, it will be seen more of in the upcoming season.
LIONEL MESSI & SERGIO AGUERO
Another bromance that goes a long way back. Messi and Aguero started out as teammates for the U20 Argentina squad in 2005 where they shared a room together. Having helped their team win the tournament, they became inseparable whenever the international scene rolled around.
🇦🇷 Lionel Messi & Sergio Aguero may have just won their 1st senior title for @Argentina, but their 1st overall came at the 2005 #U20WC 🏆

🔙 #OnThisDay in 2007 @aguerosergiokun ensured Argentina retained their crown & that he emulated his great friend by winning those awards 🥇 pic.twitter.com/PuesG0IDhX

— FIFA.com (@FIFAcom) July 22, 2021
They continue to honour that ritual whenever playing for La Albiceleste, winning at the 2008 Olympics. Finally, after years of watching from afar, these two will be able to play together for Barcelona in the upcoming season where their bromance will be flourishing on a more regular basis.
CRISTIANO RONALDO & MARCELO
The Portuguese great struck up an instant friendship with the Brazilian on his arrival in 2009. Their positions on the pitch enable them to become telepathic in attack and help the team rack up goals and trophies over the years. Ronaldo and Marcelo were often found joking around during the training sessions, being out travelling together as well as helping each other out when the going got tough.
https://www.instagram.com/p/BlH4H7Bg8hs/?utm_source=ig_web_copy_link
It is emblematic that these two always celebrate each other's accomplishments and their bond was so strong that Marcelo was apparently in tears after the departure of Ronaldo in 2018. Though he is the new captain now, the Brazilian will definitely relish the chance of facing his teammate if the chance arises which will have no ill-effect on their solid bromance at all.