The author, Christopher Platts is Senior Lecturer in Sport Development and Sport Business Management, Sheffield Hallam University. This article was originally published in The Conversation, an independent source of news and views from the academic and research community.
---
Even for the most optimistic of supporters, England's 2018 World Cup exploits lasted longer than many expected. However, if the past two weeks have felt long for you, then spare a thought for the players, whose arduous journey to Russia started many years ago in various academies across the country.
One quirk which has captured a lot of local coverage is the shared origins of seven members of the squad, who all started their professional careers around Yorkshire and Derbyshire. A more detailed look at their lives reveals the odds they have overcome to represent England on the world stage.
These seven players provide a snapshot into the lives of professional footballers everywhere and the sacrifices they have to make for a shot at a professional career and a chance to play for their country.
It has been reported that less than 1% of boys who enter academies before the age of 14 will ever make it to the professional level of the game. This already sets Gary Cahill, Fabien Delph, Harry Maguire, Jamie Vardy, Danny Rose, John Stones and Kyle Walker apart from the majority of boys who want to succeed in British football.
Now consider their transition into the professional game. Recent research from Sheffield Hallam University suggests that around 30% of players are able to convert their scholarship contract (a contract signed for two years between the ages of 16 and 18) into a professional contract once it expires.
However, the academy that a player is employed at during those years plays an important role in the chances of them entering professional football. Of our sample of 303 players, for example, only 11 players who were with academies connected to League One or League Two clubs gained a professional contract. In comparison to this, 82 of the players who were at academies at Premier League and Championship clubs were awarded professional contracts at 18.
As the table below shows, a player at a Premier League academy has a 52% chance of being offered a professional contract compared to 36% chance in the Championship, 13% in League One and 7% in League Two.

Interestingly, Gary Cahill is alone among the seven England players to train at an academy with a Premier League club – he was a scholar at Aston Villa while they were in the Premier League. The rest started out with Championship and lower division teams.
Moving home, loaned away
To understand the career trajectories of Cahill, Delph, Maguire, Rose, Stones, Vardy and Walker, we shed light on the lengths these players have had to go to compete in football's biggest tournament. Of the 92 players from the sample of 303 who were offered a professional contract at 18, on average they had undertaken 4.63 moves between 2010 and 2018 and 1.61 loan moves each.
Professional football is a precarious career in which short-term contracts and loan moves are all part of the job. It is hard to think of another career where an employee would move companies, on average, every other year and, in this regard, the seven players in the England squad are no different.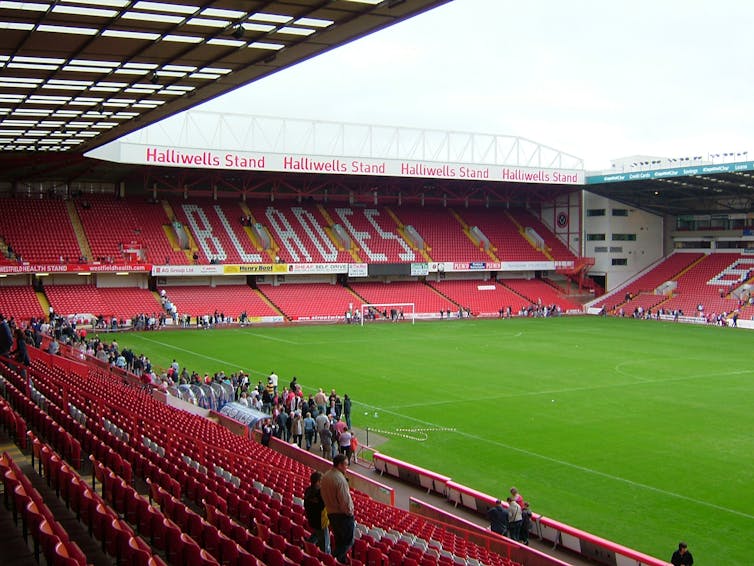 Of all the players, perhaps John Stones stands out due to a relatively low number of transfers and an absence of loan moves. He moved from Barnsley to Everton and then on to his current club, Manchester City. Beyond Stones however, the careers of the other players mirrors the patterns seen in our sample.
Gary Cahill was a trainee at Aston Villa, where he made the first team. However, since then, he spent time on loan at Burnley and Sheffield United before permanent moves to Bolton Wanderers and Chelsea. Cahill had to move away from home in order to become a scholar, having grown up in Dronfield, Derbyshire.
Fabian Delph also left his home club of Bradford City for Leeds United at 15 and, since then, has moved from Leeds United to Aston Villa and on to Manchester City, with a brief loan spell back at Leeds United in between. Danny Rose only has one permanent move, from Leeds United to Tottenham Hotspur, however, and has had four loan moves in his career. Harry Maguire spent a number of seasons playing in the first team at Sheffield United, before leaving for Hull City on a permanent move, Wigan Athletic on loan and, finally, to Leicester City on a permanent deal.
Kyle Walker has a higher than average number of loan moves with four to date in his career including Northampton Town, Sheffield United, Queens Park Rangers and Aston Villa. He also has had two permanent deals, to Tottenham Hotspur and Manchester City. Finally, the career of Jamie Vardy stands out, not just for the number of moves, but the trajectory, which has taken him from non-league Stocksbridge Park Steels to Leicester City, via Halifax Town and Fleetwood.
The long road to Russia
Not only did these seven players beat the bookmakers' odds to make it to the semi-finals of the 2018 World Cup, but their careers also attest to the vanishingly small probability of becoming a professional player in the first place.
For each of the players we have mentioned from the England squad here, there are thousands who were unable to make it to the professional level of the game. As these seven players show, a career that includes playing at the top level of professional football is a lengthy, complex and unpredictable journey.
It is often termed a privilege to represent your country at a World Cup, but there should be no doubt that these young men have worked extremely hard to earn that privilege.