Arsenal succumbed to their sixth defeat of the season to Everton on Monday, a result that left them an unflattering 7th on the table. They are still well in contention for Europe of course and maybe even an outside shout for the fourth Champions League spot. However, it does feel that Mikel Arteta's side have found their level – not good enough to be called elite and not bad enough to be considered catastrophic.
Everton take all three points.

🔵 2-1 🔴 (FT) #EVEARS pic.twitter.com/SKiZqJo7sR

— Arsenal (@Arsenal) December 6, 2021
To contextualise, only five teams in the entire league have lost more matches than the Gunners and it is hard to argue that any of their six losses were undeserved. The xPts table also has them pretty much where they are, in eighth place, and their xG and xGAgainst figures are also within the acceptable variation range.
After a horrible start to the season with three losses in three, Arteta reacted well to restore stability and structure to the lineup. They do not have any glaring shortcomings but they are subject to wide periods of mediocrity and this should concern Arsenal fans more than they think.
IN TRANSITION OR STAGNATING?
Arsenal were eighth at the end of the last two seasons and haven't finished in the top four since 2015-16. Over the past two seasons, the Gunners have a net spend in excess of 200 million but there are very few signs of true improvement on the field.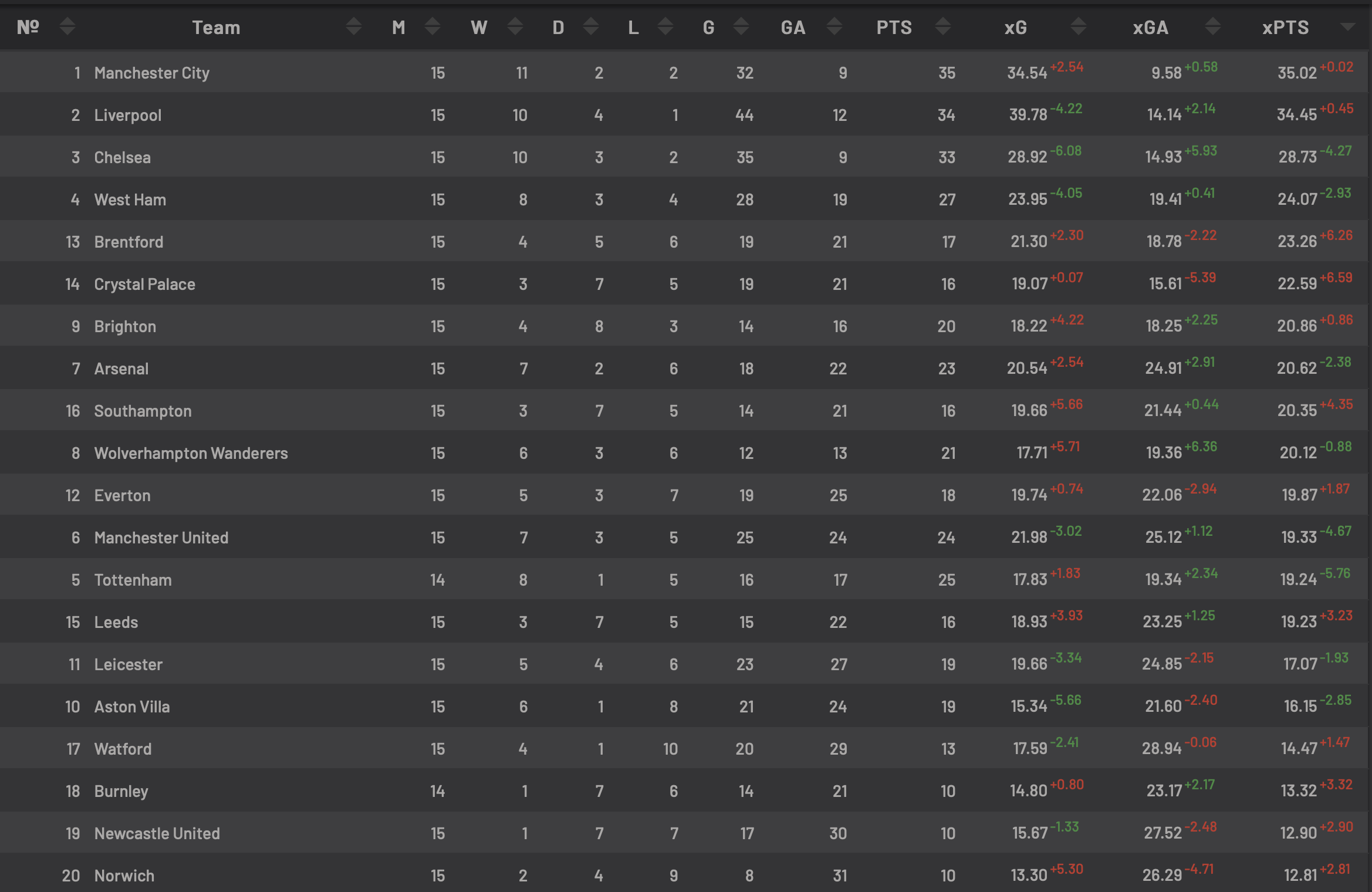 There have been positive signs across the squad though. Ageing players on the wane like Willian, David Luiz and Mesut Ozil have been moved on to be replaced by younger players with a high ceiling like Ben White, Martin Odegaard and Aaron Ramsdale. The concerted strategy to change the composition of squad is encouraging but the question remains whether the ceiling will be reached or not and whether Mikel Arteta is the right man to take them back to the top?
THE ARTETA GAMBLE
Arsenal followed the trend of big clubs handing the reins to relatively inexperienced managers, usually former players. This experiment has, for the most part, not worked out for clubs. Lampard, Pirlo, and Solskjaer have all been sacked under unceremonious circumstances and the jury is still out on Arteta.
The Spaniard is not underperforming given the squad he has, unlike the other three, but it is rather apparent that the genius of Pep Guardiola does not transition through an apprenticeship. 
A particular damning assessment of Arteta's tenure can be made by looking at his side's results against the rest of the Premier League 'Big 6.' This season Arsenal have only 3 points out of a possible 15 against the rest of England's big boys. Last season they had only 13 points out of a possible 30. 
🔴 @LFC get back to winning ways in emphatic fashion#LIVARS pic.twitter.com/v3wnwT3oIO

— Premier League (@premierleague) November 20, 2021
Over the same fixtures, they have a -10 goal difference and have failed to score in just under half of the matches. They also have only four clean sheets in 15 matches against the Premier League Big 6. These statistics show that when going up against the best, Arteta has come up short repeatedly and in comprehensive fashion.
Against the challengers of the hegemony, Leicester City, Wolves, West Ham and Everton, Arsenal have taken 10 points out of a possible 30 since the start of last season. Arteta's Arsenal have quite simply struggled against any side with some quality and a basic structure.
WHERE DO ARSENAL GO FROM HERE?
Given a very average record in the league, especially with no European football to worry about, it seems strange that there has been very little pressure on Arteta. The board too seems to be backing him, but that feels more like a hedged bet than an evidence and logic backed decision.
The problem with Arsenal seems to be that they just do not know who they are anymore. They appointed Edu as the technical director in 2019 and there is still no sign of a particular ideology or style of play being fostered at the club. Their signings have a trend of being young technically adept players and they have a great core of academy players finding their feet. But at the risk of sounding like Roy Keane, there is a lack of steel and leaders at the club.
Emile Smith Rowe (21y &127d) is the second youngest goal scorer for Arsenal in the Premier League at Old Trafford after Nicolas Anelka in February 1999 (19y & 340d) 👶#MUNARS pic.twitter.com/TCiHQXaM49

— Premier League (@premierleague) December 3, 2021
The club seems to be in limbo, unable to break the cycle. They need to find inspiration from somewhere, whether it is a new system, a new manager or a big striker signing. Right now they are drifting along the strait, sometimes in peaceful waters sometimes in troubled ones, but there is no shore in sight unless something changes.