The author, Marc C-Scott is a Lecturer in Screen Media, Victoria University. This article was originally published in The Conversation, an independent source of news and views from the academic and research community.
---
France might have won the 2018 World Cup title, but who were the real winners in the broadcast battle? Not everyone could make it to Russia to watch the games live, and that left people all over the world relying on the distribution and associated media rights within their region.
In Australia there was a lot of debate and discussion around the media rights for the World Cup and associated technical issues. The rights were held by Optus, a major telecommunications company, not a traditional television broadcaster.
Due to Australia's anti-siphoning scheme, the public broadcaster SBS was able to broadcast Australia's games, and the finals.
But Optus' streaming service created major headaches for those attempting to view the other games. Many people only received errors and were unable to watch the games at all.
Well this doesn't give me hope to watch tomorrow's game at all @OptusSport @Optus #WorldCup #FRAvsBEL #floptus #floptusport pic.twitter.com/VtWPx41pU4

— Seph Zee (@TheOtherZee) July 10, 2018
"Absolute disgrace!"

Thousands of Aussies settled in for the first full night of #WorldCup action, only to be left enraged by broken Optus streams.https://t.co/ePV56WBiux pic.twitter.com/DChWVD1xCu

— ABC Grandstand (@abcgrandstand) June 15, 2018
Initially Optus passed on all of its rights to SBS for a 48-hour period, allowing Australians free access on a free-to-air broadcaster. This was to allow Optus time to resolve the technical issues.
Prior to the end of the 48-hour period Optus relinquished all rights, allowing SBS to broadcast all remaining matches for the tournament.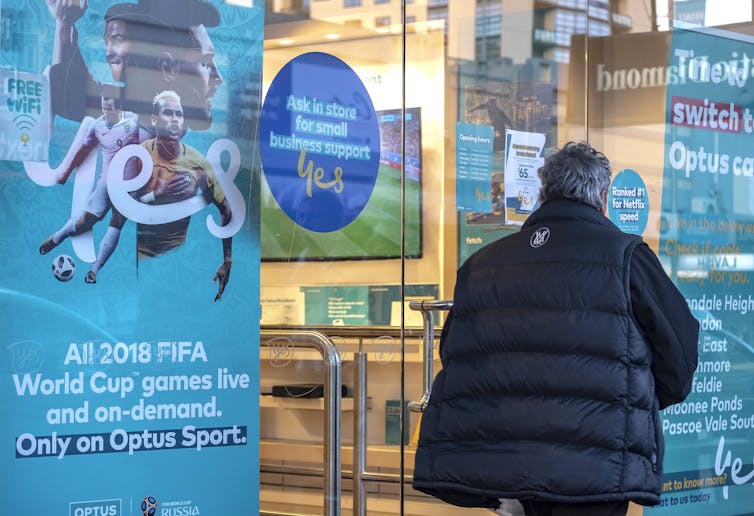 The Optus issue is just one example of factors that impacted the media component of the World Cup. This was a global event that was expected to have almost half the world's population watching, and there are several examples from abroad that will impact the future of sportscasting, particularly for global events.
Would you like some World Cup with that?
We consistently see examples of sporting matches being broadcast on screens in pubs, but the World Cup showed another example.
In Sweden, fast-food outlet McDonald's used the World Cup as an incentive to have customers visit its stores. The company negotiated to have all the matches shown in its 207 restaurants across Sweden.
Red Bee Media provided the service for McDonald's, whose digital lead for Sweden, Rickard Berthold, noted:
We needed someone who could deliver the World Cup to our restaurants on a tight deadline and without any glitches.
But McDonald's didn't stop there. In Hong Kong, McDonald's partnered with Google and media agency OMD Hong Kong to create "Hungry Moments".
The partnership saw real-time promotional messages pushed to fans when they were at their hungriest. This was deemed to be at the beginning, half-time, the end of a game, and at each goal.
Piracy impacts sport too
While we commonly discuss piracy of pre-recorded television programs and movies, improved technology and access is now making piracy an issue for live events.
Before the opening of the World Cup, letters were sent by Sony to any would-be pirates detailing what rights it had to any World Cup material.
We will be monitoring your activities for any act of infringement of the statutory and contractual rights of our client.
This fear had come from reports that there had been a number of illegal streams for the UEFA Champions League season.
FIFA issued a statement accusing one "pirate channel named BeoutQ" of illegally distributing the opening matches of the World Cup. It was allegedly stealing another World Cup Satellite feed.
Still, piracy prevention firm Irdeto reportedly detected 5,088 unique pirate streams, 582 of these were for Brazil's games. There were also 523 illegal streams detected for England's group games, despite being available in the UK on the BBC iPlayer and the ITV websites.
Records were still broken
Despite broadcast and streaming troubles, and the fear of piracy and illegal viewing of the World Cup matches, the tournament still broke records for legal viewing.
For example, England's penalty shootout against Colombia saw 23.6 million viewers watching on ITV and 3.3 million via the ITV Hub. This meant 81% of people watching TV in the UK at that time were watching the match.
Iceland's first ever World Cup game saw 99.6 % of people in that country watching TV, to see their home team take on Argentina.
Within days the 2018 World Cup surpassed the streaming records set during the 2014 Rio World Cup. Akamia, the company that assists with streaming and was part of the Olympic streaming, said that three-quarters of first round matches in 2018 exceeded the peak bandwidth for the whole of the 2014 Rio tournament.
The future streaming of sport
Optus has a lot of work to do in regaining its current and future costumers after the World Cup "Floptus" crisis. It is particularly important as it continues to try to grow its Optus Sportbrand.
The company has just extended its exclusive rights to the English Premier League for another three seasons, but highly public technical issues during the World Cup will make many consumers reluctant to pay for the product.
The Optus failure has also raised concerns in New Zealand associated with the Rugby World Cup next year. The rights were won with a joint TVNZ (TV) and Spark (Teleommunciatons) deal, and many people are wondering whether Spark will suffer similar issues.
In Australia, Optus' failure has been a win for free-to-air broadcast television's argument to be included in the broadcast of major live events. But the World Cup has also shown that Australians are willing to pay and stream sport to devices other than a TV. The challenge for media rights holders of large live events is to make sure they are ready and able to deliver the service as promised.