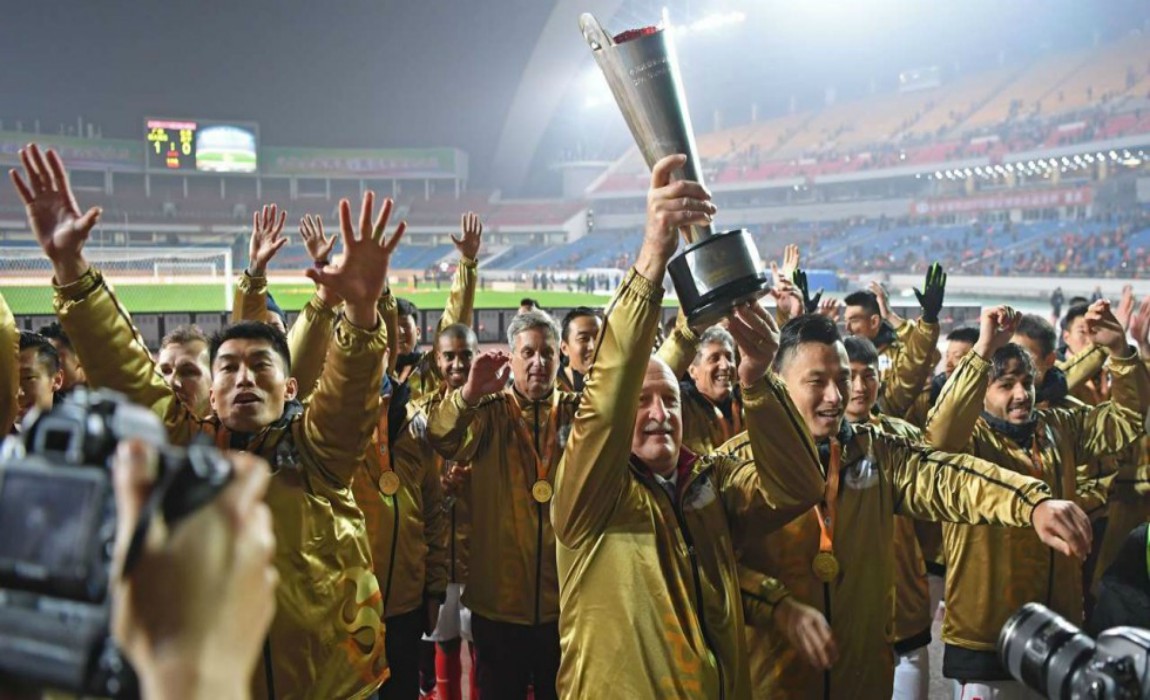 Guangzhou Evergrande won its third Chinese Football Association (CFA) Super Cup title with a 1-0 victory over Jiangsu FC at the Chongqing Olympic Sports Center here on Saturday.
Alan Douglas Borges de Carvalho, the runner-up on the scorer chart of the 2016 Chinese Super League (CSL) with 14 goals, scored the winner in the 35th minute to help Guangzhou become the first team to successfully defend the title in the Chinese Super Cup history. Guangzhou also lifted the title in 2012.
For the new season, Guangzhou aims to win four titles of the Super Cup, Super League, CFA Cup and AFC Champions League, namely one more than its triple crowns in 2016. And it has cleared the first hurdle Saturday evening.
"It's a close match. Both teams had winning chances. Maybe we did better to seize the opportunity," said Guangzhou's head coach Luiz Felipe Scolari. "I think this match could be regarded as a Chinese football derby."
Scolari has won six crowns after he came to China, one more than his predecessor Marcello Lippi.
"I don't like being compared with anybody. I hope I can win more and more champions for Guangzhou. Today's victory proves that Guangzhou has made a right decision on inviting me," added the Brazilian.
Choi Yong Soo, the head coach of Jiangsu, fell short of his target to take a revenge on Guangzhou, as Jiangsu has lost three finals to Guangzhou, including the 2016 Super Cup and CFA Cup.
"We are in disadvantage in middle field today. The game is over, and we have to move on as we have an AFC Champions League match three days later," said Choi.
"But we will never give up. I think we have chances to beat Guangzhou either in the Chinese Super League or CFA Cup in 2017," added Choi.
Guangzhou had a dominant trend from the beginning as Ricardo Goulart wasted a chance in the 5th minute, and Liao Lisheng made a close-range shot but was denied by Jiangsu goalie Zhang Sipeng in the 21st minute.
In the 27th minute, Alex Teixeira Santos scored for Jiangsu but was ruled offside.
After Alan broke the deadlock for Guangzhou as he curled the ball from the left side into the far corner of the net, Jiangsu tried in vain for an equalizer with its best chance in the 70th minute when Ramires' close-range shot was denied by Guangzhou goalkeeper Zeng Cheng.