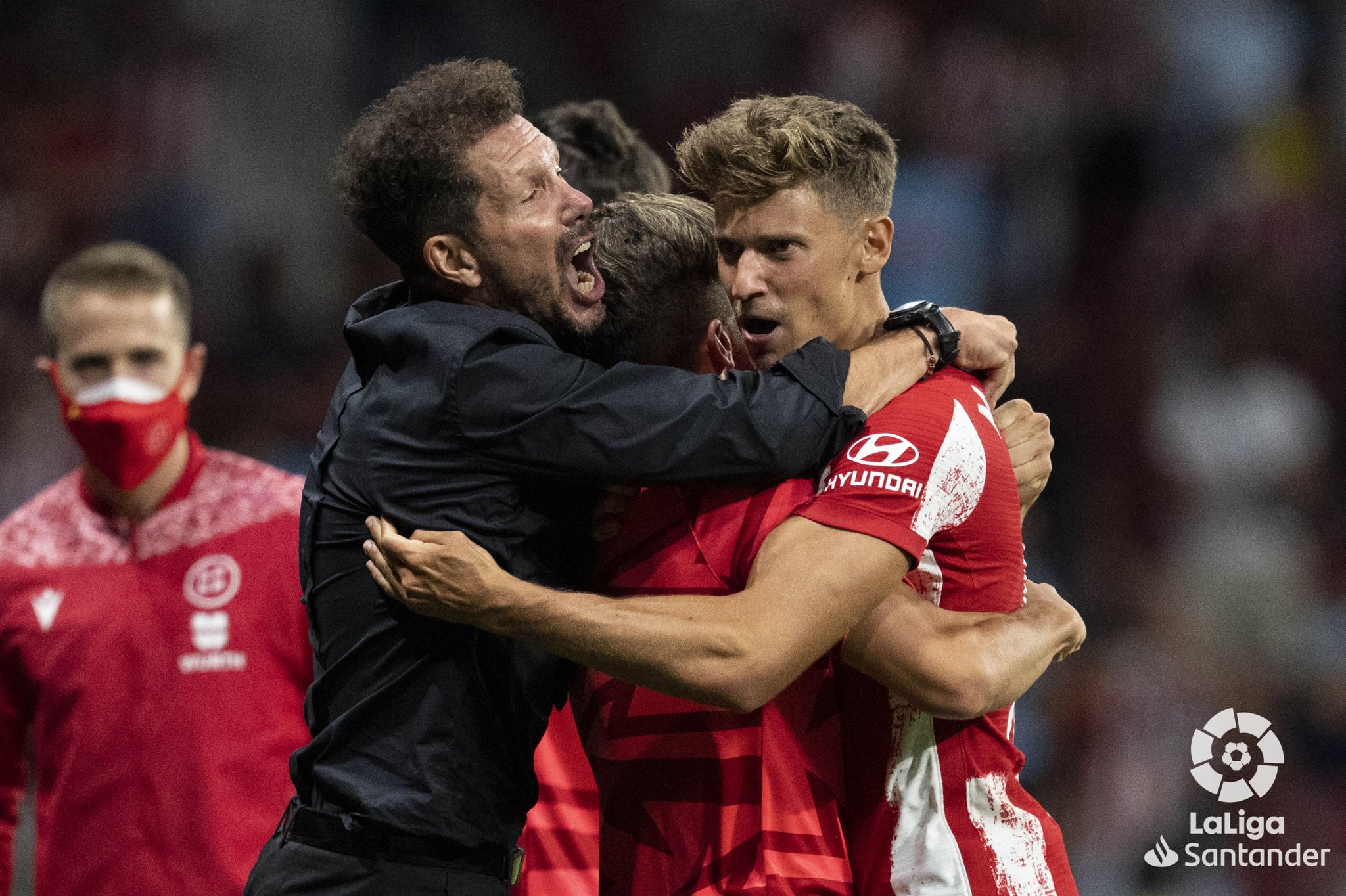 MATCH REPORT - Atletico Madrid vs Villarreal; Mandi's Own Goal Heps La Liga Champions Salvage a Point Against Europa League Winners
La Liga winners Atletico Madrid faced UEFA Europa League winners Villarreal in a jaw-dropping fixture at the Wanda Metropolitano. Los Rojiblancos had won both their previous games before entering the contest, while the Yellow Submarine were yet to register a win under their belt. And with Sunday's game ending 2-2, Villarreal registered their third draw of the season.
The game had a nervy opening as both outfits played cautious football but it was Villarreal who were controlling possession for the first fifteen minutes. However, as soon as Atletico Madrid settled into their stride, they came barging in on Villarreal's goal. Simeone's men created several chances looking to break the deadlock but were astonishingly wasteful in front of the goal. Luis Suarez, Angel Correa, and Yannick Carrasco all had opportunities to score Atletico's opening goal but they couldn't find the back of the net.
⏸️ HT at the Wanda Metropolitano!
💪 Great performance from Atleti but no goals so far. pic.twitter.com/UIrc3sG3Pf

— Atlético de Madrid (@atletienglish) August 29, 2021
Out of the 13 shots, only two were on target for Atletico indicating how poor they had been in front of goal. The two teams marched towards the dressing room with the match still goalless.
When the two teams returned for the second half, the game turned on its head within minutes. Villarreal earned themselves a crucial lead thanks to Manu Trigueros' amazing strike. The Spanish midfielder was in acres of space on the edge of the box and he accepted the invitation to shoot gladly; even the diving Jan Oblak couldn't shield his goal.
#AtletiVillarreal | 1-1 | ⏱️ 55' | Gol del @Atleti. Marca Luis Suárez.

— Villarreal CF (@VillarrealCF) August 29, 2021
Just five minutes later Luis Suarez bought the La Liga champions back into the game, grabbing the equalizer for Atleti. Villarreal were caught in possession by Marcos Llorente as Angel Correa picked up the scraps before passing them onto Luis Suarez. The Uruguayan had the easiest job of slotting it home which he did quite comfortably as Simeone's men walked back into the game.
What an impact, @Danjuma! 💛🇳🇱🎩#LaLigaFanCam | #AtletiVillarreal pic.twitter.com/sKqoW5C9t3

— LaLiga English (@LaLigaEN) August 29, 2021
Los Rojiblancos themselves committed a horrific defensive mistake as Villarreal took full advantage of the confusion between Atletico's centre-backs. Arnaut Danjuma restored the lead for the away side as Diego Simeone was left in frustration.
FT #AtletiVillarreal 2-2

😱😱😱 @atletienglish equalise with the last kick of the game!#LaLigaSantander pic.twitter.com/9ZkR8mr9zH

— LaLiga English (@LaLigaEN) August 29, 2021
Yet Atletico Madrid emerged with a point after all as Villarreal defender Aissa Mandi headed the ball inside his net equalling the scoreline. Saul's long ball was met by the Algerian's head who thought of playing an easy header towards his goalkeeper. But the Argentine shot-stopper was on a defferent wavelength as he couldn't scarp back to prevent the ball from going inside the net. Atletico Madrid and Villarreal breathed a sigh of relief as the game ended 2-2.
EMERY'S MEN START QUICK

Atletico Madrid smashed almost 13 shots in the first half whereas their opposition failed to create anything of note despite starting well. While Simeone would have hoped that his forward battery would break the shackles at some point, Villarreal stunned the Spanish champions with a goal in the second half.
The away side had created some magnificent moves in the first half but they were silenced by the chances created by Atleti. After the interval, Villarreal once again started brightly, created a few opportunities and finally found the back of the net themselves.
Two assists for @santos_yeremy… 💫@VillarrealCFen LEAD at the Wanda Metropolitano!#AtletiVillarreal pic.twitter.com/64ess59Xyv

— LaLiga English (@LaLigaEN) August 29, 2021
Spanish winger Yeremi Pino found himself running roam as he darted towards Atletico Madrid's goal sliding past two tackles before finding Manu Trigueros lurking near the box. The Spanish midfielder smacked a first-time curler beating the league's best goalkeeper Jan Oblak and handing the Yellow Submarine the lead.
SUAREZ DOES IT AGAIN FOR ATLETI

Atletico Madrid's goal-scoring machine once again brought them back into the game equalising for the home team just minutes after Villarreal's opener. Alberto Moreno played a loose pass back to left-back Estupinian as Spanish midfielder Marcos Llorente pick-pocketed the duo near Villarreal's goal. Angel Correa picked up Llorente's pass as he played the ball to Luis Suarez.
SUÁREZ EQUALISES!!! GREAT REACTION FROM ATLETI. pic.twitter.com/NZwZKu8IIf

— Atlético de Madrid (@atletienglish) August 29, 2021
The Uruguayan was standing all alone inside Villarreal's penalty area as he slotted home his first goal of the fresh La Liga campaign. Atletico Madrid was creating immense pressure on Villarreal's backline and a mistake looked inevitable. The quick turnover in possession meant Villarreal were caught napping and Suarez showed that he has still got the deadly finish.
DEFENSIVE MISTAKES EVEN OUT

Capoue launched a ball forward which was being chased by Villarreal's forward battery but they failed as Savic and Goimeze took control of the situation. Unfortunately for the duo, a bit of confusion saw them lose possession and in an instance, it was a 2v2 situation with Danjuma and Pino darting towards Atletico Madrid's goal. Pino swiftly played the ball into the path of Danjuma who just had the goalkeeper to beat and he did it quite perfectly. Atletico Madrid were once again punished for their shambolic defending.
#AtletiVillarreal | 1-2 | ⏱️ 90' | Se añadirán 5 minutos más.

¡Hay que aguantar! pic.twitter.com/W1Il9mpKGT

— Villarreal CF (@VillarrealCF) August 29, 2021
The Villarreal players celebrated in joy as Unai Emery looked destined for his first win over Diego Simeone. Unfortunately for Emery and his troops, Villarreal conceded in the last seconds of the game with a defensive calamity of their own. Saul launched a long ball into Villarreal's box which couldn't find any of his strikers as the ball was met by Aissa Mandi's head.
ATLETI EQUALISE IN THE 95'. pic.twitter.com/meziUBUNoE

— Atlético de Madrid (@atletienglish) August 29, 2021
But the Algerian defender headed the ball past Rulli as the goalkeeper was left stranded. The ball bounced inside Villarreal's goal, as Mandi had scored a disastrous own goal destroying Villarreal's hopes of emerging with a victory.