The Greatest Comeback Ever!
None but the Barcelona fans had a faint glimmer of hope as the La Liga defending champions locked horns with PSG in the last-16 second-leg clash in the Champions League on Wednesday.
After suffering a 4-0 defeat in the first-leg clash, it looked impossible for Barcelona to produce a comeback and turn the tables round.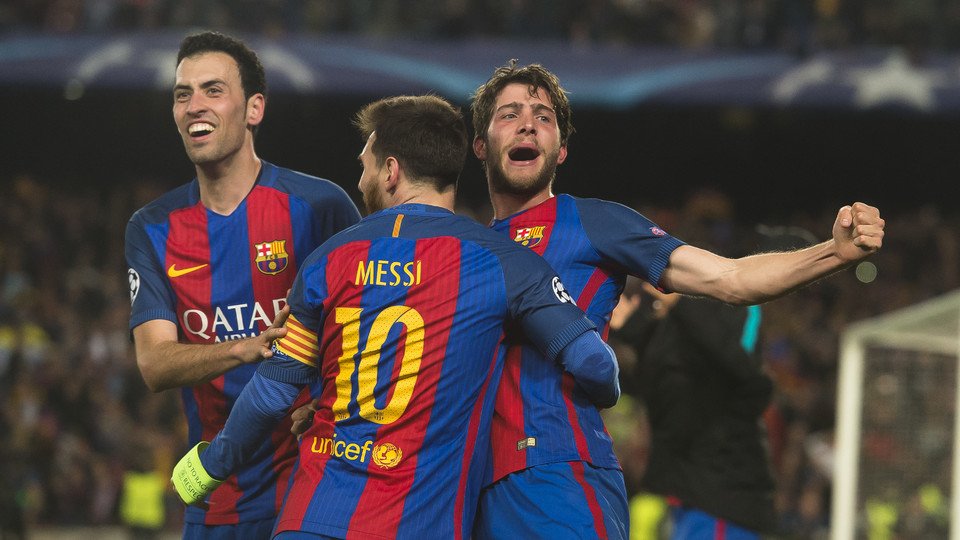 But now the Catalan side have changed the dynamics of the sport by achieving the most remarkable Champions League comeback in the history of the competition as they hammered PSG 6-1 in the second leg clash on Wednesday to seal a place in the last-eight.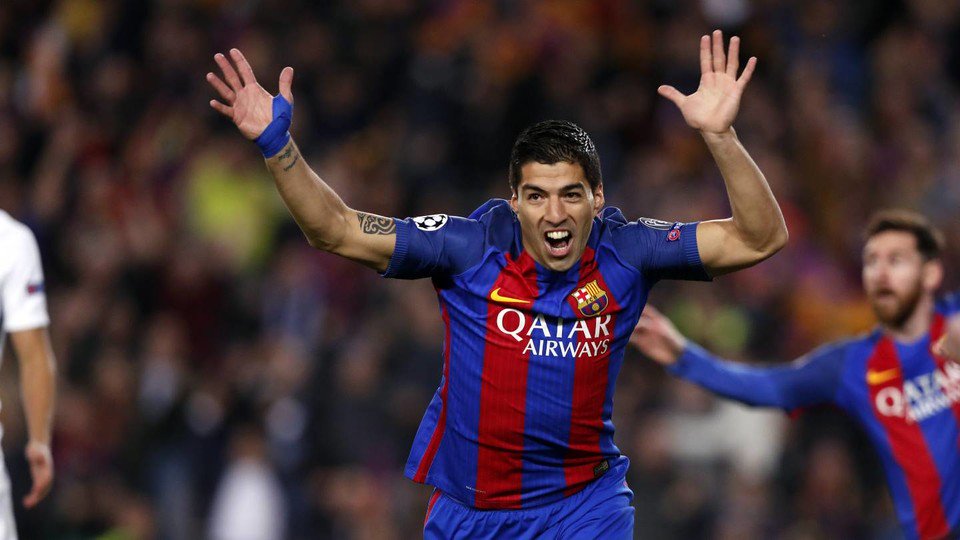 It all started with the opener from Luis Suarez, a Layvin Kurzawa own goal and a Lionel Messi penalty that guided Barcelona just one goal away from matching PSG's 4 goals from the first-leg clash.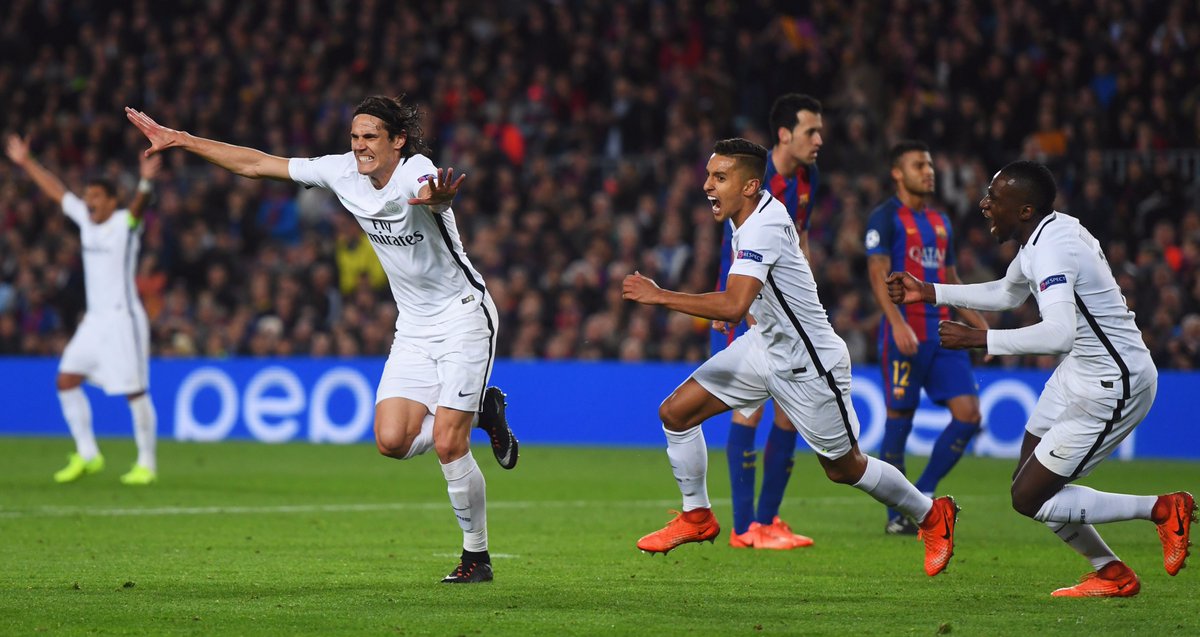 However, Edinson Cavani proved his class again by scoring a crucial away goal for PSG on Wednesday and it appeared that Barcelona were on the brink of losing a hard fought battle.
What followed next was nothing short of a miracle.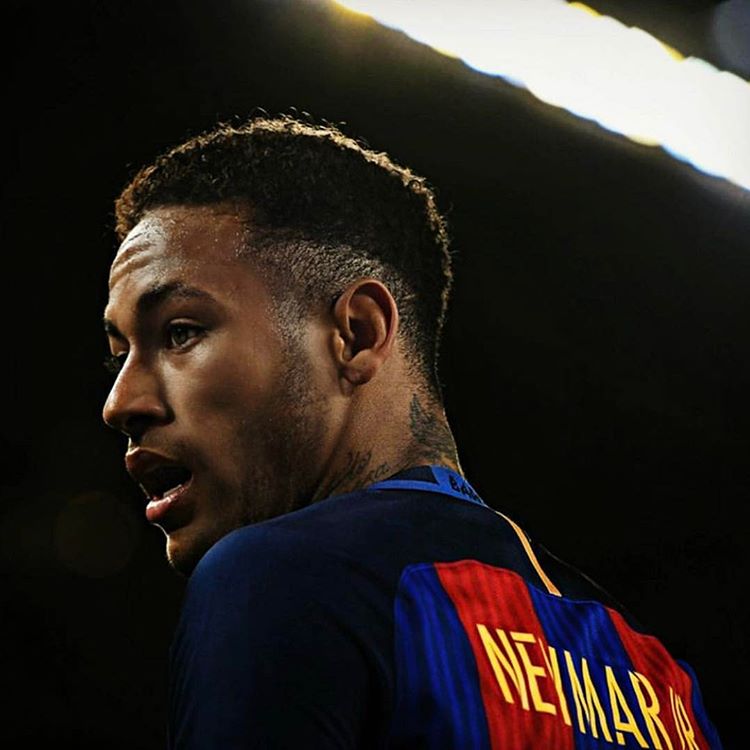 Barcelona made a dream comeback as Neymar netted two quick goals – one from an incredible curled effort from a free-kick and the next from the spot.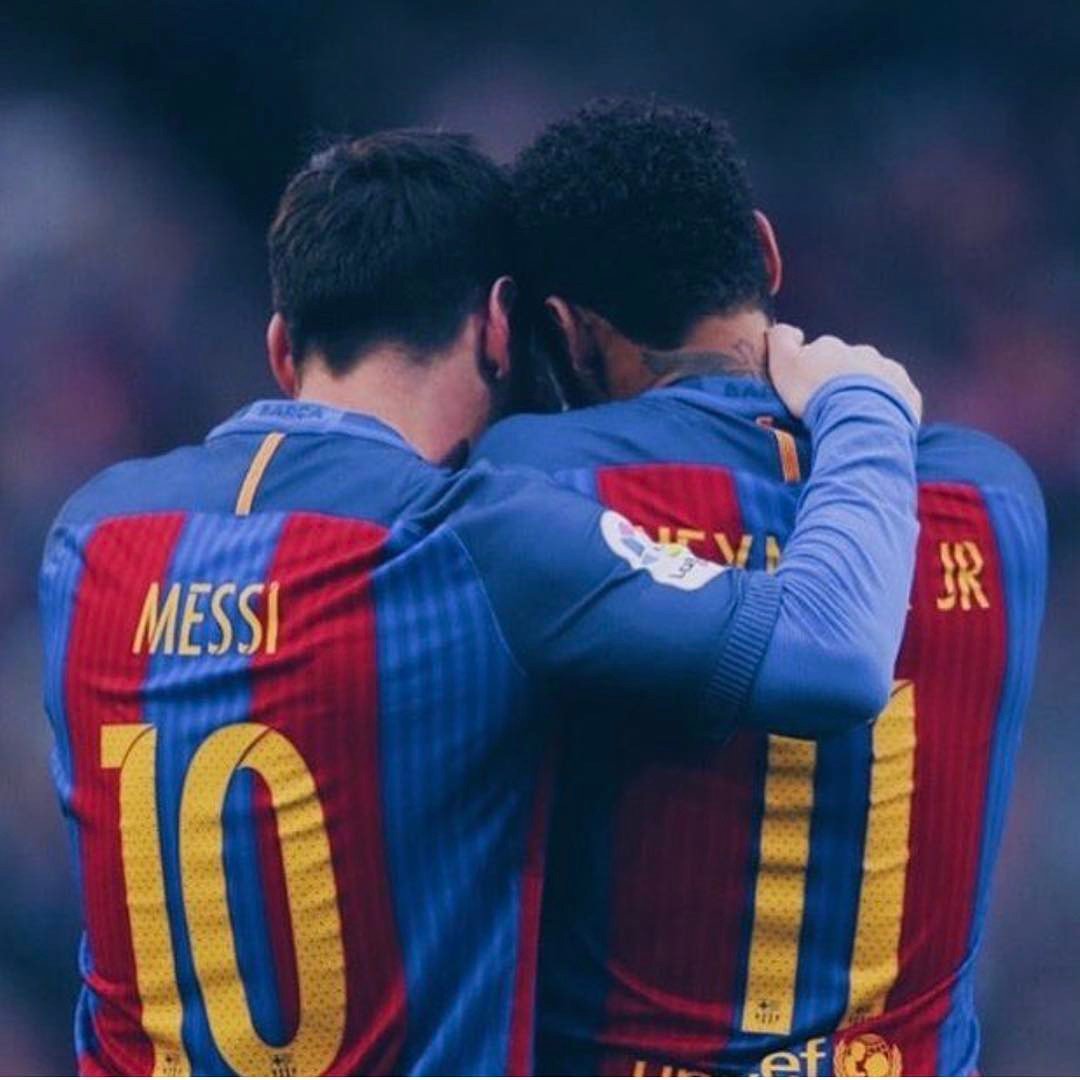 The scores were even but PSG were banking upon their crucial away goal during the fag end of the game. The atmosphere at Nou Camp was inexpressible as Barcelona had only five minutes of extra-time to turn the tables round.
Fans prayed, some cried, and few were on the verge of a collapse – but they had that one last hope.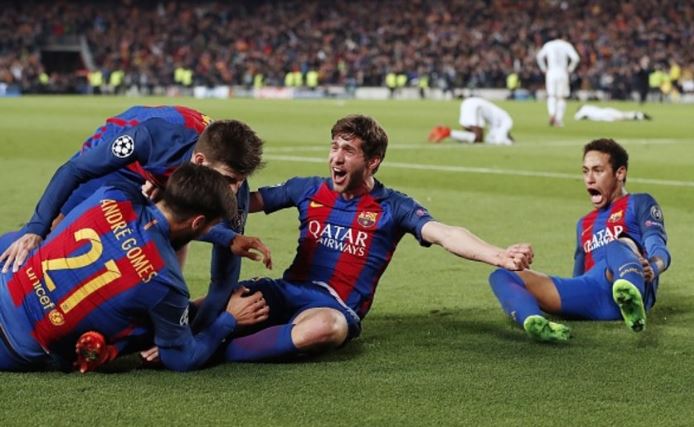 Neymar whipped in a dipping cross in the box to pick Sergi Roberto, who threw himself in the air, full stretch to tap the ball home with the tip of his boot to clinch the last-minute winner.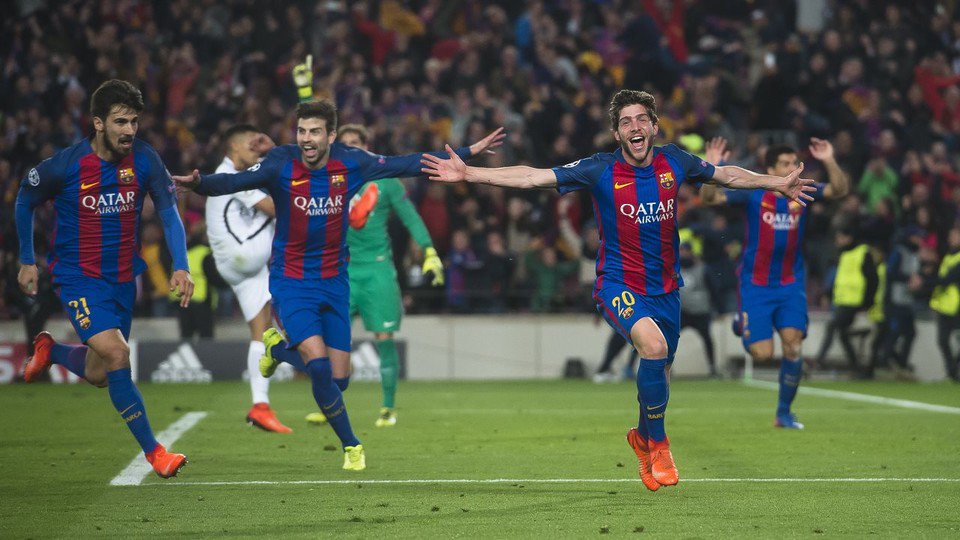 And now the rest is history….. The stadium burst into a never-ending roar and after a lack-lustre season, the Barca hierarchy were happy – all jumping and throwing their fists in the air.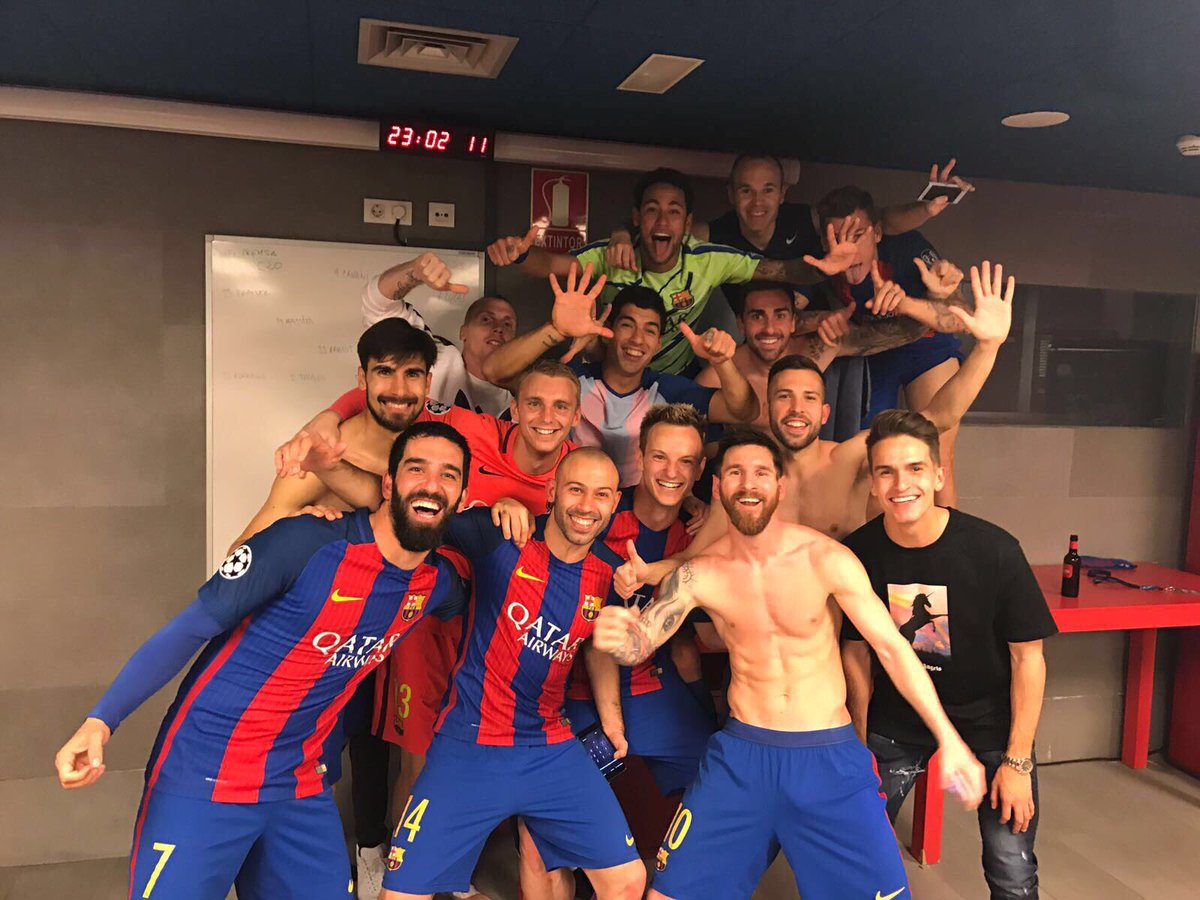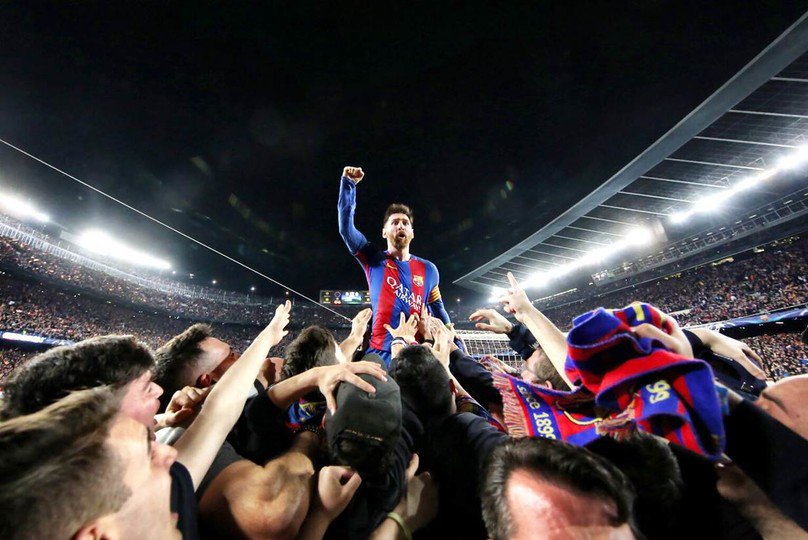 The entire football fraternity went bonkers as Barcelona scripted history in the Champions League and it was quite evident from the moment the Catalan club had earned a 3-goal lead in the second-leg clash.
Foottheball brings to you an assemblage of the best Twitter reactions.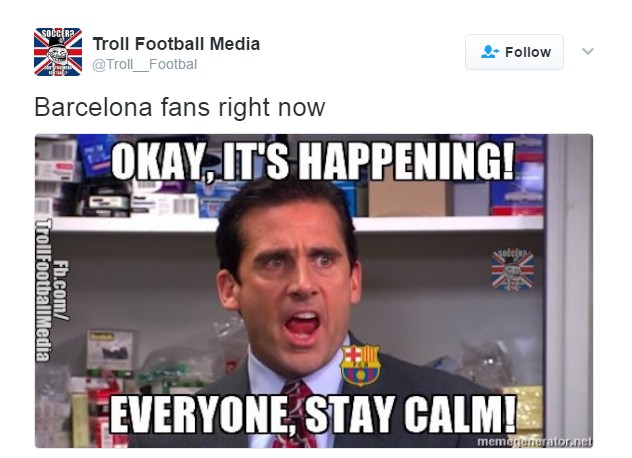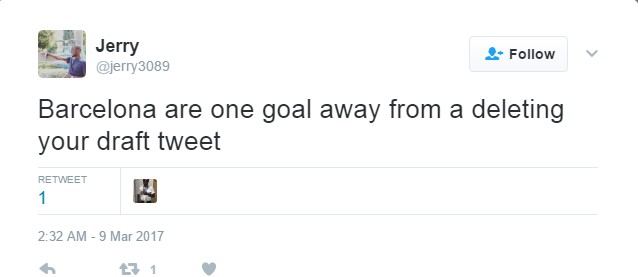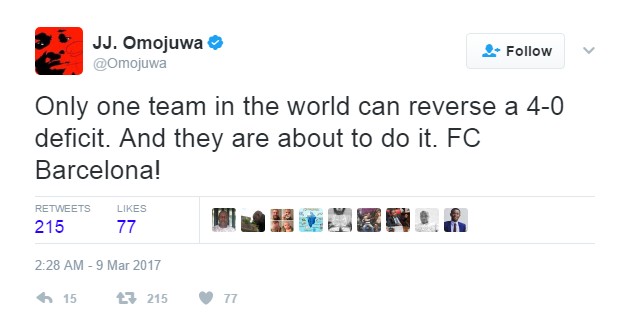 Barcelona are ALIVE. pic.twitter.com/1XzotObubs

— Bleacher Report UK (@br_uk) March 8, 2017
Barça v PSG pic.twitter.com/krk2i0gKWG

— alana (@alanaxaraujo) March 8, 2017
Ridiculous #Barca pic.twitter.com/ZmXJjxiUMF

— TheFilthyGringo (@TheFilthyGringo) March 8, 2017
#FCBPSG Ese barca!! pic.twitter.com/z3ie58Ne0O

— Abelardo Zapico (@abelardo_zapico) March 8, 2017
Barca pic.twitter.com/k51aHjwgRz

— Beanie Seagull (@DaBlackHoward) March 8, 2017
And there goes Barca's comeback… #FCBPSG pic.twitter.com/E857fCXEzd

— Dobloz (@Dobloz) March 8, 2017
……And it's gone . #Barca pic.twitter.com/Wan6aVxh1M

— Mike Bennett (@mikeb73) March 8, 2017
Cavani ruining dreams everywhere #Barca #PSG #BARPSG pic.twitter.com/E8G66LvXOn

— BeingStudents (@BeingStudents) March 8, 2017
Oh Barca, so much good work and then that happens #FCBPSG pic.twitter.com/xrz0hv2R18

— Jamie Evans (@JamieEvans365) March 8, 2017
Was just about to tweet 'Come on #Barca' pic.twitter.com/Iv6j9xjVqR

— ? tips4punters (@tips4punters) March 8, 2017
Watching Barça v PSG like pic.twitter.com/6Ja6z7H6zP

— Luisa Fernanda (@LuisaREF) March 8, 2017
*Checks Barca/PSG score……….. pic.twitter.com/iKE5FywFqI

— Michael Sanchez (@masanchez10) March 8, 2017
#Barca fans when they thought there was light at the end of the tunnel pic.twitter.com/toTKoufR5O

— fergal sweeney (@FergalSweeney) March 8, 2017
Aaaaaand cya barca?????? pic.twitter.com/msgqZVCoUy

— Nick (@Nick_McCronee_3) March 8, 2017
A Neymar FK & Pen makes it 5-5 on Agg! What. Just. Happened!? #Barca need 1 more! pic.twitter.com/aebMZofaPM

— KICK (@KICK) March 8, 2017
Every single Barca fan right now pic.twitter.com/zCbRujXm2h

— Footy Humour (@FootyHumour) March 8, 2017
Oh. My. God. Barca. pic.twitter.com/ZFHMR746p7

— Chris Warr (@ChrisWarr) March 8, 2017
How #Barca pic.twitter.com/D1jDhquxxK

— Proletarian Prince (@fuegoflaves) March 8, 2017
#barca pic.twitter.com/uNUgEzxAFK

— El Capitan petahling (@peter2soccer) March 8, 2017
Barca Jesus Christ… pic.twitter.com/AbMVsOKFON

— Joshua Hawley (@JHawley2197) March 8, 2017
BARCA!!! pic.twitter.com/d8WIN4wta2

— Stu (@StuMccoll11) March 8, 2017
Oh my Barca pic.twitter.com/1TAjuwgIRh

— Andrew Larry (@HairyVillari) March 8, 2017