Roma will host Brazil's Chapecoense in a friendly at the Stadio Olimpico on September 1, the Italian club announced on Tuesday.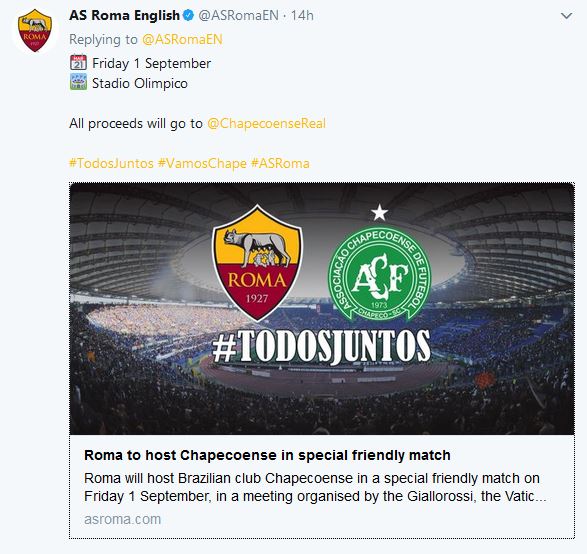 Proceeds from the match will be donated to families affected by the plane crash last November that killed 71 people, including 19 Chapecoense players and all of their coaching staff.
"It is a match organised by the Giallorossi, the Vatican and the city of Rome," Roma said in a statement on their official website.
"Since the tragedy Chapecoense have shown remarkable courage and character, winning the Catarinense regional championship this year and currently sitting 13th in the Brazilian top flight.
ALSO READ: Barcelona 5 Chapecoense 0: Tragic Brazilian Side Enjoy Their Dream Tribute Match At The Nou Camp
"More details over ticketing will be released in the upcoming days, with the hashtag #TodosJuntos ('All together' in Portuguese) attached to the game."
It will be Chapecoense's third friendly against an European club within a month.
On Monday, the side from Chapeco in southern Brazil lost 5-0 to Barcelona and on Tuesday the reconstructed team suffered a 2-1 defeat to Lyon.