Chris Pidgeon was walking the Camino de Santiago, a pilgrimage that has been prominent amongst devotees since the 19th century, but little did he know that along the way, he will be hit with a football revelation in the small coyote of Ponferrada, Spain.
Gracias @SDP_1922 @aupadeportiva @EB2005HINCHAS pic.twitter.com/3Knu9anrno

— Chris Pidgeon (@nufcpidge) June 10, 2019
FootTheBall brings you the story of an English Pilgrm who turned into a die-hard fan of the third-tier Spanish club, SD Ponferradina. A journey that shows how the beautiful game can completely change someone's life.
THE STORY OF CHRIS PIDGEON AND PONFERRADINA
Thousands of pilgrims walk the Camino de Santiago which means the Way of St James. It is a pilgrimage to the shrine of the apostle St James the Great which is located in the cathedral of Santiago de Compostela in Galicia in northwestern Spain. Before their final destination, the pilgrim stops in the city of Ponferrada and that is when Chris found a whole new form of devotion.
Ponferradina entrevistas en Marca y AS en una dia https://t.co/iAmHYwoMdA pic.twitter.com/lobgeop2G9

— Chris Pidgeon (@nufcpidge) June 13, 2019
During his stay, he became a huge fan of the club and ever since then he has been their biggest fan and mascot for the club. Originally a fan of Newcastle United, he was already a football fanatic, but his experience in Spain was blissful in a whole new way.
Vamoooossss Deportiva! 2030 Ganar el partido, cantar su corazon Blanquiazul por 90 minutos, juntos mas fuerte, adelante y arriba, vamos mi querida Deportiva, siempre contigo pic.twitter.com/nC61hUM5Ct

— Chris Pidgeon (@nufcpidge) June 15, 2019
According to Chris, you won't find the grandeur you see among German fans in Bundesliga, but the passion in the fans of the local fans are equally strong. For the past 10 years, Pidgeon has been actively following the club's progress over the years.
In 2014, his love for the club even got him to stay in the local town for 2 years. He used to cycle to their 42 games throughout the year and became a famous figure amongst the players and the local community.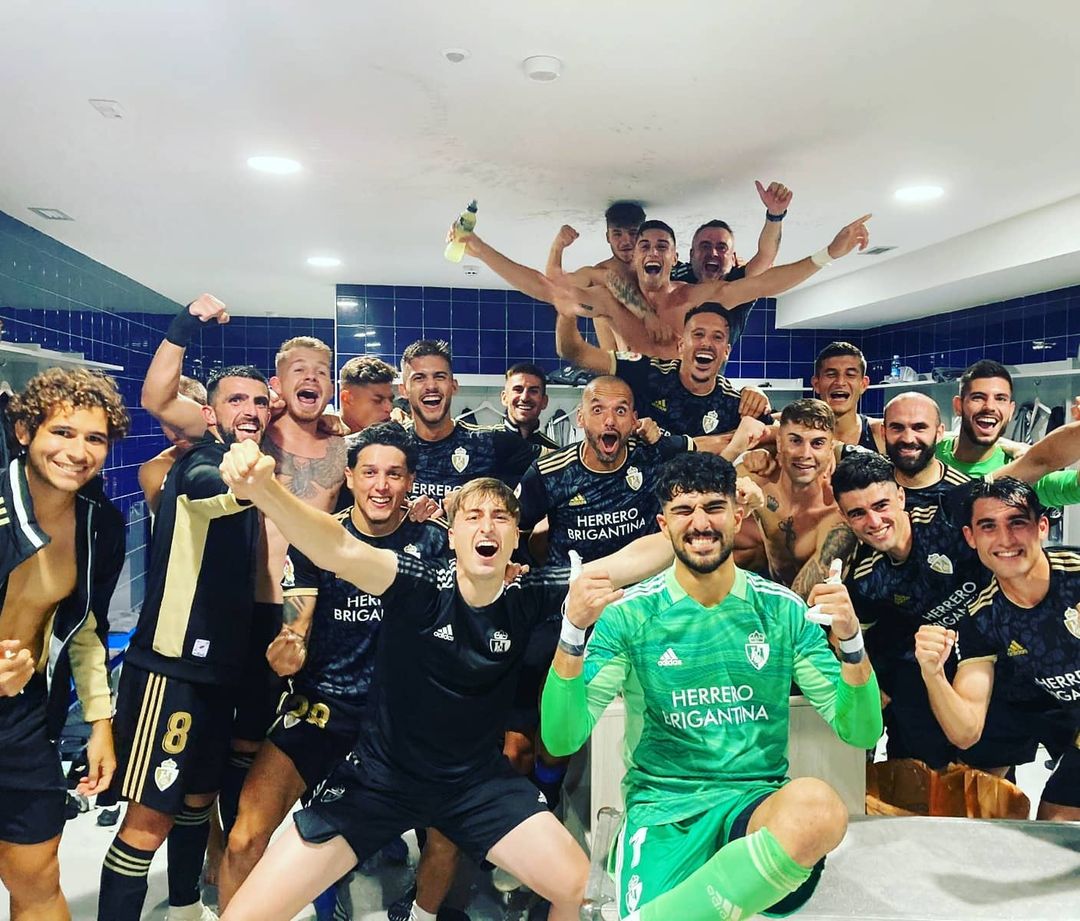 In 2019, Ponferradina achieved promotion to the 2nd tier of Spanish football and Chris was invited to celebrate their achievement with the players on the town hall balcony. He was invited by the mayor of the town and got the opportunity to speak in front of the 6000 fans cheering for their club.
He has also been invited by the players in their dressing room and even local fans ask him for selfies everywhere he goes. He has turned into the club's unofficial mascot and he has a massive influence on the club just like the club has influenced him over the years.
— Chris Pidgeon (@nufcpidge) June 12, 2021
Chris Pidgeon is currently unable to travel to Ponferrada due to the Covid 19 restrictions but that hasn't stopped him from showing his support for the club as they try and achieve promotion to La Liga. Chris has created his own little museum of souvenirs with 3000 club items in his house. He has also been actively promoting Ponferradina on his Twitter account and was even invited to appear on Iranian TV.
Mira el ingles en el Molinon! Vamos Ponfe! @SDP_1922

Look out for El Inglés en Gijón! #ddm3.5 #SportingPonferradina pic.twitter.com/fCtiDdgyHR

— Chris Pidgeon (@nufcpidge) December 7, 2019
People move to Spain for its aesthetically pleasing environment and good weather, but in Chris's case, it was for his love for football. Even a modest little town in Spain can be extremely beautiful and wholesome if one loves the place with all his heart.
Ponferradina are making exponential progress over the years and are more than capable of making it to the Spanish Top division. A journey from the 3rd tier to La Liga has surely been full of ups and downs and Chris Pidgeon can proudly say that he has been part of this incredible ride.