The Real Madrid star is enjoying a short holiday with his family after the Euro 2016 finals, in which he hobbled off after 24 minutes with a knee injury.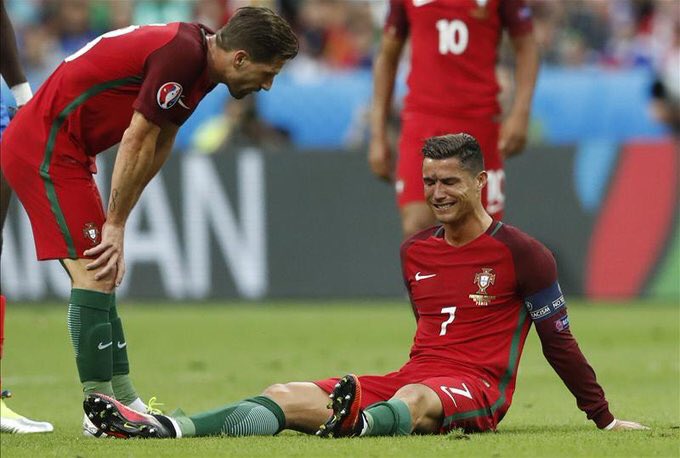 He is using his precious time with his family before returning to Madrid by spending some quality time in Ibiza with his mother Dolores Aveiro, and son, Cristiano Jr.
---
Ronaldo has been sailing around the Spanish isle but has continued to take care of his knee, wrapping it in a black support as he moved about, since the win at Euros.
His 6 yrs old son enjoyed some watersports close to the coast while he topped up on his tan.
They took a short ride on a small speedboat to the rocky shores of the island, as Ronaldo appeared happy and relaxed in the company of his family.
Ronaldo will return to football action in the coming weeks and has recently been hailed as 'the special footballer of his generation' by his former Manchester United boss Sir Alex Ferguson.
"He has an incredible desire for football," Ferguson told German newspaper Bild. "Cristiano is looking forward to each workout. He always wants to be better, to win. He especially loves these big games.
---
"During my time at Manchester United, Cristiano was the player who developed the most. Through much hard work. He constantly worked on his shooting technique, with the right, left, his heading ability, his bounce.
"His performance improvement is incredible. And what is remarkable, today's football is so athletic, so fast.
"Usually top players can only play for about five or six years at the highest level, then it's over. Cristiano has been doing this for over 10 years. That makes him so exceptional.
"Every generation has its special footballer, Cristiano is currently."