Enner Valencia's woes continued when on Thursday local police chased the Everton loanee off the pitch amidst report of unpaid child support dues during Ecuador's 3-0 win over Chile.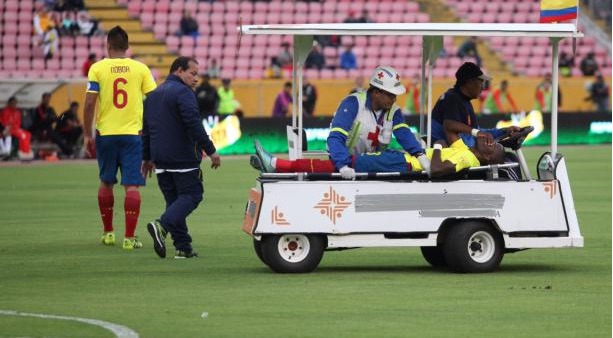 The striker, on loan from West Ham, was in his homeland for the World Cup qualifier when he was met by police and lawyers following a training session on Wednesday.
Valencia was faced by authorities holding a judicial order, with lawyers representing the mother of his five-year-old daughter seeking an alleged £13,350 in maintenance.
Valencia is said to owe the mother of his daughter, Sharon Valencia, for child maintenance bills and police even turned up to Ecuador's training session ahead of their 2018 World Cup qualifying clash with Chile.
De Ripley. Enner Valencia salió en camilla, casi lo arrestan y lo llevaron con prisa a la ambulancia y así salió del estadio. Que cosas. pic.twitter.com/I7VnAWYLC3

— Andrés Muñoz Araneda (@andresmunoza) October 6, 2016
Paul Marin, a lawyer for the mother of Valencia's child declared: "It's lamentable that certain police officers didn't collaborate with the detention of the footballer Enner Valencia, to ensure compliance with a judicial order.
"If they say this man earns so much, why doesn't he pay [the maintenance] monthly to his daughter."
Valencia was wheeled off the pitch on a medical buggy while receiving oxygen but his journey to the local hospital was interrupted by several members of the police.
A video shows at least 12 police officers – some of which were carrying shields – confront Valencia as he is being taken away.
Valencia is said to have escaped the clutches of the Ecuadorian police before being rushed to hospital for treatment.
Reports suggest he's now had an arrest order lifted and slept at Ecuador's training ground base on Thursday night.
According to reports, Valencia's attempts to flee may have been in vain as the player's lawyer, Juan Carlos Carmigniani agreed a deal to void the court order for the time being.
The Everton forward slept in the team's training base post-match and Carmigniani assured local media that no more action will be taken against his client.