Ziad K. Abdelnour, the author of Economic Warfare: Secrets of Wealth Creation in the Age of Welfare Politics, said "Always remember… Rumours are carried by haters, spread by fools, and accepted by idiots."
A profound thought, but some people just want to poke fun and see what happens if certain speculations are spread through WhatsApp forwards. James Rodriguez has apparently been a subject to some utter ridiculous rumours that have surfaced in recent times due to such forwards.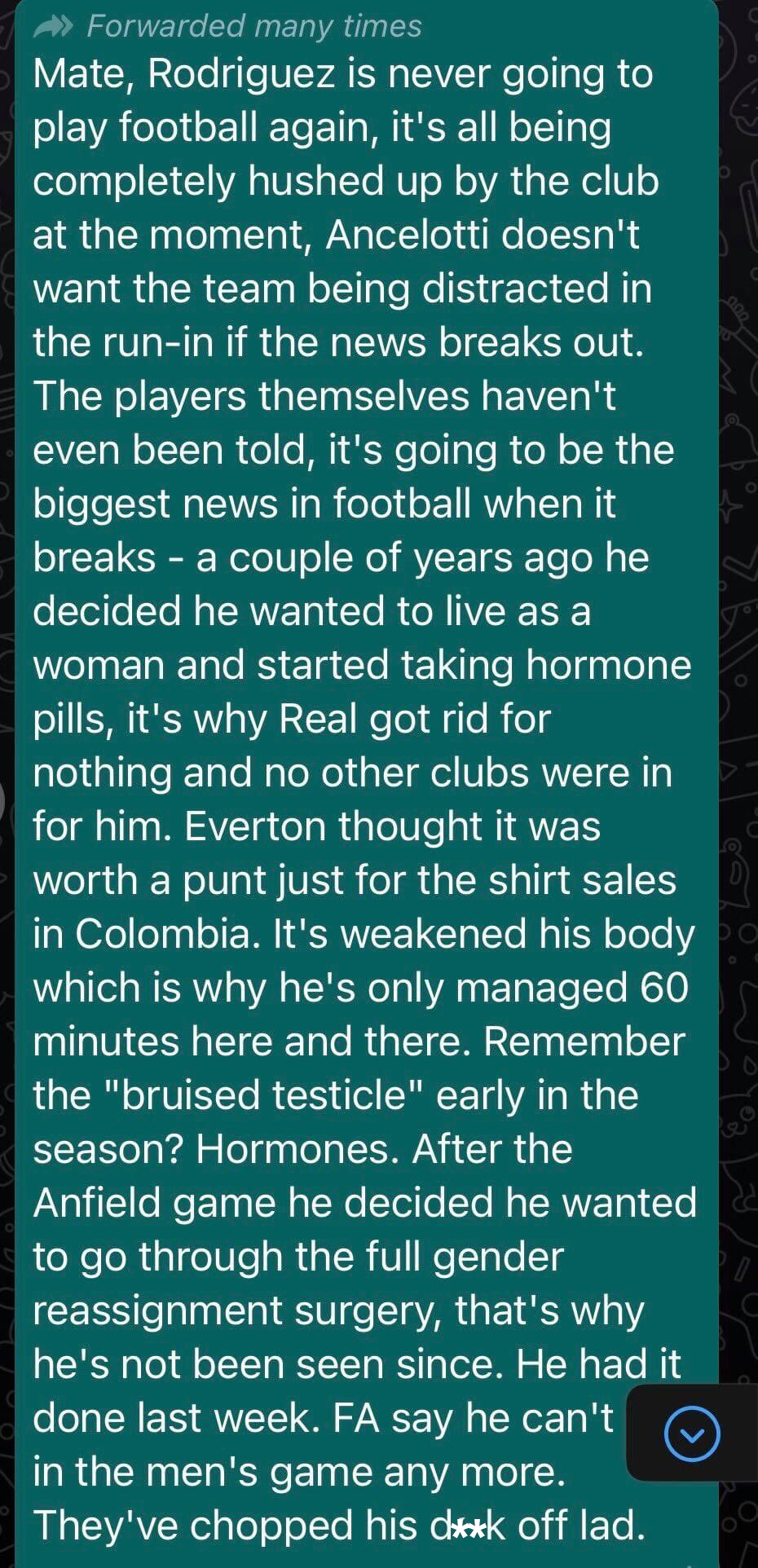 The rumour claims that James Rodriguez, is undergoing hormonal treatment to transform into a woman and has in fact has gone under the knife to turn into a female! Might as well because his traditional playing position is done for!
James Rodriguez as the best no.19 in PL history? Here's what we think
Yes, you heard that right! Apparently, during the international break, some bored fans (probably from the red half of Merseyside) took out the time to photoshop James Rodriguez's name onto a WhatsApp forward that claims after the Colombian suffered an injury at Anfield he went under the knife to transform into a woman.
Why is Liverpool's stadium called Anfield though? Check it out here!
The message suggests that James Rodriguez has not been seen since because he has gone under complete transformative surgery and now is living his life as a female.
The WhatsApp forward claims that Carlo Ancelotti has known about James Rodriguez's secret desire to live as a woman for a long time. The message also claims that the Italian coach has tried to keep the story from breaking and even the Everton players have been kept in the dark about this too as he wants his players to be completely focused on the tough run-in.
This rumour has spread like wildfire, which has captured the imagination of bored fans, who have found a way to keep them entertained during this international break.
Honestly in our opinion, these rumours are completely ludicrous and something you should pay little heed to. But you should stay up to date on the ridiculous yet entertaining saga unfolds.
Twitter reaction to James Rodriguez rumour
If James Rodriguez wanted to be paid 20% less for doing the same job, he could've just asked to be furloughed. #JamesRodriguez

— Gammon Goalposts (@gammongoalposts) March 25, 2021
All these #JamesRodriguez tweets have me in stitches. pic.twitter.com/YMs8LidaeW

— Sadiqur Rahman (@Sadiqur_R) March 25, 2021
When you see why #JamesRodriguez is trending on Twitter …… pic.twitter.com/KAzkwmqHIx

— Matt Mason (@mason0086) March 24, 2021
Really is unbelievable seeing how damaging rumours like this can go viral despite being completely fake 😰

As a result, many football fans joke and show their true colours when it comes to Transphobia 👎

These fan websites need to take a look at themselves 💁‍♂️#JamesRodriguez https://t.co/kGNPeKiDxv

— Danyal Khan (@DKMatchreports) March 25, 2021
Man City women's when they sign James Rodriguez #efc #JamesRodriguez pic.twitter.com/iThCdqCAAv

— Loakie (@LoakieGoesCrazy) March 24, 2021
#JamesRodriguez next season tearing up women's football pic.twitter.com/Lk2XntoSeR

— FIN (@F1NHAWK) March 24, 2021
Some funny reactions but the alleged transformation did receive a lot of support from people trying to spread awareness about the Trans-phobic nature of sports and its fans.
We must conclude that if James has actually decided to transform into a woman, he should do it! Especially if he feels more at peace with himself after.