The transfer window is in full swing, meaning players and managers are heading every which way. That sense of "anything could happen" was stretched to the limit with the news of Andrea Pirlo's next club. The former Juventus boss had been out of work for more than a year. However, he is now back in the game for…Fatih Karagumruk S.K.
Andrea Pirlo was not the only former player who did not live up standards as a manager. Here are the others !
Andrea Pirlo is the new manager of Fatih Karagumruk. pic.twitter.com/fYD5GBudD4

— Zach Lowy (@ZachLowy) June 12, 2022
Who? Exactly. Pirlo has been appointed the manager of a club in the Turkish Super Lig, who were promoted to the top flight in 2020. Trabzonspor winning the league title has given the lower teams hope.
Fatih Karagumruk could be aiming to replicate something similar with Pirlo. So, how did this chain of events come about? Why Turkey and why this career move is more than a shot in the dark?
10 years, five promotions
In a monumental rise that mirrors the likes of Hoffenheim, RB Leipzig, and Bournemouth, Fatih Karagumruk are the upstarts of Turkey. The club were playing in the sixth division of Turkish football back in 2010, before getting promoted to the fifth division.
Two separate two-year stints followed in the fifth and fourth divisions. In 2014, Fatih Karagumruk made their way to the TFF Second League.
Black Stars defender Joseph Attamah secures Turkish Super Lig promotion with Fatih Karagümrük SK

READ: https://t.co/tQ7VS40CZ6 pic.twitter.com/j0UWvU3pTq

— Kickgh.com (@Kickgh) July 30, 2020
Things would get trickier here as they would have to spend five years in the third division. In 2018, the club was purchased by Suleiman Hurma. The former manager and sporting director was known for masterminding expert transfer strategies and player sales.
In the world of sporting directors, Luis Campos occupies a special place. The man behind transforming Monaco and Lille has now joined PSG and here's why everyone is excited
He made it his mission to bring back top-flight glory for Karagumruk. Indeed, the club rose to the second division in 2019, before winning promotion to the Turkish Super Lig in the first attempt.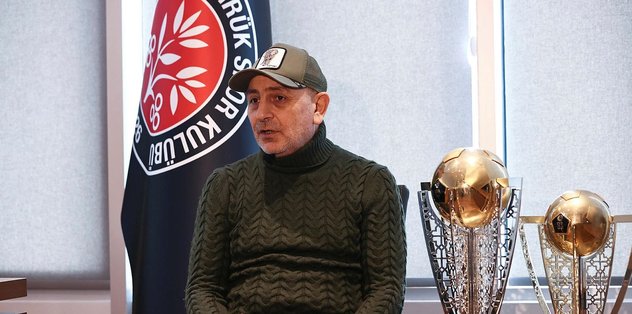 However, it was expected that the club would suffer immediate relegation. Fatih Karagumruk met that challenge head-on and defied the odds by finishing in eighth place, just five points behind a Europa Conference League playoff spot. 2021-22 would history getting repeated as the team finished eighth once again.
Fenerbahçe karşılaşmasından kareler. pic.twitter.com/W8X6FJTrkQ

— VavaCars Fatih Karagümrük SK (@karagumruk_sk) May 16, 2022
Hurma had fulfilled his presence by making his club a stout challenger in the Turkish Super Lig. Now they have gone for the jugular by hiring one of the most decorated players of the game. But will that be enough to compete for the higher places?
From Turin to Turkey
Juventus appointing Pirlo as manager in 2020 was a big surprise, given he had never managed a top-flight club before. Moreover, the Old Lady had grown accustomed to winning the Serie A over the past decade. So the pressure was firmly on Pirlo to continue that tradition.
4 – Andrea Pirlo is the fourth Juventus manager to have won the Coppa Italia both as a player and as a coach, after Luis Monti, Carlo Parola and Dino Zoff. Elite.#TIMVISIONCUP #AtalantaJuve pic.twitter.com/Lo1w32ku5b

— OptaPaolo 🏆 (@OptaPaolo) May 19, 2021
However, the season would be middling at best, with Juventus scrapping through to secure the final Champions League spot. They did win the Coppa Italia, but that was scant consolation.
Andrea Agnelli made a swift change by sacking Andrea Pirlo and bringing back Max Allegri. Having rested for a year, Pirlo was closely linked to the managerial job at Spezia in early 2022. However, in a move that few saw coming, the former World Cup winner is headed to Turkey.
Andrea Pirlo back in management as he takes on the Fatih Karagümrük job in Turkey. An extremely interesting appointment, it's a good deal however as it's just an initial one year contract and then you can take it from there.

— Josh Bunting (@Buntingfootball) June 12, 2022
This will be a big challenge for Pirlo in a hostile environment, and Pirlo will be bidding to prove himself as one of the best young coaches in football. He has the chance to start anew and a solid 2022-23 will surely mean bigger job offers in the future.
A happy marriage?
There will certainly be challenges for Pirlo and Fatih Karagumruk. The squad have several veterans and former stars. They include FIFA-favourite Ahmed Musa, former Liverpool striker Fabio Borini, Swedish international Jimmy Durmaz, and former Serie A midfielder Lucas Biglia.
Incredibly, Pirlo will be managing a ton of ex Serie A players at Karagümrük

Emiliano Viviano. Lucas Biglia. The immortal Fabio Borini. Ervin Zukanovic and of course, Davide Biraschi.

What is happening https://t.co/6mv4sfBW4O

— Matteo Bonetti (@Bonetti) June 10, 2022
Moreover, there are a few Turkish lights too in the form of Kerim Frei, Caner Erkin, supported by young guns Efe Tatli and Samed Onur.
Not having too many superstars should be a boon for Pirlo, who could mold the team in his image. Having gained a wealth of experience over his playing career, it is now up to him to transform a budding team.
Important Win Tonight, well done Mates 🙏💪🔴⚫️ pic.twitter.com/D6mT5571sa

— Ahmed Musa MON (@Ahmedmusa718) February 8, 2022
However, Pirlo has to be careful in making sure that is able to show early success. This is because Turkish clubs have a tradition of hiring and firing managers, with Pirlo already the club's third in the top-flight. The risks are there, but so are the rewards. Therefore, if Pirlo can guide Fatih Karagumruk to a top-four finish, he will become an instant legend.