Creating the team of the season and comparing players, debating the snubs and deserved choices are at the heart of any sport. It is no different in football. As FIFA Ultimate Team's Premier League Team of the Season was revealed yesterday, the internet is abuzz with who got snubbed, who got chosen unfairly, and who should have been there instead.
We take a look at the top-five biggest snubs from the Premier League Team of the Season. First off, here are the chosen Premier League Team of the Season nominees-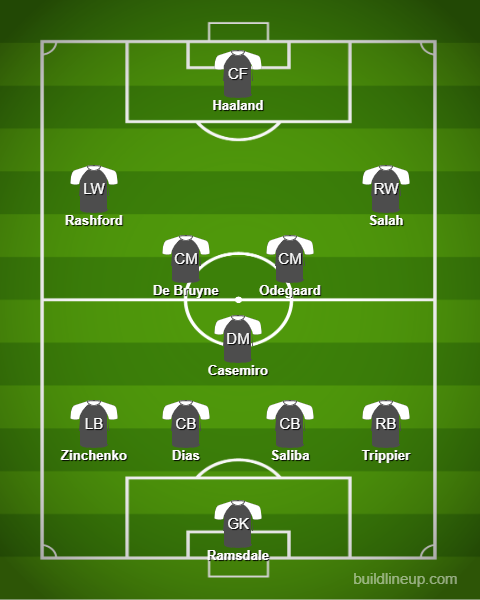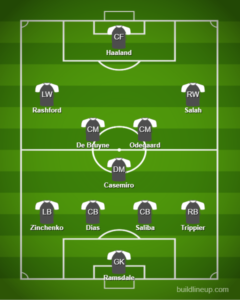 Premier League Team of the Season snubs
Alisson (Liverpool)- Goalkeeper
Liverpool's play has swung between two extremes this season. They either blow teams away with remarkable displays of goalscoring or collapse unbelievably and concede a lot.
Were it not for Alisson, they would have conceded even more. At the time of writing, Liverpool have conceded 42 goals in the Premier League. However, their PSxG (Post-Shot expected goals), which measures how likely the goalkeeper is to save the shot once it's hit, is 49.3.
This means that as per the quality of chances teams have created against Liverpool, they should have easily conceded at least 49-50 goals. Alisson's brilliance has saved them almost eight goals, a monumental swing over the course of a Premier League season.
In comparison, Ramsdale has conceded 39 goals from a PSxG of 36.9, actually underperforming from the shots he has faced. It is clear that while Ramsdale is a part of the better team, Alisson has been the better performer.
Luke Shaw (Manchester United)- Left Back
The same argument of Zinchenko being in the better team but Shaw being the better player can be made here.
Arsenal's title challenge has seen four of their players make the Premier League Team of the Season. However, their season has been an example of the team being more than the sum of its parts.
While Zinchenko's leadership and versatility have been invaluable to the Gunners, Luke Shaw has played more minutes, in a worse team, and been the more valuable player to his team. He has slotted in seamlessly at CB as well, solving United's worries in the middle of the park.
Shaw playing in the worse team can be seen by the fact that he has accumulated more xAG, i.e., expected assisted goals. However, his teammates' finishing has let him down tremendously.
This case is not as clear-cut as Alisson over Ramsdale, but there is a definite argument for the inclusion of Luke Shaw here.
Rodri (Manchester City)- Defensive midfielder
Casemiro has been crucial to Manchester United's success, that is up for no debate. Furthermore, despite Rodri and Casemiro playing in the same position, their playing styles are so different there's no point in comparing their advanced statistics.
However, a couple of factors work against the Brazilian here. Firstly, when he arrived, the time he took to acclimatise to the league meant he was part of a few chastening defeats early on. There was a point where Scott McTominay was preferred over him.
Secondly, his booking record has meant that Casemiro has had to serve multiple suspensions this season. Availability is the best ability and Casemiro has missed a lot of games, even though some bookings were contentious.
Rodri, on the other hand, has played 32 games to Casemiro's 23. He has played 2720 minutes in the Premier League compared to Casemiro's 1698. He has been ever-present for a rampant City side that looks set to capture its third consecutive PL title.
Rodri's presence is imperative to the success of the "Cityzens" as his ball-circulation skills and ability to keep the play ticking help Pep Guardiola maintain control over games.
Therefore, Rodri should have been in the team over slow-starter, but constantly improving Casemiro.
Trent Alexander-Arnold (Liverpool)- Right Back
This is a contentious one. Kieran Tripper has defied all critics that doubted his move from Atletico Madrid as Newcastle are set for a surprise Champions League qualification.
Kieran Trippier's impact can't be understated in Newcastle's resurgence. He has ably contributed to Newcastle's attack, laying on six assists, while being defensively solid.
Meanwhile, Trent Alexander-Arnold has come under a lot of fire this season for his inept defensive displays. However, in terms of attacking output and chance creation, "TAA" leaves every fullback in the league in the dust.
Jurgen Klopp has recently given him more creative freedom in the attacking phase while covering for his defensive issues. The result has been Alexander-Arnold turning matches around single-handedly. His progressive passes number of 7.56/90 puts him in the 99th percentile of all fullbacks in top-5 leagues.
In this Premier League Team of the Season, Trent Alexander-Arnold arguably makes more sense as he will have Ruben Dias and William Saliba as his defensive pairing. He'll be free to roam into attacking positions and wreak havoc. Imagine Marcus Rashford, Mohamed Salah, and Erling Haaland getting on the end of his passes. That's football nirvana.