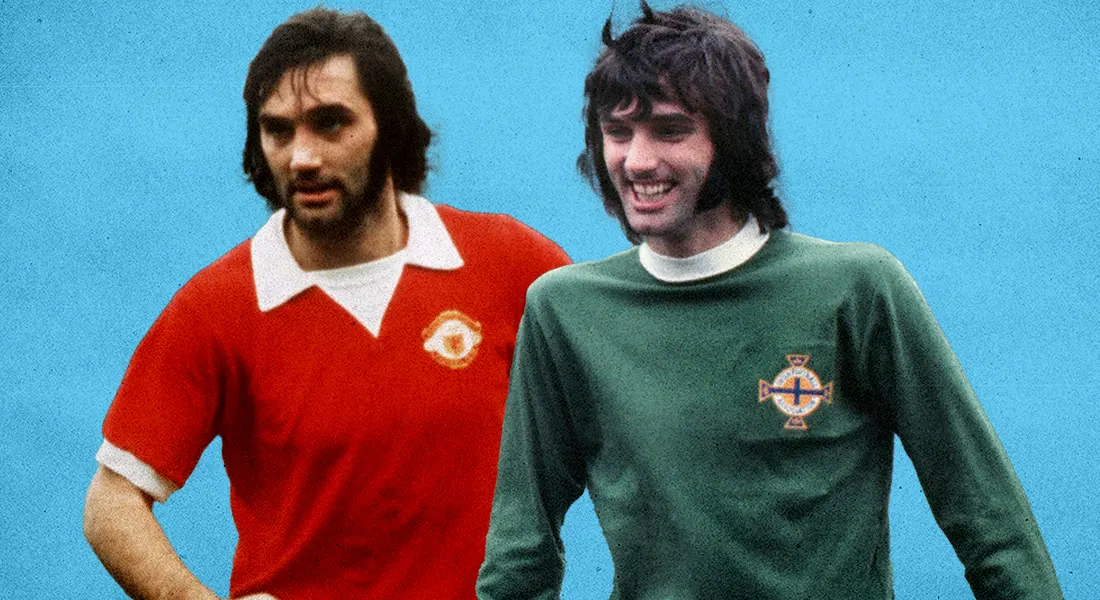 Documentary Film On Manchester United Legend To Be Released After Red Devils' Europa League Final with Villarreal
BT Sport Films is coming with a documentary film based on the life and career of perhaps the greatest footballer ever to be born in the British Isles – George Best.
Winner of the Ballon d'Or in 1968, Best won everything there was to win during his time at Old Trafford with Manchester United including a European Cup triumph that ultimately earned him the most prestigious accolade for a footballer on the planet.George Best was so good their have been multiple documentaries made on him much like one whose trailer is attached below. But the BT documentary on the maverick player is set shed some more light on Best and his playing days.
Apart from all this, in his storied career, Best was invited by the then British Prime Minister Harold Wilson to No. 10 Downing Street in recognition of his spellbinding performances for the Red Devils.The old saying went like Maradona was good, Pele was better but George was Best!!
The documentary focusing on the former Northern Ireland international will be released just after the conclusion of this season's Europa League final between Villarreal and Best's club Manchester United in Gdansk later this month on the 26th of May, 2021.
The film will also be available on the website and mobile app of BT Sport after its broadcast on the BT Sport channel in the United Kingdom and Ireland.
Narrated and presented by Best's son Calum, the film also includes novel contributions from Rodney Marsh, Pat Crerand, Alex Stepney, Paddy Barclay, Antonio Simoes and Best's youth team-mate Willie Anderson.
The #UEL final is set! 🏆

🇪🇸 Villarreal 🆚 Man Utd 🏴󠁧󠁢󠁥󠁮󠁧󠁿

Wednesday 26th May | Live on BT Sport pic.twitter.com/A857Rq0PWQ

— Football on BT Sport (@btsportfootball) May 6, 2021
NEVER-BEFORE-SEEN FOOTAGE OF GEORGE BEST AT MANCHESTER UNITED
George Best: True Genius features unprecedented coverage of the life and times of George Best that includes hitherto unseen footage and behind-the-scenes recordings of perhaps the greatest footballer of the 1960s era in the beautiful game's history.
On Rodney Marsh's radio show more than one and a half decades ago, Best said the following words: "remember me for my football".
This is especially true given the debaucherous and decadent lifestyle that Best lived during and after his career as a professional footballer came to an end in 1984, when he was in his late 30s.
In commemoration of what would have been Best's 75th birthday on the 22nd of May, 2021, BT Sport is celebrating the life and achievements of one of the greatest footballers of the 20th century.
Tracing his incredible journey from his proletarian beginnings in the Manchester United youth team set-up mentored by Jimmy Murphy.
Through to perhaps what is the crowning moment of his entire career – the European Cup triumph at the Wembley Stadium in which Best scored for the Red Devils in extra time to cement his legacy as one of the all-time footballing greats.
The victorious United team led by none other than Sir Matt Busby etched its name in European footballing folklore by lifting its first ever European Cup a little more than a decade after the horrific and ominous Munich Air Disaster – in which virtually the first team of the Red Devils had been entirely wiped out.
GEORGE BEST'S SON TO PRESENT THE DOCUMENTARY FILM
Best's son, the British-American television personality Calum Best said the following about his part in his father's documentary: "It's an absolute honour to be part of this film that I hope will introduce my dad to a new generation of footie fans".
"BT Sport Films' George Best: True Genius delves into his life both on and off the pitch underlying his status as the greatest footballer to come out of the United Kingdom".
Meanwhile, Sally Brown – the executive producer of the film – said: "While Best's career is sometimes overshadowed by what followed and his ability and influence on the game can sometimes be forgotten".
"George Best: True Genius recognises Best for what he was – a wonderful footballer, one of the game's greatest talents, arguably the best ever footballer from the British Isles, and, an inspiration to a generation".
The film is being released in tandem with a book carrying the same title as the documentary by the revered author Wayne Barton. The hardcover and e-book versions of True Genius have already been released in April this year with the film to follow later this month.
DECISIVE POINTS IN BEST'S CAREER FOCUSSED ON IN DOCUMENTARY
Some of the pivotal moments in his career that the documentary will be shedding light on are Best's apotheosis as a football legend in the aftermath of the1966/67 European Cup quarter-final with Benfica.
It will focus on how Best became one-third of United's holy trinity. Which consisted of players like Sir Bobby Charlton and Denis Law during the 1960s, his odyssey to become the 'Best' player on both domestic and international fronts as he led United to a league title in 1966/67.
In addition it will delve into how he led Northern Ireland to unprecedented heights. His inspiring performance in the 1968 European Cup final with Benfica to engrave his name as the greatest footballer of that time.
The documentary on George Best will be available to stream for fans all around the world after this season's Europa League final where Best's club Manchester United go out in search of the Europa League trophy under manager Ole Gunnar Solskjaer as they clash in the Polish city of Gdansk with Unai Emery's rather resilient and gritty Villarreal side on May 26th, 2021