The matchday five of La Liga kicked off with another dose of thrill. While Real Madrid beat Levante, Barcelona were held by the Sevilla defense in a one-all stalemate. Atletico Madrid, on the contrary, are still suffering, looking to pick up form after consecutive goalless draws.
FootTheBall brings you all the action, in this week's La Liga round-up.
Barcelona 1 – 1 Sevilla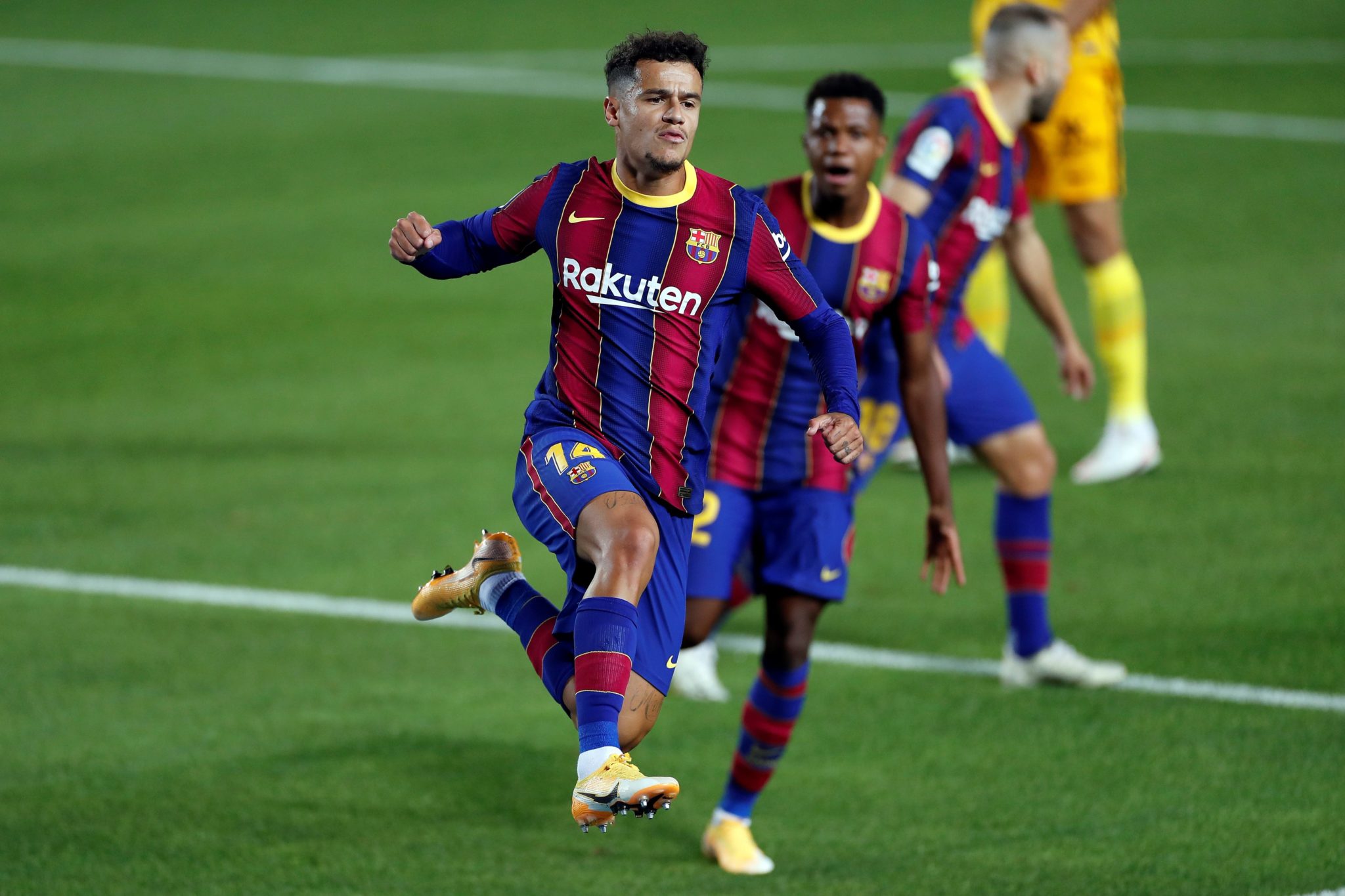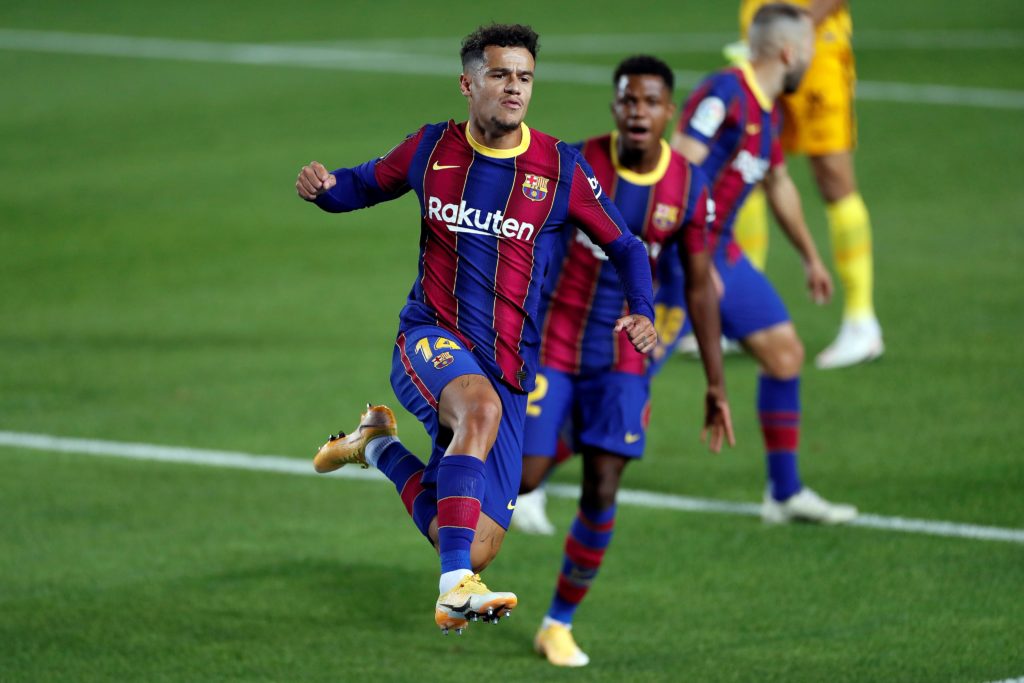 In their third league game, Barcelona were up against the big guns of Sevilla who are yet to be defeated in this La Liga campaign.
In matchday five of La Liga, the Catalans stuck to their regular 4-2-3-1 formation with Lionel Messi playing on the top. After having impressed in their previous games under Ronald Koeman, Barcelona looked to continue the streak. Their squad finally looks promising and more balanced than it was before.
Sevilla on the contrary was well aware of the dangers that could await them. Playing 4-3-3, they looked to exploit the Barcelona defense with in-form Luke De Jong and Suso. Another ace in their sleeve was their new number ten, Ivan Rakitic who had left Barcelona this summer.
Both the teams put up a good show with each side having more than ten shots on goal. The possession was balanced as well.
The first goal of the game came early on in the eighth minute when Luke De Jong finished from a corner with an acrobatic effort. Barcelona however equalized within the next two minutes when Phillippe Coutinho converted from a loose ball that had been collected in the midfield.
Luke De Jong's goal was the first that Barcelona had conceded in the league this season.
This match deservedly ended in a draw and highlighted Barcelona's inability to penetrate through the narrow Sevilla defense.
Levante 0 – 2 Real Madrid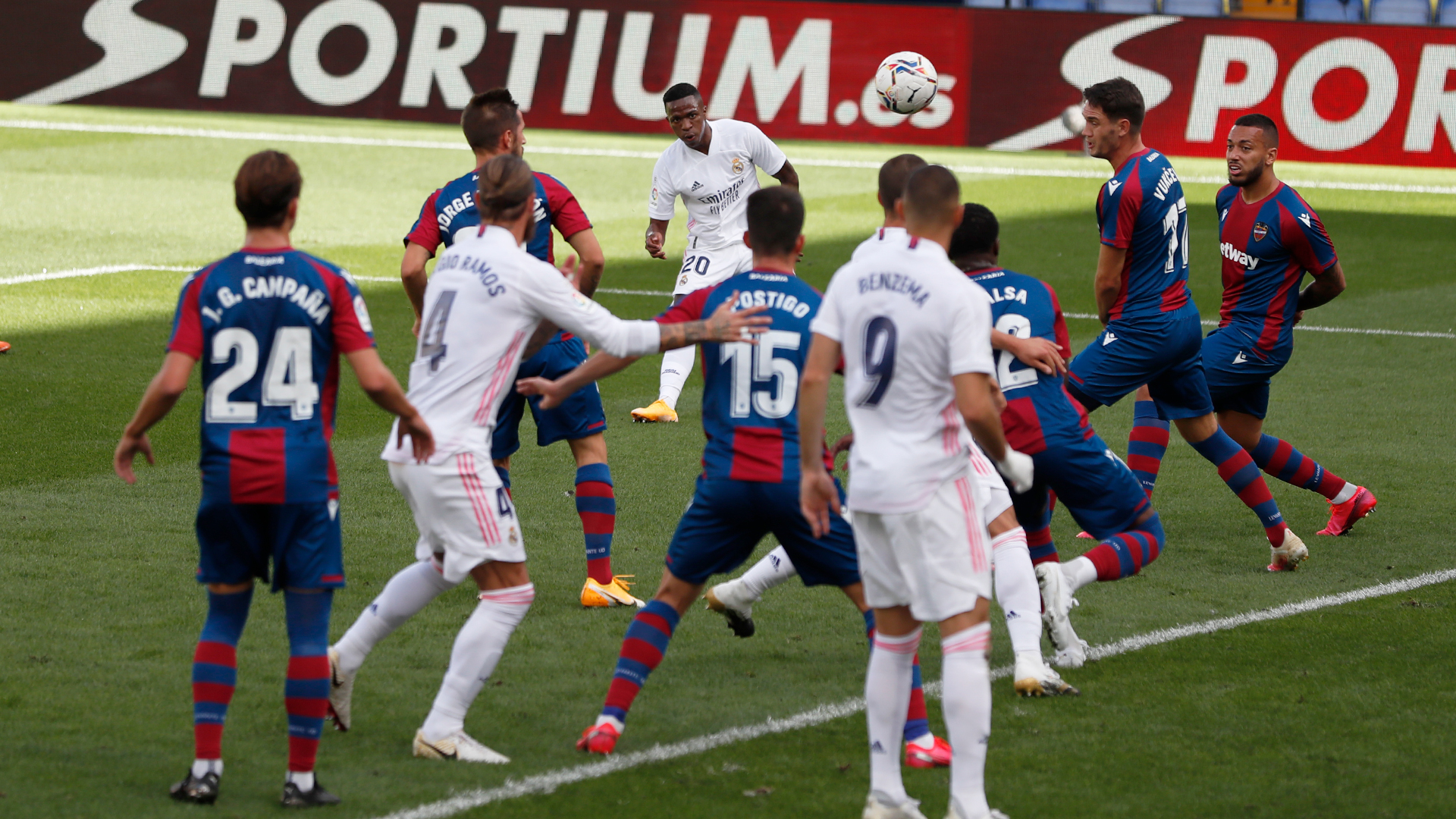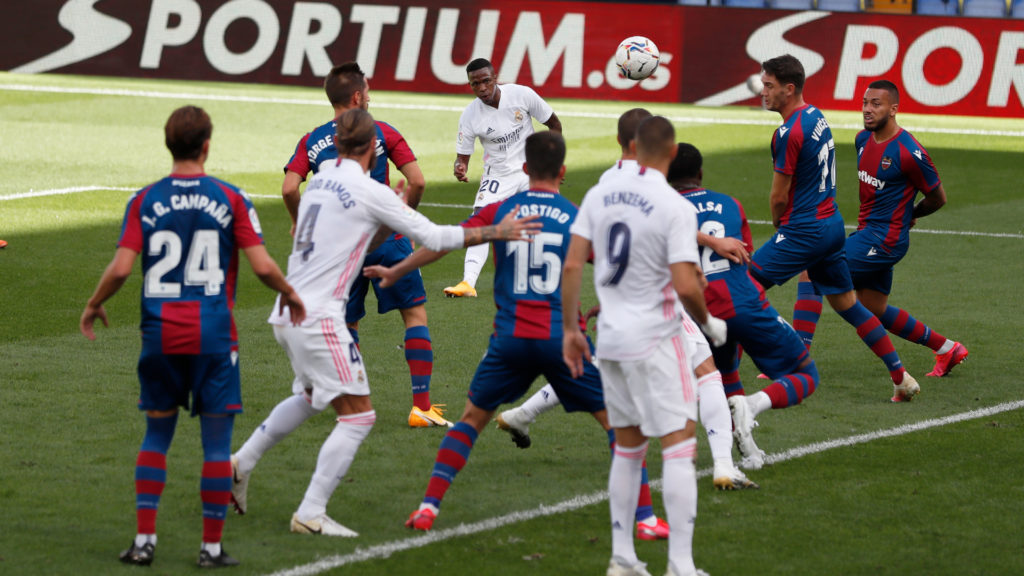 Real Madrid stepped back into the league on Sunday looking to make a difference against Levante. They played 4-3-3 with Vinicius Jr, Karim Benzema and Marco Asensio starting for the Los Blancos. Levante played 4-4-2 looking to contain Real. Jose Morales and star forward, Roger Marti started in the attack.
The game was dominated by Real Madrid throughout. Vinicius Jr scored an early goal in the 16th minute to give Los Blancos an early lead. The attacking however was not as effective. Only two of the total 16 shots were converted. Their biggest chance missed was from a Sergio Ramos freekick that narrowly missed the goal. Karim Benzema however netted in the stoppage time to double Real's lead.
Their need for improvement and development of the attack was even admitted by Vinicius Jr., later in the post-match interview after their victory in matchday five of La Liga.
We are still lacking a bit of sharpness but after the international break I think we're going to come back much stronger.
The home side was, however, delightful and kept threatening the Whites from time to time. They had more shots on target than Real Madrid. Thibaut Courtois however was reliable in goal.
The result has put Real Madrid back on top of the La Liga table with ten points in four games.
Atletico Madrid 0 – 0 Villareal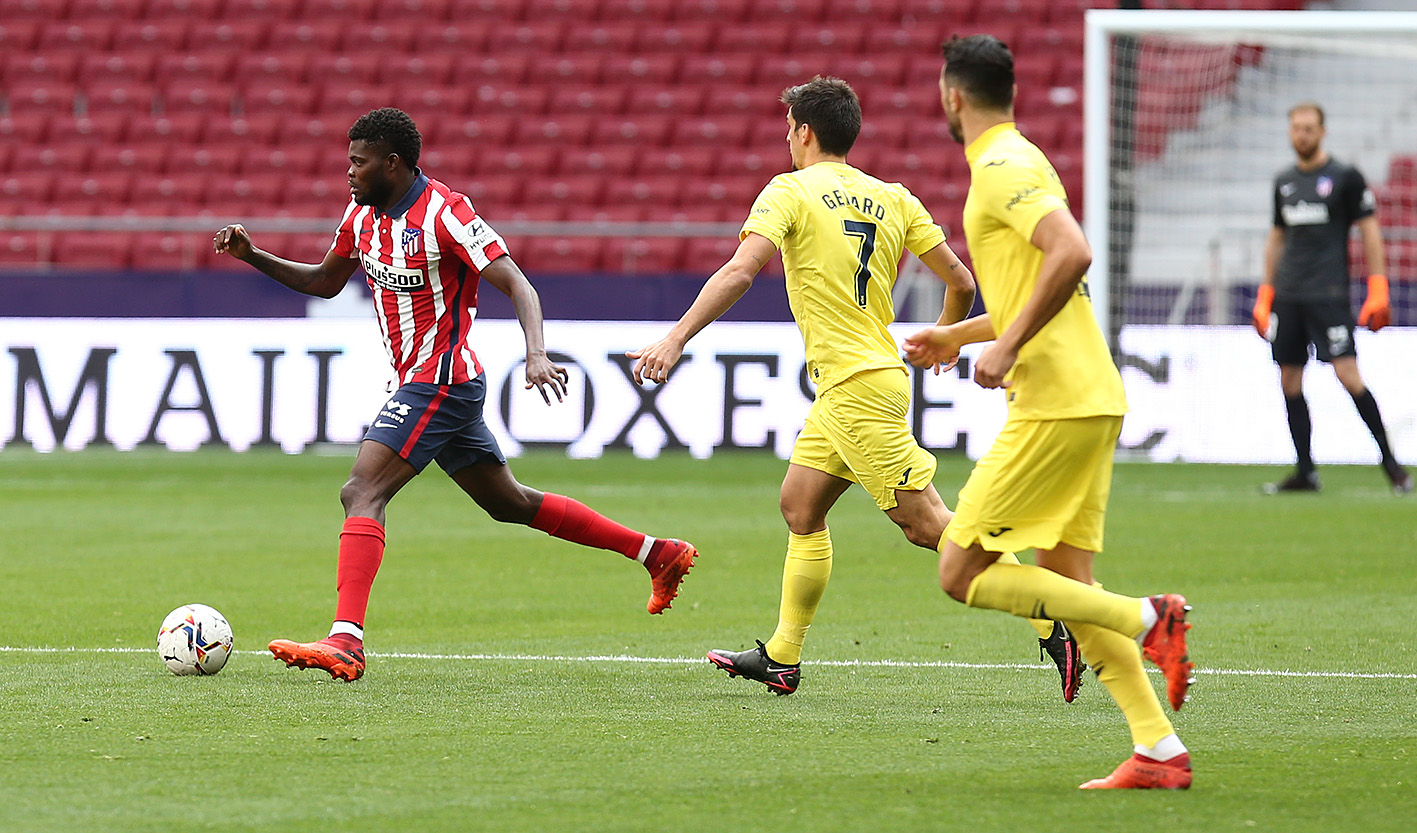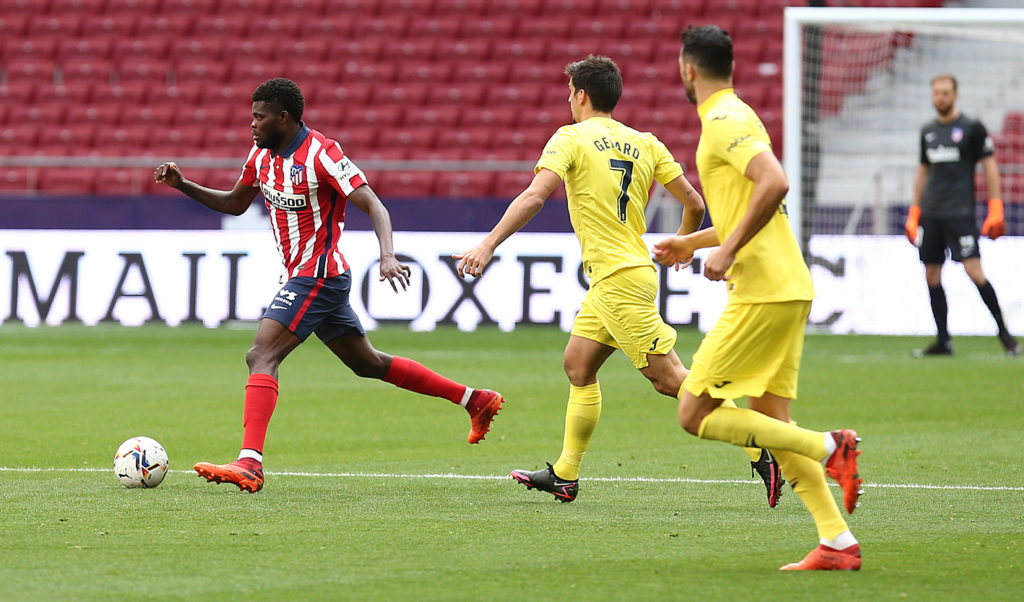 Atletico Madrid is struggling to regain their stride and finished against Villareal with a goalless draw. This was their second consecutive goalless draw as Diego Simeone's men failed to make the best of their attack.
Lined up in a 4-4-2 on the pitch, Luis Suarez and Joao Felix were the attackers. Villarreal with their 4-1-4-1 relied on Dani Parejo, Paco Alcacer, and Gerard Moreno for goals.
The Yellow Submarine's performance at the Wanda Metropolitano was greatly impressive. Their attacks were promising, even though they failed to get past Jan Oblak. They also managed to maintain decent possession of the ball against Atletico.
Simeone, on the contrary, could be rather disappointed in the team as they failed to find the net despite having 13 shots on target. The attack seems to lack confidence as Suarez has yet not developed the perfect chemistry with his teammates.
These issues need to be resolved soon for Simeone and Atletico to be able to contest for the league title. Currently, they stand 12th in the league table having dropped four points in three games.