As another thrilling week of La Liga came to a close, here's the report of La Liga match day 7 with lots of thrill. Real Sociedad won big to retain the top spot. Not to miss, the El Clasico. The much-awaited fixture came as a surprise to some and shock to the rest.
Here's FootTheBall's review for the La Liga this week.
Barcelona 1-3 Real Madrid
The most awaited game of the La Liga season turned out as thrilling as promised. Though Barcelona fans may think otherwise, Zinedine Zidane once again silenced the haters as he thrashed Barcelona following successive defeats in previous matches. 
After a stunning 5-1 victory in the Champion's League, Barcelona lined up in a similar fashion to host the whites. They lined up 4-4-2 with Serginio Dest and Jordi Alba playing full-backs and Pedri being the newcomer in the midfield. The attack as anticipated constituted in-form teenager Ansu Fati and skipper Lionel Messi. 
Real Madrid on the contrary stood 4-3-3 and were glad to have Sergio Ramos back in the team. Fede Valverde in the midfield and Marco Asensio starting upfront were also expected to help Real power through.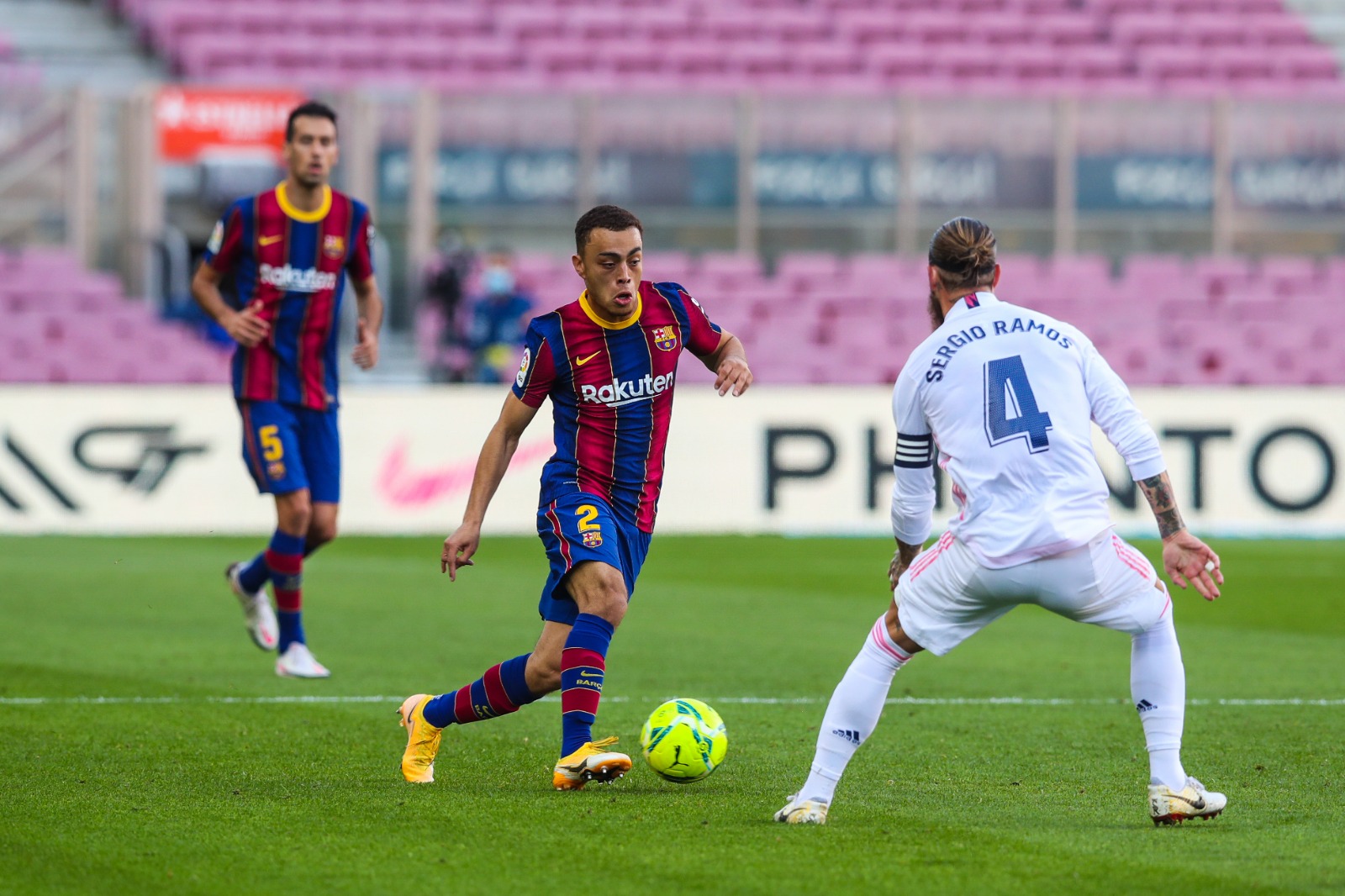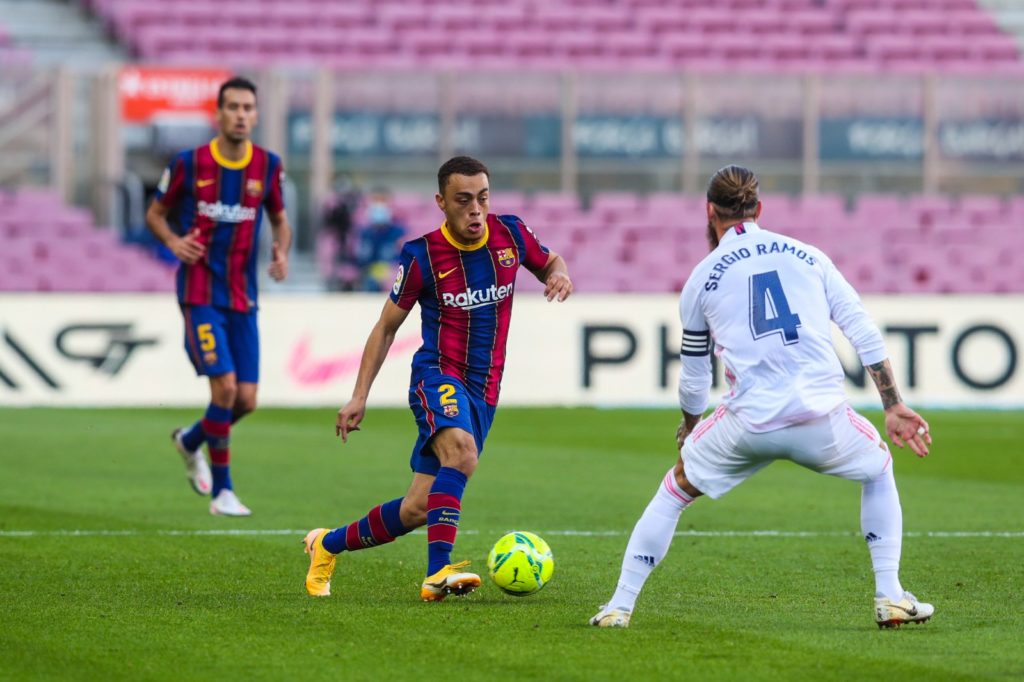 The start was as explosive as one can expect with Real Madrid opening the scoring in the 5th minute itself. Valverde scored the opener from a stunning ball Karim Benzema had delivered. Barcelona however were quick to respond. Within four minutes, Barca was on the move with a long ball Lionel Messi had played to Jordi Alba. Ansu Fati then had smoothly converted Alba's cut back from the left flank. 
The teams were level again and the game was on end-to-end. Both the keepers did a great job in the box saving plenty of shots. As the second half kicked off, Real Madrid were soon awarded a controversial penalty after Clemet Lenglet was caught by VAR holding Sergio Ramos' shirt during a corner.
Ramos converted the spot-kick and Barcelona were trailing by a goal once again. They came close to scoring on numerous occasions but failed to convert. 
https://twitter.com/FootTheBall/status/1320749639017074693?s=20
The Catalans seemed to be looking weary after the second goal. Possession was also in Real Madrid's favour. Ronald Koeman made attacking changes bringing in Ousmane Dembele, Martin Braithwaite, Antoine Greizmann and Fanscisco Pedri all at once. The 80th-minute gamble however did not work and with so many new players on the pitch, Barcelona became vulnerable and conceded another goal from Luka Modric who was ice-cool on the ball. 
"It was the plan for the game to have control of the game. We changed Leo's position, put Ansu as a reference point. Tried to look for space behind Madrid's defence and have players on the wide."

Ronald Koeman, Barcelona Manager
The score now was 3-1 and Zidane had once again managed to outdo Barcelona at home. 
The result brought Real Madrid to the 2nd spot in La Liga table with 13 points from 6 games. Barcelona still lay deep down on the 12th position, having already lost 2 of 5 league games as we finished La Liga match day 7.
👏 We're unbeaten at the Camp Nou under Zidane!
3 wins ✅
3 draws ⚖#ElClásico | #HalaMadrid pic.twitter.com/JKJNfC28av

— Real Madrid C.F. 🇬🇧🇺🇸 (@realmadriden) October 25, 2020
ATLETICO MADRID 2-0 REAL BETIS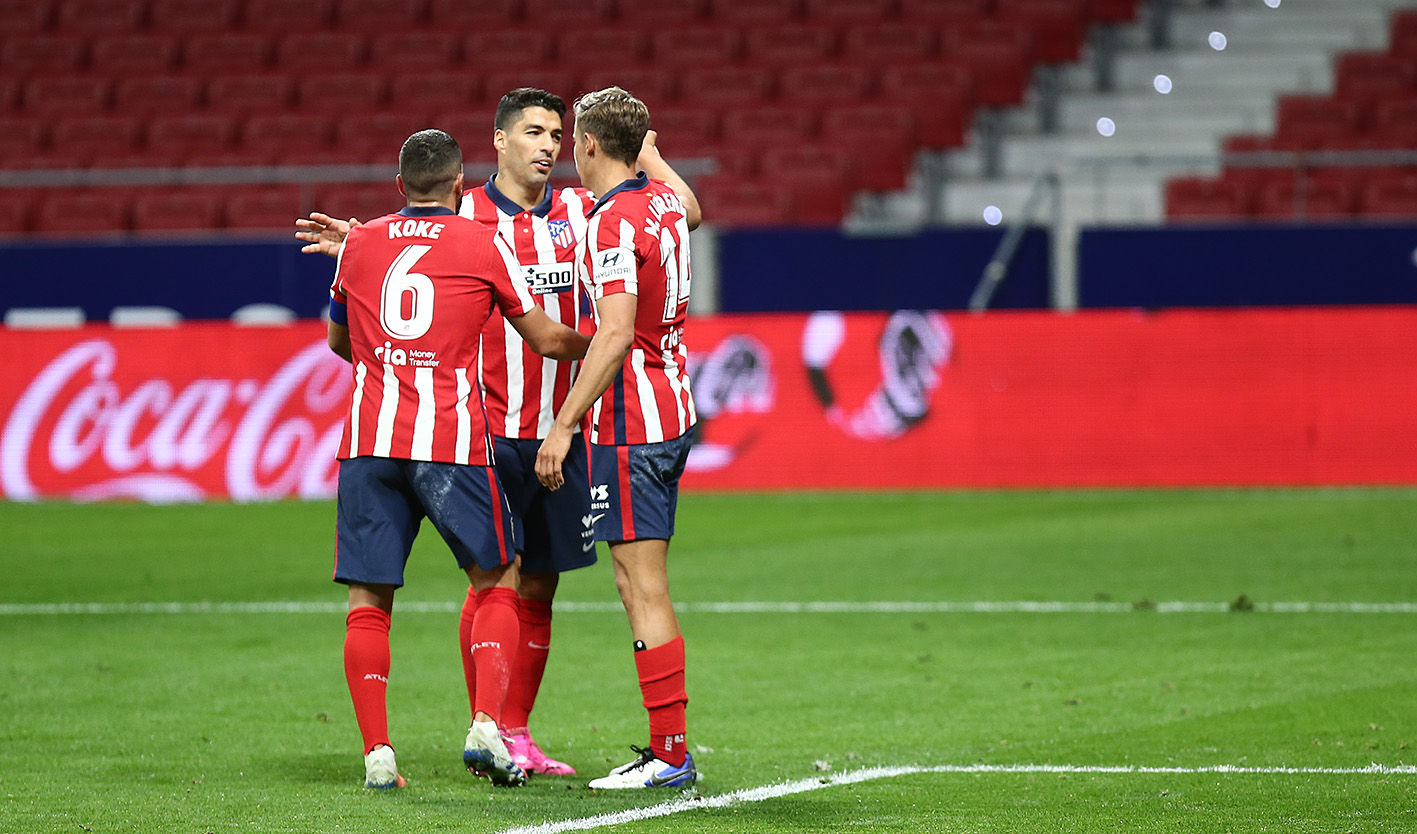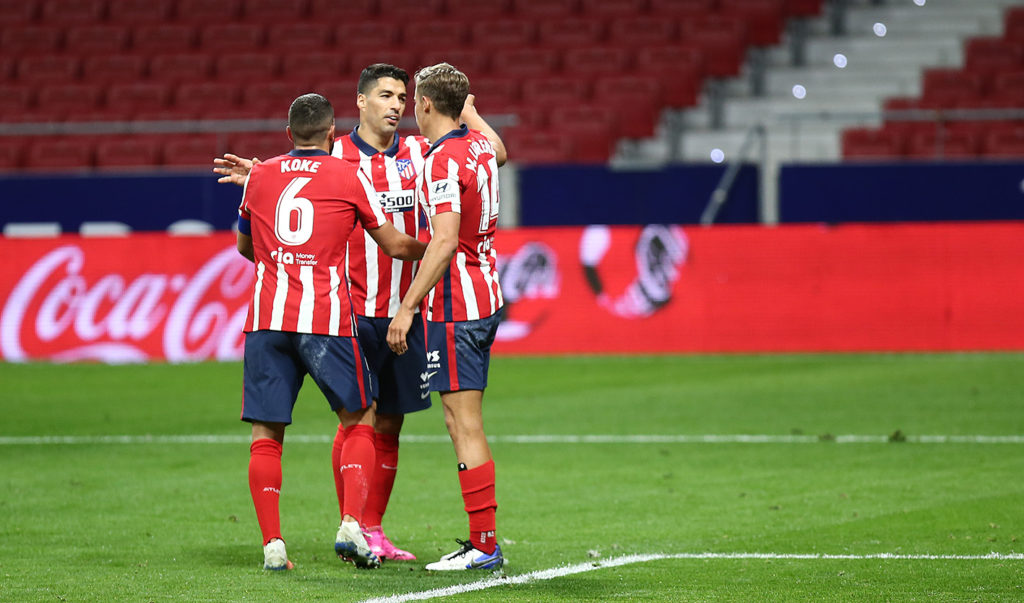 The other side of Madrid also seems to be flying high after Diego Simeone finally settling in again. Having drawn two of their last three games 0-0, Atletico were desperate to get on the scoresheet this week. 
This is what prompted Simeone to play 4-4-2 with Luis Suarez and Marcos Llorente both starting upfront. The tactic paid off as both the men scored one goal each after Simeone brought on both, Joao Felix as well as Yanick Carrasco at halftime. 
Real Betis had started the game with a 4-2-3-1 formation but were forced to improvise after Martin Montoya was sent off in the 75th minute for his challenge on Carrasco. The decision came after the referee reviewed his yellow card with VAR. 
Atletico had already been leading with Llorente's 46th-minute goal, but the send-off made it even simpler for Luis Suarez who sprang up in the box to net Renan Lodi's ball into an open goal and double Atleti's lead in the stoppage time. 
The weekend and La Liga match day 7 overall turned out well for the Madrid side. They seem to have regained their shape and are all set for the upcoming Champion's League clash against RB Salzburg at home. 
Just how good was this @marcosllorente goal? 🌪️

🌟 @livescore 🌟#360replay pic.twitter.com/Jd8cmES7kC

— LaLiga English (@LaLigaEN) October 27, 2020
Real Sociedad 4-1 Huesca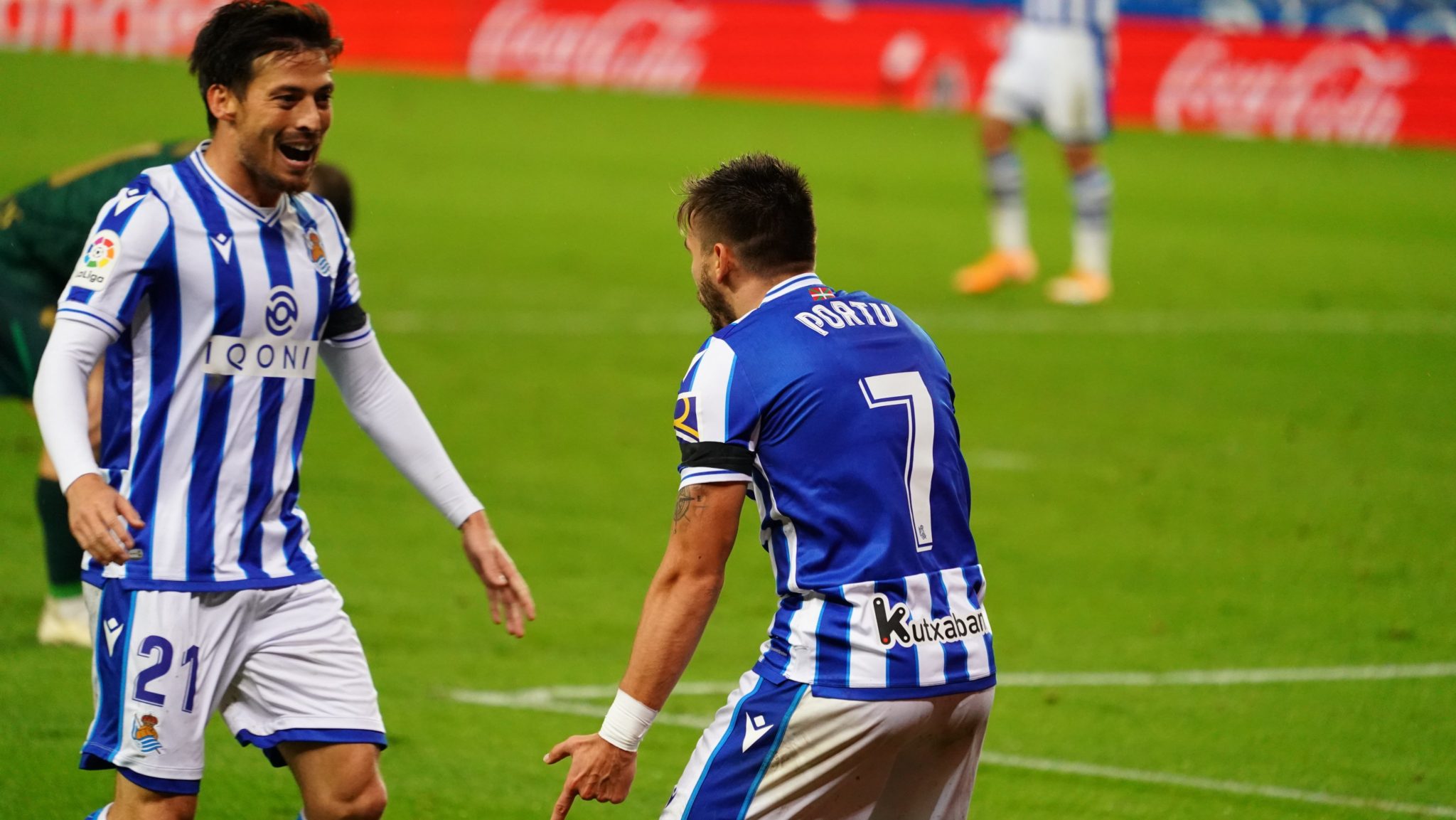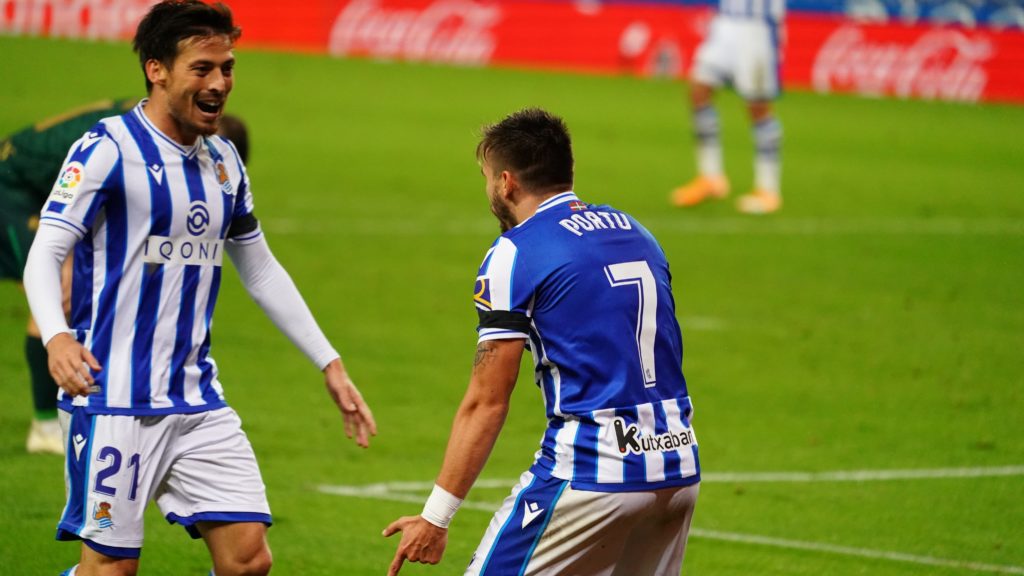 Real Sociedad are Flaming through the season. Thye have lost just one of their last 5 games and are at the top of the La Liga table. 
Just as Real Madrid emerged to challenge their spot, they put up another stunning performance against Huesca to secure the summit. 
The 5 goal thriller at Anoeta saw the home side line up 4-1-4-1 with Mikel Oyarazbal captaining the side and eventually scoring two goals of the four. 
Huesca on the other hand played a regular 4-4-2 formation and were reluctant to experiment having not won any of their previous 6 matches. 
Real Sociedad were impressive throughout and created several chances. They moved the ball up the field with ease having David Silva and Portu feed the through balls. 
Thye dominated possession and attempted a total of 13 shots compared to Huesca's 7. 
Their fisr goal came from a penalty that Oyarazbal converted. 
The lead however was short as Rafa Mir equalized for the visitors in the 46th minute. 
 The one goal however was not a deterrent to the blues. Oyarazbal scored his second within minutes of the second half kick-off. The next two goals came in quick succession, courtesy El Mago David Silva who provided assists to both, Portu and Alexander Isaak.  
The game was a comfortable one for the Liga leaders and they were satisfied retaining their top spot, even after La Liga match day 7.
OTHER RESULTS & STANDINGS
Matchday 7. ✅

Real Madrid's #ElClasico win headlines this weekend's #LaLigaSantander results. 🌟#LiveResults pic.twitter.com/9MC77OYOyf

— LaLiga English (@LaLigaEN) October 26, 2020
Here's how the table looks… 🧐

💙👑 @RealSociedadEN remain top, closely followed by @realmadriden and @GranadaCdeF! #LiveStandings pic.twitter.com/aKHeIFMjRp

— LaLiga English (@LaLigaEN) October 26, 2020