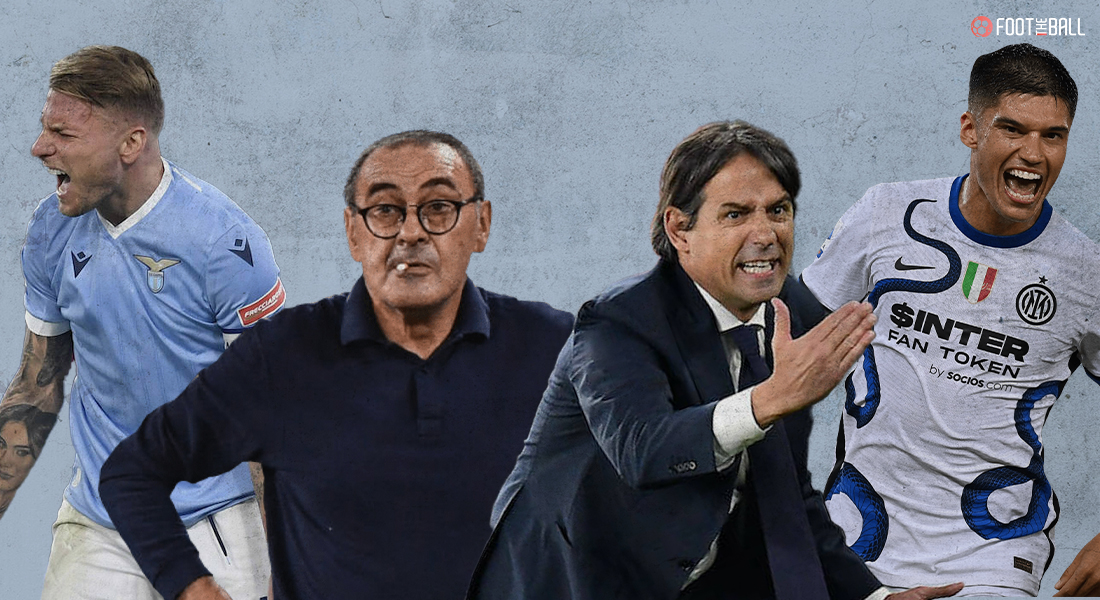 Match Preview: Lazio vs Inter Milan - Lazio under Sarri welcome ex-coach Inzaghi's hopeful Inter
Lazio host Inter Milan in Serie A as Simone Inzaghi returns to face his former club in a highly anticipated clash between two traditional heavy weights of Italy.
#SerieA💎 Matchday 8️⃣ is around the corner! All the info, every match. 🔜 ⤵️#WeAreCalcio pic.twitter.com/sd5McX00YF

— Lega Serie A (@SerieA_EN) October 16, 2021
Lazio, who started the new season under Mauricio Sarri brightly, the squad also seem to be adapting well to Sarri's system and have only stumbled against AC Milan and Bologna in the league.
#TrainingSession 📝
Seduta tecnica per i biancocelesti!

➡️ https://t.co/xQV2AvNZh1 pic.twitter.com/NVLp6Rlush

— S.S.Lazio (@OfficialSSLazio) October 8, 2021
But the nature of those defeats is something that will concern the former Chelsea coach as they were dismantled by Milan and Bologna with ease. Both those defeats also came away from home suggesting that Sarri's team may not be ready to compete with the current heavy weights of Italian football just yet, and Lazio will be tested to their limit against Inter Milan who have Sarri's predecessor , Simone Izaghi at the helm.
Lazio sit 6th in the league right now and would be hoping to break into the European spots before Christmas.
Inzaghi's Inter are unbeaten in the league currently and sit 3rd behind resurrected AC Milan side and a high flying Napoli who have a perfect record in the league right now.
Inzaghi who rose to fame as a manager at Lazio after consistently helping them finish in Europe with a unique style and system of play that maximized the output of an ageing squad, something Inzaghi has been able to do with this Inter squad too.
📸 | TRAINING

The Nerazzurri have been hard at work ahead of the return of @SerieA_EN 👉 https://t.co/TSgcpkees1 pic.twitter.com/ThUwvuhDFD

— Inter 🏆🇮🇹 (@Inter_en) October 14, 2021
Especially after they  lost Lukaku and Conte in the summer, who were the main driving force behind the Nerazzurri's surprise scudetto win last season.
Inzaghi has brought in able replacements to replace the output of Lukaku and Hakimi, Dzeko and Dumfries have been consistently good for Inter this season.
Inter have only dropped points against Atalanta and Sampdoria only. Who drew with them in entertaining 2-2 draws. Inzaghi will be hoping that his former club would not put up too much of a fight as they are hot on the heels of the top 2.
TEAM NEWS
Lazio luckily have not seen their squad depleted due to injuries till now this season and will have a fully fit and firing squad at their disposal. Francesco Acerbi is the only player who will not be available for the match against Inter due to the red card he got in the previous round of fixtures.
📖 È online il match program di #LazioInter!
🎖 All'interno le interviste esclusive a Sergej Milinkovic, Luciano Zauri e Julio Cruz!

➡️ https://t.co/wKGCBt1e6s pic.twitter.com/vTwxh1InHA

— S.S.Lazio (@OfficialSSLazio) October 15, 2021
LAZIO PROBABLE LINE UP-
Reina, Marusic, Luiz Felipe, Patric, Hsyaj, Leiva, Milenkovic-Savic, Luis Alberto, Felipe Anderson, Immobile and Pedro
Inter on the other hand are not so lucky but their squad is deep enough to make sure that a couple of injuries does not mean a stark drop in player quality of the starting 11. Eriksen who has not returned to training yet after he collapsed during the Euros will be unavailable. Steffano Sensi is the only other player not available for Inter against Lazio due to injury.
💥 | MATCHDAY
⚽ #LazioInter
🏆 @SerieA_EN Week 8
⏰ 18:00 CEST
🏟 Stadio Olimpico#FORZAINTER ⚫🔵 pic.twitter.com/s0XHj1nu8S

— Inter 🏆🇮🇹 (@Inter_en) October 16, 2021
INTER MILAN PROBABLE LINE UP-
Handanovic, Skriniar, Bastoni, De Vrij, Dumfries, Barella, Borzovic, Calhanoglu, Dimarco,Martinez and Dzeko

GAME CHANGERS
Ciro Immobile has been a consistent talisman for Lazio over the years, and he will surely be crucial for the Eagles as they welcome Inter to the Stadio Olimpico. He currently sits top of the Serie A scoring charts with 6 goals and is chased by the Inter pair of Dzeko and Martinez. Immobile would love to spoil his former manager's return to Lazio's Battleground.
La classifica capocannonieri dopo 7️⃣ giornate 🔝
Chi la vincerà? ⚽️ #SerieATIM💎 #WeAreCalcio pic.twitter.com/kzvOtmk7YP

— Lega Serie A (@SerieA) October 9, 2021
But the shining light this season for Lazio has been the form of Sergej Milenkovic-Savic who has historically put in his best performances in recent years against Inter and would be hoping to do so again.
🎖 𝙎𝙈𝙎 🆚 @Inter #CMonEagles 🦅 pic.twitter.com/tBkbDCtUKQ

— S.S.Lazio (@OfficialSSLazio) October 12, 2021
Dzeko and Martinez have 6 and 5 goals respectively in the league. But the standout performer for the Nerazzurri has been Nicolo Barella. Barella currently sits top of the assist charts in Serie A with 5 assists.
📣 | BALLON D'OR#Lautaro and #Barella named on 30-man shortlist for #BallonDor by @francefootball 👏

👉 https://t.co/0UXgsEe21b pic.twitter.com/vP6lRqlKUP

— Inter 🏆🇮🇹 (@Inter_en) October 8, 2021
His all action displays in midfield have seen him become one of the best midfielders this season in Europe and Inter would be hoping he brings his 'A- Game' against Lazio.
PREDICTIONS
This game is going to be high on emotions as Inzaghi will return to face his former club at their home. Inzaghi who had become a fan favourite of the Lazio faithful will be hoping that his new team can banish the Eagles as he tries to follow up the class performance of Conte's Inter from last season.
𝐋𝐀𝐙𝐈𝐎-𝐈𝐍𝐓𝐄𝐑. 𝐓𝐇𝐄 𝐖𝐀𝐈𝐓 𝐈𝐒 𝐀𝐋𝐌𝐎𝐒𝐓 𝐎𝐕𝐄𝐑 🔥 pic.twitter.com/iu7P9gpQoB

— S.S.Lazio (@OfficialSSLazio) October 15, 2021
Luckily for fans watching the game both managers like to attack so we expect goals. FootTheBall predicts this game between Lazio and Inter will end at 3-2 in Lazio's favour.