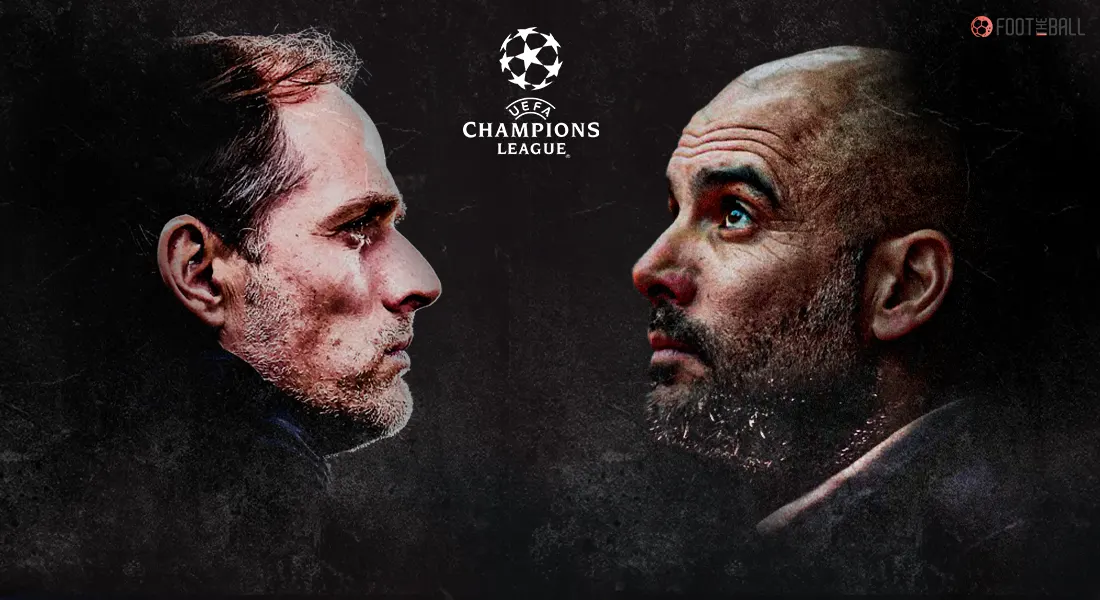 MANCHESTER CITY VS CHELSEA LIVE BLOG: HIGHLIGHTS, GOALS, UPDATES AND KEY MOMENTS OF THE CHAMPIONS LEAGUE FINAL
Manchester City are set to make their first appearance in the Champions League Final against Chelsea tonight. Guardiola and City who have fought tooth and nail to come to the final will be hoping their eternal search for the European trophy ends today.
Tuchel's Chelsea on the other hand would be hoping for a Roberto Di Mateo like finish to the fairy-tale-like Champions League journey this season. The former PSG boss missed out on the trophy last season after losing to Bayern Munich in the Final, something he would be wishing to avoid this time around.
In case you want to know more about the two teams and managers involved in the UCL final you can check out our preview of the match. Are we going to be treated with a thriller in Porto?
CHELSEA ARE CHAMPIONS OF THE CHAMPIONS LEAGUE
Full Time: Chelsea 1-0 Manchester City
They have done it. Chelsea have lifted the Champions League after 10 years.
Chelsea hold on to win their second Champions League trophy thanks to Havertz's first half strike! Pep Guardiola and City miss out on the big prize once again. Chelsea were outstanding but City really have themself to blame given that their tactics were off and that their players did not turn up. Here is our match report in detail.
CHAMPIONS OF EUROPE!!! 🏆 #ChelseaChampions #UCLFinal pic.twitter.com/Wz000kegmG

— Chelsea FC (@ChelseaFC) May 29, 2021
ENJOY CHELSEA FANS! It is your night
Chelsea Holding Firm
Kante and Christensen have made sharp blocks to deny City openings. Havertz and Pulisic up front have been putting the work in and have earned good free-kicks to relieve the pressure. City yet to create anything concrete and we're into injury time.
City Struggling To Get Through
Chelsea are still very comfortable with just five minutes of normal time left. A couple of through balls have threatened but nothing too concerning. Aguero has looked sharp but time running out for Guardiola and City!
90. 7 minutes added time – COME ON!

🔵 0-1 🦁 #ManCity | https://t.co/axa0klD5re

— Manchester City (@ManCity) May 29, 2021
THE LAST DANCE FOR CITY
Not much time left here for City if they are to salvage anything from here. Chelsea are throwing bodies back towards their goal as they look to hold on to their one goal lead.
Final stages now, lads! Keep working! 👊

🔵 1-0 💠 [84'] #UCLFinal pic.twitter.com/YlMU99ggAF

— Chelsea FC (@ChelseaFC) May 29, 2021
Croatian Control
Tuchel makes his move in response to Guardiola's changes with Mateo Kovacic coming on for Mason Mount. Mount had a great game and set up the Chelsea goal. Kovacic is more combative and defensive-minded and will help the Blues wrestle back some control.
Another Chelsea change!

🔵 1-0 💠 [80'] #UCLFinal pic.twitter.com/5FpDNrbpnv

— Chelsea FC (@ChelseaFC) May 29, 2021
AGUERO TIME
Raheem Sterling has had a disappointing game and is replaced by Man City's all-time top scorer Sergio Aguero. Aguero has scored 15 goals against Chelsea in his career and is as close to guaranteed goals as they come. The structure however seems to be dissipating for City with Guardiola getting desperate. Will Aguero deliver in his last game for the Cityzens?
77. On for his final game – COME ON SERGIO! 💙

🔵 0-1 🦁 #ManCity | https://t.co/axa0klD5re pic.twitter.com/K2XerWHZ8d

— Manchester City (@ManCity) May 29, 2021
PULISIC MISSES GOLDEN CHANCE
N'Golo Kante starts off a delightful counterattack with some neat interplay between Havertz and Pulisic. The German plays in the American one on one with Ederson but Pulisic places his finish wide off the post. That should have been 2-0 to Chelsea!
72. Now or never lads! 💙

🔵 0-1 🦁 #ManCity | https://t.co/axa0klD5re pic.twitter.com/6IwBsHU35F

— Manchester City (@ManCity) May 29, 2021
Azpi Intervenes!
Foden plays a delightful pass through to Mahrez who slides the ball across the face of the goal. Sterling was lining up to tap it in but the Chelsea captain slid across to clear the danger.
The Spaniard has hurt himself in the process and seems to have twisted his knee.
Captain America Suit Up
Christian Pulisic becomes the first player from the USA to play in a Champions League final. The American replaces Timo Werner who has put quite a shift in despite not finishing off his chances.
Go well, Christian! 👊

🔵 1-0 💠 [67'] #UCLFinal pic.twitter.com/G7aUCRk3fz

— Chelsea FC (@ChelseaFC) May 29, 2021
FINALLY!
Pep brings on a defensive midfielder in the form of Fernandinho who replaces Bernardo Silva. Gundogan will now play a more advanced role and Fernandinho will sit in front of the defence to offer more control and protection against Chelsea's counters.
64. Change number 2️⃣

🔵 0-1 🦁 #ManCity | https://t.co/axa0klD5re pic.twitter.com/G2ZcnuqbrZ

— Manchester City (@ManCity) May 29, 2021
Penalty Shout For City!
Sterling smashes a shot that is blocked by Reece James. The City players cry for handball but the referee waves it away. The ball did seem to strike the English defender's hand but it was by his side. A VAR check confirmed the on-field decision of no penalty.
PEP MAKES HIS FIRST MOVE
Perhaps a forced one, but Kevin De Bruyne is forced off due to a head injury. We hope it is nothing too serious. Gabriel Jesus will come on in his place. Given that De Bruyne was playing a central attacking role, Jesus will slot right in as his replacement.
59. A nasty head collision forces a change of personnel.

🔵 0-1 🦁 #ManCity | https://t.co/axa0klD5re pic.twitter.com/YdtnOIzr12

— Manchester City (@ManCity) May 29, 2021
RUDIGER IN THE BOOK
The Chelsea defender becomes the second player to be carded by the referee today. Rudiger made a cynical block on Kevin De Bruyne as the Belgian tried to get in behind. Both players need some treatment but things do not seem to be too bad or Rudiger, there is some concern for De Bruyne.
CALMA CALMA
The second half has seen a more restrained approach from both sides. City have dominated the ball since the restart but Chelsea are defending comfortably and looking to catch them on the run. 
53. No changes at the break and little chances so far this half – Kante has been everywhere all game, if we can bypass him we might be in business!

🔵 0-1 🦁 #ManCity | https://t.co/axa0klD5re pic.twitter.com/vQNvQZQkoJ

— Manchester City (@ManCity) May 29, 2021
N'Golo Kante has made a couple of good defensive blocks and tackles. Werner now looks to be playing the furthest man forward with Havertz offering more support to the midfield
SECOND HALF BEGINS
No changes for either side as the action resumes. Let's see whether Guardiola's men will be able to take control or will Chelsea put the game beyond their reach!
Behind in Porto. First half #UCLFinal analysis from the crew…

Send your thoughts into the studio using #WNRH to get involved 💬 https://t.co/aAFUuv47Ax

— Manchester City (@ManCity) May 29, 2021
More Of The Same For Tuchel
For Chelsea, the only concern is can they keep this up for another 45 minutes? The match has been intense and City will grow more as the game goes on. Without Thiago Silva, the defence does not look as sure-footed.
Azpilicueta has, as always, been outstanding. Chelsea really do not need to change anything given that they have created openings apart from the goal as well. Tuchel may however consider swapping an attacking midfielder for Kovacic who can offer more control.
Time To Rethink
City started off on the front foot but Chelsea have been on top in the first half. The Sky Blues' defence is struggling to cope with the pace of Werner and Havertz while Mount and Chilwell's link-up down the right has caused problems as well.
HALF TIME | Trailing at the break.

🔵 0-1 🦁 #ManCity | https://t.co/axa0klD5re pic.twitter.com/Vrjki34IDp

— Manchester City (@ManCity) May 29, 2021
Guardiola may consider bringing on either Rodri or Fernandinho. Chelsea are picking up the second balls in their attacking half too easily and should have been further in front had they been more incisive.
Half Time – Chelsea 1-0 Manchester City
And Breathe. Chelsea head into the break a goal up thanks to Kai Havertz. The game has been highly entertaining with both teams setting up to attack. The midfield has been very open. Werner and Sterling missed good chances but Havertz made no mistake after being played through by Mount.
Ice cool.#UCLFinal pic.twitter.com/tXsWPyjETu

— Chelsea FC (@ChelseaFC) May 29, 2021
HAVERTZ OPENS THE SCORING
Kai Havertz draws first blood for Chelsea after a delightful through ball by Mason Mount. The pass split open the City defence. Havertz got there ahead of Ederson and rounded off the City keeper before tapping into an empty net!
THE BREAKTHROUGH!!!

🔵 1-0 💠 [42'] #UCLFinal pic.twitter.com/v9fxY4QLr7

— Chelsea FC (@ChelseaFC) May 29, 2021
THIAGO SILVA INJURED
The Brazilian veteran cannot carry on and is replaced by Andreas Christensen. Silva tried to soldier on but perhaps for the good of the team decided to go off. It is a like for like change and the system remains the same for Tuchel and Chelsea.
We're forced into our first change, with Christensen replacing the injured Thiago Silva.

🔵 0-0 💠 [39'] #UCLFinal pic.twitter.com/MMKNWFFI1w

— Chelsea FC (@ChelseaFC) May 29, 2021
GUNDO GETS A YELLOW
Gundogan gets booked for a late tackle on Mount. No complaints for the German midfielder as that was as easy as refereeing decisions come in the Champions League final.
Meanwhile, there is a concern for Tuchel as Thiago Silva seems to be struggling slightly with a groin issue but looks like he will try and carry on for now.
RUDIGER DENIES!
Antonio Rudiger with a wonderful sliding tackle to block Foden's shot. Chelsea lost the ball in midfield with City pressing at 100 miles an hour. The English youngster was played in but the German defender slid in brilliantly at the last second to block his shot.
What a tackle Rudiger 😅

— Bethany England (@Bethany_Eng15) May 29, 2021
CHANCES GALORE BUT NO END PRODUCT
Both sides have had their fair share of chances so far in the game but neither has decided to take them. Meanwhile, there are no shortage of chances being created.
KANTE HEADS WIDE
Werner's pace once again pushes City's line back which gives space to the midfield line. This time he lays it off to Chilwell who crosses towards the back post. An incoming Kante, though, headed wide under pressure.
Promising stuff from Chelsea so far! 💪#UCLFinal pic.twitter.com/XGldCNhTvU

— Chelsea FC (@ChelseaFC) May 29, 2021
WERNER MISSES…AGAIN!
Chelsea link-up well down the left with Havertz, Mount and Chilwell involved with some neat interplay. City are struggling slightly to deal with Chelsea's pace.
Werner however does not have his shooting boots on again. First he hit his shot close to Ederson who saved comfortably before hitting the side netting in the second wave.
18. An all action start! 💥

🔵 0-0 🦁 #ManCity | https://t.co/axa0klD5re pic.twitter.com/O95oWwK95y

— Manchester City (@ManCity) May 29, 2021
END TO END!
Werner scuffs a shot from a cutback from the left-hand side and City get on the counter straight away. Sterling involved once again as he played a decent ball across but Chilwell got back in time to clear it away.
Werner really should have done better though. What a start to the match.
FIRST HALF – LET'S GO!
It's showtime! #UCLFinal pic.twitter.com/rK8AdfvD0c

— Chelsea FC (@ChelseaFC) May 29, 2021
City have started on the front foot over here as they look to stamp their authority on the pitch straight away.
The Sky Blues have made a lightning start to the match. Kevin De Bruyne seems to be lining up as the central attacker, call it a false 9 if you may. Sterling plays out on the left and Mahrez on the right with Foden playing alongside Silva and Gundogan in midfield.
For Chelsea, Havertz has lined up as the central striker with Werner playing a deeper role.
Sterling has a big chance! A brilliant ball from Ederson sent the winger through but Mendy got out quickly to make things hard for the City man.
City have been pressing rapidly right from the off and are forcing some Chelsea errors. The Blues however are coping well and made a few threatening inroads down the right-hand side through Werner and Havertz
8′ – Superb ball by CIty's No.1 there as he releases Sterling through on goal, only for Reece James to shrug him off at the crucial moment.
Thoughts so far? Classic Werner and Classic Sterling
RECORDS TO BE SET TODAY
Manchester City could become the 23rd team to win the Champions League or the European Cup and the fifth English club after Manchester United, Nottingham Forrest, Aston Villa, Liverpool and Chelsea.
Pep Guardiola could become just the fourth manager to win the Champions League three times after Bob Paisley, Carlo Ancelotti and Zinedine Zidane. Of these, only Ancelotti has won it with more than one club.
UP THE CHELS! 🔵#UCLFinal pic.twitter.com/TeCu6WBZiS

— Chelsea FC (@ChelseaFC) May 29, 2021
Out in full force! 💙

⚽️ #UCLFinal
🔷 #ManCity | https://t.co/axa0klD5re pic.twitter.com/AiLY7aD3sx

— Manchester City (@ManCity) May 29, 2021
Chelsea could become the 13th club in history to win the trophy more than once. Edouard Mendy can equal the record for most clean sheets in a single season should he shut-out Man City's potent attack. 
Zak Steffen or Christian Pulisic, whoever triumphs, will become the first American to lift the Champions League trophy.
THE MOMENT IS NEAR…PLAYERS ARE READY AND YOU?
The teams are out for the warm-up and the teams look up for it. Phil Foden is entertaining the crowd with some keepy-ups. After some trouble in the streets yesterday, the English supporters have calmed down and are out in full voice.
Marshmello is about to begin his opening ceremony performance as the players make the final adjustments in their preparations. Grab a drink, some popcorn and hold on to the edge of your seats!
Looks like the battle had already begun way before the players have stepped out on the pitch.
Oh yes, and for those of you who cannot wait to see tonights winner, #PepperTheGolden has made the job easy for you.
WHAT THE HEAD TO HEAD LOOKS LIKE
This season Manchester City and Chelsea have clashed three times already – twice in the Premier League and once in the FA Cup semi-final at Wembley. In the first meeting at the turn of the year, a depleted City got the better of Chelsea, running out 3-1 winners at Stamford Bridge.
When they called us the underdogs, we played like CHAMPIONS💙@ChelseaFC @ChampionsLeague pic.twitter.com/bl8fTQgLmk

— Didier Drogba (@didierdrogba) May 29, 2021
However, Thomas Tuchel has overseen two consecutive Blues wins over the Premier League champions since taking over at Chelsea. The German manager outclassed Guardiola in the FA Cup, winning 1-0 thanks to a Hakim Ziyech goal before halting City's title procession with a 2-1 win at the Etihad in May.
THOUGHTS ON TEAM NEWS
The lineups are in and the major talking point is that Pep Guardiola has decided to play without a defensive midfielder – neither Rodri nor Fernandinho are starting. Ilkay Gundogan will presumably play the holding role for Man City. Is this another one of Pep's classic overthinking moments in the Champions League or has the Catalan pulled a rabbit out of the hat?
For Chelsea, Timo Werner and Kai Havertz start ahead of Christian Pulisic and Hakim Ziyech. Werner and Havertz have had a stop-start first season in England but no better way to prove doubters wrong than to come through in the Champions League final! Will their pace hurt City on the counter? Especially with no proper defensive midfielder to protect the backline.
CONFIRMED TEAM NEWS AND LINEUPS
Manchester City (4-3-3): Ederson; Walker, Dias, Stones, Zinchenko; Gundogan, De Bruyne, Bernardo Silva; Mahrez, Sterling, Foden
Here we go 😅

XI | Ederson, Walker, Dias, Stones, Zinchenko, Gundogan, De Bruyne (C), Bernardo, Mahrez, Sterling, Foden

SUBS | Steffen, Carson, Ake, Jesus, Aguero, Laporte, Rodrigo, Torres, Mendy, Fernandinho, Cancelo, Garcia

⚽️ #UCLFinal
🔷 #ManCity | https://t.co/axa0klD5re pic.twitter.com/APXPDXtXTk

— Manchester City (@ManCity) May 29, 2021
Chelsea (3-4-2-1): Mendy; Azpilicueta, Thiago Silva, Rudiger; James, Kante, Jorginho, Chilwell; Mount, Werner; Havertz