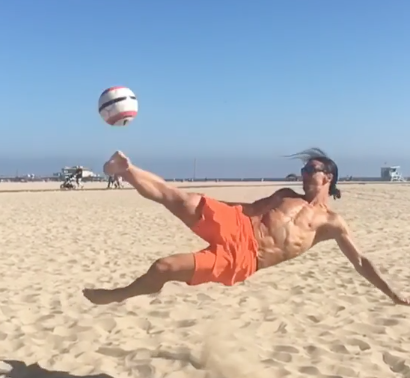 Manchester United's newly purchased star player Zlatan Ibrahimovic has sent a warning to his rivals in the upcoming Premier League by uploading a video on Instagram showing-off his perfect scissor kick during his on-going break with family at Los Angeles' Venice beach on Monday.
[espl_carousel source="media: 180570,180571,180572,180573,180574″]
The 34-year-old shows he still has the athleticism, flexibility and timing to impress in England by executing a scissor kick on the sandy surface.
Ibrahimovic performs a few kick-ups before playing the ball in the air and then acrobatically hits it away from the camera view.
Ibrahimovic accompanies his uploaded video with the caption: 'Making football look easy at Venice Beach #swedenvsfrance'.
Manchester United fans will be hoping he can replicate the skill to score plenty of goals at Old Trafford next season.
The former Sweden international has been granted extra time off following the conclusion of Euro 2016 as Jose Mourinho wants his new striker to be fresh and ready for the campaign.
He posed for a picture with Phil Neville's son — Harvey — on Sunday as he continued to enjoy his time in the States.
The former Paris Saint-Germain star, who joined United on an initial one-year deal at the beginning of July, took time out of his holiday to speak to the former Red Devils star and his family.