Pep Guardiola has let loose a storm in Manchester after his remarks regarding the attendance at the Etihad Stadium during Manchester City's opening game of the UEFA Champions League against RB Leipzig in England.
The stadium's attendance in midweek for City's first game of the Champions League this season only attracted a crowd of 38,603 supporters as the Citizens ran 6-3 winners in Cottonopolis.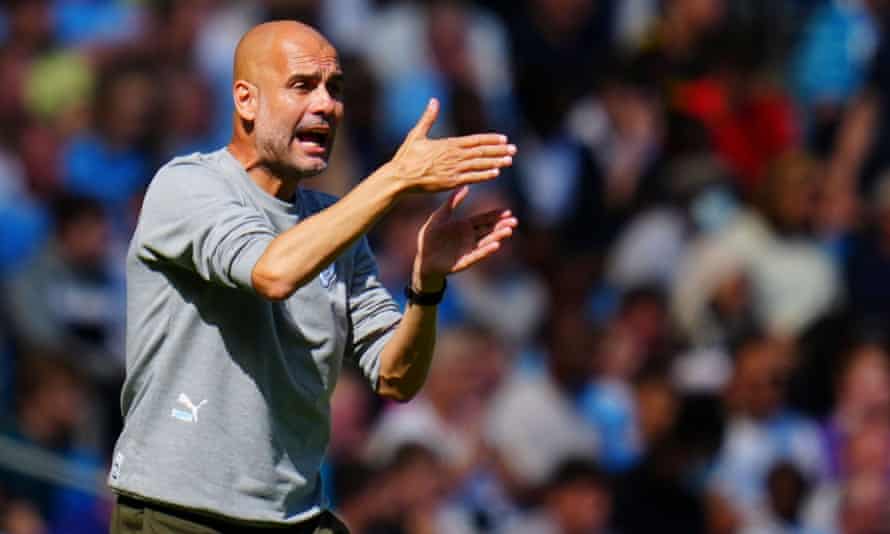 The Etihad is capable of hosting around 55,000 fans at full capacity, but the obvious lack of fans in the stadium during City's victory over Leipzig led Guardiola to issue a plea to all the fans to flock to the stadium in huge numbers for their next match in the Premier League against Southampton.
As the debate spills over to the public domain with some fans seemingly irked by the Spaniard's comments, FootTheBall brings to you a lowdown of what all has happened until now in Manchester.
GUARDIOLA CALLS ON FANS TO FILL THE ETIHAD STADIUM
Ahead of Manchester City's match with Southampton in the Premier league, Pep Guardiola has urged and implored fans to flock to the stadium in large numbers after he witnessed a less-than-full capacity crowd when RB Leipzig visited for the Champions League opener.
Guardiola was quoted saying the following to BT Sport: "I would like more people to come to the next game on Saturday. We will need the people next Saturday, please, because we will be tired. I invite all our people to come next Saturday, 3pm, and watch the game".
"I'd like more people to come on Saturday, we need the people."

"I invite all our people to come Saturday, 3 pm, to watch the game."

A rallying cry from Pep Guardiola… pic.twitter.com/TJFd2zDHN4

— Football on BT Sport (@btsportfootball) September 16, 2021
In the past, City's stadium acquired the moniker 'Emptyhad' owing to the empty stands during European games – something that has not gone down well with the club authorities who are dependent on the footfall in the stadium, especially for European matches, in order to maintain a steady influx of revenue that has in the past year or so declined inevitably due to the curbs brought by the worldwide pandemic.
GUARDIOLA'S COMMENTS DON'T GO DOWN WELL WITH FANS
The former Barcelona manager's comments on the matter of attendance of fans during games hasn't gone down too well with the fans of the Sky Blues. The general secretary of Manchester City's official supporters' club, Kevin Parker is appalled by Guardiola's comments.
"It did surprise me" Parker was quoted saying. "I'm not sure what that's got to do with him. He doesn't understand the difficulties that some people might have getting to a game at the Etihad on a Wednesday evening at 8pm. They've got kids to think of, they might not be able to afford it, there are still some Covid issues about … I don't see why he comments on it" he added.
"He's absolutely the best coach in the world but, in the nicest possible way, I think maybe he should stick to that. It just takes the edge off what was a good night. People are talking more about Pep's comments than a fantastic game.
"To question the support, which is effectively what he is doing, is disappointing and uncalled for. It does also play into the hands of supporters from other teams who want to take every opportunity to have a go at City for what they think are the poor attendances.
"People refer to the Etihad as the 'Emptyhad'. It's a little bit of fun by the opposition supporters but there's no justification for it. Our attendance is generally excellent."
GUARDIOLA WON'T APOLOGISE FOR BEING 'MISQUOTED'
The Spanish manager responded to Parker claiming that everything was part of a misunderstanding and he wasn't going to apologise for being misconstrued in the media.
"Don't misunderstand or put words in my mouth that I didn't say," Guardiola said of the matter. "That's what I don't like. I never will be a problem for my fans. If I am a problem for my fans, I will step aside. Not a problem for me" the former Bayern Munich manager opined.
"When you play in the Champion League, it's so demanding on your physicality, and mentally, when they (Southampton) have a long week to prepare the game.
"So that's why we need to be all together — the players, the supporters, everyone, to help us to do our best. I know exactly our fans will be there tomorrow to support, and hopefully Mr. Parker can come to watch us" he concluded
City have had near full-capacity crowds for their first two home matches in the Premier League – 5-0 wins against Norwich City and Arsenal – and will be expecting a raucous, full-capacity gathering for the game against Southampton in all likelihood.