There are great resemblances between the fall out following the 2016 U.K. Referendum over the exit from the EU and its coincidence over the same period with the turbulence of the last years of the Arsene Wenger era. A long association between the U.K. and the continent of Europe can be seen as mirroring the long relationship between the Arsenal FC and its greatest manager.
"In life there are some break-ups that you choose and some that are mandatory. In this case it was a bit of a mix of the two. The fans needed a change and in my last season I started suffering health wise."

– Arsene Wenger on leaving Arsenal via @MrArsenicTM pic.twitter.com/bkrnyGr63O

— AFTV (@AFTVMedia) April 2, 2019
While Unai Emery was brought from Paris Saint-Germain to spearhead the rebuild of an underachieving Arsenal team, things went awry, and Emery was sacked which propelled Mikel Arteta to the top seat rather quickly than he would have imagined.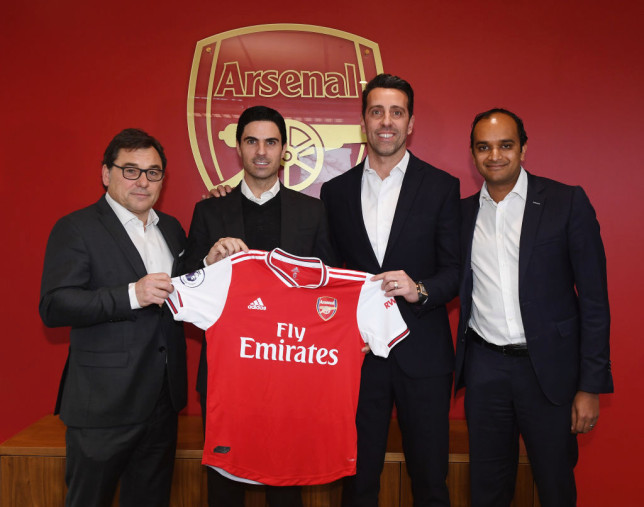 (Image Courtesy: Arsenal / Website)
Arteta, who has been able to stabilise the situation around the club to an extent, hasn't taken the next step in the rebuild in quite a while. This is visible in their largely forgettable season, wherein they are out of domestic cups, most probably will miss out on European football through the league but can salvage something by winning the Europa League, which has teams such as Manchester United, Ajax, Roma and Villareal still in the competition.
Arsenal 1-1 Slavia Praha…

🔮 _____ will progress to the semi-finals! #UEL

— UEFA Europa League (@EuropaLeague) April 8, 2021
And recently, former midfielder Emmanuel Petit came out severely on the recruitment strategy of the board and their plans for the rebuild, while telling Arteta to "clear half the dressing room out".
WHAT DID PETIT SAY?
Speaking in his interview to Ladbrokes, Petit slammed the board and recruitment team over their "ridiculous" transfer business and feels that this has been the biggest problem in the club's decline during the recent past and admitted that he does not expect anything from the Arteta-run side.
"For me, the biggest mistake they have made in the last few years is their ridiculous transfer activity, OK, it's a question of money and they don't have the same finances as Manchester United and Manchester City, but they're not far behind those clubs.
"They still have the power to get big players in. But the way they've spent money in the last six or seven years… who is directing that? I'm just asking that question: who is in charge of these decisions? Does the manager have a say, is it his responsibility? Or is it someone on the board?
"I don't understand the profile of players they've brought in – especially in defence. I try not to get emotional anymore when I look at Arsenal. I try to step back and put away my emotions. I try and look at them like a normal team".
"I have to tell myself 'don't expect anything special from them today.' This is the way I am now."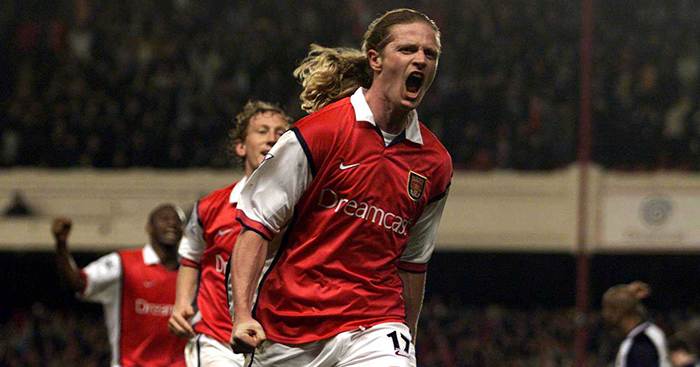 Petit, in his Arsenal days. (Image Courtesy: FA / Website)
Petit went on to say that some of the senior players treat Arsenal as retreat club and suggested that his former club no longer have the power to attract the best young talent in the world.
"When I look at the older players in the team, it's like they think it's a retreat football club, somewhere you just go for a vacation" he added.
"They have ambition, but I don't really expect them to win big games anymore. If you took away the name 'Arsenal' and looked at that group of players… average."
"At the end of the season, if I'm Arsenal, if I'm Arteta, if I'm on the board, to be honest with you, I think my main concern is getting half of the dressing room out. Honestly.
"The question is simple; how many Arsenal players would you look at and say 'they're one of the best in the league in that position'?"
WHAT CAN ARSENAL AND ARTETA DO IN THE SUMMER?
To attract world-class players in the summer and have better finances, Arsenal need Champions League football and for that, they will need to win the Europa League, which seems tough for the naked eye. If Arsenal does not achieve that, they will need to sell some their players to raise the required money.
Hector Bellerin, whose future seems to be in the air, reportedly has suiters in Paris as PSG look to replace Thomas Meunier, who departed to Borussia Dortmund in the summer of 2020.
There are 'huge chances' for Hector Bellerin to leave Arsenal in the summer. Leonardo wanted him at PSG one year ago but there was no agreement between the two clubs. Now it'd be an open race – #AFC won't make any discount. 🔴🇪🇸 #transfers

— Fabrizio Romano (@FabrizioRomano) April 6, 2021
Arsenal's decision to hand big, lucrative contracts to ageing players backfired heavily this season as players like David Luiz, Willian have been under-par for most of the season. Also, Aubameyang's performances had dropped off the charts since his contract renewal, and Arteta will like to see whether he could cash as the forward turns 32 in the summer.
"What he's producing right now is nowhere near good enough for how good a player he is and what Arsenal have invested in him" ❌@Carra23 thinks Arsenal will be fearing another Mesut Ozil situation with Pierre-Emerick Aubameyang 😨

📺 #MNF on Sky Sports PL & Main Event pic.twitter.com/wG6kd06sHC

— Sky Sports Premier League (@SkySportsPL) April 5, 2021
Whatever it takes, Arsenal, for the sake of Premier League, must need a reality check behind the scenes and back the manager to move forward in the rebuild.