AC MILAN VS INTER MILAN
The two Milan clubs are set to face each other at the San Siro on the 21st February, in a highly anticipated match in Serie A. 
AC Milan and Inter Milan sit 2nd and 1st respectively in the table currently and only a point separates them at the top. This beautifully poised derby can prove to be a pivotal game in the race for the Serie A title.
#SerieATIM Matchday 2️⃣2️⃣ is over!
Tell us what your team is without telling us what your team is ________👇🏻👇🏻👇🏻#WeAreCalcio pic.twitter.com/7NOHiGlqoy

— Lega Serie A (@SerieA_EN) February 15, 2021
The re-emergence of AC Milan and Inter Milan as dominant forces in Serie A this season,  they have in fact dethroned Juventus as title favourites and the two Milan clubs have done so in style reminding everyone that there are other giants in the Italian game which deserve as much attention as the Bianconneri.
AC Milan this season under Steffano Pioli have looked formidable in Serie A, losing only 3 games this season. AC Milan went on a spectacular unbeaten run at the start of the season, and was only disrupted recently when the Rossoneri lost to Juventus in the League in January.  Despite losing 2 games in the last 5 matches and their most recent defeat came against Serie A stragglers Spezia, who they lost 2-0 to in the previous match-week. Zlatan Ibrahimovic has become a true Talisman for the team since his arrival last January, as the veteran striker has scored 14 goals in the league this season and Pioli would be relying on the Swedish finisher to play a major role for the red side of Milan in this derby. AC Milan's form this season has been noteworthy as they have dominated teams on the Pitch, although they have been slightly suspect at the back, their fluid and youthful attack led by Zlatan has pulled them through a lot of sticky situations this season, something they would be relying on against Inter Milan.
Inter Milan are finally starting to deliver the results that Antonio Conte was brought in for. His Inter Milan side are the team in form currently in Serie A, as they have not lost a single game in the last 5 fixtures in fact they have only drawn one match, against Udinese in the league, where they were held 0-0 away from home. Inter Milan's talisman for the last two seasons has been the big Belgian Romelu Lukaku, who has scored 16 goals in Serie A this season. Conte's this Inter side has looked like the most complete team in Serie A this time around as they boast the best attack in league and no one has scored more than their 50 goals in the league this season, they can also be proud of their defense which has been imperious at times this season and according to the stats is the second best in the league only ranking behind Juventus in terms of goals conceded this season. Conte would be hoping his Inter Milan side bring their A-game against AC Milan, who seemingly look the most equipped to challenge Inter till the end of the season. 
The game between AC Milan and Inter Milan in the domestic cup had its fair share of fireworks as Lukaku and Zlatan locked horns after being  at each other's throat for the whole match. The match ended in Inter's favour, the two strikers would be looking to drag their teams across the line to prove a point to the other. 
Dios respaldado por sus soldados ⚔️ God backed by his soldiers 🛡 Dio appoggiato dai suoi soldati #SempreMilan 👊🏼 pic.twitter.com/SBYlBfNgb6

— Theo Hernandez (@TheoHernandez) January 27, 2021
TEAM NEWS
Both AC Milan and Inter Milan have been able to sustain their form in the league because they have not suffered any major setbacks due to injuries. Despite some key-players missing some matches  throughout the season both Milan clubs have enough depth in their squads to cover for them. 
AC Milan only have Brahim Diaz and Danielle Maldini who are injured and unavailable for this game against Inter Milan,although Diaz has played an important role for the Rossoneri this season, he is not a nailed-on starter thus his absence would not disrupt the line-up a lot. Steffano Pioli would look to deploy his trusted 4-2-3-1 in this game, which would consist of-Donnarumma, Calabria, Kjaer, Romagnolli, Kessie, Bennacer, Leao, Rebic , Calhanogolu and Ibrahimovic.
🎙️ "We must try to raise our level"
Coach Pioli ahead of tomorrow's game at San Siro 🏟️

🗣️ "Non possiamo accontentarci"#MilanCrotone: vai sull'App per rivedere la conferenza stampa del Mister ➡️ https://t.co/k2zluita95#SempreMilan pic.twitter.com/wRP7iW94Jc

— AC Milan (@acmilan) February 6, 2021
Inter on the other side do have one major player injured and unavailable for this game, Arturo Vidal. Luckily for Inter Milan they have a lot of cover for the experienced Chilean in central midfield. Inter Milan under Conte have preferred playing in his most used system the 3-5-2. Conte would look to use his most trusted players in this match and Inter's most probable line-up for this game would consist of- Handanovic,Skriniar, De Vrij, Bastoni, Hakimi, Barella,Brozovic, Sensi, Perisic, Lukaku and Martinez.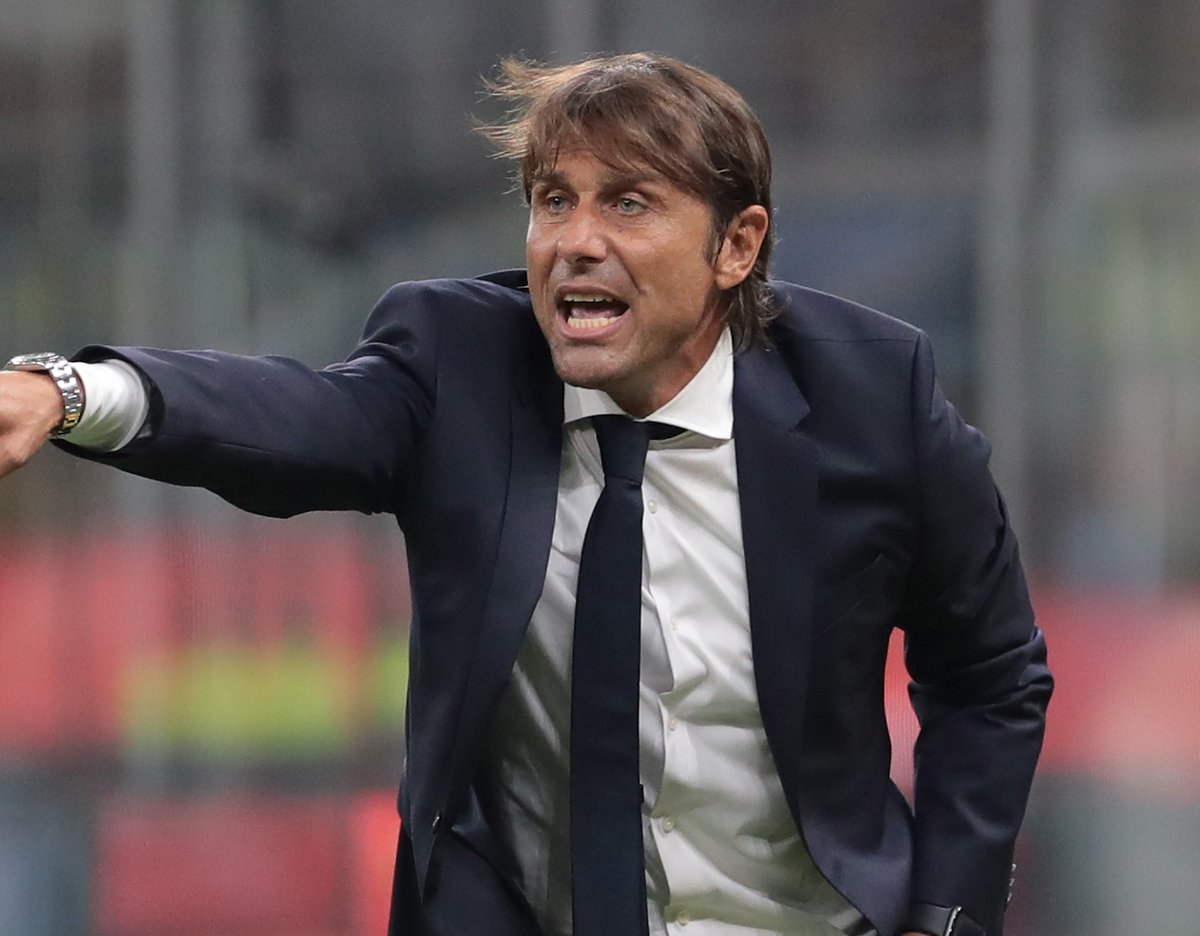 (Courtesy: OptaPaolo/Twitter)
GAME CHANGERS 
The attack for both teams has been prolific this season as they have not struggled to score goals in Serie A.
AC Milan would be looking at their Lethal Swedish striker Zlatan Ibrahimovic, whose arrival has been the spark for this revival under Pioli. Except Zlatan, AC Milan has some exceptional players in all areas of the pitch. They have the rapid Theo Hernandez in defence who has been a constant attacking outlet in Serie A. They also have Hakan Calhanoglu and Rafael Leao, who have been very influential for AC Milan and will surely play a major role against Inter Milan. Theo Hernandez and Leao on the left wing can be potential game changers in this game as all the focus would be on Zlatan, something the two could take advantage of.They have a combined total of 18 goal contributions for AC Milan this season. Conte's Inter milan would look to hinder the form of Hernandez and Leao to gain the advantage over AC Milan at the San Siro.
@acmilan pic.twitter.com/uCgjD8sl43

— Rafael Leão (@RafaeLeao7) April 13, 2020
Inter Milan have a powerful striker of their own in Romelu Lukaku, he has been sensational this season and his performance and resilience in the previous match against AC Milan will surely help him boost his confidence ahead of this fixture. Due to the Belgian strikers form, Lautaro Martinez, Achraf Hakimin and Nicolo Barella, have profited this season, in fact their combined total goal contributions are sitting at a colossal 37. This also showcases how complete this Inter Milan side actually is and does not solely rely on their talisman. Stefano Pioli would be aware of Inter's threat since they faced them recently and would be looking to avoid a repeat of it in the league. 
🐂 | EXCLUSIVE

A great win last night: get a Lukaku, Lautaro, Hakimi or Barella shirt with special #InterCNY printing 👉 https://t.co/dGeMCB04Ud#ForzaInter ⚫️🔵 pic.twitter.com/GzYqvW5Lh3

— Inter 🏆🇮🇹 (@Inter_en) February 15, 2021
It'll be really interesting to see two former Real Madrid fullbacks go against each other in Theo Hernandez and Achraf Hakimi.
PREDICTIONS
This is going to be an excellent watch as both teams would be cautious in the early minutes but we reckon the game will explode into life after the 40th minute, as both teams find their groove.
We predict the Derby Della Madonnina is going to be won by Inter Milan ,as we see AC Milan stumbling against Conte's men .The game should end 3-1 in favour of Inter Milan.