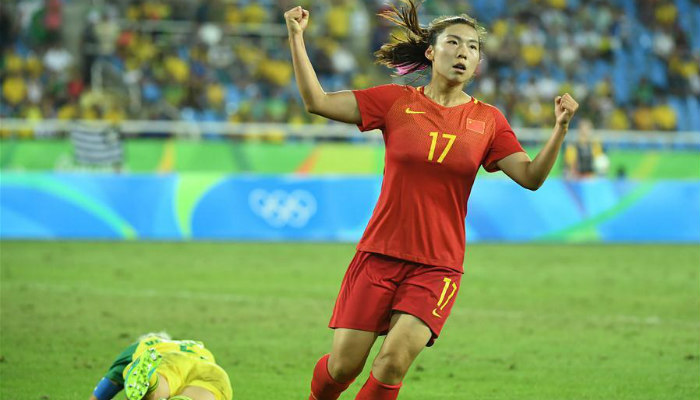 Chinese women's football team defeated South Africa 2-0 on Saturday in their second game at the Rio Olympics.
South Africa almost scored in the first minute, but Jermaine Seoposenwe's shot in the penalty box was denied by Chinese goalkeeper Zhao Lina.
The Africans went close to scoring again as Janine Van Wyk hit the crossbar after a free kick in the 43rd minute.
The "Steel Roses", who returned to the Olympics after an eight-year hiatus, broke the deadlock before halftime when Gu Yasha fired home from close range.
Tan Ruyin sealed the victory for China through a lob shot from 40 meters away in the 87th minute.
Gu is the only one who ever played in the Beijing Olympics on the current Chinese squad.
"I was too young eight years ago, but now as a veteran I hope to bring our team victories again and again," Gu told Xinhua.
"We haven't entered the quarter-final stage yet, so we should take each game as the last game and do our best," she added.
When asked about their final group match against Sweden on August 9, China coach Bruno Bini said: "If I tell you this I will have to tell you our formation. This I cannot tell you. Please give us some time to enjoy this moment tonight."
Bini was very excited about Tan's incredible lob shot.
"If this goal was scored by Lionel Messi it would be played for at least a week all over the world. But if it's a Chinese girl it will only be played in China for a shorter time. This is the difference between men's and women's football," said the 61-year-old Frenchman.
On the same day, hosts Brazil kept their wonderful form, crushing Sweden 5-1.
Another two teams who have snatched two wins in a row are Canada and the United States. The defending champions edged France 1-0, while Canada downed Zimbabwe 3-1.
London 2012 quarter-finalists New Zealand defeated Colombia 1-0, and Germany held a 2-2 draw with Australia.
As the top two teams of each group and the best two third placers in three groups will be the quarter-finalists, Brazil who had got two constitutive victories entered to the next stage.