Sergio Aguero will walk away from Manchester City in the summer with golden memories and an "unbreakable bond" with the club's supporters.
Manchester City's record goalscorer, Aguero will depart having proven himself to be one of City's greatest ever players and having given the Club the greatest moment in its history on that crazy day in May 2012.
The Argentinian, who joined City in 2011 from £35 million in 2011, has spent an extraordinary ten years in Manchester, and he will leave as the club's top goalscorer after netting 257 goals in 384 appearances across all competitions.
Thank you for so many supportive messages in this year that has been tough so far. Happy to be able to give back on the field some of the joy I receive. I'll continue to give it all for the club 🤟🏽 pic.twitter.com/fTMda3ct7X

— Sergio Kun Aguero (@aguerosergiokun) March 13, 2021
"A new stage with new challenges will begin and I am fully ready to face them with the same passion and professionalism that I have always dedicated to continue competing at the highest level,"
Aguero ranks fourth on the Premier League goalscoring list and has banged in shots at the most crucial times, including a dramatic, league-winning strike in 2012. He can add to his legacy before he exits by helping the Citizens push for their first Champions League trophy.
According to the Mirror, Aguero is to be honoured with a statue at the Etihad Stadium, alongside former captain Vincent Kompany and David Silva.
AGUERO'S LEGACY AT CITY
During his time at the Etihad, Aguero has become a City legend, not least for that unforgettable stoppage-time winner against Queen's Park Rangers on the final day of the 2011/12 season to win the club's first ever Premier League title in 44 years.
He has since won further three and as well as an FA Cup, five League Cups and three Community Shields. Now, after playing 384 games and scoring 257 goals for Manchester City, the 32-year-old has called time on his stay at the Etihad.
Sergio #Aguero for Manchester City:

👕 384 matches
⚽️ 257

Premier League 🏆🏆🏆🏆
FA Cup 🏆
EFL Cup 🏆🏆🏆🏆🏆
Community Shield🏆🏆🏆 pic.twitter.com/BjwRdNUqYd

— Linners & Wosers (@LinnersWosers) March 29, 2021
In November 2017 he became City's greatest ever goalscorer when he netted his 178th goal in a 4-2 win over Napoli to break Eric Brook's 78-year record.
The 32-year-old has left such a bold mark on the Premier League that even rivals have recognised his impact, with Manchester United's Marcus Rashford saying on Monday that he is "very close to the top" of all-time great forwards in the division.
After writing himself into the history books, team-mates past and present paid tribute to the Argentine which include Kevin De Bruyne, Fernandinho, Gabriel Jesus, Edin Dzeko and Joe Hart, amongst others, on Manchester City's official website.
🚨🚨🚨EXCLUSIVE! THE STORY OF Kun Aguero: Several talks were held between #Barcelona and Aguero's agent. If Koeman wants Aguero he will be Barcelona player 100%. The only problem the Koeman has is Kun #Aguero's injury problem in the last year. #FCB 🔴🔵 pic.twitter.com/0TDkK7tSwX

— Shay Lugassi (@Shlugassi) March 29, 2021
WHAT HAS SERGIO AGUERO SAID?
Sergio Aguero has released a heartfelt message to those associated with Manchester City after it was announced he would be leaving the club at the conclusion of the season, ending a ten-year stay.
Writing on social media, the Argentine summed up his time at the club.
He said: "When a cycle comes to an end, many sensations arise.
"A huge sense of satisfaction and pride remains in me for having played with Manchester City for a whole ten seasons – unusual for a professional player this day and age.
"Ten seasons with major achievements, throughout which I was able to become the top historic goalscorer and forging an indestructible bond with all those who love the club – people who will always be in my heart."
"A new stage with new challenges will begin and I am fully ready to face them with the same passion and professionalism that I have always dedicated to continue competing at the highest level," he added.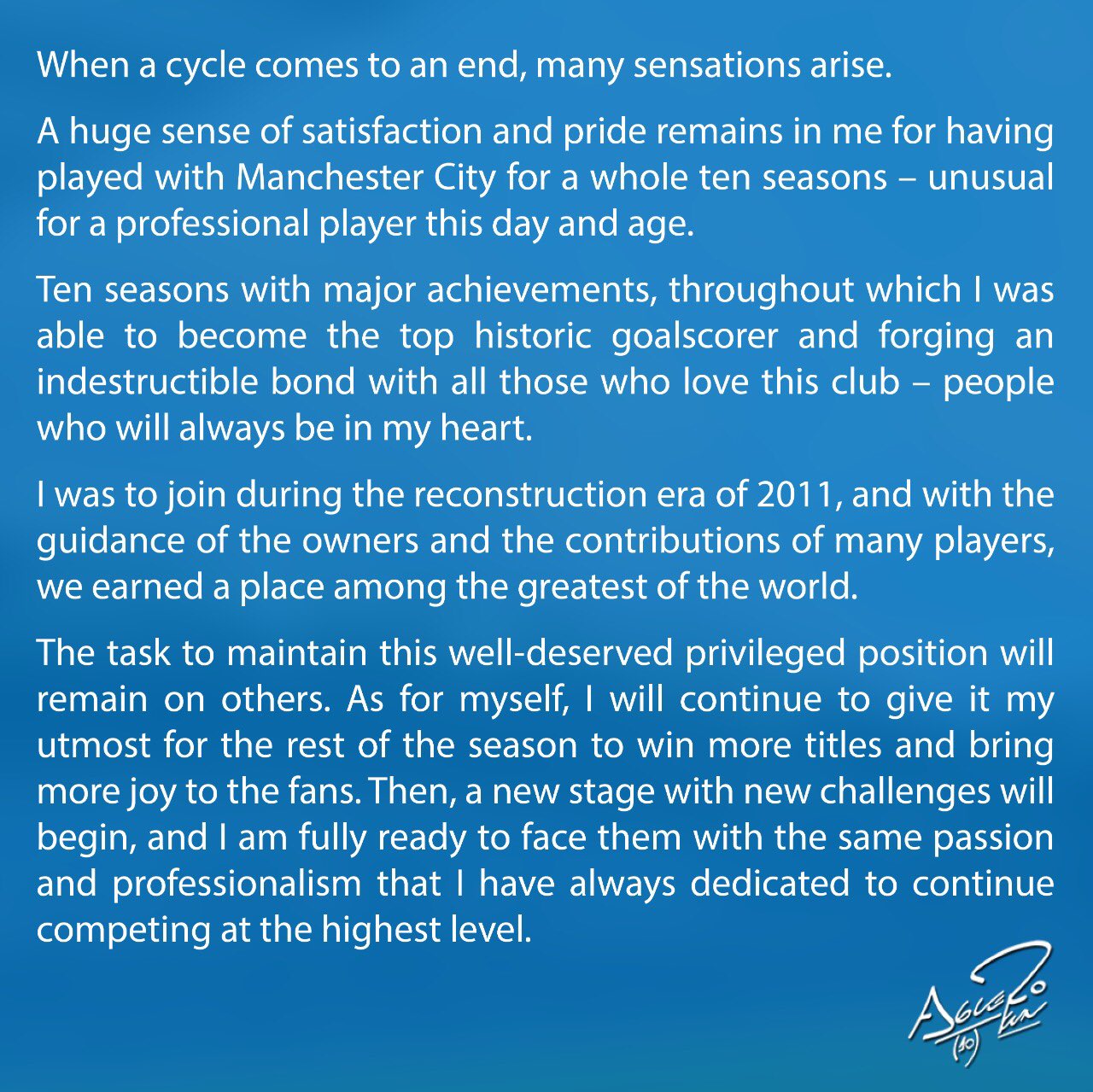 — Sergio Kun Aguero (@aguerosergiokun) March 29, 2021
Aguero has won four Premier League titles – with a fifth looking secure in what will be his final season and City's chairman Khaldoon al-Mubarak had a few words of his own to share on the Sky Blues' No. 10.
"Sergio's contribution to Manchester City over the last 10 years cannot be overstated," said the City chairman Khaldoon al-Mubarak. "His legend will be indelibly etched into the memories of everyone who loves the club and maybe even in those who simply love football.
"This is not yet the moment for farewell words and speeches. There is still much to achieve in the remainder of the time we have with Sergio, and we look forward to his contributions to the challenges which lay ahead.
"In the meantime, it gives me great pleasure to announce that we will be commissioning an artist to create a statue of Sergio to live at the Etihad Stadium alongside the ones under construction for Vincent and David. And we look forward to the opportunity to bid Sergio a fitting farewell at the end of the season."
HOW THE FANS HAVE REACTED ON TWITTER
Understandably, Aguero is adored by City fans, and the tributes across social media have flooded in to pay tribute to the clubs greatest-ever goalscorer.
Liam Gallagher and thousands of Manchester City fans have paid tribute to club legend Sergio Aguero who is leaving the club at the end of the season.
To the 1 n only SERGIO AGUERO thankyou for all the good times you brought to our club you absolute LEGEND good luck in the future LG x

— Liam Gallagher (@liamgallagher) March 29, 2021
Sergio Aguero gave me two of the greatest moments of my life. That goal, obviously, and the day my son walked out with him as a mascot (Aguero, unsurprisingly, bagged a hat-trick that afternoon). What a man 💙 pic.twitter.com/3saaNDPRor

— Ric Turner (@bluemoon_mcfc) March 29, 2021
Sergio Aguero leaving City at the end of the season.

I got nothing but respect for what he's done & achieved for City & their fans on the blue half of MCR.

Real Soldier. #MCFC #Sergio #Aguero pic.twitter.com/PVyJBlKlHR

— Pundit Jay (@pundit_jay) March 29, 2021
Good luck Sergio Aguero! I'm no Man City fan but I remember watching this and jumping out of my seat when he scored. One of the most iconic Premier League moments of all time. #Aguero pic.twitter.com/uUflm45p0e

— Matt Sibson (@MattSibson) March 29, 2021
Inside today's Manchester Evening News (Sport)
AGUEROOOOO!
I SWEAR YOU WILL NEVER SEE ANYTHING LIKE HIM EVER AGAIN #MCFC #ManCity #Aguero pic.twitter.com/SBWEHABNCB

— ⓒⓕ (@cfbcity) March 30, 2021
It'll be a sad day to see #Aguero leave Man City! Never rated him as highly as most do tbh, always thought given the service most could score 20+ goals, but in comparison to Jesus & Sterling he's on another level.

Also a PL legend for this moment alone… #MCFC pic.twitter.com/IygWvoOawe

— Matty Jago (@MattyJago) March 30, 2021
Though I am a United Supporter but utmost respect to this player. What a career What a player 🙌🏼 #Aguero pic.twitter.com/Q0xbqXUEAz

— Kunal (@kunal44331894) March 30, 2021
Aguero is the only reason why we know Manchester City. #Aguero a walking legend pic.twitter.com/QyElYMXZm3

— The Illucharlnist (@Charlzzwolf) March 30, 2021
Woke up to the news of aguero leaving city, damn it hit me hard, the whole spine of Manchester city has left, it's going to be hard to digest, let's win some more trophies for our king. 👑#MCFC #Aguero

— Vishal Balaji (@VishalB67245068) March 30, 2021
Any chance it was a very early April fools @ManCity 😢😢 #aguero pic.twitter.com/ruL1dGnYZQ

— Matt (@buzza1987) March 30, 2021
After 10 trophy-laden years, a remarkable journey would come to an end in the summer for KUN Aguero. Another baffling stat about the Citizen No. 10 is that he has the 2nd most goal involvements(227) in Premier League history only behind Thiery Henry(249). A future destination is not yet decided or revealed by the player or his representatives, with Barcelona reportedly the front-runners for his signature. Although, whichever club he ends up next, no football fan would have doubts over his legacy he's created at the Etihad Stadium.