Sergio Aguero joined Manchester City in the summer transfer window of the 2011/12 season.He is set to become the most sought after free agent in world football after this season as he is set to leave City once this season ends.
Manchester City have announced that @aguerosergiokun will be leaving the club when his contract at the Etihad Stadium expires at the end of the season

Full story: https://t.co/QutC7gCgqg pic.twitter.com/xhPK39tAWt

— Premier League (@premierleague) March 29, 2021
He has played a total of 424 matches in all competitions for City and has scored a mammoth  256 goals for Manchester City.
The diminutive Argentine who was signed by Roberto Mancini for 36 million pounds is set to leave Manchester City at the end of the season after ten prolific seasons at the Etihad.
Kun is set to leave as Manchester City's highest scorer of all time and one of its greatest players of the Modern era and arguably ever.
⭐️ SIMPLY THE BEST ⭐️

🔷 #ManCity | https://t.co/axa0klD5re pic.twitter.com/InZHHD2yVO

— Manchester City (@ManCity) March 29, 2021
A true living legend for City fans Aguero has endeared himself to millions of Premier League fans too who have grown fond of the Argentine's effortless world-class displays over the years and his signature 'rock' celebration.
Aguero will surely be missed dearly by all football fans but we can imagine a few Manchester City fans that are going to cry their hearts out over this news as last season they saw the timeless David Silva leave and now their lethal striker is set to leave. This signifies the success and end of "Phase 1" of the Manchester City project under their Billionaire middle east owners.
— David Silva (@21LVA) March 30, 2021
Phase 2 is surely going to consist of striving for success in Europe and developing players, the only objectives  that still eludes the Citizens.
It will be really sad to see the 2014/15 Premier League Golden Boot winner leave the League where he became an icon.
AGUERO: THE MAN OF THE MOMENT
Aguero has become part of Manchester City and Premier League folklore, and will surely be remembered for ages,let us see some of his most iconic and record breaking moments:
1)  Goals on Debut
He came off the bench against Swansea to score two goals on the 15th of August 2011. WHAT AN INTRODUCTION!!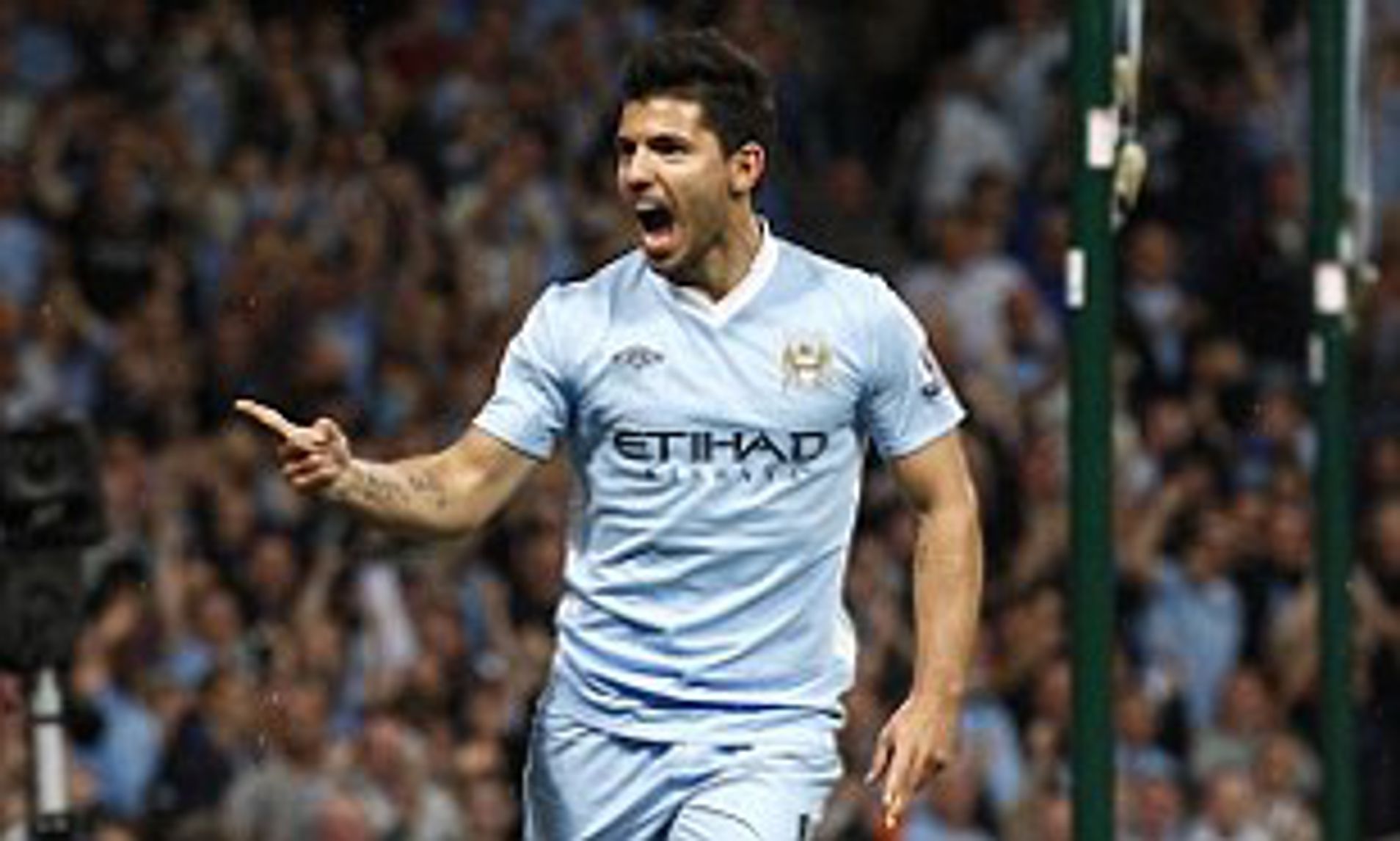 2) 93:20
The most infamous moment in Manchester City's history and definitely one of the most iconic and dramatic goals of all time in the Premier League. Aguero scored the winner against QPR to win the game 3-2 and secure City's first league title. The moment the ball hit the back of the net the number 16 jersey came off and the stadium erupted. Aguero's goal also robbed their noisy neighbours of the title that season which was one at the dying moments of the season.
3) Champions League Hat Trick vs Bayern
In the 2014/15 season , Manchester City and Bayern Munich were drawn in the same group and on matchday 5, the Argentine striker scored two last minute goals after scoring the opener for City, he went on to be the decider in a closely contested  game that was headed for a stalemate. 3 goals that showcased his unique nonchalant way of playing.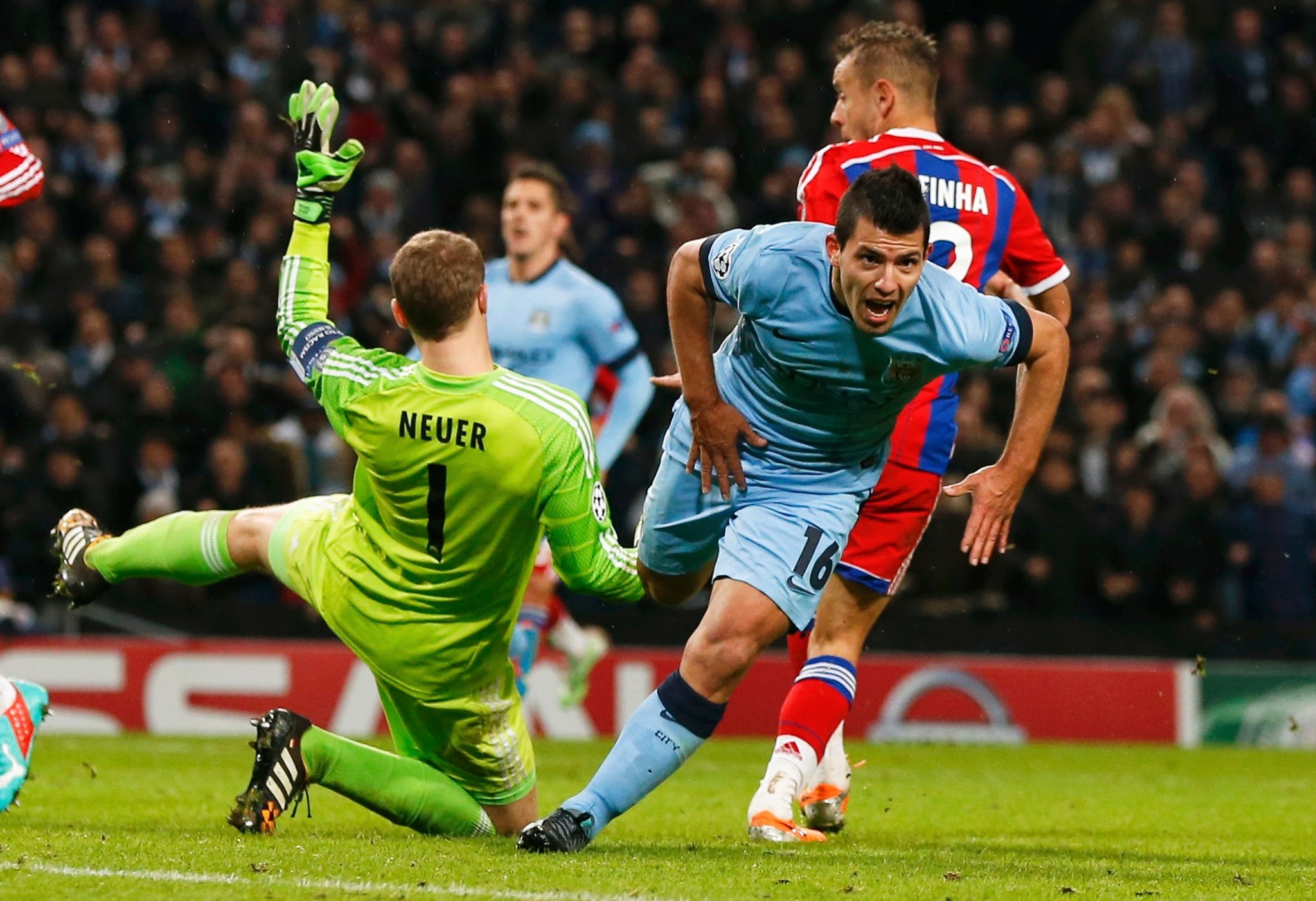 4)Fastest Five Goals vs Newcastle
The Argentine striker put on a masterclass of finishing in the game against Newcastle in the 2014/15 season. He scored a goal just the half time and completed his hat-trick five minutes into the second half and around the half hour mark of the second half had scored two more to become the fastest player to score five goals in a game
He joined the likes of Dimitar Berbatov, Jermain Defoe, Andy Cole and Alan Shearer.
5) A Volley to Down the Devils
Aguero was on his way to becoming a City legend, a status which was further validated by a sublime volley against the Red Devils in a derby clash in the Premier League, which was coincidentally also the strikers 50th goal for Manchester City. City trounced United 4-1 on the day.
6) Manchester City All Time Top Scorer
Aguero went on to make history with the goal against Napoli. The Manchester outfit was up against the Italian giants in the group stage of the Champions League in the 2017-18 campaign. With the scoreline stagnant at 2-2, Aguero went on to put his side in the front with a curling shot past Pepe Reina to bring up his 178th goal for Man City. With the goal, he became the club's all-time highest scorer, overtaking Eric Brook's tally. Pep Guardiola's men went on to clinch the tie 4-2.
Sergio Aguero becomes Manchester City's all-time top league scorer.

1. Sergio Aguero: 160
2. Tommy Johnson (1920-30): 158
2. Eric Brook (1928-39): 158

He is also City's all-time top goal scorer in all competitions. pic.twitter.com/qbhhdv2W8d

— City Chief (@City_Chief) February 11, 2019
7) 4th Highest All time Top Scorer in Premier League
On 12 January 2020, Agüero scored 12th hattrick of his Premier League career against Aston Villa in 6–1 away victory at Villa Park, taking his individual tally past Thierry Henry's 175 goal mark. This also made the Argentine player the player with 2nd highest number of Hat Tricks only behind Alan Shearer.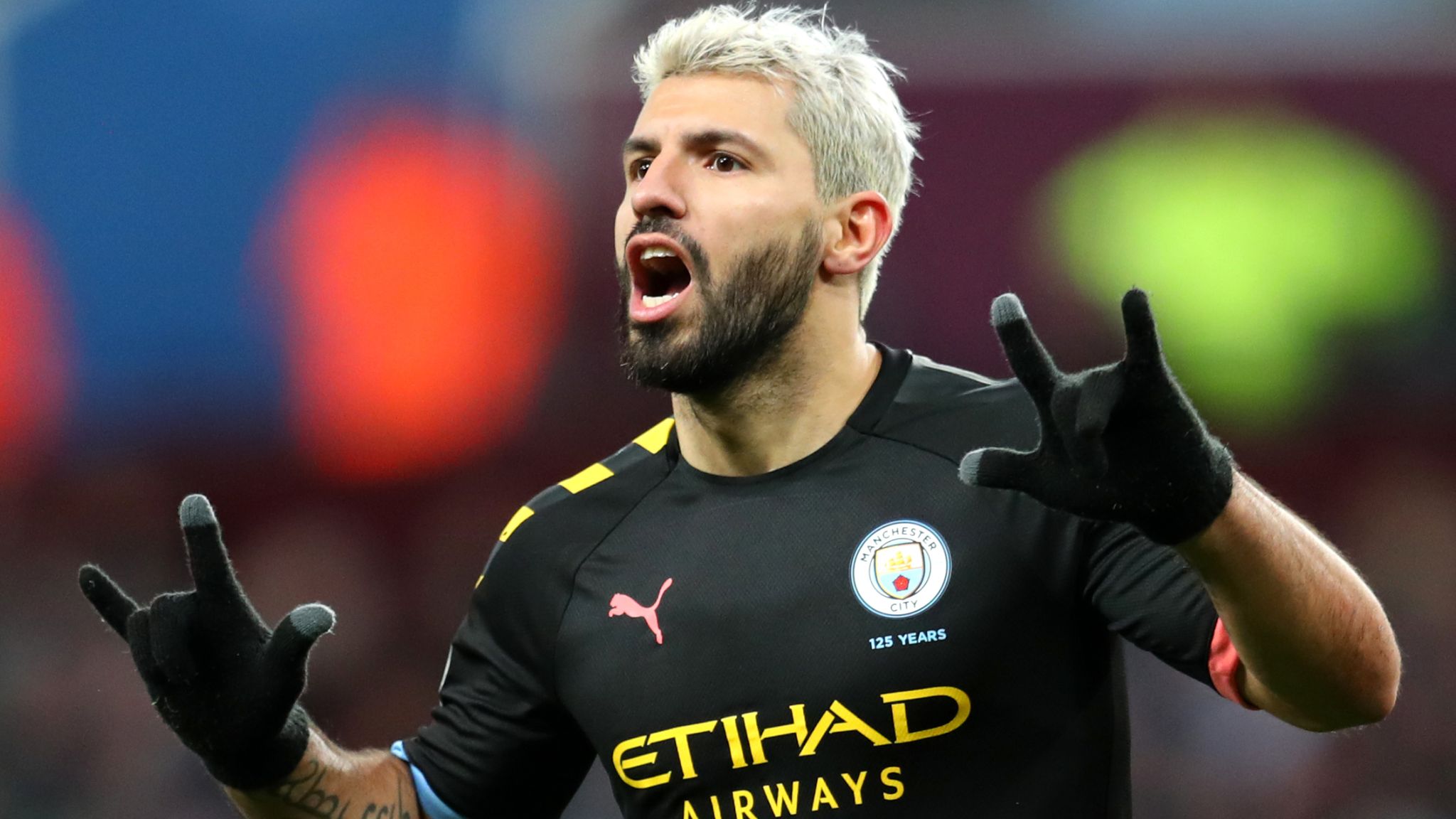 8) Only behind King Henry
Sergio Aguero not only departs as Manchester City's all time scorer but also the only player who comes close to the ratio of goal involvements per minute which is only slightly behind Thierry Henry's record for Arsenal. But he slightly edges past Henry when it comes it down just goals.
Sergio Aguero has now scored as many goals for Man City as Thierry Henry managed at Arsenal. pic.twitter.com/BYoxJsbDhG

— ESPN FC (@ESPNFC) March 31, 2019
WHERE IS AGUERO HEADED NEXT?
In this highly competitive market where teams are struggling to conjure up transfer fees, a free agent of the caliber of Sergio Aguero will surely be in high demand.
Although Manchester City and Aguero could not come to an understanding to negotiate a new contract , mainly due to his injury record and age.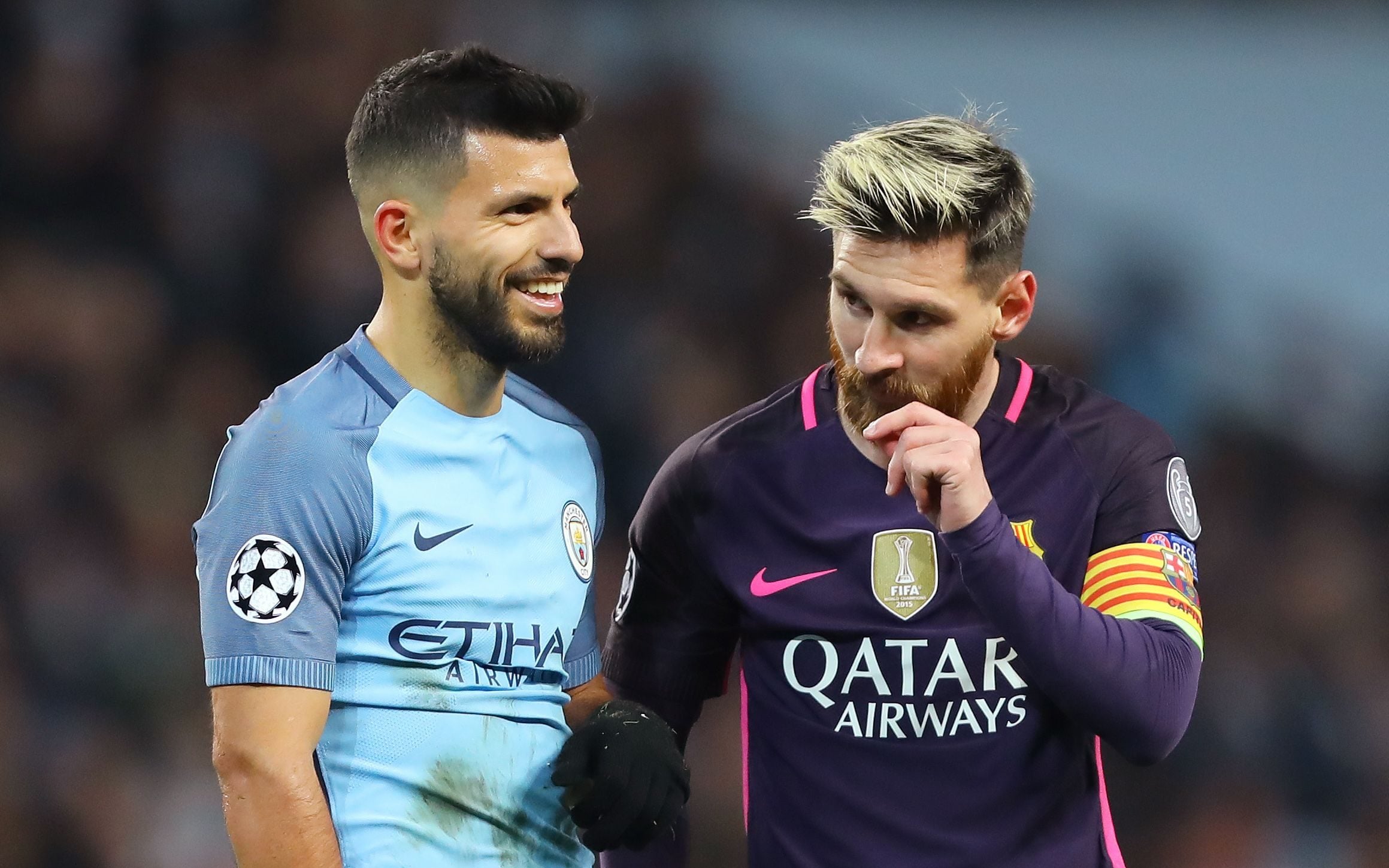 The most likely destination for the lethal striker is Barcelona, who have been looking tirelessly to replace Suarez's output since his departure. Aguero's  arrival might play well for Joan Laporta who is trying everything in his power to make Messi stay at the Catalan club. Messi and Aguero who have been best friends since their times bunking together for the Argentine youth sides, would be hoping that Aguero comes back to La Liga and joins up La Pulga.
There has also been speculation regarding a possible move to PSG or Liverpool. Aguero would be a good fit for both the clubs who are in the market to find a world class strikers on a budget.
What do you think the Argentine striker will do, will he return home to see out his career in Argentina or would he stay in Europe to try and win the only trophy that still eludes him on club level?
WHAT NEXT FOR CITY
It has become a well known fact that Guardiola and Manchester City are desperately looking for a striker to fill 'Kun' Aguero's boots as Jesus Gabriel's ability is still not completely trusted by the Catalan coach.
The names that have been thrown around as a replacement are of Harry Kane,Romelu Lukaku, Erling Haaland and Kylian Mbappe.
How reports linking Romelu Lukaku with a move to #ManCity unfolded across Monday. 🤯🇧🇪https://t.co/SlI8ZiydNA

— City Xtra (@City_Xtra) January 20, 2021
All four have been in sublime form this season. Lukaku's resurgence as one the best strikers in Europe has caught the attention of Guardiola, who might be looking to add a different kind of weapon to City's arsenal. Inter's financial troubles also makes him the most viable option for the blue side of Manchester.
If you can choose one for your team… Erling Haaland or Kylian Mbappé? ⭐️

— Fabrizio Romano (@FabrizioRomano) February 17, 2021
Kane, Mbappe and Haaland will most likely cost Manchester City too much. The investment for Mbappe and Haaland will surely reap its rewards as they are much younger than the others on Guardiola's shortlist, making them more enticing options that can be molded according to his philosophy and will give him elite output for the next 10 years surely. A Volley to Down the Devils