In quite the dramatic circumstances, the United States of America went on to lift their seventh CONCACAF Gold Cup after defeating Mexico 1-0 with Miles Robinson scoring a 117th-minute winner in the final held on Sunday at the Allegiant Stadium in Nevada.
🏆🏆🏆🏆🏆🏆🏆

For the seventh time, we're CHAMPIONS of @Concacaf… The Gold Cup is ours!! 🇺🇸👏💪 pic.twitter.com/yMoc10QWR6

— U.S. Soccer MNT (@USMNT) August 2, 2021
The game looked like going into penalties after being a stalemate for the best part of 116 minutes but Robinson had other ideas as the 24-year-old defender rose above all to score a header from a free-kick taken by Kellyn Acosta.
🇺🇸💥 GOAL! Miles Robinson for the #USMNT to make it 1-0 in extra time!#GoldCup21 🏆 #ThisIsOurs #OurFinal pic.twitter.com/shzoNqUt3w

— Gold Cup (@GoldCup) August 2, 2021
Mexico owned the first half with several looks at goal, but USA goalkeeper Matt Turner, who was the adjudged Goalkeeper of the Tournament, came up big on a couple of occasions to keep the opponents at bay. But the USA had the best chance of that first half through Paul Arriola, who struck the outside of the right post near the half-hour mark.
The Americans were much better in the second half, and the match was fairly even by the end of regulation. The fatigue then began to show as the extra time periods fizzled out with few real opportunities before Robinson's goal.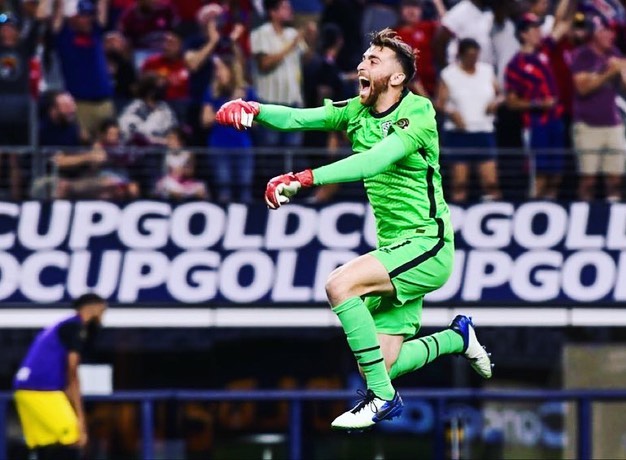 Matt Turner was a rock in goal for the USA. (Image Courtesy: Matt Turner / Instagram)
With this title, the USA now have seven Gold Cups, one less than Mexico, who achieved their eighth in the 2019 final. It has been a duopoly in the history of the CONCACAF Gold Cup as both these nations have won 15 of the 16 tournaments that have been held, with Canada winning in 2000 being the only exception.
Although the USA have defeated Mexico just two months ago in the CONCACAF Nations League, a tournament similar to the UEFA edition, this victory in the Gold Cup will give them more heart as this squad was a junior varsity line-up when compared to what Mexico had.
🇺🇸👏The @USMNT lift the Concacaf Nations League trophy!

🏆#TheDreamIsNow #CNL pic.twitter.com/1FIqiEk64y

— Concacaf Nations League (@CNationsLeague) June 7, 2021
Acosta was the only player from the first-choice line-up playing in the final while for Robinson, the scorer of the winning goal, the Gold Cup final was just his ninth appearance for the USA national team. On the other hand, El Tri were filled with seasoned stars such as Hector Moreno, Jesus Gallardo, Alvarez, Jesus Corona, and Hector Herrera.
After losing to Mexico in the 2019 final, Berhalter has now won his last two against El Tri and this win gives him and also the team much-needed confidence ahead of their World Cup qualifying campaign.