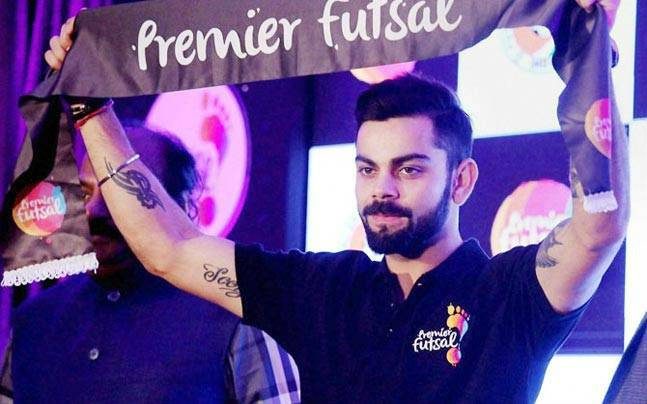 Premier Futsal, promoted by Virat Kohli and Luis Figo, has slammed All India Football Federation (AIFF) for creating roadblocks in the tournament. Indian football's governing body had asked the organisers of Premier Futsal to take sanction or authorization from them.
"Premier Futsal does not need the sanction or authorization of the AIFF, and does not intend to poach players etc. – there are anyway no registered futsallers there. Conducting a semi-professional league is fully permissible legally in our democracy and has been validated by legal experts at our end. We have just completed 'Launchpad' – our talent hunt programme to scout for young Indian Futsal players who could play alongside top International Futsallers and Football Legends in the inaugural edition of Premier Futsal starting July 15," Premier Futsal organisers said in a release.
AIFF has said that the unsanctioned Premier Futsal, scheduled to begin on July 15, will create unnecessary issues and also expressed serious doubts about the survival of the tournament.
AIFF General Secretary Kushal Das also said that no domestic footballer will take part in the unsanctioned league.
"AIFF has informed FIFA and all its stakeholders that this is an unauthorised and unofficial Futsal League since AIFF is also the governing body for Futsal in India. Such unauthorised and unofficial events can result in unnecessary issues, especially integrity issues. All our stakeholders understand that and will act accordingly. We do not need to take recourse to legal action," Das told PTI.
Premier Futsal, a franchise-based international futsal (a form of football being played indoors on a smaller field with five players in a side for 40-minute duration) tournament and promoted by an entity formed by Indian entrepreneurs, has attracted some of the world's best players but has struggled to convince domestic players to jump on its bandwagon.
It has Portuguese football legend Luis Figo as its president and Indian cricketer Virat Kohli as ambassador. The tournament will be governed by Futsal Association of India (FAI), a body affiliated to the world body, Asociacion Mundial de Futsal (AMF). But with FIFA, the world governing body for football, and the AIFF refusing to recognise Premier Futsal, domestic players risk suspensions if they join the league.
Futsal, according to footballing legend Pele, helped him develop his "ball control, quick thinking, passing…. also for dribbling, balance, concentration…. Futsal was very, very important, no doubt."
Premier Futsal organisers has now hit back hard. "As entrepreneurs, we were pursuing our Honorary Prime Minister's call for innovation in entrepreneurship and through Premier Futsal we are introducing one of the world's fastest growing sport to India. The high-handed and negative approach of the AIFF is appalling and is a blatant attempt to use its clout to stunt the progress of entrepreneurship in the field of sports."
The league further said that "legal precedence states that one entity cannot have monopoly over a particular sport. Neither AIFF nor any sporting authority can claim to be sole custodians of a sport in India."
Premier Futsal also made it clear that Portugal football legend Deco has pulled out of the league due to injury and not due to non-payment of a signing amount.
"We, at, Premier Futsal, would like to strongly refute falsities that are leading to unnecessary rumour-mongering about the very legal existence of the league. One such falsity that is being fuelled is that the International football legend, Deco will not be participating in inaugural season of Premier Futsal due to non-payment of a signing amount," the release said.
"Just to set the record straight, Deco is unable to participate in the inaugural season of Premier Futsal due to an injury. We will soon circulate a video message from Deco himself to expose these baseless statements planted to artificially create a negative perception around our league," Premier Futsal said.
Premier Futsal is a semi-professional, private league and is in collaboration with Futsal Association of India (FAI), which falls under the Asociacion Mundial de Futsal (AMF). Premier Futsal is obtains technical support from the AMF which has been the world governing body for Futsal since 1971. Globally, the AMF and FIFA co-exist. The FAI, a recognized sports body, is the only entity that has been working towards the development of Futsal in India for 8 years.
"Furthermore, as the organizers of Premier Futsal we would like to categorically state that the league is on track and we will release all the details pertaining to team owners & fixtures in Chennai on July 12 during our curtain raiser ahead of the kick-off to the inaugural season on July 15," the release stated.
Futsal's origins date back to more than 70 years, when it was played in Montevideo, Uruguay, in 1930 as a version of indoor football. The word 'futsal' comes from Spanish fútbol sala or fútbol de salón, which translates to "hall football".
But as a sport that has been in existence for more than 70 years, futsal has no base in a country like India despite an abundant list of sports leagues. "I don't really think futsal has even caught on worldwide. Football in its pure form is so popular and simple – even in terms of time it is so perfect – that it does not need any tampering. It's not like you need a T20 to make cricket acceptable internationally," says Indian football expert Novy Kapadia. "In Asia, except Iran and one or two other countries, no one really takes futsal seriously. It is, of course, very popular in Brazil because it helps you improve your dribbling skills a lot," adds Kapadia. Sadly, there are no traces of it in India. No sign of a national futsal team either.
In another sign of support, Welsh footballer Gareth Bale, who plays for Real Madrid, recently tweeted to congratulate both Kohli and Figo for backing Premier Futsal in India.
"If you look at futsal as a sport, it's got a lot of flair. Futsal players have a level of boldness when it comes to taking control of the time and space constraints. There's a subtle arrogance about how they play the game. And we thought Virat was the perfect fit for that. I think most of India will agree that now he is bigger than just a cricket player," says Abhinandan Balasubramanian, CEO and director, Premier Futsal.