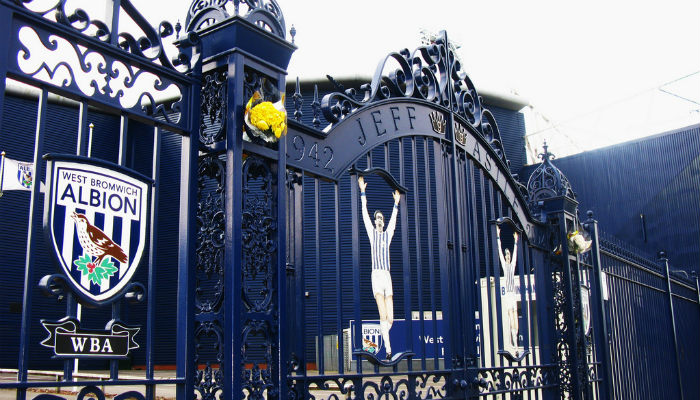 After visiting China almost 40 years ago, one of England's top-flight clubs, West Bromwich Albion (or WBA) will travel to Shanghai this summer.
Starting from London Heathrow Airport on a flight that required stops in Rome, Bahrain, Calcutta to Hong Kong and then a train ride to Guangzhou and another flight to Beijing, WBA's last journey to China took them a whopping 90 hours.
WBA, affectionately known as the Baggies, defeated the Chinese national team 2-0 on May 19 of that year at Beijing's Worker's Stadium in front of a crowd of more than 89,000. In the crowd was then Chinese leader Deng Xiaoping, "the architect" of China's reform and opening-up drive which has helped China develop into the world's second-biggest economy.
ALSO READ: China's Football Development Shall Rely On Its Own Efforts And Intelligence
Back then, there was a passion for football in China, but only in recent years has there been a true revolution in the sport.
So why is the journey to the country's emergence as a global superpower in football taking as long as the proverbial slow boat to China?
It's a question which Stephen Perry, who knew both China and football well, is well-equipped to answer. He brought West Bromwich Albion to China in 1978 to play five matches against the Chinese national team and a number of provincial teams. As the managing director of the London Export Corporation, an Anglo-Chinese trading group, he helped WBA became the first top-league club from western European football play in China, and his efforts did a great deal toward popularizing the sport.
Back in 2014, Perry urged China to aim at boosting the country's presence in the world of global football. "The target is to have a major Chinese presence in global football with a plan to ensure that is reflected with a significant presence in China."
"Look at the numbers of Chinese who watch and show an interest in football. I don't know the number but it is much greater than in Britain and most of Europe put together. But their money and interest goes to existing structures, and is not channeled to change," Perry said.
It is worth pointing out that almost every top English club, including Manchester United, Arsenal, Chelsea and Liverpool, claim that their biggest fan bases are in China, but according to Perry, this is one of the things ailing Chinese football.
But he says there are remedies to address China's lack of a healthy football sector.
"Use the Chinese market and Asian brands to develop global football in Asia, and in China," he said then. "China needs to think in terms of much bigger ideas to create the road to being a major football force. The long-term aim should be to take the top players to play for the whole season in Asia. Then a global league would develop that would be similar to American football with continental leagues."
He went on: "When China carried out research into any major industry it developed short, medium and long-term plans. So in football do not take short-term steps that will result in short-term results. China needs to think much bigger ideas to create the road to being a major soccer force."
On April 12, 2016, China's drive for football development was codified in a new national plan, aimed at entering the world football "elite club" and setting a realistic goal of China becoming a top class football nation by 2050.
Covering a long-time span of 2016-2050, the 14-page "Medium and Long-Term Plan of Chinese Football Development" outlined a multi-decade vision of the sport's progress in the country, and set up a number of pragmatic measures to attain the goal.
Chinese Super League clubs are eager to capitalize on the rising popularity of football, spending vast fortunes snapping up superstar players and coaches from Europe and South America.
After his player, Oscar left London for Shanghai SIPG a transfer fee of around 60 million euros, Chelsea manager Antonio Conto said, "the Chinese market is a danger for all of us, not only for Chelsea but (for) all the teams in the world."
In the past few months, Carlos Tevez, Oscar, and Jackson Martinez have arrived in China. Diego Costa is also rumored to come in the summer. Luiz Felipe Scolari, Felix Magath, Andre Villas-boas, Manuel Pellegrini and Fabio Cannavaro, who used to grace the big five league's most famous stadiums, are all currently in charge of Chinese Super League sides.
In another related development: AC Milan, Inter, Nice, Aston Villa, Wolverhampton Wanderers, have miraculously come under the ownership of Chinese businessmen.
West Bromwich Albion was bought by Chinese entrepreneur Lai Guochuan at the beginning of the current English Premier League season.
Perry has been to China over 200 times since the early 1970s. He is very frank about the time China has lost in the pursuit of its footballing hopes. China, he suggested, wasted 40 years trying to develop homegrown football talent and clubs. But in the long run, he says, China has reason to be hopeful for its future prospects, because it has been successful in almost every other sector during this same period.
"China can do it because China can think strategically and research and plan a set of policies that recognize (its status as) a world power… (if) it is embraced at the highest levels, then China can, and will, transform the world of football," Perry concluded.
(With Inputs From Xinhua)