Sometimes, even with figurative language, it is not worth tempting fate. Perhaps at one time it was conceivable that a Barcelona icon, a fantastic footballer and seemingly committed wholly to the Blaugrana, would only leave the club when pigs fly.
Well, part of a pig anyway. On 23 November 2002 at the Camp Nou, amidst a hail of other objects, a pig's head was chucked in the direction of Real Madrid's Luis Figo – by this point, more than two years a defector to Los Blancos from Barcelona. Now, a little over two decades since Figo's original apostasy, another Barcelona icon seems on the verge of departure.
To be clear, the present situation with Lionel Messi is not the same as that of Figo. There are some fundamental differences that prevent the drawing of a line between the two cases, no matter how zig-zag.
However, although there might be no precedent for losing one of the greatest footballers ever – if not the outright greatest – there is much to be learned precisely in the differences of the ongoing Messi situation from Figo's crossing of the great divide.
It is worth noting two key circumstances underlying these differences. First, it is important to reiterate that Figo's transfer was to Real Madrid – no more heinous a destination could be chosen by a Barcelona player.
On the other hand, the various clubs proclaiming an interest in Messi – tongue in cheek or otherwise – underline that it's more about the Argentine departing Barcelona than joining a rival. Accordingly, the Associated Press report on Messi's communication to Barcelona about leaving rightly observes that this is the end of an era.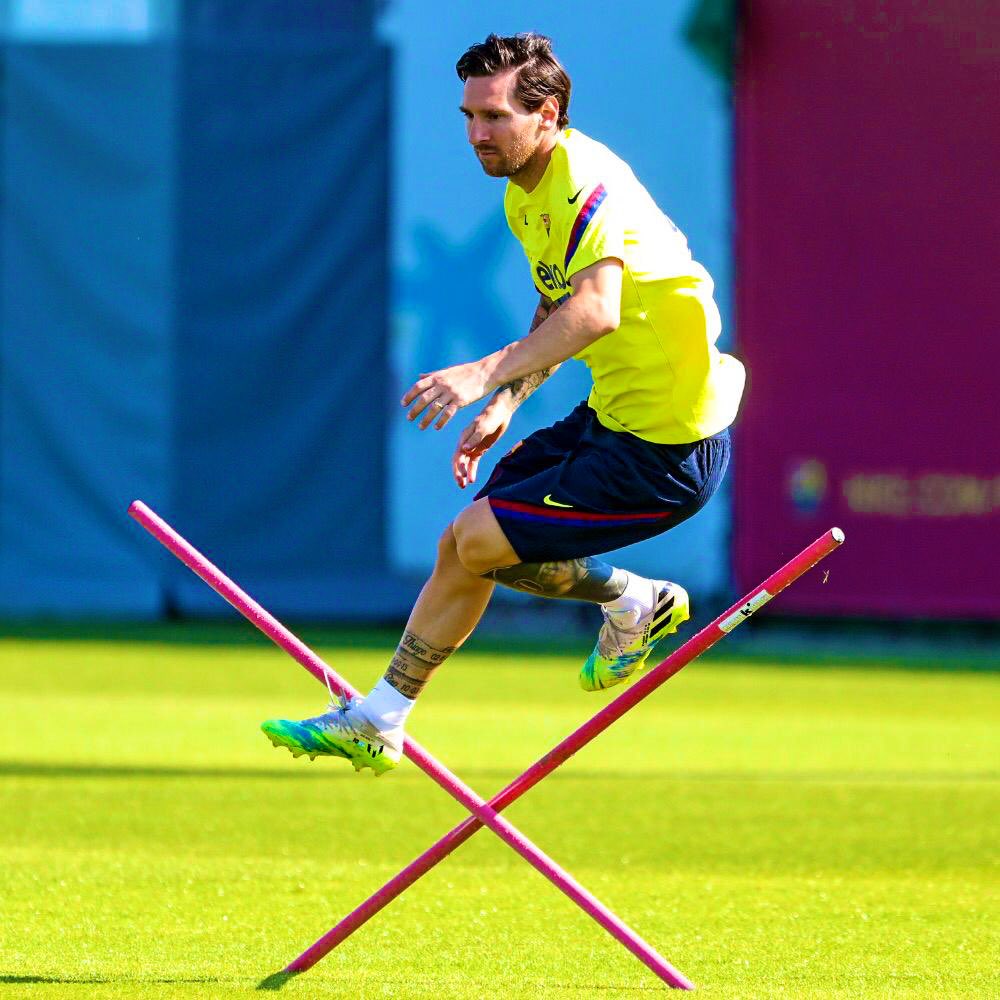 Furthermore, in an interview to Sport on 9 July 2000, Figo reassured Barcelona fans he would remain at the Camp Nou – he was holding the famous white jersey at his Real Madrid presentation fifteen days later.
Meanwhile, the AP report notes that "Messi sent the club a document expressing his desire to leave" on 25 August this year. It promises to be no amicable departure though. The report further adds that Barcelona "hinted that a legal battle could be coming and said it won't automatically grant the Argentina great his wishes."
Despite suggestions that it might be a bluff to leverage his iconic status against an increasingly belligerent boardroom, Messi has since stayed on message about leaving, remaining at daggers drawn with the club where he has spent twenty years, collecting 34 trophies and six Ballons d'Or.
In the Figo debacle, Barcelona's sense of injury came partly from the helplessness at Madrid's payment of the Portuguese's release clause – a record fee – effectively thumbing their nose at Barcelona who were legally unable to prevent the transfer.
No wonder, then, that Barcelona's manager Louis van Gaal and Joan Gaspart, Barcelona's president at the time, bizarrely complained of Figo's provocation of the crowd in 2002 – when he attempted to take the corners that were awarded Madrid, leading to the infamous missile. When you can't stop your rivals from taking your best player, his set pieces feel like provocation.
This time, however, Barcelona have promised to make a fight of it. With a club hardened by past experiences, expect it to get unpleasant.
The Stakes…
If the deal does go through, Messi's will be arguably the most seismic departure from Barcelona since Figo, with the exception of Neymar. It is an amusing distraction but ultimately pointless to compare the status of Figo and Messi as players and determine who represents the greater loss.
View this post on Instagram
It is tempting to name the latter, but Barcelona were a different club in Figo's time – the expectations of them were different, the rivals against whom their success was measured were different. Indeed, La Liga itself, the wider football world, and Barcelona's role therein were very different.
Like Figo and Neymar – but unlike Xavi, Iniesta, Ronaldinho, Deco, Ibrahimovic, Dani Alves, Puyol, Pedro, Villa, and so many fine players who played with the Argentine and have since left the club – Messi still has a very great deal to offer Barcelona at the point of his departure.
In fairness, no ambitious club likes to lose great players when they still have a lot to offer. But it is quite a different, much deeper kind of psychological wound when the club is the environment in which the players have catapulted to greatness.
For once, what brings Figo and Messi especially close is that both players seemed utterly committed to Barcelona – club and city – and embedded in its cultural ethos. Perhaps, then, it's not surprising that the Barcelona fans' anger did not blow itself out when it came to Figo; the pig's head was a positively surreal exclamation point on the torment that began on 22 October 2000, Figo's first game at Camp Nou after switching to the Bernabeu. He was greeted by mobile phones, coins, bricks, and a bicycle chain.
Of course, that anger will be directed at the hierarchy rather than the player this time. Losing Messi is the highest treason.
How many defeats are too many?
Losing is a chastening experience – and a career defining one at the worst of times – but the silver lining for athletes at the highest level of any sport is that defeat often stings them into action, kindling a hunger to win that can only be satiated by claiming the prize they have been denied.
View this post on Instagram
Consider Bayern Munich, who knocked out Barcelona in humiliating fashion from the 2020 Champions League in what could be Messi's last game for the club. After losing the final in their home stadium in 2012, Bayern returned with a vengeance the following year, winning the 2013 edition as part of a historic treble.
The Germans' story is driven by a theme that remains painfully unfulfilled for Barcelona – atonement. Where Bayern were unable to convert their dominance into victory in 2012, they stormed to a thoroughly dominant treble the following year.
But if throwing away a winning position is a sin, Barcelona are unrepentant. In their Champions League exits since last winning the competition in 2015, Barcelona have surrendered first-leg advantages on three occasions – first Atletico Madrid, then Roma, then Liverpool.
At some point, surely, the weight of that psychological torment becomes too much, and more defeats just deepen wounds instead of spurring to action.
Against Bayern, those wounds were gushing geysers. The humiliation did not stop. The post-mortems were uniformly condemnatory, intensified by the farcical note of Philippe Coutinho – bought for an eye-watering fee, given up on, and farmed out on loan to their opponents – grabbing two goals.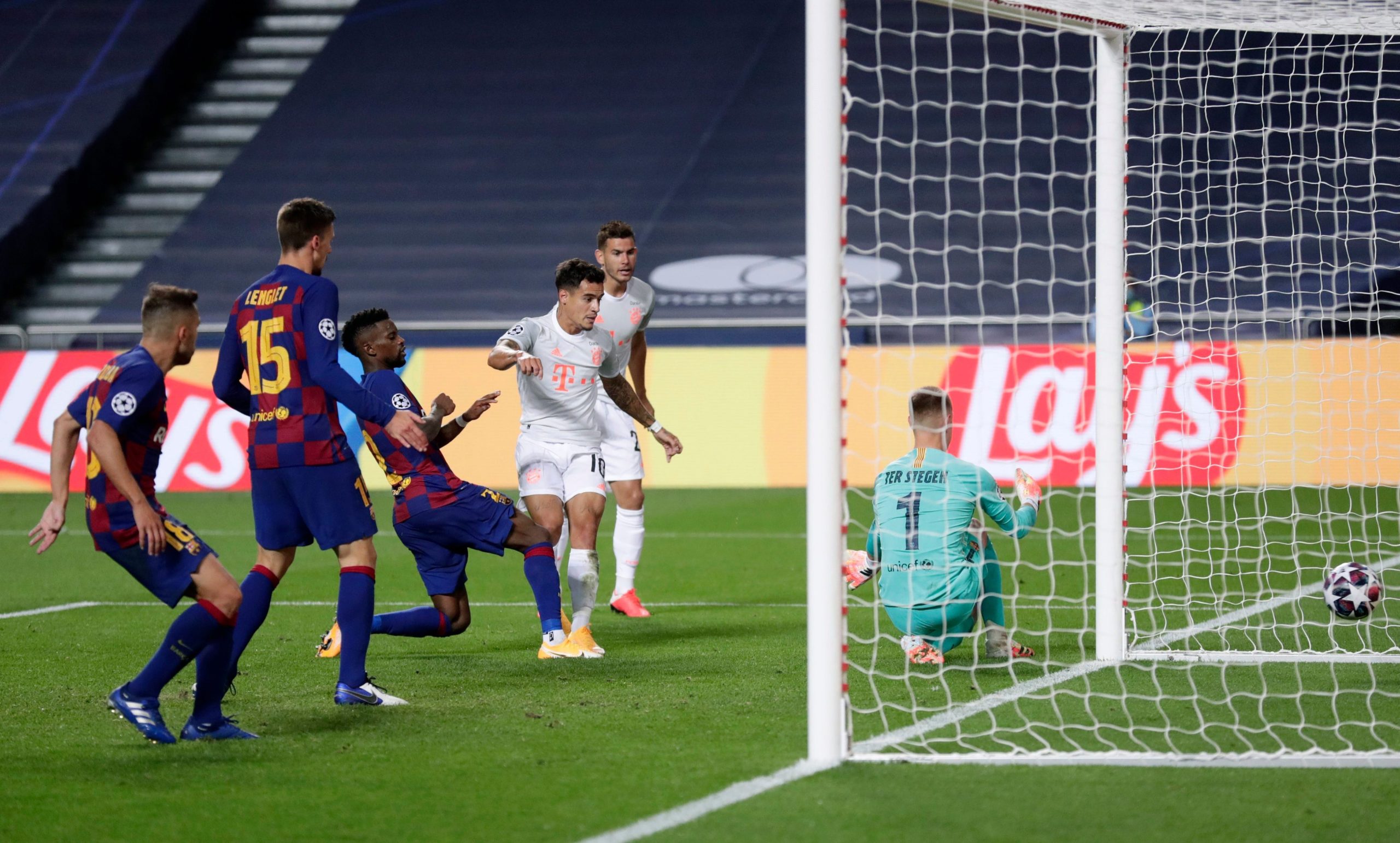 But the most powerful sentiment may have got to the heart of the matter as it stands – and it is that it feels like the club have let Messi down.
It was easier to rationalise Figo as a disloyal money-grabber, to claim that the moral fault was with him. That much is clear from the banners condemning his greed that were displayed around the Camp Nou, the fake bank notes with his face stamped on them.
It also undoubtedly helped alleviate Barcelona's seething impotence at being outmanoeuvred by Madrid, who won the league in Figo's first season, added the Champions League the following year, and another league title after that while the Catalans themselves won nothing for three seasons.
But Messi's departure is painful not only because one of the greatest players in history, a one-club man to boot, the heart and soul (and face) of Barcelona is leaving, but because it forces the club into the recognition that they could have done something differently.
It is such a poignant sentiment precisely because of the nature of Messi's communication to the club – a bald statement that he simply doesn't want to play for them anymore. And ironically, by saying no more than the bare minimum required, Messi has triggered the most boundless despair imaginable, simultaneously shining a light on the club's leadership.
Football is a primal emotion at the best of times and so perhaps it is not surprising that the ego defence mechanisms are in overdrive at a moment of heightened affect like this. Messi, however, is stripping away all those possible defences. By communicating clearly and trying his best to avoid a legal battle, Messi is forcing the club to confront the idea that they are the problem.
This role reversal from the Figo situation is perhaps not surprising; Messi is one of the few players in the world whose own performances are almost unimpeachable. But it has the singular effect of opening up Barcelona – board, club, players, supporters – to the painful prospect of introspection, and (in case of the former) to deal with the hurtful idea that this might be their fault.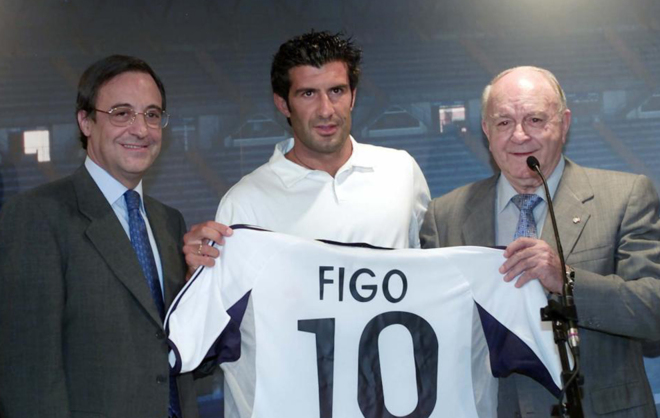 Under Gaspart, in addition to three trophy-less years, there was an egregious misuse of the Figo money, with exorbitant fees and contracts financing a squad of overpaid underachievers. Its echoes in the handling of the Neymar funds are difficult to miss, as is the hiring and firing of various managers.
Although it is tempting to claim, as Gaspart does, that everything went downhill when Figo left – and in a strictly historical sense, that is true – it smacks a little of attributing all the problems of the club's leadership to a single circumstance beyond its control.
There is surely more they could have done. Being unable to replace Figo was no crime. However, the enduring legacy of the Gaspart years is of profligacy, mismanagement, and complete breakdown of trust by supporters.
In the Messi scenario, this is precisely the biggest fear, perhaps even more amplified by the trauma of the post-Figo years. Any team would drop off after losing a player like the Argentine. But the underlying anxiety over Messi's departure comes from the fact that by causing this crisis, Barcelona have already demonstrated that they are simply too incompetent to handle the fallout.
No leadership which lost the trust of a Barcelona legend completely committed to the club and city can be relied upon to weather the storm that follows. It is a crisis that Messi was used to covering up almost singlehandedly in recent years – managerial instability, poor recruitment, a squad in transition.
The immediate, and possibly long-term, future of the club is in jeopardy.
Looking closely
Perhaps older fans will be more philosophical. Even when Figo was at Barcelona, the club's identity was not defined solely by him. It was, rather, the site of contestation between its Catalan roots and a large contingent of Dutch players plus a Dutch manager in van Gaal. If anything, Figo himself did not fit so easily into that conversation.
Younger fans, though, have not seen anything comparable. Messi is Barcelona by this point – or at least, Barcelona in its most modern iteration. Throughout a revolving door of managers, he has kept up his goals, assists, and dazzling play. That's partly why Barcelona were relatively able to absorb the blow of losing Neymar, winning two league titles and a Copa Del Rey. They still had Messi.
View this post on Instagram
It is beyond cliché to refer to him as a force of nature, but by continuing unabated through a variety of increasingly frustrating circumstances, Messi really has come to define Barcelona by his presence.
No wonder, then, that in a radio interview on RAC1 in October 2019 (to name just one example) Messi clarified that "it isn't true that I decide who we are to sign or which coach is here."
That somebody could even believe this of a player, prompting him to deny it, speaks volumes about Messi's influence and his perceived control over the goings-on at Barcelona. That sentiment, moreover, is distilled in a regular feature of Barcelona's game plan – the accurate, if slightly mocking, play of 'give it to Messi and see what he can do.' On the pitch, then, club and player are indistinguishable.
No wonder losing him feels so shocking, then so numbing, like losing a limb.
If Messi is Barcelona, a new Barcelona must be born now.
History, however, only offers ambiguous lessons on the question of the club's rebirth. Gaspart was unseated in 2003 by Joan Laporta, who became president on the promise of bringing David Beckham to Barcelona. When this move did not materialise, the club turned to Ronaldinho, whose flair and brilliance brought consecutive league titles and the Champions League in its wake.
While the saviour figure worked for Barcelona then, perhaps that is exactly what the club need to move away from now – and making a clean break with the past embodied by Messi gives them a chance to do so.
Moreover, no player would cope well with the burden of being Messi's replacement. Besides the starting spot that the Argentine would vacate, several other areas of Barcelona's thinning squad require improvement. No single person can solve these issues.
View this post on Instagram
But there is one key respect in which the loss of Messi the global superstar is most profound, and it concerns the entirety of Spanish football. The link to Figo is clear; the Portuguese's transfer began the modern era of superstar signings, embedded in a matrix of big money, increasing television and commercial revenues, and heavily mediatised world.
In some ways, Figo truly began the FIFA Ultimate Team era, where players were not just marketable commodities but collectible ones, rather like football trump cards. Phil Ball notes in his book An Englishman Abroad that Figo was one of the first players to supply his image rights to the club, followed by Zinedine Zidane and Ronaldo not long after.
Ball gives the example of Figo's $4 million deal with Galp – 60% of the revenue went into Madrid's pockets. If footballers were like collectible trump cards, Madrid were playing with a full deck.
Messi, meanwhile, is like the rarest of those collectibles – a gold trump card, as it were. It is a gold card held simultaneously by Barcelona and by all of La Liga; Messi is the reason it is one of the biggest leagues in the world. Any club would benefit immensely if they got him, and not just for the increased commercial revenue.
For Manchester City, to name one club Messi appears very close to as an example, this gold card is invaluable. The coup it would represent to see Messi running the show at Eastlands will boost their profile in a way that the even signing of Pep Guardiola or Sergio Aguero's league-winning goal against Queen's Park Rangers didn't.
That is partly because Messi is one of the few players who is a bigger property than most clubs, but also because his profile and the ripple effect it creates is not limited to the club he plays for. After losing Neymar, then Ronaldo, and now possibly Messi in successive seasons, La Liga itself will be much poorer.
Also on RAC1, La Liga president Javier Tebas spoke in June about how "Cristiano's departure, even though it annoyed Madrid, had almost no impact because La Liga has spent years ensuring that the brand transcends the players. But Messi's case is different. Messi is the best player in the history of the game. We have been lucky to have him in La Liga for his whole career. I think you would notice Messi's departure –especially if he went to another league."
That, perhaps, is the most significant barometric difference between the transfers of Figo and Messi – and the difference of the latter from the former places our finger squarely on the pulse of global football. Crucially, Figo wasn't leaving Spain. In fact, he was joining a team in the ascendancy – winner of two Champions Leagues in three seasons and at the beginning of the galactico revolution.
Madrid were not the only ones. After the dominance of Serie A, it seemed La Liga was on the up at the turn of the century. Along with Barcelona and Madrid, Deportivo La Coruna were enjoying some of their best years, Valencia were in the midst of a renaissance, and Athletic Club and Real Sociedad had some strong showings in the league.
By contrast, Messi leaving is not just a crisis for Barcelona – it is the culmination of a shift in power and influence for La Liga, where the world's best players are now more spread out across Europe with Messi looking set to be the latest addition to that list.
Of course, in the grand scheme of things, the last three years are practically a blip. Even Tebas is justifiably bullish about the possibility of Messi leaving, explaining that "it would not be a catastrophe because we have television deals signed with or without Messi."
Moreover, there is a league outside Barcelona and Madrid – Sevilla, for example, recently won the Europa League for the sixth time in their history and their fourth in the last seven years.
Time will tell if this is a more terminal decline, but the point here is that La Liga does not have a monopoly over the world's best players as it once did. Soon, they may lose the best of them all.